10 questions with Anna B Calligraphy
Anna Pereira of Anna B Calligraphy was one of the featured creators in inRegister's "Day in the Life of the Arts" April 2022 cover story, where we briefly shared why her passion for calligraphy coincides with her "engineering mind." Now, with the inRegister Weddings issue now on stands (and plenty of more gift-worthy events on the way), we reached back out to Pereira to learn more about how she makes her one-of-a-kind, heirloom items that often find their place in couple's wedding days, whether through envelopes or other keepsakes.
Read below for her answers to our 10 questions:
---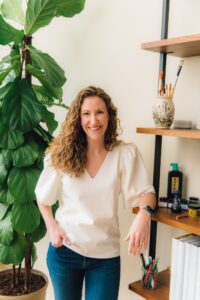 1. What is a typical day like for you when you're working on Anna B Calligraphy products? 
I am a morning person, so some of my favorite moments in the day happen before 8 a.m. I wake up and have coffee while reading or journaling, and I am usually at my calligraphy desk by about 5:30 a.m. to get started on that day's project. It depends on the day and what I have in the project pipeline, but if I am working on an envelope order, I will almost always be listening to a podcast or audiobook while writing. If I am working on a large-scale commission piece, there is usually a day or two of prep work that goes into drafting guidelines, layout and spacing. The key for me is working in blocks of time and taking breaks so that my hand doesn't get too tired.
2. What is your professional background? How did you get into the calligraphy/engraving/custom gifts field?
I studied biological engineering at LSU and have 10 years of sales and marketing experience with global manufacturing companies. My corporate experience has taught me so much about taking care of customers and delivering on commitments. Calligraphy sounds far away from sales and engineering, but building letterforms in calligraphy is a methodical process using basic strokes, and my analytical brain loves the symmetry, angles and consistency that lead to beautiful calligraphy. I learned calligraphy as the result of a New Year's resolution. My goal that year was to find a creative outlet, so I set out to try a few different things. Calligraphy had been something I admired for a long time before I ever picked up a pen—mostly because I had a limiting belief that I could not do calligraphy as a left-handed person. But I bought some workbooks and started teaching myself, and it has been a passion ever since. Probably my most successful New Year's resolution ever!
3. What was your reason for starting Anna B Calligraphy in the first place? When did it open, and how has it grown or changed since then?
I started Anna B Calligraphy in November of 2019. I was having so much fun with calligraphy, and friends and family were starting to ask me to work on projects, so I decided to make it official. And my goodness, who knew what was to come just a few months later with the start of the pandemic! So much has changed since then—many events that were postponed in 2020 have made 2021 and 2022 busy years. But I wouldn't change the timing of the great pause and my business because I think it was a time of great space and creativity—just what I needed when I was starting out.
4. What are the first things you talk to a client about before starting work on their custom piece?
Connection is one of my highest values. It is so important to me to get to know my client and their goals for the project. If someone is hiring a calligrapher, it is usually because they are celebrating one of life's big moments or commemorating a special occasion. What an honor to make art that becomes part of your special day or heirloom gift.
5. How do you keep your product offerings fresh and up-to-date?
I think I am a serial online course taker. I love to be learning something new, and with calligraphy, there are so many ways to evolve your style. Whether learning different calligraphy scripts, learning new tools and mediums for doing calligraphy on glass and leather, studying illustrative accents to complement calligraphy, or digitizing calligraphy—the list is endless!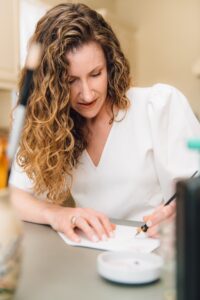 6. What sets your work apart?
Everyone has their own unique handwriting, like a fingerprint. And while calligraphy and handwriting are not the same thing, the uniqueness of style definitely applies. My calligraphy has a Copperplate base, but with my own unique hand and letterforms that have come over the years. That is the appeal of handwritten calligraphy; it is truly one of a kind because each piece is written by hand. I would describe my work as delicate and timeless.
7. What is one thing you think customers should know about Anna B Calligraphy that they may not be aware of?
I offer on-site calligraphy in addition to in-studio work—great for brand activations, corporate events and client appreciation.
8. What are some of your favorite pieces people can order this summer?
Recently, I have loved using my foiling pen to add personalization on leather goods. Perfect for passport cases on summer trips or back-to-school notebooks.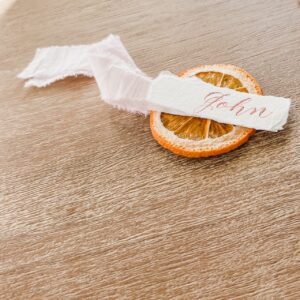 9. What are some of your best-selling pieces?
Envelope addressing and a coordinating return address stamps are some of my most requested services, followed by commissions to write out larger-scale pieces.
10. Do you have any new projects/plans in the works that people can look forward to in the future?
I am excited to offer freehand engraving this fall. Engraving is a beautiful way to permanently add calligraphy personalization to different keepsake items and gifts, especially for wedding day details like perfume bottles and bridal party gifts. This new service will be available in fall 2022 and can be done in studio or booked as a live, on-site engraving event.
---
For more about Pereira and her services, follow her on Instagram @annabcalligraphy or visit her website at annabcalligraphy.com.