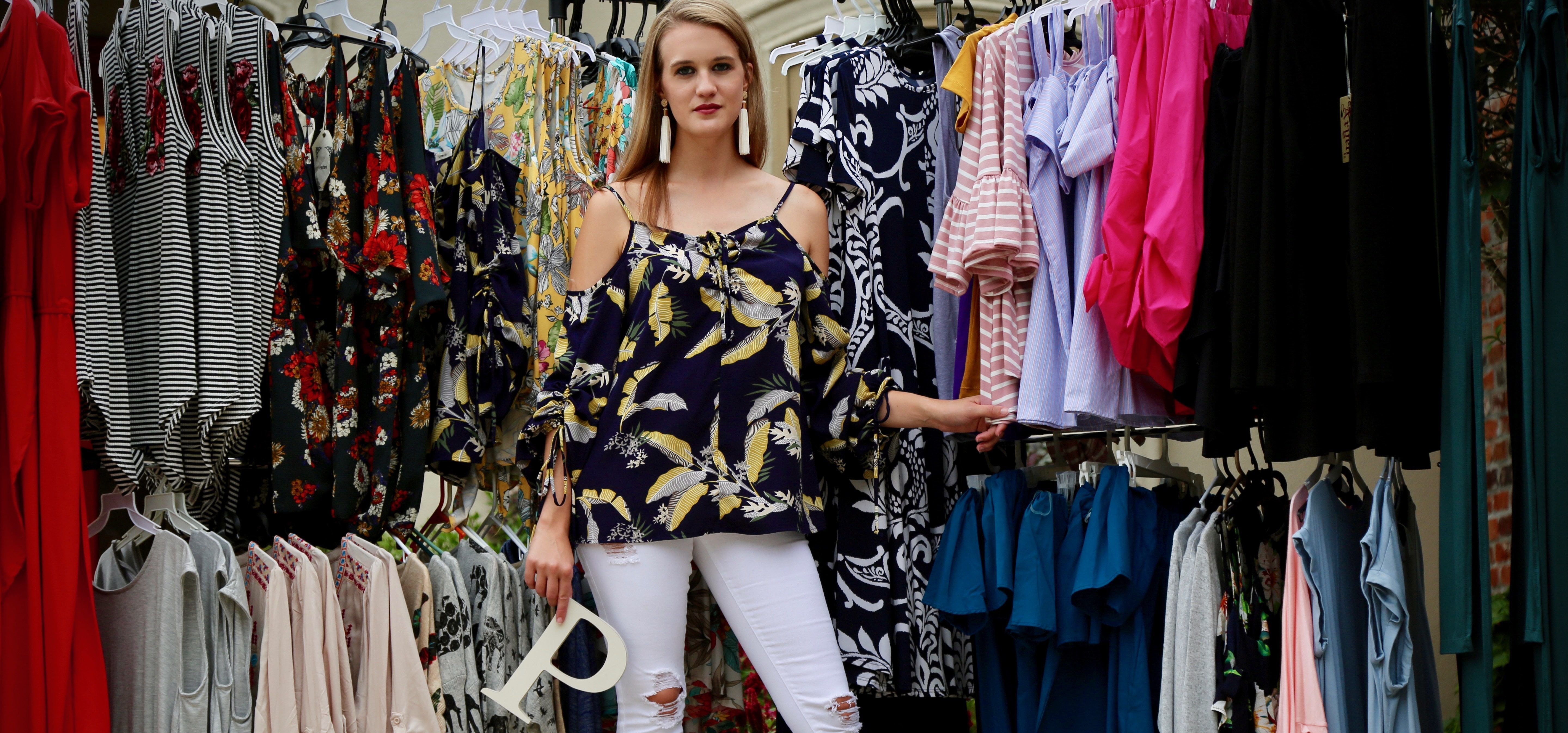 10 questions with Theresa Langlois of P3 Boutique
Theresa Langlois was sick of mom guilt. Walking into boutiques, all she could think of was how she should be spending her money on her two daughters, rather than on a vastly overpriced silk blouse. Determined to come up with a solution, Langlois decided to create her own space with reasonably priced, but equally fashionable, items for other mothers who likely faced similar feelings each time they picked up something off a major department store's rack. Cue the birth of P3 Boutique. Still new to the local scene, P3 Boutique is changing daily, with a brick-and-mortar in the works and even a children's line coming soon. We sat down with Langlois to learn about what she hopes to accomplish and how she juggles it all.
---
1. What is a typical day like for you and your team?
Every morning starts with taking pictures and posting new or upcoming things to Instagram and Facebook. We want to show people that we are new to the city but we have really great things to offer. We constantly check the website and our emails for incoming orders and there are frequent trips to the post office to get things shipped out.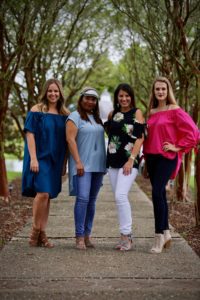 2. What is your professional background? How did you get into fashion?
For the past 10 years I have been a catering and event director. I found a passion for planning couples' weddings and special events by making sure that their dreams come true and no small detail is missed or forgotten. Every event that I do touches my heart. I become a part of their families, and there really is nothing more rewarding than seeing your hard work come to life as people's dreams take shape.
The boutique came into existence because I wanted one place that could hold everything that a busy woman/mom needed. With two little girls constantly underfoot, I think it's essential to wear clothes that are comfortable and functional but also stylish. I may be a mom but fashionable outfits are still a priority for me. My family owned a jewelry store during my childhood so it fits to say that retail runs in my blood. The boutique just fit and I was at the right place in my life to make it work.
3. When did P3 Boutique launch, and how has it grown or changed since then?
P3 officially launched on April 1, 2018. I was shocked at how quickly the first orders started to come in. My first sale was to a woman in Virginia who saw my stuff on Instagram and fell in love with a few pieces. We are definitely still in the growing and learning stage of the business. We are finding vendors that work for us and our customers, and we are really listening to what our clients want to see. The boutique has started offering pop-up shops, where we come into people's homes with all the clothes and jewelry we offer for a girls' night out. The ladies invite all of their closest friends and family, we pop a few bottles of wine, and everyone can shop, try on and purchase everything they like that night.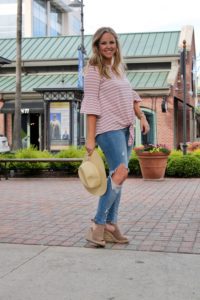 4. What goes on behind the scenes of an online store? Is a brick-and-mortar location in your future?
It takes a lot of thinking outside the box. We are not a pre-order store, so when you order something from us, it is shipped out to you within a day, so we have had to rent an office for all the clothing storage and for easy pick-up for clients who live in the area. A brick-and-mortar is definitely in our future, and we have a few potential spaces that we are looking at. One is currently being built in a shopping center in one of the new and upcoming subdivisions in Ascension Parish and the second spot brings us closer to Highland Road in Baton Rouge. With both locations not being ready for anywhere between 10 to 14 months, that is the timeline we are working on for a grand opening with the brick-and-mortar.
5. What sets your store apart?
We work really hard to partner with designers and companies that have competitive pricing. When we are able to get amazing pieces at good prices, it is easier to offer those prices to our clients. I am not a fan of walking into a store and seeing a top I like but looking down at a price tag of $100 or more. As a mom, I know I personally do not spend as much on myself as I do on my littles. It's that whole mom guilt thing that comes with children, so at the boutique I want the ladies to walk away with amazing, high-quality pieces that will last them a long time, without the higher department-store prices.
6. What is one thing you think customers should know about P3 Boutique that they may not be aware of?
Every clothing item has a "P" name, like Penelope, Prue, Petunia or Priscilla. I have two little girls named Piper and Parker, and that is where the name of our boutique originated. It seemed like a fun way to bring my family into the business and also a cute name that would stand out but still be easy to remember. Every month or so on Instagram, we ask our followers for new "P" names for our clothing items, and they always deliver with great ideas.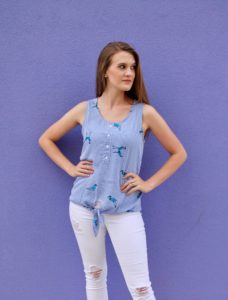 7. How do you keep your store's inventory fresh and up to date?
Constant research on local bloggers, fashion trends and popular designs or patterns. We listen to the local moms and working ladies about what they want to see, what they like and what they don't like. We try to follow their advice because those amazing ladies are our target audience. We have a new order come in every one to two months. With each season in Louisiana, we are never really quite sure what we are going to get, so we try to make sure we have a large variety or short sleeves, long sleeves and lightweight materials.
8. Can you share a hint about what shoppers can expect from you next?
It has always been the plan to bring in little girls' clothes for easier mom shopping, and we finally found some amazing vendors offering great prices. We are hoping to offer everything from smock and jersey dresses to tunics and bows at reasonable prices that make it easy to pick yourself up an outfit, as well as one for the special little girl in your life.
9. What are a few must-haves for this season?
We are in football season and the purple and gold leather tassel earrings have been flying off the shelf. The throwback LSU mascot from 1962 is still a huge hit with the crowd and everyone is loving the racerback tanks paired with floral purple and gold kimonos. As we get into the thick of fall, you will see a lot of neutrals and autumn leaf colors such as green, burgundy, yellow and brown. To last through the season, you will definitely want to have dark-wash skinny jeans, one great pair of booties, and bright earrings to make the neutral-toned tops pop.
10. What are some of your best-selling products?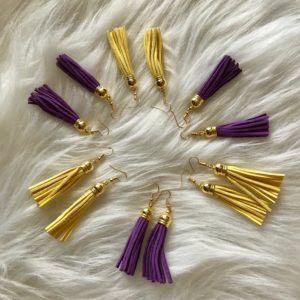 Our top category is jewelry, with tops coming in second. We sell out of our long necklaces and tassel earrings very often. As for tops, everyone's favorite two this summer were the Persia top, which has a tie in the front and bell sleeves. The second was our Pax summer top, which again has a tie in the front but no sleeves. Both tops were manufactured and designed by Reborn J., which is a company known for its buttery soft clothes that feel so comfortable on your skin.