10 questions with specialty pet store The Urban Hound
Darla O'Connor and Tavia Crumpler couldn't seem to find the high-quality dog products they thought their furry friends deserved, so they founded The Urban Hound to take care of the problem. Beginning as as an online store focusing on sustainable and organic doggie outfits, treats, toys and more, the brand recently opened its first brick-and-mortar location in Perkins Rowe—and we got our paw through the door.
To learn more from Crumpler about Baton Rouge's newest pup supply store, keep reading below:
---
1. What was your inspiration for opening The Urban Hound?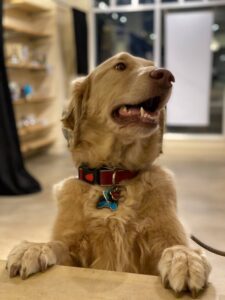 Both of our jobs were significantly affected as a result of the pandemic. We had created the business structure for The Urban Hound a few years ago and decided to revive it and give it a go. Darla investigated how to make dog collars and purchased a sewing machine. Darla also learned how to make The Urban Hound version of a snuffle mat called the You Nose It!—and thus the first two products were born. We originally planned to offer these products and our wholesome treats at local farmers markets, but as the COVID numbers continued to climb, we shifted a bit and Tavia worked to build our website. The Urban Hound officially launched in July 2020.
2. What are your professional backgrounds? 
We both have a social work background and spent much of our adult lives working with offenders. Darla worked in corrections for over 30 years before retiring. I also have an education background, and after 20 years of working in corrections, I took a job with Scholastic Education.
3. What is one thing you think customers should know about The Urban Hound that they may not be aware of?
The Urban Hound is dedicated to sustainability. For each product we carry, we search for sustainable products preferably made in the USA. If we have that option, we always select the product that checks that box.
4. How has the transition from online to a brick-and-mortar location been?
It has been a lot of hard work, but at the same time, it has been loads of fun and very rewarding. We thrive on interaction with the pups and their humans. Having local opportunities like The Market at the Oasis, MidCity Makers Market and Local Pop Up has helped to build our local customer base. People want to support local businesses, and we cannot talk about our transition to a full brick-and-mortar without giving a shoutout to these groups.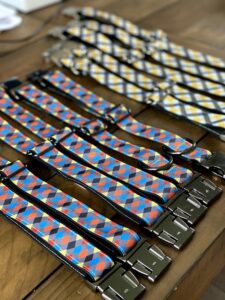 5. What can customers expect in the new year?
We want The Urban Hound to be an experience–a fun and welcoming shopping experience, and a place where people can relax with their canine best friend. We want to be a community that strives to help everyone give their pup the best life.
6. How did you prepare for the store opening?
We worked on creating a physical space that would create that fun experience for customers, and we are continuing to search for more sustainable, innovative products that will build the confidence and stimulate the brains of our furry friends.
7. What types of products do you offer?
Quality dog food, wholesome treats, organic shampoos, comfy beds and blankets, food bowls, clothes, coats, sweaters, bandanas, collars, leashes, interactive toys, and CBD pet chews and oil.
8. When a customer walks into your store, what can they expect to find?
A carefully curated line of dog products that are not carried in big-box stores. We've evolved into a solution-based business and thrive on helping our customers with the challenges they face with their pups. You'll find custom-made products, sample treats, a place for dogs to experience our products, and spaces for our two-legged customers to hang out with their dogs.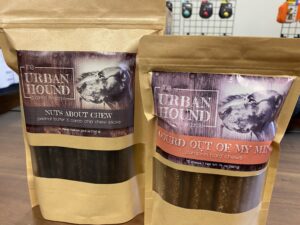 9. What are your favorite products sold at the store right now and why?
We have interactive toys for dogs that are really cool. They keep the pups busy and provide cognitive stimulation, which helps to tire them out. A dog who has the right stimulation is less likely to get into things at home!
10. What are you most excited about with the new location?
We are excited about being a part of the community and getting to know the pups and their owners. It goes without saying that we are dog friendly…as is Perkins Rowe. We are also thrilled that the space is large enough to get creative. We are partnering with Rescue, Rehome, Repeat of South Louisiana and will host regular adoptions in the space.
---
For more, be sure to follow The Urban Hound @urbanhoundbr.