10 questions with Susan Davis of Grandmother's Buttons
Reimagining the beauty of the past, Susan Davis and her team at Grandmother's Buttons have been creating one-of-a-kind creations that preserve small pieces of the past since the company's founding in 1985. Now drawing materials from all around the world, and selling to countless retailers, the Grandmother's Buttons movement has evolved from a small store in St. Francisville to a booming business. In anticipation of her appearance at LSU Rural Life Museum's Tea, Fashion and Fancies event this Saturday, February 24, we sat down with owner Susan Davis to learn more about her passion for making the old new again.
---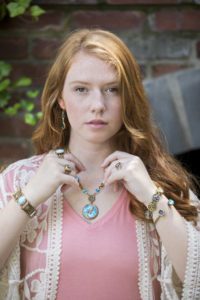 1. What is a typical day like for you and your team?
Everyday at Grandmother's Button's feels very fully packed! We offer a flexible work schedule for our non-retail employees–some come in as early as 7 and leave at 3 or 4. I often don't get in until 9 and leave at 5:30 or 6. Our production room works hard to make 400 to 500 pieces of jewelry a week, while our customer service team is busy communicating with stores and individual customers, pulling orders, and shipping them. And of course our locations in St. Francisville and New Orleans are open daily.
2. What is your professional background?
My undergraduate degree from LSU is in journalism. I also did four semesters of master's work in English, but never finished–I just had a lot of novels I wanted to read and talk about! Throughout my 20s, I worked in public relations for Louisiana tourism and the LSU Union.
3. What are the first things customers see when they walk through your doors?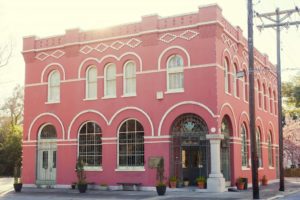 The old bank lobby setting of our St. Francisville store makes for a dramatic retail environment–16-foot ceilings, mosaic tile floor, oak paneling, and the original brass and oak tellers' windows that form the checkout area. Our New Orleans store is less dramatic but even more historic, being located in an 1835 building in the Lower Garden District area of Magazine Street.
4. What sets your stores, and the pieces you sell, apart?
Well, besides the historic buildings, our two stores stand out for Louisiana-made jewelry that is created with actual antique and vintage elements, making each necklace or bracelet either one of a kind or limited edition. We also stand out for our eclectic, sometimes quirky assortment of gifts and clothing that garners us rave reviews on the Internet.
5. What is one thing you think customers should know about your jewelry that they may not be aware of?
Even though we try to mention it in all of our marketing and social media, the small metal buttons used in our jewelry are actually 100 to 130 years old! We buy button collections from all over the world in order to have a steady stream of these tiny artifacts of fashion.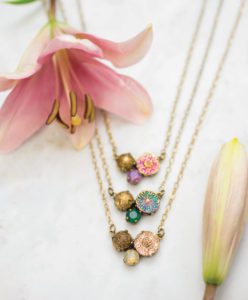 6. How do you keep your products fresh and up to date?
We discontinue 40 to 50% of our designs each year, which forces us to update and innovate constantly. In the past, we have made just two major introductions of new designs a year, in January and July, which is a schedule determined by the dates of the wholesale gift shows where we exhibit. We are working hard to change that to smaller introductions every 6 to 8 weeks.
7. Can you share a hint about what we will see from you next?
Unlike other jewelry companies, our future designs are often decided by what antique and vintage items we find! We have a trip planned to the East Coast in two weeks to visit a number of old jewelry pieces-and-parts warehouses that we know about. On our last trip we found bags of 1920s glass cabochons in carnelian, jade and blue with silver luster accents, and were able to design a whole group of jewelry around them. I can't wait to see what we find!
8. What was your reason for starting Grandmother's Buttons? When did it start and how has it grown or changed since then?
I started Grandmother's Buttons in the fall of 1985. My husband, Donny, and I had left our jobs in Baton Rouge (he as a wildlife biologist, me as a publicist at LSU) to move back to my family's farm in St. Francisville. He planned to grow specialty vegetables and I needed to make up a job for extra income. My grandmother, 95 at the time, supplied some 30 boxes of her own buttons to help me get started. In 1989, Donny joined the company as business manager, and our daughter, Anna, now 30, is our marketing manager. We currently wholesale our jewelry to some 400 other retail stores in the US and Canada, as well as having our own two stores and a retail/wholesale website.
9. What are some of your best-selling pieces?
We really focus on designs that can be worn more than one way: charm bracelets that can be made into necklaces with an extender, and long pendants that can be doubled up to create a short necklace. Customers love the two-for-one nature of these pieces!
10. What is one must-have style this season?
I would say our Lissette necklaces with an antique button and hand-faceted drop that can be worn 32 inches long, or doubled up and fastened with a tiny magnetic clasp in the front and worn as an shorter layered necklace. It is available in three colors—clear water blue, turquoise, and olivine—and with matching drop earrings.
To learn more about Grandmother's Buttons, and to shop the collection, visit grandmothersbuttons.com.