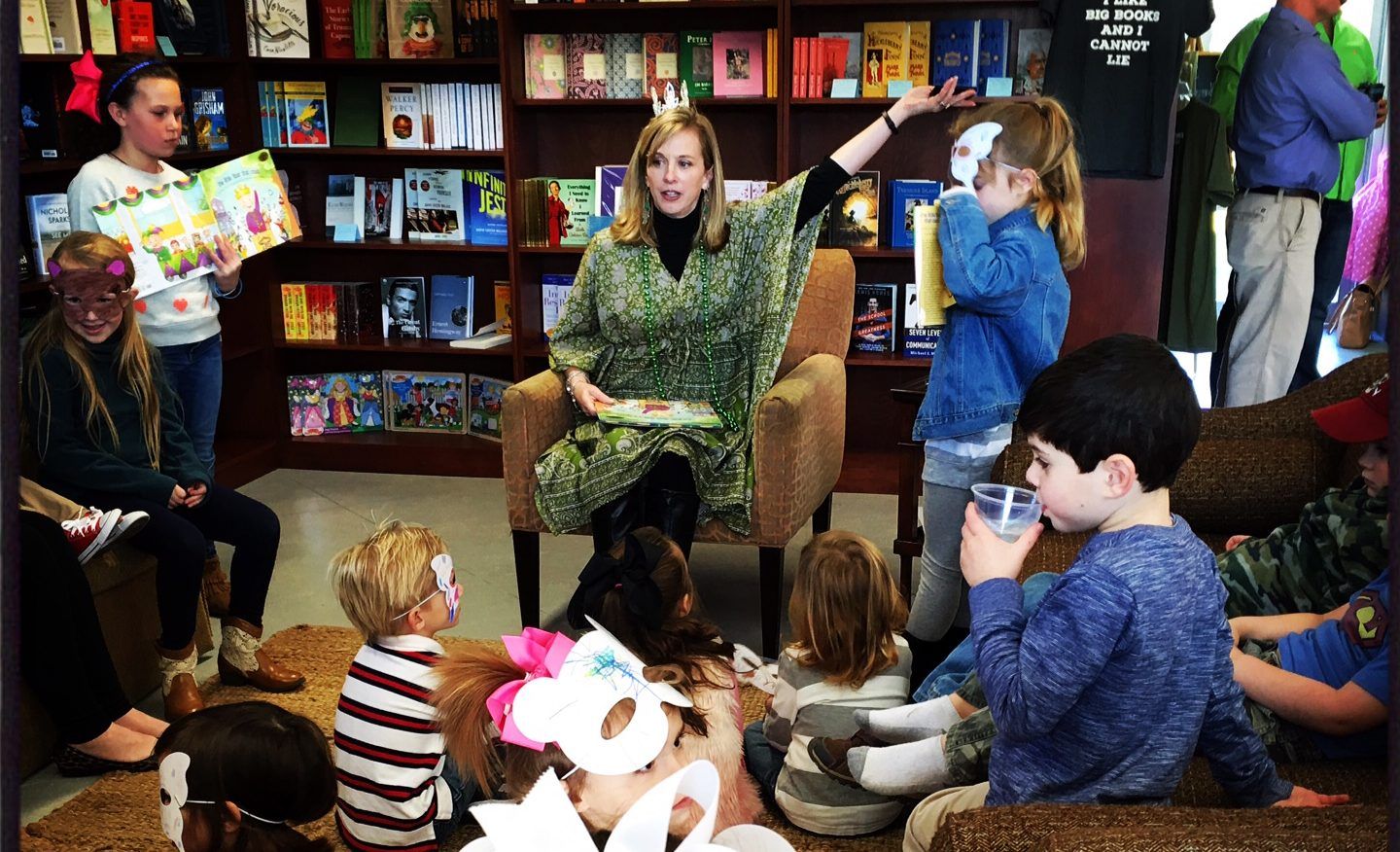 10 questions with Missy Couhig of The Conundrum
Even with the rise of e-books and other digital entertainment, the institution of the bookstore has remained relevant in the minds and hearts of people across the nation, and the world. The reason? Bookstores provide more than just the words on a page. They create a feeling and serve to bring the community together through the sharing of stories and experiences. One such place is The Conundrum in St. Francisville, which aims to stock not only popular books but also those that speak to individuals. With friendly bookstore dogs and a flair for the out-of-the-ordinary, this bookshop is much more than meets the eye. We sat down with owner Missy Couhig to learn more about the store, the team and, most importantly, her favorite books.
---
1. What is a typical day like for you and your team?
A typical day is probably a lot like any retail business. We open at 10:30 in the morning, people come in and buy books, we get to chat about books, and we close at 5:30 in the evening.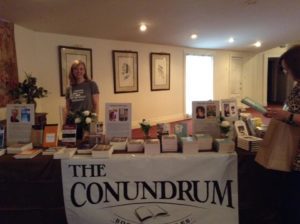 But then there are also quite a few atypical days. Days where instead of being at the shop, one or more of us may go to the shop to load up a selection of books before the sun comes up and then head out to a literary event or marketplace event and set up a "pop-up" bookstore.
There are also days where we host authors in our shop so we might have a reception after hours with a book signing and talk. The most fun atypical days are the days each year where we host the three book festivals we are now involved in. This can mean anything from having more than 400 people course through the bookshop to register on the first day of the Walker Percy Weekend [slated for June 1-3 this year] to setting up tents and welcoming hundreds of children to the West Feliciana Children's Book Festival [set for May 5] under the beautiful oak trees in a park in downtown St. Francisville.
2. What is your professional background? What inspired you to open a bookstore, and how has it grown?
My professional background actually has nothing to do with books. I spent the first 25 years of my career in marketing and sales, working first for insurance companies as a regional representative and training rep for agents, then in pharmaceutical sales as a sales representative and area field trainer, then as district manager, and then finally back to insurance as a freelance benefits representative, all the while traveling with a book in my lap. I was inspired to open the bookstore by a mutual love of books and bookstores that my husband and I share, as a result of which we tend to spend a lot of time in bookshops, preferring small, independently owned shops.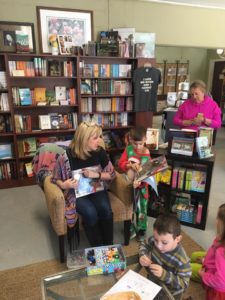 The idea of owning our own bookshop actually came up while away on vacation a few years ago while in a bookshop thousands of miles from home. What at first was a retirement dream became a reality when my husband one day happened along a perfect building in St. Francisville and signed a lease on the spot. And I am so glad he did because I am the type that will worry a decision to death and never make a move.
While the bookstore has not grown physically since opening just over two years ago, it has certainly grown in scope and reputation. Before opening the store, I was already volunteering on the committee that hosts the annual Walker Percy Weekend literary event, and since opening I now not only have been chairing this event for the past few years but have also been asked to chair the annual Writers and Readers Symposium held each February in St Francisville. Last year I founded The West Feliciana Children's Book Festival and hosted our first event in cooperation with the West Feliciana Parish Library.  We also take part in several events where we bring the bookstore to marketplace in neighboring communities.
Our reputation has grown through article in publications such as Shelf Awareness, followers on our social media accounts, newsletters and a blog. We also had the honor of being named one of the 10 best bookstores in Louisiana in March of 2017, even though we are only two years old.
3. What are the first things customers see when they walk through the doors to your store?
The first thing you see upon walking in the door is probably one of our bookstore dogs. On days that I am there, Buster the Bookstore Dog is in tow. Buster's official job is greeting customers, and he takes this job VERY seriously as you will see in his pictures on his Facebook page. His unofficial job is begging for treats, and he excels in this category. A couple of days a week, Jackson, a springer/King Charles mix, is around to charm all visitors with his good looks and winning personality.
If by chance and circumstance neither dog is in on the day you visit, then the first thing you will see is our children's book section. This is  really an important part of our shop and as such deserves its front-of-shop place of honor. Building a love of reading in the youth of our community is the legacy I hope this bookshop leaves to St. Francisville.
4. What sets your store apart?
Every book in our shop is hand chosen and curated. When we were opening the shop we considered, for a moment, using one of the readily available programs where you tell a book distributor how many feet of shelf space you have and what your interests are and they basically choose all of your books and ship you a bookshop in a box on day one.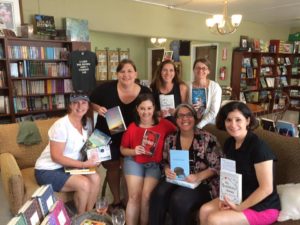 Instead, we decided to open the doors with only a rather sparse selection of books on the shelves and lots of empty space so we could ask the community for recommendations of the books that changed their lives. As a result of constantly adding to the collection when one of us thinks of a book we "should have" but don't or when someone happens in and tells us about their favorite books, not only have the shelves filled but every book has meaning and I believe it shows.
5. What is one thing you think customers should know about your business that they may not be aware of?
I am pretty much an open book (pun fully intended) and as such I can't imagine there is anything left I haven't shared. As a matter of fact, I write a blog called "Tales from a Bookshop" in which I share pretty much everything that happens in the store.
6. How do you keep your store's inventory fresh and up to date?
The best way is that I still visit other bookshops on a regular basis in whatever town I may be in at the time. While there, I ask those booksellers what their favorite books are and then I order them.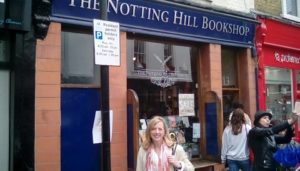 I also utilize some more mainstream methods like reading book reviews, attending conferences of independent booksellers, meeting with book reps and avidly reading publications like the Indie Next List and Shelf Awareness, where you can always find write-ups on the best soon-to-be-released books.
7. Can you share a hint about anything new in your store this year?
I believe in the motto "underpromise and overdeliver." As such, I am hesitant to over share ideas that are only currently half-baked or not yet tested lest someone comes in expecting to find something I later decide against. So suffice to say that I have recently returned from a booksellers conference where I got some fabulous new ideas I hope to share soon. Stay tuned to my newsletter and blog to know what and when.
8. What are a few of your favorite books?
Are you sure you are ready for this? My favorite of all time, hands down, is The Princess Bride by William Goldman. But if you think you don't have to read the book because you are such a huge fan of the movie you know everything about it already, if you believe that having seen the movie so many times that you know the entire script and therefore know what to expect from the book, let me just tell you–you are wrong. You must read the book if only for the privilege of reading the forwards (purposely plural). Any self-respecting fan of Buttercup and Wesley owes it to themselves to read the book.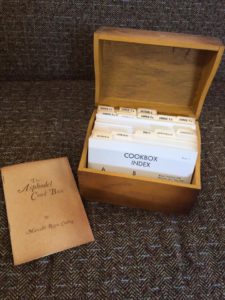 Also among my favorites are Walker Percy's Love in the Ruins and The Moviegoer, anything and everything by Jane Austen and Charles Dickens,  A Confederacy of Dunces by John Kennedy Toole, The Ice Garden by Moira Crone, The Cottoncrest Curse by Michael Rubin, Atchafalya Houseboat by Gwen Roland and All the Light We Cannot See by Anthony Doer. As for cookbooks, some of my favorites are Julia Reed's South, Mastering the Art of French Cooking by Julia Child, and The Asphodel Cookbook by my mother-in-law Marcelle Couhig, who passed away before I met my husband but through its narrative style I feel I have gotten to know my mother-in-law even after her passing.
Currently on my nightstand are both A Wrinkle in Time by Madeleine L'engle and A Gentleman in Moscow by Amor Towles, neither of which am I finished as I write this today but both of which I expect would be added to this list as soon as I am. They are fabulous each in their own way. This list could go on for pages, and that is the joy of owning a bookstore. It is now my job to read books all the time so I can speak knowledgeably to visitors!
9. What are some of your best-selling products?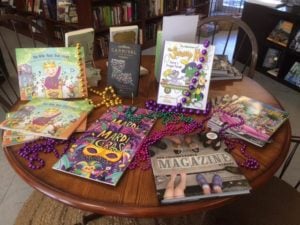 Local and regional children's books come first, followed by other books of regional interest. Gift books, including coffee-table books and the Everything I Need to Know I Learned from a Little Golden Book series, are very popular, as are jigsaw puzzles and fun ink pens.
10. Why do you think hard copies of books continue to be so important to both children and adults?
First of all, they don't need to be charged and you can read them even during take-off and landing! But really, I believe that it is in the physicality and community that is intrinsic to a real book. It is that feeling you get when you see the cover of a favorite book from childhood and it brings you right back to those wonderful memories. It is in the ability to write in the margins if you want to, to hand it to a friend after you have finished reading it and share the fun with them, and mostly it is in the ability to turn off the screen and the constant busyness of the current world and to step into the simple paper world of a book for awhile–to unplug and to slow down and to savor.