10 Questions with Meghan Daniel of Crybaby Cross Stitch
The craft of cross-stitch has long dwelled in the land of inspirational cliche and sass. In Meghan Daniel of Crybaby Cross Stitch's collection, you'll find odes to that thread with familiar renditions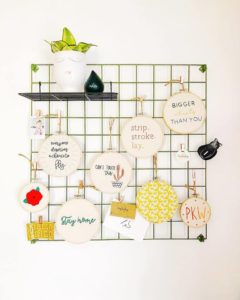 of "stay home" or "grow." But alongside these, you'll see where she plays with that tradition–twisting the generalized little cliches into more personal, though still simple, messages like "i'm fine" or "no." And then she amps up the sweet sass, proclaiming:  "slay," "bigger idiots than you," or "oh, farts." Inspired by her playful and relatable take to her craft, inRegister sat down with Daniel to find out what inspires her and where she hopes to take her business next.
---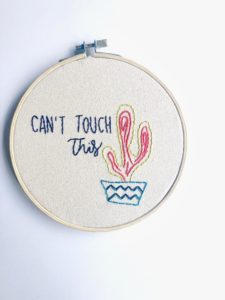 1.What is your professional background and how did you get interested in cross-stitching?
I graduated from LSU in 2013 with a degree in child and family studies. I worked for a couple different nonprofit organizations advocating for public health, and I've always had a job bartending or serving. Cross-stitching started as a productive way to relax versus just playing on my phone or watching TV. I had no idea people would actually like my stuff!
2. How did you learn to cross-stitch?
The internet! I took a few classes on Skillshare and watched a TON of YouTube videos. Practice makes perfect.
3. What was your reason for starting your business? When did you start and how has the business evolved?
My main reason for starting was peer pressure. I was making a lot of gifts for family and friends at the time, and I was way too nervous to go out on my own and call myself an "artist." First, I made an Instagram account and just started posting the things I would make. The next thing I knew, I had a website and a logo!
4. What are the first things customers notice about your products?
Probably my language, haha. It's not always PG, but that's just not me. It's definitely not your grandma's embroidery, but most people get a kick out of it.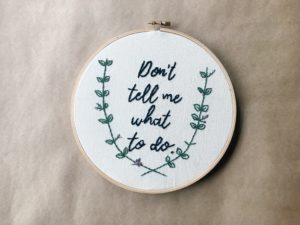 5. What makes your products unique?
I try to be as honest as possible with my work and the content that I put out there. I don't want to give people the idea that I have it all together or am totally confident at being creative. We're all struggling!
6. What is one thing you think customers should know about your work that they may not be aware of?
People are always shocked to find out that I do everything by hand. Cross-stitch and embroidery are very time-consuming. A lot of love and patience goes into every piece.
7. Where do you get your inspiration for your products?
My friends, family, podcasts, TV shows, songs and things my therapist tells me.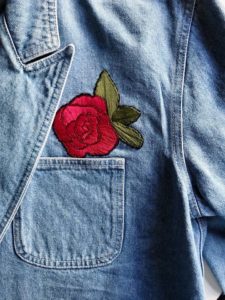 8. Can you share a hint about anything new in store for Crybaby Cross Stitch?
Be on the lookout for new types of products from me–pins, patches, accessories. I'm branching out!
9. What are a few of your personal must-haves when you are cross-stitching?
Really cute embroidery scissors and 1 million throw pillows to prop me up while I sit sewing for six hours straight.
10. What are some of your best-selling products?
By far, my best-selling products are the My Favorite Murder quotes. It's a wildly popular true-crime podcast that has some of the best and most supportive fans. They really pay the bills. Stay sexy and don't get murdered!
To see more of Daniel's work, visit her website here.