10 Questions with Maria Boudreaux of Fleur de ME Designs
Working to share her love of painting, as well as the Southern experience, Maria Boudreaux has been creating and teaching for years. What started as a simple high-school interest has followed Boudreaux throughout her life, finally manifesting in Fleur de ME Designs in 2003. Now, 15 years later, her passion for painting has reached heights she never could have imagined, as she prepares for another round of camps and classes while also showing art in Baton Rouge and beyond. We sat down with Boudreaux to learn about her inspirations and how she balances it all.
---
1. What is your professional background? How did you get into painting and teaching?
I graduated from LSU with a degree in human ecology with heavy electives in business marketing. I worked in retail as a manager all through college, while doing calligraphy and small art projects, and then became a buyer for Maison Blanche until they closed. I then got into sales, while continuing art and calligraphy. When my daughter Shelby was born, I painted a mural for her room. Once people starting seeing it, they wanted one too, and it started a business. When my brother was sent to Iraq in 2003, my sister-in-law Jen Prochaska, who is also an artist, and I decided to do summer art camps and "Women, Wine, and Watercolor" classes for extra income. In addition, I worked with home builders and designers by decorative painting. Now I have texture painting classes, private parties, team building, summer and holiday art camps, and live painting events, and I sell my artwork online here and around Baton Rouge at The Foyer and in Orange Beach, Alabama, at The Prosperous Pelican.
2. How did you learn to paint?
I took one year of art at St. Joseph's Academy taught by Sister Adelaide Williamson. Books and studying other artists help me with my skills. I have always had the attitude that if others could do something, I can too!
3. What was your reason for starting your business? When did you start, and how has the business evolved?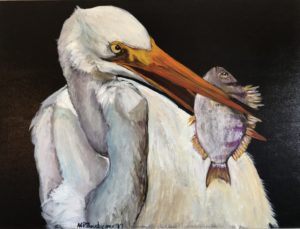 When my daughter Shelby was born, I wanted to do something that allowed me to be active in her life. She's been at job sites with me and played while I worked on my calligraphy and art jobs. As she got older, I took jobs that allowed me to be home when she was home. Art camps started in 2003, and I enjoyed them so much that I expanded them to the entire summer and holidays. Most of my business is team building, open paint classes, family days, date nights, private parties, live painting events, painting commissions, and displaying and selling in galleries here in Baton Rouge and Orange Beach, Alabama. One special part is that my husband Trent and I work together on art projects.
4. What are the first things guests notice when they attend one of your classes?
My guests notice right away that my class is different than any other class they've been to. Guests can paint whatever they want. We draw everything for them and use a texture base and acrylic paints. Everyone receives different instructions, which makes the class different and exciting.
5. What else makes your classes unique? What about your art?
Our goal is for everyone to relax, bring friends and/or family, and have a "wall-worthy" piece of art when they leave. Something to have in their home, not necessarily on the mantel, but not under the bed or in the laundry room either. My art is unique because I use different techniques and mediums. I use mediums in different ways. I like to try new ways to use supplies. Being self taught allows me to explore supplies and techniques in ways they are not generally used. I love the South–the culture, the food, faith, colors and scenes. My art is influenced by all that I see and experience.
6. What is one thing you think customers should know about your work that they may not be aware of?
I try not to lock into painting one type of object or style. I work with clients to create their masterpiece. I want them to have something original and unique to them instead of something mass produced.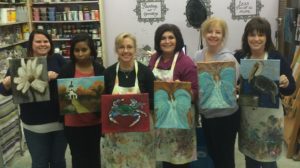 7. Where do you get your inspiration for your art?
Inspiration is everywhere. We love to fish, eat, laugh and enjoy our culture. I paint fish, statues, angels, landscapes, abstracts and so much more. I enjoy painting things that I see and experience.
8. Can you share a hint about what's next for you and Fleur de ME Designs?
We have some exciting things coming up soon. We have several team-building activities scheduled, along with private parties and open paint classes. All new art will be at The Foyer at the beginning of August. On August 28, I will be doing a live painting for Dreams Come True in Lafayette at their charity fashion show. One of my paintings called Sushi I will be displayed at the Louisiana State Archives Gallery September 4-27 as part of the 49th annual River Road Art Show. It is a huge honor to have a piece of my art in this show, and I am so excited for the opportunity.
9. How do you approach your children's classes?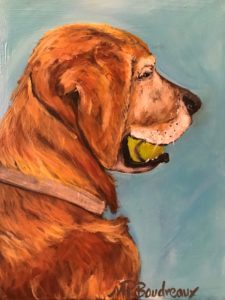 Every good artist, whether impressionist, abstract or traditional, start with the basics—learning how to draw and paint what they see. Understanding balance, shape, shading, perspective, value and more shapes the foundations to create realistic art. With this understanding, the artist can then create in whatever medium they prefer. I teach children to draw and paint what they see using different exercises. During a week at my Creative Kids Art Camp, children will learn to draw with pencil and charcoal. They will learn to paint with oil pastels, acrylic and texture. At the end of the week, campers put on an art show to display their masterpieces to guests who attend.
10. What are your most popular classes?
Each class has something special, and guests enjoy the uniqueness of our classes. My favorite class is Team Building. Companies or groups come to the studio and work on individual or group paintings. Some want to paint and some do not, but they all are together to create art for their office and themselves. I receive more repeat business from team-building activities than I ever expected!
To see more of Boudreaux's work or to sign up for one of her classes, visit her websites here and here.