10 questions with Madeline Ellis of Mimosa Handcrafted
Drawing from that which lies at the heart of the Louisiana experience, Madeline Ellis, the creative mind behind local jewelry company Mimosa Handcrafted, wants to create moments of meaningful expression, rather than mindless adornment. From modern twists on classic icons to introspective surveys of anxiety and relaxation, Ellis' pieces connect with the community in a way that both preserves tradition and brings people together. We sat down with Ellis, who is also co-founder of Mid City Makers Market, to learn how she juggles her roles as mother, business owner and creative spirit.
---
1. What is a typical day like for you and your team? It starts with making breakfast and packing lunches, dropping the kids off to school–a typical mom morning.I meet the team back at the office a little after 9 a.m. On Mondays we have a quick team meeting to wrap our heads around the week and check in, set goals, etc. My main role is to create new pieces, so I stay focused on that.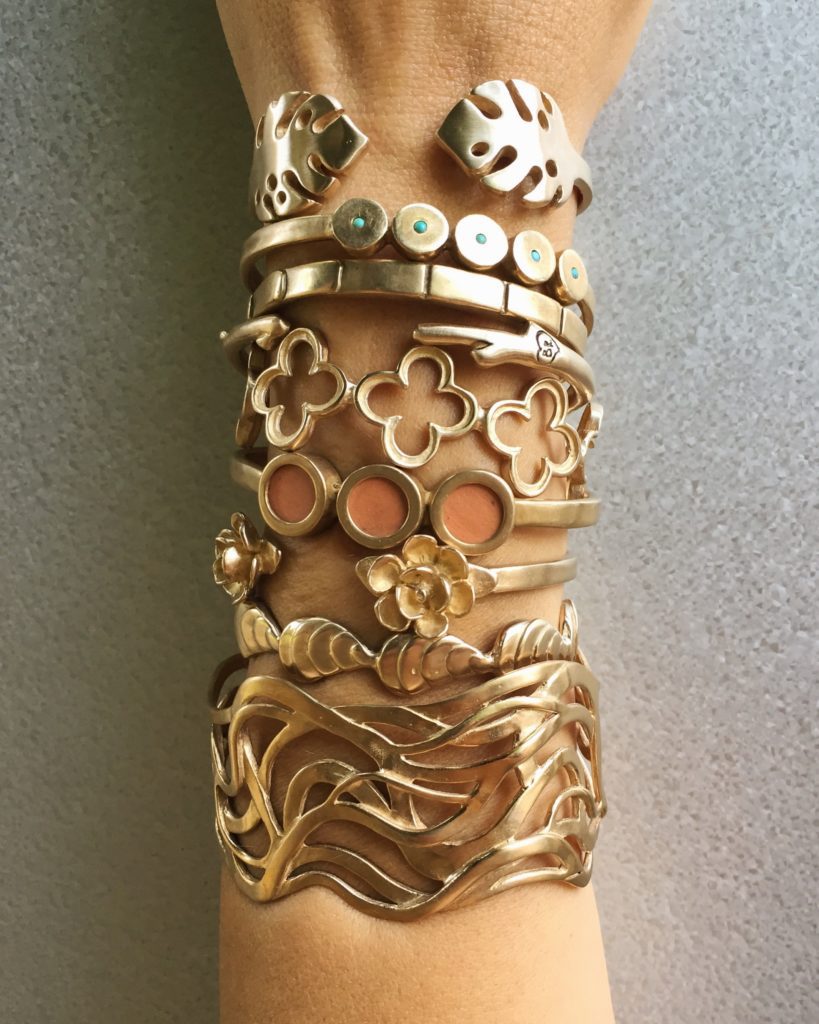 My husband, Dawson Ellis, joined Mimosa full time a little over two years ago.His main role is to build inventory, prepare for and cast jewelry. He spends Mondays working on our side project, Mid City Makers Market. Courtney Gay has been full time with us a little over two years as well; she manages assembly, packaging and shipping. Grace Simmonson joined us this summer; she buffs and cleans the jewelry to get it ready for shipment as well as assists Dawson in casting. Greta Jines has been with us about a month. She answers emails and phone messages, orders supplies, and manages the website and Etsy. Most of our sales are online and our busy seasons are spring and fall. Most weekends are packed with festivals and holiday shopping events that we spend our weeks preparing for.
2. What is your professional background? How did you get into jewelry? I graduated in landscape architecture from LSU. The LA program has hovered around #1 in the country for the last 10 years. It's a fantastic design program that gave me a solid foundation for design principles as well as a healthy appreciation and understanding of the systems our world functions in. We were taught to see spaces as a series of overlapping systems. We were required to dig deep on those layers, including but not limited to psychology and culture, socio-economics, ecology, geography, etc. Considering all of the systems, we were encouraged to design for form and function–they weren't mutually exclusive, and in fact, done well, each could make the other better.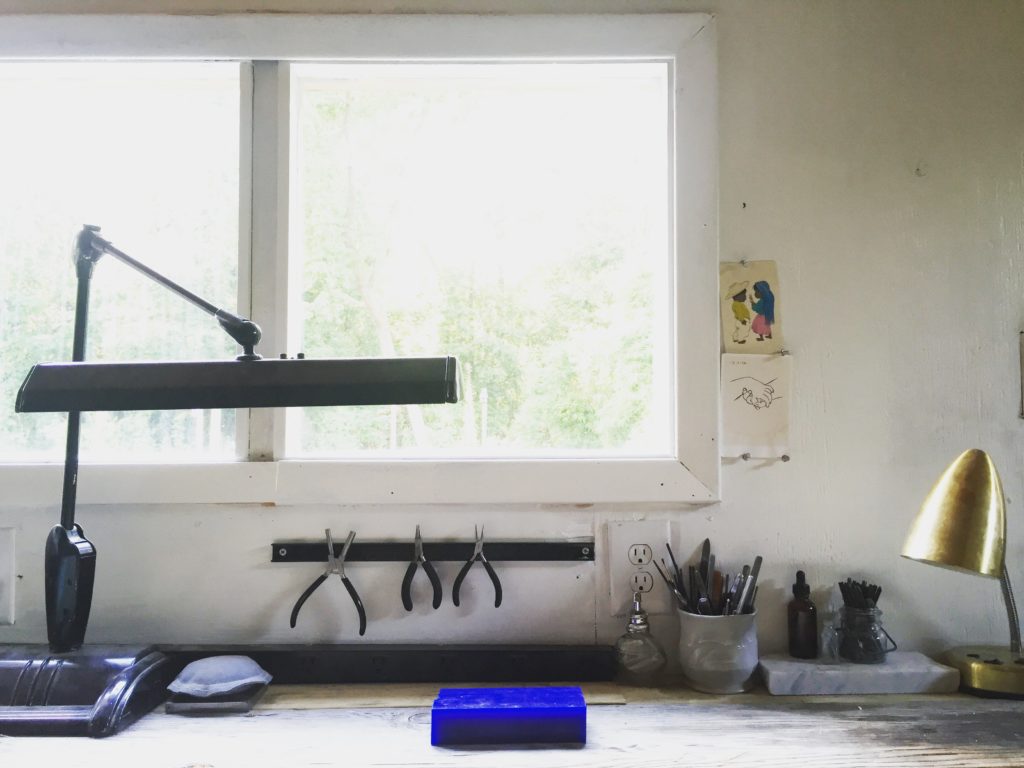 I come from a long line of creative makers. My dad made beautiful dollhouses, and my mom was a talented seamstress. She enrolled me in sewing classes in third grade. That was the first time I remember using my talent/skills to make things I wanted to exist in the world but couldn't find. If I couldn't find the purse I wanted, I'd get some funky vintage fabric and make it. If I couldn't find the top I wanted, I'd deconstruct one and turn it into something I loved. I started with friendship bracelets, seed beads and fishing wire. My mom gave me her old Tupperware box to keep them in and I made pieces for myself and for my friends and kept it up through college.
After graduation I worked for a small landscape architecture firm in downtown Baton Rouge. I'd leave that day job and go straight home to make jewelry into the night. I spent a lot of time exploring new techniques and materials; I took classes and read lots of books. My husband, who was much more entrepreneurial-minded, encouraged me to make Mimosa an LLC and apply to sell at the local arts market. I was slowly picked up by local retailers and added new shows and festivals as well as an online shop. Eventually I left my day job to pursue jewelry full time. My background in landscape architecture prepared me for creating pieces that went beyond aesthetic adornment. Everything we designed in school had to have a "why," and we didn't include things that weren't adding to the form or function of the experience of the space. The way I approach jewelry design is exactly the same. I consider so much more than trends; each piece is rooted in creating experience, solving a problem, telling a story or raising awareness.
3. Where do you get your inspiration for new designs and pieces? Everywhere. Honestly, most pieces are born from a story I'm trying to tell about our culture, landscape or past. I love making pieces that create opportunity for conversation around topics like mindfulness, relaxation, history, culture and landscape.
4. What sets your jewelry apart? It works for a living! I'm kidding, sort of. My jewelry doesn't just decorate you, it tells a story, it reminds you of something you love, it draws you nearer to whatever it is that piece represents. It gives you an excuse to talk to strangers and maybe even become fast friends. It opens doors to both like-minded conversation and constructive debate.
5. What is one thing people should know about your business that they may not be aware of? I have an incredible team. Each person brings something unique to the table and we lean hard on each other's strengths. No one does it alone, least of all me.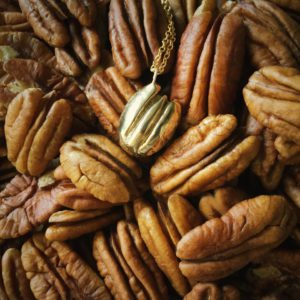 6. How do you keep your products fresh and exciting? I stay open to what feels like needs to be made in the moment. I have ideas on the books going back years but it's not always the right time to make that thing. There is no formula, it's more like a gut feeling or listening to that still, small voice. Some ideas feel like money burning a hole in your pocket and they almost demand to be made immediately. Some just whisper to let you know they are there and when the time comes they'd be thankful to be made.
7. Can you share a hint about what you have coming out next? This is one of those projects that hasn't been screaming at me until recently. I've been hinting about it on social media. Lets just say it's a great birthday present to Baton Rouge for turning 200 this year!
8. What was your reason for starting your own business? What have you learned through the process? Flexibility. I had been doing Mimosa on the side since 2008 and finally went full time with it in 2012 after I had my first child. I was able to stay at home with him while pursuing this thing during naptime and after bedtime.
If you want to build something or make something, you have to get resourceful and be tenacious. The perfect space, tools and endless time probably won't show up, so you have to do what you can with what you have. Until two years ago I was working in a closet alone, late at night, early in the morning and in any pocket of alone time I could in between.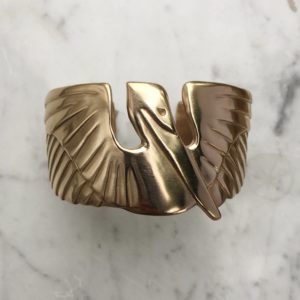 I skipped going out and watching TV. I squeezed Mimosa into every nook and cranny of time I could. Even now, I run back to the shop as soon as the kids are down. I get frustrated when I don't have enough time to work, and it's usually those times I realize I haven't been creative with how I could be getting the work done.
9. What are your must-have pieces for this season? The Tiger & Jaguar pendants. They've been a long time coming!
10. What is your best-selling item? The Pelican cuff since the day it came out!
Find Ellis' jewelry creations at mimosahandcrafted.com or at one of her local retailers.