10 Questions with Adair Gautreau of Love Life Soap Co.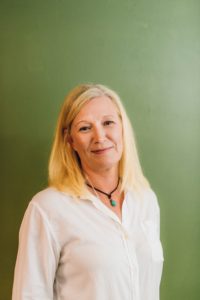 A passion for the interaction of science and art combined with a commitment to loving the earth we walk upon brought Adair Gautreau to the craft of soap making. Not to forget her motherly instinct to find a solution for her daughter when she struggled with skin problems. With care and love she handcrafts each bar and mixture with all natural ingredients for her company Love Life Soap Co. inRegister recently sat down with Gautreau to learn about her company's story and growth, including where we can find her products on shelves here in Baton Rouge.
---
1. What is a typical day like for you and your team?
I have to laugh because my friend Meredith from SFT just came out with a T-shirt, "Mama Needs More Coffee." That's me every morning! Seriously, though, as a small business owner your day never goes as planned. First thing in the morning, customer orders are packaged and sent out. Quick turnaround is very important to us. I spend a couple hours doing the not-so-fun paperwork, then after lunch is when I get to create in the studio. I love this time to make and create new products. Getting all the soap molds lined and ready to pour raw soap is the first step in the process. Measuring and weighing all the oils and botanicals comes next. Then I start melting all the hard oils and mixing the lye solution. When everything comes to the right temperature, I start mixing until it comes to trace, which is a thin pudding consistency. At that point the raw soap is poured into the mold, taken out after about 48 hours, sliced and set to cure for 4 weeks.
2. What is your professional background? How did you get into bath and body?
 I spent 20-plus years in retail management and worked for Bath and Body Works for several of those years.  I've always been a very curious person with a thirst for knowledge. My daughter starting having skin issues at a young age, so I set out to fix it. As all moms do, we are fixers. So, the journey of coming up with an all natural soap that could help with those issues began. I love the process and the science behind it. The rest is history.
3. Is there anywhere around town where customers might find your products? What is the first thing they will notice about them?
I am just starting to expand my product to retailers and have several great places you can find our product, including Alexander's Market, LD Linens and Decor and Andi Lynn's online. You can also find us monthly at Mid City Makers Market and, starting this month, we'll be at the Alexander's Pop-up Farmers Market one Sunday per month. 
The first thing that you will notice is going to be the beautiful packaging. Fate brought me to a very talented watercolor artist and pattern designer, Juliet Meeks from New Orleans. The product inside is pretty incredible, too. I spend many hours perfecting an all-natural product with no artificial colorants or artificial fragrances. You will notice after the first use that the combination of olive oil, coconut oil, shea butter and cocoa butter feels amazing on the skin.
4. What sets your company apart?  
There are several things that sets us apart. We do not skimp on the quality of raw oils or any other ingredient that goes into our products. We are palm free and our ecosystem plays a very large part in our choice of ingredients. I also think my knowledge sets Love Life Soap Company apart. I am a student of natural ingredients and our environment 24/7. I don't just throw oils together without the knowledge of their benefits, where they come from and how they have been processed.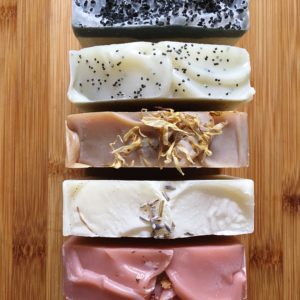 5. What is one thing you think customers should know about your store that they may not be aware of?
We are all natural and organic so if the soap has a color, it's from all natural clays or botanicals. Also, we use only essential oils so you will never find any synthetic scents. In addition, a fun fact that most people don't know is that making soap is a 4- to 6-week process.
6. How do you keep your inventory fresh and up to date?
Inventory is always evolving. We try to add seasonal products that will always keep things fresh and exciting. We are always striving to not only make a better product but also collaborate with local businesses for local ingredients. We are currently collaborating with Tin Roof Brewing Company, using their Voo Doo Brew in our Pale Ale Soap.  It has been a lot of fun incorporating the the citrus notes in the actual beer. We will be launching it in early summer, just in time for Father's Day.
7. Can you share a hint about what shoppers will see next season?  
We have a lot of exciting things happening in the next several months. Our Baby Love line will launch in mid-April. This line will include an all-natural/organic soap that will be made by infusing botanicals into the oils. We will have a baby bum salve that will also contain botanical infusions. The whole line is natural care for the baby you love. We are also switching product containers as we speak. We have chosen to eliminate all plastics and go with more eco-friendly containers.
8. What was your reason for opening the company? When did it open, and how has it grown or changed since then?
I started the company because I'm a true believer in using all-natural products and I felt like I could provide something great to others. This was also an opportunity to be part of a community of giving and caring for our mother Earth. The website went live in May 2017, and I wanted to take the time to do it right the first time and not have to back track down the line. We really thought through all the products, packaging and branding, and the growth has been great! We are only at the beginning of a really wonderful journey and can't wait to see what year two will bring.
9. What are a few must-have items this season?
With the summer on right around the corner, a good exfoliating soap is a must have to help get rid of winter dryness. Our Oatmeal Bar would be my first choice. It not only exfoliates but the honey leaves a protective barrier on the skin and its great at trapping in moisture. Plus, it contains lots of skin healthy vitamins. Just remember–always use really good sunscreen. That's the best way to combat the signs of aging and keep your skin healthy.
10. What are some of your best-selling products?
Our three top sellers in soap are Lavender, Eucalyptus Mint and Oatmeal. We sell a lot of lip butter and body butter during the colder months, too.
For more information on Gautreau and her all-natural creations, check out Love Life Soap's website here.