10 questions with Kate Suchanek of Yoga Path
When Kate Suchanek started Yoga Path six years ago as a teacher training program, she had no idea how it would grow.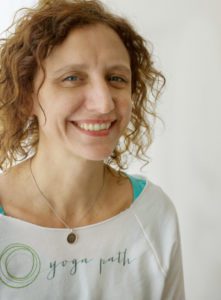 The incredible community interest and support has built her business into a school for yoga instructorswith various certifications and trainings as well as a studio for yoga students of every kind. By focusing on how yoga can benefit the individual, rather than how advanced the individual can become at yoga, Suchanek has created a therapeutic, healing home for all members of the community. With an emphasis on body mechanics and alignment, classes at Yoga Path are designed to translate healthy body movement into students' daily lives. Suchanek shares with us the elements of this philosophy behind the various classes and therapeutics offered at Yoga Path.
1. What is a typical day like for you and your team?
A typical day's routine depends on whether on or not there is a yoga teacher training session going on at the time. Running the studio has been dependent on the support of its students and their willingness to step in and lend a hand. This could be anything from providing tea for the tea table, helping new students get comfortable, and giving me a hand with office work to leaving little gifts such a food from the farm and garden, baked goods and treats, essential oils to diffuse in the studio, flowers, etc. Currently, a usual day for me involves teaching asana in the morning, followed by teacher training. I leave around 1 p.m., grab lunch and head to the school carpool line to pick up my child. A couple nights a week I head back to the studio to teach, and depending on the teaching season, I'll spend some time in the evenings preparing lectures, working on program development, doing accounting, answering emails, basically tying up loose ends. The move of the business from Acadian to Jefferson saw an increase in time needed for promotions, social media, event planning and handling student accounting. It was overwhelming, and I did not have experience running my own business before Yoga Path, but it was never a one-person show. I can't say enough how fortunate I have been to be connected with a community that has selflessly offered to help me run the different legs of the studio. Several people gifted with the talents and know-how to keep Yoga Path growing and thriving have taken the reins where I was letting the horses run wild. They have helped me run this business, but so much more than that, they have given me the chance to live a more balanced life.
2. What is your professional background? How did you get into this field?
I began taking asana classes 20 years ago at Anahata Yoga Center (now One Heart) with the recently passed Nancy Clark. She helped guide my practice with a combination of enduring patience and sharp wit. When Nancy retired and moved to Mexico, I was encouraged to attend Kripalu's 200 Hour yoga teacher trainings. The program was a month-long immersion and one of the best decisions I had ever made for myself. Simply put, my journey in compassion began. Ten years ago, I completed my advanced teacher training, which fosters my desire to interact with students on an individual basis. Seeing and personally experiencing injuries resulting from the practice inspired my passion for teacher training and more therapeutic approaches to asana. It has grown from there to examine how yoga can help people with injuries outside of the practice and learn ways to transfer what is learned in a class into daily life. My studies found a home in teaching students on an individual basis. It was not about finding a way to help a student move their body into a pose, but how to adjust the pose to fit the person's body. The practice continually deepens my lessons in compassion. Since then, I have been traveling and studying with various teachers who focus on the individualistic, therapeutic lineage of yoga. My latest studies have brought me to the work of Leslie Kaminoff and Dr. Loren Fishman. Being able to share what I learn fuels my fire to continue to evolve my practice and my teaching skills.
3. What are the first things customers see when they walk through the doors?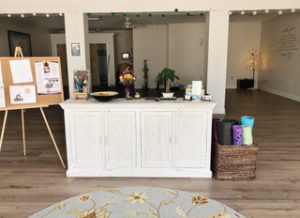 "It feels so peaceful and calm in here…" is probably the most repeated comment we hear from students and clients. The space is very simple and light, and the atmosphere is very casual. It is not a yoga clothes fashion show; it is not a yoga pretzel factory. We are dedicated to meeting students where they are in their lifestyle and offering classes, workshops and trainings that help them to go out there and live their life with a little more comfort in movement, clarity of mind, and the ease and connection that comes from a down-to-earth community of good-hearted people. Our classes include chair yoga, yin yoga, restorative yoga, meditation, various levels of hatha, and astanga. We also offer a "bring a friend for free" class every Sunday at 3 p.m. It is a rotating teacher schedule, open to teachers outside the studio's staff, and the response has been great!
4. What sets your studio apart?
What sets us apart is the wide variety of classes, the solid education of our teachers, and the ability of those teachers to modify a practice for an individual in a general class. One of the intentions I am continually working toward is offering a yoga studio that is truly for anyone. We offer classes that go beyond a beginner class to meet the needs of those with limited range of motion due to age or injury. We love to impart the importance of "taking a load off" through gentle movements, breathing and mediation practices that are easy lessons to take home. All of the teachers are constantly putting themselves in learning environments to grow as educators and expand their knowledge of teaching yoga. We are real people with real feelings and real day-to-day lives that come full of the stresses we place on ourselves and/or take from others. How yoga can help release us back to our true nature of feeling calm, whole and complete is the lifestyle of every Yoga Path teacher. And we all love to share what we learn along the way.
5. What is one thing you think customers should know about your studio that they may not be aware of?
We appeal to an older crowd in general because the style of most of our classes is a progressive study in proper body mechanics and alignment. This involves an approach that takes time through more gentle, slower-paced classes in order to establish a good foundation in the body with attention on how to enter and exit a pose, thus reducing a yoga injury. Connecting movement with awareness of breathing is one of the most effective ways of achieving this. While we do offer and thoroughly enjoy a good flow class or a strong astanga practice for the general or experienced practitioner, we also embody a study of yoga that keeps a slow or moderate pace, offers a lot of safety alignments (same happens in our flow and astanga classes, but the pace is picked up), and takes time to help students find a place where they are comfortable in their body in a pose. The intention is not to do the pose, but to find the poses that work best for our bodies. When that happens, it translates into how we move in our daily lives. Physically picking up children and grandchildren, cleaning the house, the demands of our jobs, and running errands around town can become a practice in healthy movements we learn on the yoga mat. Our teachers are resourceful and inquisitive and work hard to help students find the best ways to move and feel good in their bodies, the best ways to discipline the mind that likes to run away and create depressing and anxious thoughts, and a haven for disconnecting from the chaos and plugging into a stillness that speaks to our truth.
6. How do you keep your classes and therapies up to date?
We use MindBody software to keep students aware of who is teaching what class and when, any changes in the schedule, and class attendance. The instructors and therapists are all engaged in continuing education throughout the year. They are either attending offerings at the studio or seeking out teachers who resonate with their interests and studies.
7. Can you share a hint about any new classes, therapies, or events coming in the future?
In the new year we will expand our gentle and therapeutic yoga offerings through the week at 10:30 a.m. Brandi Hanson is developing our kid yoga and couples' yoga offerings. We will be offering a class that targets trigger point therapy offered by our massage therapist and certified yoga instructor Cody King. Beth Zagurski will continue to offer and grow her private client and small group classes through the use of the yoga wall, fascia release techniques, and strong foundational movement practices. We are developing an advanced chair yoga class to complement the gentle chair yoga class we currently offer. Later in the year I will focus on offering a class for osteoporosis. We have a Sunday Lagniappe class that reaches out to teachers in the community not currently teaching at Yoga Path. Our winter/spring 200-hour yoga teacher training kicks off on January 9. We are in conversation with Leslie Kaminoff's team to host a teaching weekend. I really want to reach people who are intimidated by the prospect of a yoga class because they can't touch their toes, they aren't flexible, they want to have more strength, or they are in pain. I will be re-opening my schedule to take private clients for half-hour sessions at $45/session with a focus on low back injuries.
8. What was your reason for opening the studio? When did it open, and how has it grown or changed since then?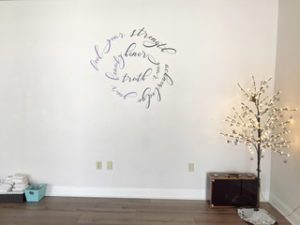 When I first started with Yoga Path six years ago, we only focused on teacher training and held our sessions at Red Shoes. As the program grew, I found a new location on Acadian. The focus expanded to be a school for training yoga teachers and offering continuing education with just a few general public classes. We were a small studio, tucked away in plain sight, yet the studio continued to grow. I fell in love with the community and realized I needed the studio for me as much as they did for them. In February we moved to our current location, and things have been taking off ever since. It's very difficult to put yourself out there knowing it could flop. Every time I felt myself getting discouraged, there was always someone there to pick me up, put me back on my feet, and give me a little push to keep going. That has happened over and over again, and it has become validation for the work we do and how much it has helped elevate the energy in our community. What began as a school offering a few classes has become a studio offering trainings. We are constantly growing our teacher training offerings. We have gone beyond 200-hour level and now offer 300-hour YTT, Continuing Education, Reiki and Yoga Nidra trainings and certifications. Our general public class schedule has grown leaps and bounds and continues to evolve to meet the feedback and needs of our students. We are an inclusive studio. We have had students from all ages and lifestyles: from wheelchairs to walkers to handstand fanatics. Yoga Path has come to mean a lot of good things to a lot of people, and it is only here because of the love and support of this community.
9. What is your favorite class that Yoga Path offers?
My favorite classes are the gentle classes because there I see yoga do some of its best work. We can become so accustomed to the pain we feel and begin to adopt a sense of hopelessness that we will never feel good in our bodies or enjoy our life. Seeing students' relief, joy and expression of emotion at being able to feel themselves improve their health, feel better in their bodies, and find a group of friends is a gift that I'm given as a teacher, and one that I take very seriously. These classes, more than any other, keep me studying and learning and growing personally and professionally.
10. What are some of your most popular therapeutics?
Cody King is our in-house massage therapist, and he has been such a gift to the studio. A humble practitioner of yoga and experienced massage therapist, he practices with an intuitiveness and insatiable quest for knowledge from which his clients reap the benefits. His long-standing history with most of his clients speaks to his skills. Denise Jarreau leads our Reiki Trainings and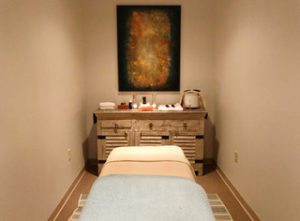 Certifications and offers private sessions for energy healing which goes beyond reiki. She has a very gentle approach and deep-seated kindness that allows her to offer her clients the safety and space they need to process and heal. Her studies are constantly taking her to the next level of training, and she has a profound amount of the respect for the innate wisdom of the body and her path as healer. Beth Zagurski is a pioneer in the study of the body. A stronghold in the community for body health and healing, she is forever a wealth of knowledge and expertise in the study of healthy movement and healthy living. She offers private and small group sessions incorporating her 30-year experience as a personal trainer, yoga instructor and teacher trainer. Melding this disciplines into her unique approach has seen many of her clients through a place of pain into a life of peace. Brittany Kriger of Soul Food is offering a host of services that focus on making women feel good in their bodies through healthy food choices and living habits. Breaking through the monotony of dieting and the shaming inner dialogue we entertain about ourselves and our bodies, Brittany opens her clients to lifestyle choices that suit their individual needs.