10 questions with Eusebio Gongora of Southfin Southern Poké
It's Instagram-worthy, mouth-watering and right there on Perkins Road. It's the latest craze to hit the foodie world: poké bowls. Southfin Southern Poké refers to its fare as "Hawaiian-inspired street food with a dash of Louisiana lifestyle." The hype has been consistent, and Southfin's popularity has it readying for expansion. Soon, anyone at Towne Center can, too, have "sushi in a bowl" at their fingertips. We sat down with manager Eusebio Gongora to learn more about Southfin and how it got started in Baton Rouge.
---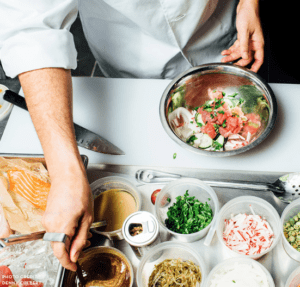 1. What is a typical day like for you and your team?
The day always begins by checking in the fresh fish deliveries. We receive fresh tuna and salmon daily, as well as Gulf shrimp. The staff begins to arrive at the restaurant at 8 a.m. and prep lists are set to get everything moving so that we are ready to open at 11 a.m. After a small pre-shift meeting, guests usually start filing in and the staff starts to shine.
2. What is your professional background? How did you get into this field? 
The funny part is that I have a degree in biology from LSU, but once I decided that a life in medicine wasn't for me, restaurants really became my second home. I have been in the service industry for 15 years. Most of my experience was spent in fine dining, but I have always enjoyed serving and helping others.
3. What are the first things customers see when they walk through the doors? 
After the warm greeting that everyone receives from our staff, guests often tell me that they see and feel the vibe that we are trying to create. This vibe is centered and focused around our food and service line! All the vibrant colors of the various food options really create a unique visual experience from the start. We try to create a welcoming and relaxed environment that everyone can enjoy. Then guests will see and smell all of our fresh ingredients that we prep daily.
4. What sets your restaurant apart?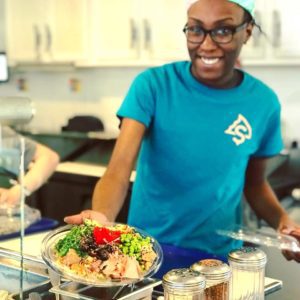 Hands down, our staff. I think most people do not associate the fast-casual dining sector with a high level of guest service. At Southfin, we are trying to give you a level of service that rivals any white-tablecloth environment. From greeting all of our guests at the door to making sure that our guests' needs are taken care of, our staff strives to make dining at Southfin memorable.
5. What is one thing you think customers should know about Southfin that they might not be aware of? 
We are a 97% gluten-free restaurant. With gluten allergies and celiac disease becoming more prevalent, we wanted to create a space where those affected by these illnesses could come and enjoy most of what we have to offer. I think that these type of guests often walk into a restaurant and there are typically only one or two items that they can have, but at Southfin, there are only one or two things that they need to avoid.
The other thing that most people are not aware of is that we serve more than raw fish! We have boiled shrimp, cooked chicken and tempeh (soy-based protein that is similar to tofu).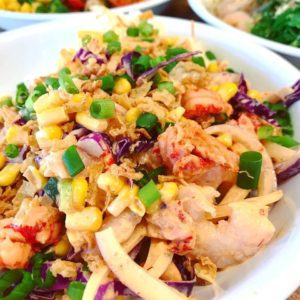 6. How do you keep your store's inventory fresh and up to date?
We get produce and fish deliveries daily to ensure that all of our products are the freshest that they can be. We work with local vendors to ensure that they only send us products that meet our specs and standards. And if anything doesn't meet our standards, then it doesn't make it to our guests. We are very dialed in to our health-conscious demographic. At the start of the new year, we introduced two new sauces to help aid everyone's New Year's resolutions. The sauces were made to be Whole30 and Keto compliant, and the response has been overwhelming.
7. Can you share a hint about what guests can expect at Southfin in the near future?
We are very excited to introduce crawfish to our menu! Being Southfin Southern, we wanted to try to showcase our Southern products. Being from Louisiana, crawfish season is something that we all look forward to. Southfin wanted to be able to showcase this wonderful seafood the only way we knew how: in a poké bowl.
8. What was the reason for opening Southfin? When did it open, and how has it grown or changed since then?
Looking at the Baton Rouge restaurant landscape, we wanted to bring something fresh and healthy to the market. We opened in March 2017 with people lined up outside the door, and many of our guests told our staff that they were so glad to finally have a healthy, quick option.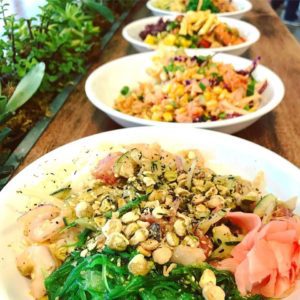 9. What are a few must-try items this year?
We are excited to finally offer catering to our guests. Guests have been asking about catering since we opened, and we have created packages that highlight what we do. If you are looking for someone to cater lunch for your office or offer something different at a tailgate party, Southfin has you covered.
10. What are some of your best-sellers?
Since we opened, the Spicy Salmon and Wasabi Gras have been the top-selling bowls. Our guests really love the combination of sweet and heat that both bowls offer. The Louisiana Purple Rice that we use as one of our base has been a great topic of conversation within our four walls. We are excited to feature this product that was created at LSU!
---
To learn more about poké, check out Southfin's website here. And to try some of Southfin's custom creations, or to build your own, visit the restaurant's Perkins Road location.