10 questions with Elizabethan Gallery owner Liz Walker
Family-run since 1988, Elizabethan Gallery is known for its wide selection of art and custom framing, but the shop's ability to provide one-day framing, even during the rush of the holidays, has also become a trademark offering. We caught up with owner Liz Walker to learn more about her and Elizabethan Gallery.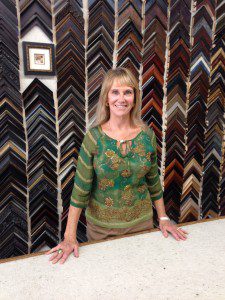 1. What is a typical day like for you and your team? Very busy, as we are all picture framers, and when not talking to the public about all the various types of art we carry, we are cutting moulding and framing art brought in.
2. What is your professional background? How did you get into the retail field? My background is in marketing, so retailing is an extension of that. I feel I'm a natural-born salesman, so having a firm knowledge of the workings of my industry, yearly training by top professionals, and keeping up with new products has allowed me to achieve the success I have in this industry.
3. What are the first things customers see when they walk through the doors? Smiling faces surrounded by glorious art and lots of choices of frame mouldings.
4. What sets your store apart? We have combination of 83 years of framing experience and keep up with all the latest technology and framing materials to make sure your art is beautifully framed to last a lifetime. We also offer one-day framing and have a normal quick turnaround in our work. We have one of the largest selections of art in the metropolitan area.
5. What is one thing you think customers should know about your store that they may not be aware of? Most people think big-box frame stores are cheaper, but our everyday prices are competitive with those large establishments offering 50% to 60% off coupon prices. Our mission is to carry affordable original art with emphasis on local artists.
6. How do you keep your store's inventory fresh and up to date? Our good art prices enable enough of a turnover that we rely on our artists to bring us new work on a monthly basis. We also attend industry trade shows to see the latest trends in art and framing and bring these into the gallery.
7. Do you carry any seasonal/Christmas items in your shop? Most of our Christmas items revolve around art in the form of prints and paintings, but we also have had quirky mixed-media pieces made of glass and wood. Some years we have Christmas cards by local artists (this year's artist is Darryl Alello).
8. What was your reason for opening the store? When did it open, and how has it grown or changed since then? I opened the Elizabethan Gallery in July of 1988 because I wanted to move back to Baton Rouge, where I grew up.  Our space at 680 Jefferson Hwy. is in the neighborhood where my family lived and is the center of the city, a perfect area. Originally the gallery was half the existing size and was known more for framing than for art. When Underwater Adventures moved around the corner to Government Street in 1998, it gave us the opportunity to expand in order to grow our gallery space and carry more original art.
9. What are a few of your favorite items in the store right now? Ceramic flower presses ($16 to $24) and lamps by Terri Kennedy; modern swamp scenes and cloud themed works; quirky musician and flamingo paintings; $5 prints.
10. What are some of your best-selling products? South Louisiana landscapes in impressionistic and contemporary styles continue to be top sellers. All styles and widths of black frames and 8-ply mattes. Textured mattes continue to be strong, and we are seeing more use of metal frames.