10 questions with Courtney Evans of Orangetheory Fitness
Say goodbye to crunches on the floor of your living room while crossing your fingers that abs will appear in the morning. Gone are the days of barely surviving your 30-minute elliptical session and then hoping that was enough to bring your bikini body back to life. Say hello to Orangetheory. During an Orangetheory class, each client endures heart-rate-monitored training that is specifically designed to target areas that accelerate your metabolism. You can expect to burn around 1,000 calories from a single 1-hour session. And if that isn't enticing enough, you can expect an "afterburn" for up to 36 hours following your class. Sign us up.
We sat down with Courtney Evans, the head trainer at Orangetheory in Towne Center, to learn more about this unique fitness regimen.
---
1. What is a typical day like for you and your team? 
Our morning crew will open the studio before 4:30 a.m. to welcome new and existing clients. A predesigned workout is taught for every class throughout the day. Class times begin at 5 a.m. and run until 8 p.m. on most days during the week. Before a class begins, the front staff is busy checking in members, helping new clients by outfitting them with a heart-rate monitor and consulting them about the best membership plan to reach their goals. About 5 minutes before the class begins, the trainer is mingling with the members and gives a brief description of the workout. If there is a new member, the trainer will take the time to help them understand how to operate the treadmills and rowers and explain the OTbeat, our own high-tech heart-rate-monitoring system. As soon as a class begins, the music is pumping and the energy is flowing. Energetic trainers bring excitement and motivation to the clients through their workout and add personal training touches to every class.
2. What is your professional background? How did you get into the fitness field? 
My professional background is in education. I worked as a middle-school teacher for almost 11 years. During that time, I also taught Body Pump. It was my favorite group fitness class and one that I had been taking since I was 17. I worked at various gyms leading group fitness classes until I heard that an Orangetheory was opening in Towne Center and was auditioning coaches. The program really peaked my interest, and I knew I had to be a part of it. The idea of being involved with a company that leads the fitness industry in first-to-market technology really pushed me to complete my ACE Personal Trainer certification. I've been a part of Orangetheory Fitness Baton Rouge Towne Center as a trainer since it opened in 2016 and more recently received the title as Head Trainer.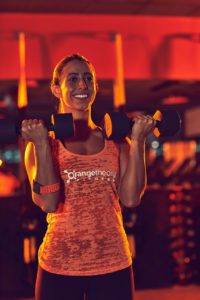 3. What are the first things customers see when they walk through the doors? 
When customers walk through the doors, they are greeted by our friendly staff. You can't miss the bright orange color that is around the studio and our logo, the "Splat!" Our studio is an open concept with a glass wall that divides the front lobby from the workout area. This allows any potential new members a full view of what goes on during a workout.
4. What sets Orangetheory apart? 
What sets us apart from any workout program are our predesigned workouts. The workouts are designed to train in 5 different heart rate zones. Backed by the science of EPOC, excess post-exercise oxygen consumption, Orangetheory's heart-rate-monitored training is designed to target training zones that will rev up the metabolism and boost energy. Members can expect to burn roughly 500 to 1,000 calories in an hour class.
5. What is one thing you think customers should know about Orangetheory that they may not be aware of?
 A team of physiologists, personal trainers, doctors and exercise experts work together to design every workout template. Before a template is implemented, it is tested and revised before it is rolled out to every studio across the globe. Our templates are designed to challenge all levels of fitness. They are never the same design and will never be repeated.
6. How do you keep your classes up to date?
Technology! Members can sign up for classes by using Mindbody or the Orangetheory app. Our Facebook and Instagram pages are also excellent ways to inform members of upcoming events that take place in and out of the studio as well as any special classes that may be on the radar.
7. How can customers expect to feel after an Orangetheory class?
Without a doubt, they will feel like the one hour they spent working out was well worth the investment. The energy in the room definitely makes for a fun group-fitness workout that is never boring. Members leave feeling accomplished and fulfilled.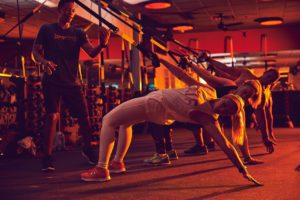 8. Can you share a hint about any new classes or events coming in the future?
Orangetheory is known for eight days of intense workouts in October called "Hell Week" that our members absolutely love. Who knows, there might also be a little "MAYhem" to kickstart getting that body right for the summer.
9. How has Orangetheory grown or changed since its beginning?
Orangetheory was originally called "Ellen's Ultimate Workout," which was named after our founder, Ellen Latham. It has since turned into one of the fastest growing franchises in the world. Orangetheory is the Coca-Cola of the fitness industry. We are the original, and always first, to market in technology. Our program is always evolving. Currently, Orangetheory is developing software for our treadmills and rowers that will save data on the members' progress. This data will allow the members to track their progress from their fastest speed on the tread to their highest watts on the rower.
10. Can customers shop for Orangetheory gear in the studio? What are some of your best-selling items?
Yes! Our biggest seller is our very own heart-rate monitor. We sell a chest strap, The Core, and The Flex, a heart-rate monitor that is worn around the forearm. Our monitors can link up to the Orangetheory app to be used outside of the studio. This allows members to get in those zones anywhere they work out. We also sell shirts, backpacks, Thermoses and towels.
To learn more about Orangetheory in Baton Rouge, visit batonrouge.orangetheoryfitness.com. And get an inside look at an Orangetheory class with this article from the inRegister archives where we tried the exercise routine.