10 Questions with Annie Claire Bass of Annie Claire Designs
Finding inspiration in everything and everyone around her, Annie Claire Bass started Annie Claire Designs, her jewelry and accessories line, as a side hustle simply to indulge her creative side. With the help of friends, family and a supportive community, Bass has seen immense growth in the last nine years, taking her creations from her kitchen table and into stores across the state, all while co-owning a boutique and raising two young daughters. We sat down with Bass to learn more about her journey and, of course, her jewelry.
---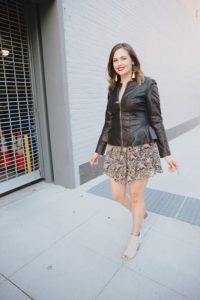 1. What is a typical day like for you and your team?
Define typical. Annie Claire Designs is in serious growth mode lately, which means every day I am working on something new and trying to create processes in the midst of chaos. My "team" consists of me, a part-time intern who helps facilitate my website, my sister-in-law who so lovingly helps me crank out jewelry in her down time (usually at night or on weekends), and two part-time employees at SoSis, Annie Claire Designs' sister company. It is truly a small business, consisting of people that I love and trust.
2. What is your professional background? How did you get into accessories?
I'm an entrepreneur at heart. I graduated from LSU in apparel merchandising with a minor in business. After graduation, I earned a contract position with United Networks of America, a company that administers prescription drug cards. Jewelry making started as a side hustle almost eight years ago that slowly but surely turned into a business of its own.
I also co-own SoSis Boutique, a women's boutique with a storefront in Port Allen as well as an online store. Designing accessories started from a feather hair clip that I wanted to make for myself (back when those things were popular, haha!). I then made pieces for my friends, and it snowballed rom there.
Up until 2017, it was done in my spare time, and now I can hardly keep up with the demand. More and more locations are starting to carry my jewelry line, online orders are picking up, and I'm pretty busy hosting trunk shows and pop-up shops. I'm fortunate to have amazing customers who have stuck by me for this long and continue to purchase Annie Claire Designs.
3. When did Annie Claire Designs launch, and how has it grown or changed since then?
I launched in August of 2009 and my business has evolved since then, launching an official website and offering items in stores around Louisiana.
4. How do you come up with ideas for new designs and products?
I get inspiration from all over the place. I try to make things with my own spin on it. Usually, one design leads to another similar design and it just sort of evolves! It's really fun to create something new and receive good feedback on it.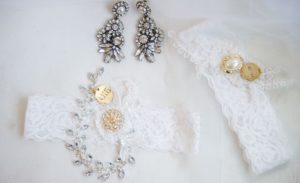 5. What sets your store apart?
My commitment to exceptional customer service and the quality of my products are two of my unique selling points. If something breaks or tarnishes, I will fix the item at no charge. I also pride myself on going the extra mile for my customers to make sure they are absolutely happy with their purchase, especially if it is a custom order.
6. What is one thing you think customers should know about Annie Claire Designs that they may not be aware of?
I welcome custom orders, from hand-stamped personalized charms to bridal accessories.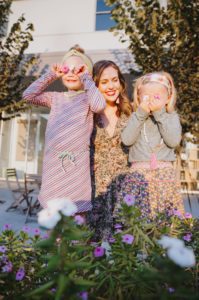 7. What has been your favorite collection to create so far?
My favorite collection to create is probably my two little girl collections, the Aubree and Gracie Collections, named after my two daughters. I often neglect these collections, honestly, because they are a little more time consuming and the demand for my other products are higher. But I do enjoy getting to be creative with these. The Aubree Collection is a baby headband/hair accessory line, and the Gracie Collection is jewelry for little girls.
8. Can you share a hint about what shoppers can expect from you next?
Well, with football season coming up, of course there will be new purple and gold designs. Also, there are lots of opportunities this fall to shop with me in person at various pop-up shops and a few new locations that have picked up my line.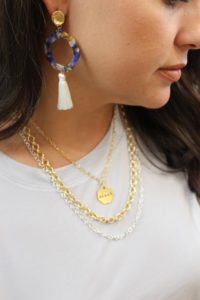 9. What are a few must-haves for this season?
The acetate trend is really in right now, so definitely snag a pair of the Selena earrings. Bracelets never go out of style, so maybe it's time for a stack refresh. Also, layering is hot, so the five layered chain necklace is one necklace that does the layering for you.
10. What are some of your best-selling products?
Bracelets are always a best-seller because they are easy to grab and pair with other bracelets. A few best-selling earrings include the Evil Eye earrings and the Take Me to Mexico earrings. The personalized bracelets and Saint Christopher keychains make the best gifts.
To shop more of Bass' designs, visit annieclairedesigns.com.