10 questions with Andi Berthelot of The Keeping Room
This past February, Andi Berthelot fulfilled her dream of owning the store that inspired her during her days in college, The Keeping Room. Now she is on a mission to share that inspiration with the rest of the community through unique stationery and gifts. With a passion for preserving tradition, Berthelot says she wants her store to be a reflection of both the past and present, allowing young and old to share and grow together. With the holidays quickly approaching, we sat down with Berthelot to get the inside scoop on stationery, decorations and more.
---
1. What is a typical day like for you and your team? Because no two days are ever the same, we always start our mornings with a daily "powwow." Whether it's designing custom invitations, working one on one with our brides, or taking care of custom orders, we all work together to get the job done. Although we do have a typical routine, the spontaneous projects we work on can sometimes be the most rewarding! All in all, we love sharing our creative passion with our customers, and there is truly nothing we cannot do.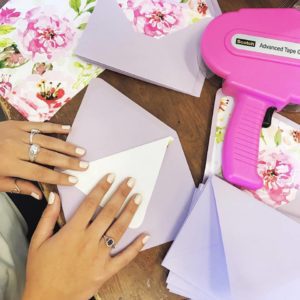 2. What is your professional background? How did you get into stationery and retail? While working towards my merchandising and marketing degrees, I began working part time at The Keeping Room. Although I was always passionate about retail, it didn't take long for me to fall in love with stationery and event planning. After graduating, it was a passion I just couldn't say goodbye to. I continued growing my knowledge about the industry until the opportunity of a lifetime came along. That's when I fulfilled my dream of owning The Keeping Room. It has already been such a blessing, and the support I've received from our customers is more than I could ever ask for.
3. What are the first things customers see when they walk through the doors? When you first walk into the store, you'll find our display of seasonal décor! We love staying up to date with all of the trends, making sure our customers can easily find the perfect table settings, party ware and home décor items. Alongside that you will find our gift and stationery selection filled with a mix of both traditional and modern lifestyle brands. Lately, foam cups have been our jam–more often than not, you can find a fully stocked array of designs to accent any party or occasion! The customer favorite is our snail-mail wall, which features all of the latest and greatest design ideas we have to offer. Regardless of when you're shopping, The Keeping Room will always have an unforgettable experience waiting for you.
4. What sets your store apart? My girls and I take great pride in providing our customers with personal attention that is sure to build a lasting relationship, and always make them feel like family. Because of the nature of our work, I set high standards for myself and expect no less from my staff. Our customers place great trust in us. We get the privilege of participating in all of life's celebrations with them and want to give each project the care and attention it deserves. While the friendly faces and pretty spaces you see in the front of the store are always a priority for us, we are constantly working our magic behind the scenes as well! Setting us apart from your ordinary gift and lifestyle store is my team of creatives who work tirelessly to create amazing things for our customers. Their ability to bring new ideas to the table never ceases to amaze me. The passion we have for helping our customers develop an idea and bring it to life is endless. Seeing our customer's faces light up when they see their finished project is what makes everything worth it. Setting our store apart from the rest… definitely my amazing team of girls! I couldn't live out this dream without them!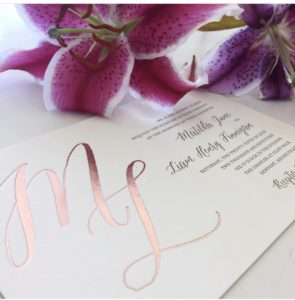 5. What is one thing you think customers should know about your store that they may not be aware of? One thing we love about being in the paper industry is the ability to keep old traditions alive while continuing to explore and grow with trends that are ever changing. Many people know of The Keeping Room for its fun and trendy selection of merchandise, but we find many new shoppers are surprised by our offering of traditional products. Whether it's a wedding or any other milestone life has to celebrate, we have a hand-selected inventory of the most traditional brands and products. Oftentimes it starts with the invitation but ends with a perfectly tailored event including custom guest books and engraved Champagne flutes and cake knives, adorned with gifts selected for a registry at TKR. One thing we will never say goodbye to is tradition! We love sharing that knowledge and passion with the community.
6. How do you keep your store's inventory fresh and up to date? Of course we attend market and keep up with trends via our favorite social media accounts. However, it's the close relationships we maintain with our customers and the ability to know exactly what they need and always being there to provide it that truly keeps us "on our toes." We love the "big box" brands we carry, but we also love fresh new brands that you won't find anywhere else in Baton Rouge. I have been loving the creative community in Baton Rouge and all of the local goodness that's made right here in the heart of our town. Working with other locals and supporting their dreams is something I'm really passionate about and am excited to expand into our store. Whether you already love TKR or you've never been into the store before, we've got major plans in the works, so keep an eye out for us all around town.
7. Can you share a hint about what shoppers will see in your store next season? We are really excited about a new project we have been working on, which will feature a particular "bar," if you will. No, we won't be serving adult beverages, but it's sure to make selecting stationery more fun than it's ever been before! We are also really excited for the holiday season and all of the decor that comes along with it. Of course we have some favorite staples but, we've already been oohing and aahing over some of our new holiday goodies: upscale, ranging in style, and the perfect touch for any home or celebration.
8. When did The Keeping Room open, and how has it grown or changed since then? The Keeping Room began as a small addition to The Mail Bag in 1991, where Wendy TerHaar carried a small selection of imprintable stationery. Throughout its many years and generations, The Keeping Room has been in the care of many fabulous women and grown to be a staple in the Baton Rouge area. In February of this year, I bought the store and have since then realized its potential for growth. I'am extremely excited and optimistic about future expansion and what's to come at TKR.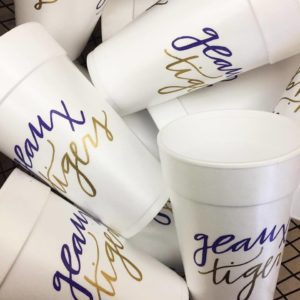 9. What are a few must-have items this season? Highly customized stationery has been in such high demand, and we are loving it! We have been gushing over all the double-sided, folded, monogrammed, custom-designed and hand-lined goodness that our customers have been requesting. If they aren't already, custom gift tags need to be on your list this holiday season! Whether you're wrapping them up or embellishing a gift with one of your own, you just can't go wrong! By now you know we have the foam cup game down, but what you may not know is that we also have a large selection of drink and barware that we just can't seem to keep in stock.
10. What are some of your best-selling products? A high point for us is always wedding invitations. We thrive on our brides and love creating such a special bond with every single one of them. We are always so thankful for the opportunity they give us to be a part of their special day. Outside of paper, another popular item would definitely have to be our mix of candles. Between being the perfect "go-to" gift and home accent, you can't go wrong. Speaking of "go-tos," we have the cutest clear purses!
For more information, visit The Keeping Room at its location on Perkins, or shop online at thekeepingroombr.com.