Family and friends flock together for a wild game feast
The late New Orleans author and essayist Julia Reed was known to argue that her home region in northwest Mississippi was the only place worthy of being called "The Delta."
"But it's the same fertile land on the other side of the Mississippi River," says Reed's friend and fellow Crescent City resident Michael Harold. And it was there on the western banks of the river that Quinn Peeper, Harold's husband and a Memphis native, spent many a childhood weekend with his grandparents, who were cotton and soybean farmers.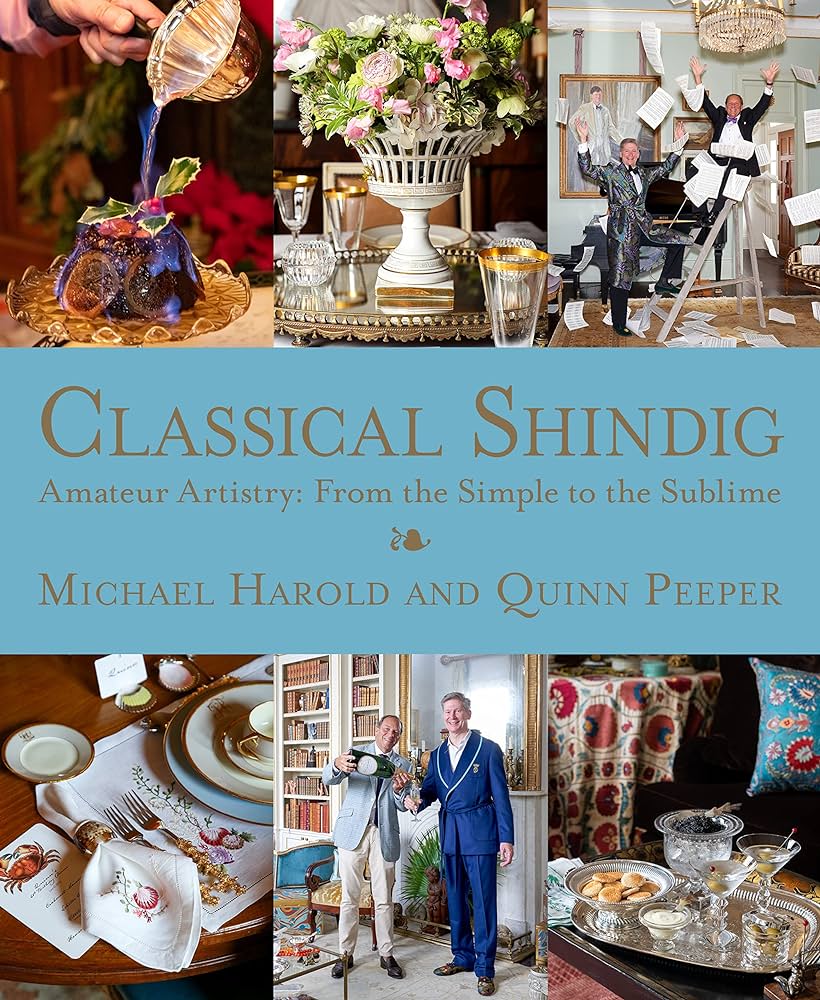 Peeper's brother and uncle still spend fall and winter weekends in the Arkansas Delta in pursuit of one of the area's other great bounties—migratory ducks.
"The area is home to some of the best duck hunting in the country," Harold explains.
So when that brother and uncle pay Harold and Peeper a visit in New Orleans, they often come laden down with ice chests full of duck breasts, or perhaps venison. Such a visit inspired the well-known hosts to throw an autumn game dinner in their home on the outskirts of New Orleans' Garden District, and the result was a gathering worthy of inclusion in Harold and Peeper's new book, Classical Shindig.
The hefty tome is packed with parties like this elaborately decorated extravaganza—from holiday teas to charity fundraisers to book club get-togethers inspired by the reading material of the moment.
"Entertaining doesn't have to be complicated," Harold says. "We believe people enjoy having good food and coming into a friend's home rather than always going out. And we like being around people and having new people over, so any excuse to entertain is a good one."
The couple's hosting style leans formal, something Peeper says he learned at an early age when he was responsible for setting the table.
"I like the look of formality in the dining room," Harold adds. "I think it's beautiful. So many people grab plates from a kitchen and just put them on their laps, and that's fine—it's really fun if you're watching sporting events or a movie—but there's nothing better than conversation around a table."
For this glorious game dinner, Peeper decorated the dining room of their 1862-built home with seasonal and sporting-related accoutrements including antler candlesticks, pheasant pelts, and piles of pumpkins and gourds, as well as colorful duck feathers tucked into place settings. The guest list included "friends who love wild game," a requisite that Harold admits does not include everyone. On the menu were roasted tenderloin of venison, grilled bacon-wrapped duck poppers, oyster stew, wild rice and vegetables, and Peeper's mother's secret-recipe pecan pie for dessert.
"It was an exceptional dinner and provided a great excuse to pull out all things autumn," Harold says.
In introducing an array of fall fetes in the book, Harold and Peeper note the perks of party hosting in this sometimes-slightly-cooler season in south Louisiana.
"It's the time to pull out antique paisley throws and the English ironstone and Imari," they write. "Autumn in an instant."
---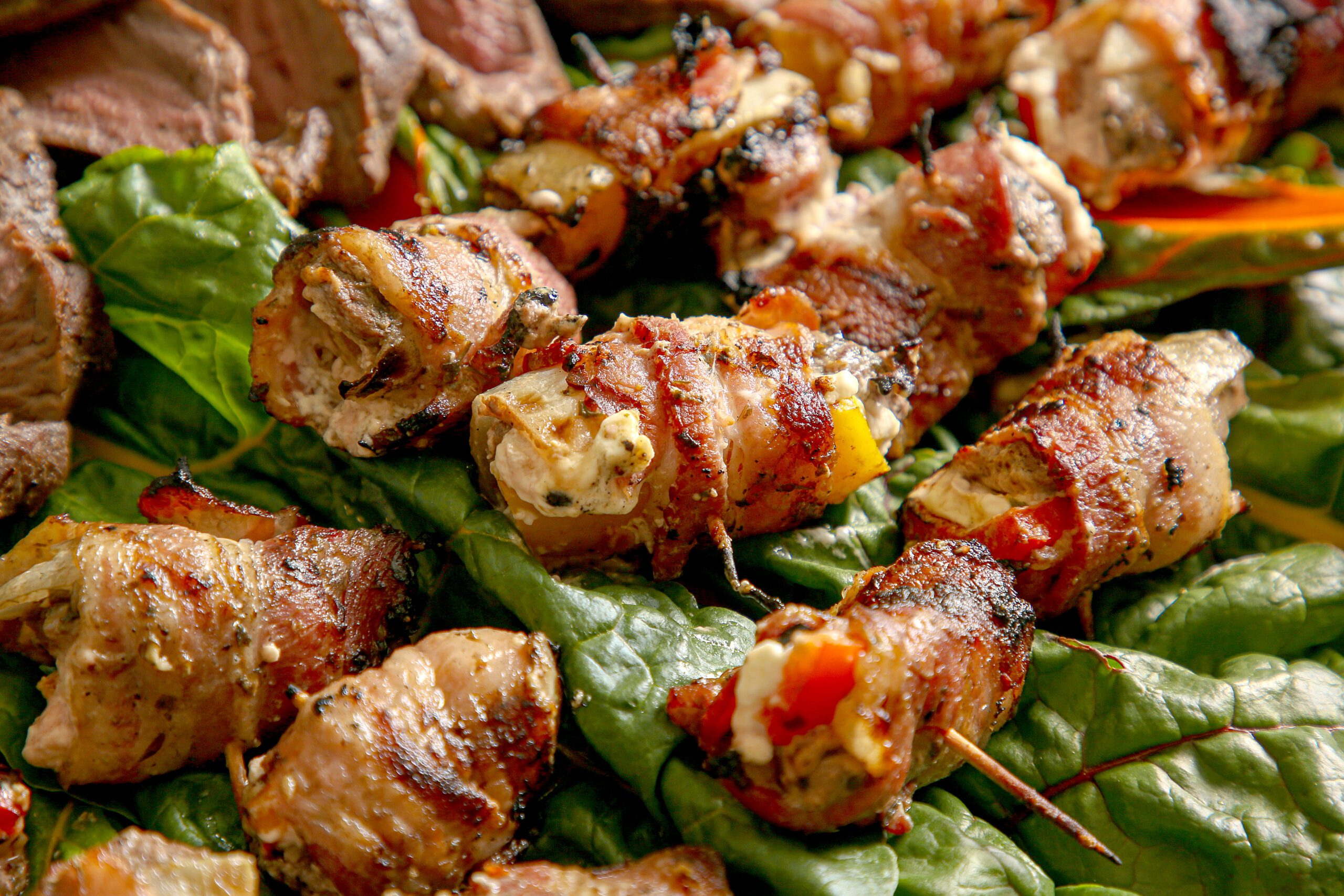 Cade's Duck Poppers
"Quinn's brother makes these poppers every year," writes Harold, "and I never tire of eating them."
Ingredients:
8 duck breasts
½ cup Dale's Steak Seasoning
2 (12-oz.) packages thick-sliced bacon
1 bag small sweet peppers (red, orange, yellow)
1 Vidalia onion or sweet onion
1 (8-oz.) package cream cheese, room temperature
1 tsp. Tony Chachere's Original Creole Seasoning
Instructions:
Slice duck breast lengthwise into
½

-inch-thick slices and place in large bowl. Lightly cover duck pieces with Dale's Steak Seasoning. Marinate in refrigerator for 1 to 2 hours. Cut slices of bacon in half, cut sweet peppers in half, and quarter the onion. Put cream cheese in a separate bowl and mix in Tony Chachere's Original Creole Seasoning. Place a half slice of bacon on a cutting board and place a piece of duck on one end of the bacon. Stuff 1 tsp. cream cheese into half of a sweet pepper and place it on the end of the bacon with the duck. Place a quartered slice of onion on top of the stuffed sweet pepper. Take the end of the bacon with the ingredients and roll bacon up (stick toothpicks in to hold ingredients in place).
Place on grill over low heat, turning once (begin cooking with aluminum foil on the grill to keep ingredients from falling off; save excess cheese and juices that accumulate in foil to pour over finished poppers). Turn as needed until bacon is fully cooked.
Makes 8-10 servings.