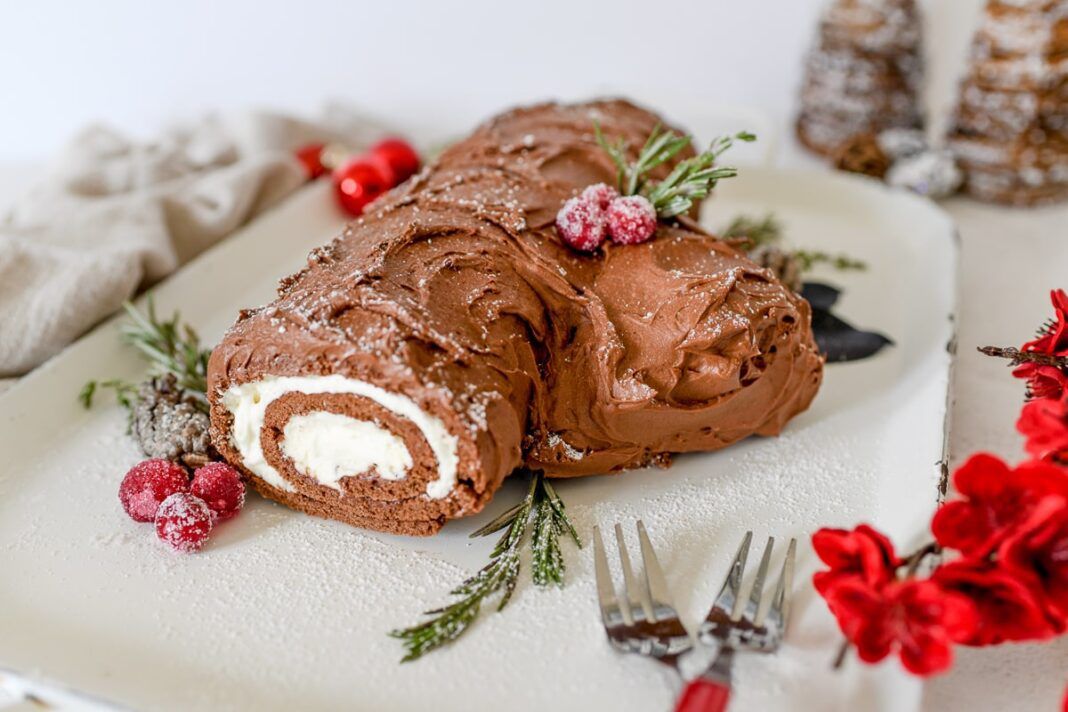 Craft an edible centerpiece with this decadent Yule Log Cake
Serving the tastiest desserts shouldn't be a challenge this Christmas, especially with this recipe for a traditional Yule Log Cake from Aimee Broussard. Thanks to a spongy chocolate cake with tangy mascarpone filling and a chocolate buttercream coating, this yummy Christmas dessert doubles as a charming decoration for your dinner table. 
---
Ingredients:
Cake:
¾ cup all-purpose flour

1

⁄

3

 cup unsweetened cocoa powder
1 tsp. baking powder
½ tsp. salt
4 large eggs, divided
¾ cup sugar
¼ cup sour cream
¼ cup butter, melted
1 tsp. vanilla extract
Filling:
1 ¼ cups heavy whipping cream
¾ cup powdered sugar
1 tsp. vanilla extract
Pinch salt
4 oz. mascarpone cheese, softened
Frosting:

1

⁄

3

 cup unsweetened baking cocoa


1

⁄

3

 cup butter or margarine, softened
2 cups powdered sugar
1 ½ tsp. vanilla extract
2 to 3 Tbsp. heavy whipping cream
Preheat oven to 350 degrees. Line a 17 x 12-in. jelly roll sheet pan with parchment paper with paper extending over short sides. (You'll use the excess parchment as handles to remove cake.) Spray parchment paper with nonstick baking spray.
For Cake, in a medium bowl, whisk together flour, cocoa, baking powder and salt. In a large bowl, combine egg yolks and sugar and whisk together until well combined. Add sour cream, butter and vanilla extract to egg mixture, whisking together until combined. Add dry ingredients to wet ingredients, a little at a time, whisking together until combined. In bowl of stand mixer or in separate bowl with electric mixer on high speed, whip together egg whites until stiff peaks form. Gently fold half of egg whites into batter until batter becomes loose, then add remaining egg whites. Spread cake batter evenly onto prepared baking sheet and bake for 10 to 12 minutes or until top of cake springs back when touched. Remove cake from oven and immediately lift cake out of pan using parchment paper; place on counter to cool slightly. While cake is still warm, use the parchment paper the cake was baked in and, starting at short end of cake, slowly roll cake. Set cake aside to cool completely.
When cake has cooled completely and you are ready to fill, make Filling: Add cream, powdered sugar, vanilla extract and salt to a large mixing bowl; whip on high speed until soft peaks form. Add mascarpone to whipped cream and continue to whip until stiff peaks form.
Unroll cooled cake very carefully. Spread filling evenly onto unrolled cake, leaving outer edges clean to keep filling from escaping. Roll cake back into a log, leaving parchment paper off this time. Cut a 4-in. piece of cake at a 45-degree angle; place angled edge against log to resemble a branch. Place log on a serving dish with seam sides down and refrigerate for at least 1 hour to firm back up.
Make Frosting: In a medium bowl, beat cocoa and butter on low speed until thoroughly mixed. Beat in the 2 cups of powdered sugar, in batches, until mixed. Beat in vanilla and enough whipping cream (beginning with 1 Tbsp. at a time) until frosting is smooth and spreadable. When ready to frost the cake, use an offset spatula to spread frosting all around outside of log. You can score frosting with a fork to make it look like bark or use offset spatula to create swirls for a more rustic, uneven bark appearance.
Refrigerate, lightly covered, until ready to serve. Just before serving, dust top of cake with powdered sugar and garnish with rosemary sprigs and cranberries, if desired.
Store any leftovers in refrigerator, well wrapped, for 3 to 5 days.
Makes 8-10 servings.
---
Check out more of our December issue's holiday recipes in Broussard's latest inRegister column here.