True blue: Lori Zachary's blueberry galette
Have you been to the Red Stick Farmers Market lately? On a recent trip downtown, we found the summer produce to be bursting at the seams. There were blackberries, cherries, corn, cucumbers, peaches, peppers, green beans, Washington Parish watermelons and tomatoes out the wazoo. However, it was the fresh blueberries that caught my eye and tempted my palate. With the Fourth of July holiday looming, my mind immediately went to blueberry pie.
Later that afternoon, I switched from Team Pie to Team Galette. Galettes are easier and faster and don't require a pie plate. They come together in a snap, so you can wait until almost the last minute to make one. There really aren't many rules when it comes to the versatile galette. They can be any shape you want, and most summer fruits work well in this delicious dessert.
I'm using blueberries here, but really you can make whatever kind of galette you want. I added some lemon to my blueberries because lemons and blueberries go together like cookies and milk. If you decide to go with a different fruit, think about what flavor combinations work well together. Cherries go great with vanilla. Plums are superb with a little brandy. Peaches and nectarines love a little almond. Think of this recipe as a jumping off point to explore different flavors.
Lori Zachary is a wife, mother of two grown daughters, and trained chef who is the author of the Little White Apron food blog.
---
Blueberry Galette
Crust:
3/4 cup all-purpose flour
1/2 cup whole wheat flour
1 tsp. sugar
1/2 tsp. salt
1/2 cup (1 stick) cold unsalted butter, cut into small cubes
1/4 cup ice water
Mix together flours, sugar and salt in a medium bowl. Add cold butter. Using a pastry cutter or your fingers, blend mixture until it resembles coarse meal and the smallest bits of butter are the size of small peas. Add ice water and mix with a rubber spatula until well blended. If you need more water, add 1/2 tsp. at a time until dough comes together. Place dough on a floured work surface and knead once or twice to make sure all ingredients are incorporated. Gently pat dough into 6-inch diameter disk; wrap dough in plastic wrap. Place in refrigerator for 1 hour until chilled.
Filling:
3 cups blueberries
1/2 cup sugar
1/2 tsp. salt
Zest of 1 lemon
Juice of 1 lemon (about 2 Tbsp.)
3 Tbsp. cornstarch
3 Tbsp. cornstarch
Mix all ingredients in a bowl. Set aside while dough chills.
Assembly:
Chilled dough disk
Blueberry filling
1 egg, lightly beaten, mixed with 1 Tbsp. water
2 Tbsp. demerara or turbinado sugar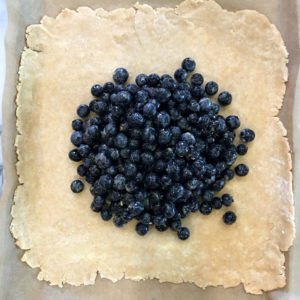 Preheat oven to 375 degrees. Remove dough from refrigerator and let sit at room temperature for 15 minutes. Line rimmed baking sheet with parchment paper. Roll out dough on a lightly floured surface to a 12-inch round. Carefully transfer to baking sheet. Mound filling in center of dough, leaving 2-inch border. Fold edges over, overlapping slightly. Brush dough with egg wash and sprinkle with sugar. Bake in center of oven for 35 to 40 minutes or until golden brown and bubbly. Let cool before cutting. Serve warm with whipped cream or vanilla ice cream.