Vacations are fun, but sometimes it is nice just to stay home and relax. If you aren't going somewhere sunny and tropical this summer, let me bring the tropics to you! With these trim and terrific recipes, you can have the best of both worlds: all the refreshing flair of food from the islands made easy and healthy in the comfort of your own home!
Reminiscent of the islands, Piña Colada Brie is one of my most requested appetizers. This sweet and creamy dish is definitely my go-to for summer entertaining, but it is too good to save for summer alone! When you are serving a crowd, look for the round Brie at the big-box stores, as it is the best bang for your buck. For an easy way to cut Brie in half, use dental floss. My favorite way to serve this is with gingersnaps and garnish with grapes and fresh fruit.
Crunchy Coconut Chicken Fingers make an excellent pick-up appetizer or meal. Just the right amount of sweetness and crunch is added to these chicken fingers, making this a tasty dish for all ages. A timesaving tip is to place the cornflakes in a food processor to make crumbs. These chicken fingers are delicious plain, but you can switch it up and serve them with sweetened chili sauce for an Asian touch, or add your favorite fruit salsa.
Just a few ingredients make my Brisket with Mango Barbecue Sauce a mouth-watering dish with a variety of meal options. This isn't just an as-is entrée—it is also delicious when turned into sandwiches and quesadillas. To save prep time, break out that Crock-Pot and cook on low for 8 hours—it's a meal that almost cooks itself!
Summer days are long and hot, so make sure your taste buds take a vacation with these tropical trim and terrific recipes.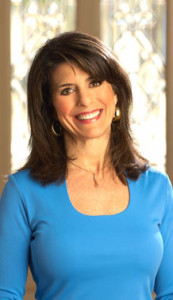 Holly Clegg is a Louisiana chef, healthy cooking expert and author of the best-selling trim&TERRIFIC cookbooks, which have sold more than 1 million copies. For Holly's recipes and books, visit hollyclegg.comor thehealthycookingblog.com. 
---
Piña Colada Brie
Velvety rich Brie pairs with piña colada ingredients for a taste of tropical paradise. Try serving with gingersnaps.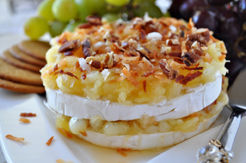 1 (16-oz.) Brie round
1 (8-oz.) can crushed pineapple, drained, divided
4 Tbsp. light brown sugar, divided
3 Tbsp. flaked coconut, divided
3 Tbsp. chopped pecans
Heat oven to 325 degrees. Carefully remove top rind of Brie, then cut Brie in half. Place Brie bottom in ovenproof baking dish; cover with about two-thirds of pineapple, 2 Tbsp. brown sugar and 1 Tbsp. coconut. Replace top of Brie, and sprinkle with remaining pineapple and 2 Tbsp. brown sugar. Bake for 10 to 15 minutes or until brown sugar is melted. Meanwhile, toast remaining 2 Tbsp. coconut and pecans, being careful not to burn. Sprinkle with toasted coconut and pecans. Makes 16 to 20 servings.
Nutritional information per serving:
Calories 176 | Calories from fat 34% | Fat 7g | Saturated fat 2g | Cholesterol 6mg | Sodium 260mg | Carbohydrates 27g | Dietary fiber 0g | Sugars 12g | Protein 2g | Dietary exchanges: 2 other carbohydrate, 1 1/2 fat
---
Crunchy Coconut Chicken Fingers
This protein-carb combo offers a well-balanced meal to fuel your energy.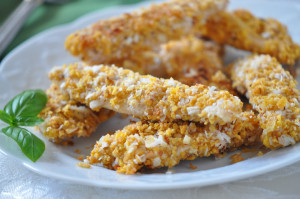 1 lb. boneless, skinless chicken breasts, cut into 3½-inch strips
Salt and pepper to taste
1/3 cup light coconut milk
1 egg white
1/2 tsp. chili garlic sauce (optional)
1/3 cup coconut flakes
3/4 cup cornflake crumbs
1/4 cup sliced almonds
Heat oven to 400 degrees. Line baking pan with foil, and coat with nonstick cooking spray. Season chicken with salt and pepper to taste. In shallow bowl, whisk together coconut milk, egg white and chili garlic sauce, if desired. Add chicken. In food processor, pulse together coconut, cornflake crumbs and almonds until finely chopped. Transfer to large plate.
Remove chicken strips from coconut milk mixture, letting excess drip back into bowl, and coat evenly with cornflake mixture. Place coated chicken on prepared pan. Bake for 20 to 25 minutes, turning chicken halfway through cooking, until chicken is golden and tender. Makes 4 servings.
Nutritional information per serving:
Calories 230 | Calories from fat 28% | Fat 7g | Saturated fat 2g | Cholesterol 73mg | Sodium 246mg | Carbohydrates 15g | Dietary fiber 1g | Sugars 3g | Protein 26g | Dietary exchanges: 1 starch, 3 lean meat
---
Brisket with Mango Barbecue Sauce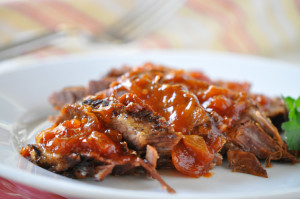 Serve as an entrée or make sandwiches or quesadillas.
1 (3-lb.) brisket, trimmed
1 Tbsp. chili powder
2 tsp. garlic powder
Pepper to taste
1 (12-oz.) can Diet Dr. Pepper
Mango Barbecue Sauce (recipe follows)
Heat oven to 300 degrees. Season brisket with chili powder, garlic powder and pepper. Place in roaster or large pot. Pour Diet Dr. Pepper over top. Bake, covered, for 5 hours or until tender. Serve with Mango Barbecue Sauce. Makes 10 (4-oz.) servings.
For quesadillas, lay out tortillas and cover with shredded brisket, 1 to 2 tablespoons Mango Barbecue Sauce, Brie and red onions. Top with another tortilla. Cook in heated skillet until bottom is crisp, flip over, and cook for another 1 to 2 minutes. Cut into fourths.
Mango Barbecue Sauce
1 onion, finely chopped
1/2 cup ketchup
2 Tbsp. lemon juice
1 Tbsp. Worcestershire sauce
1/3 cup mango chutney
In small pot coated with nonstick cooking spray, sauté onion until tender. Add remaining ingredients; cook over low heat for 10 minutes.
Nutritional information per serving (brisket and sauce):
Calories 259 | Calories from fat 37% | Fat 10g | Saturated fat 4g | Cholesterol 95mg | Sodium 243mg | Carbohydrates 9g | Dietary fiber 1g | Sugars 7g | Protein 31g | Dietary exchanges: 1/2 other carbohydrate, 4 lean meat