To Maternity and Beyond: Recipes and tips for nourishing moms for prenatal and postnatal life
---
My mom always said, "It's not easy to be a mother," and wow, she was right! It is almost impossible for me to fathom that it's been 30 years since I decided to endeavor into motherhood, the wonderful chapter of life that's equal parts rom-com and suspenseful thriller with intermissions of on-call teacher, nurse and chauffeur, to name just a few. With my trusty copy of What to Expect When You're Expecting, I did my best to nourish myself and the baby growing inside me. She made her grand entrance on Mother's Day 29 years ago, and fast-forward to today, I am the happy mother of three healthy 20-somethings and also a post-traditional nursing student. I am overjoyed that nutrition is required in the first semester and have learned that my outdated guide is replaced with new information to help women have healthy pregnancies.
Enter my nutrition professor, Dr. Jamie Pelaez, a Loyola University faculty member and nurse midwife in the New Orleans community who has facilitated more than 600 special deliveries. "Maternal health is near and dear to my heart," she says. "I could talk about this for days. It gets so convoluted and complicated, but really it can be so simple. That's the goal of educating patients—whether they're pregnant or not—on nutrition. All the foods we recommend for pregnancy also help support the reproductive system and hormonal health."
All this comes with a caveat—doctor's orders: "It's a pillar of women's healthcare in general," says Dr. Pelaez, whose go-to resource is Real Food for Pregnancy by Lily Nichols, RDN, a science-backed guide for fueling a healthy pregnancy. "We can give recommendations, but at the end of the day every individual has different needs and risk factors. This is not technical medical advice. Always refer to your provider."
Without mincing words or taking a deep dive into a physiology lesson, Dr. Pelaez paints a picture. "Think about what your body is actually doing," she says. "You are building a human from scratch. It takes a lot of protein to build tissues and muscles, a lot of calcium to build the bones, healthy fats to build the brain and hormones."
How do you give your body the best materials to build a human? Here is her top food: Liver. "Liver is the most nutrient-dense source of Vitamin A. It's choline's best friend." I confess to not eating liver before, during or after any of my three pregnancies, but I didn't live in Louisiana. This sounds like an invitation to have a little boudin or dirty rice—with a beautiful green salad, of course. Or to finally accept that invitation from Grandma to stop by for liver and onions.
If liver "isn't your thing," fret not. Dr. Pelaez shares a list of approachable foods, including a pre-mixed "ancestral blend" that contains a small percentage of those beneficial organ meats. "I get this at my Whole Foods and it tastes the same," Dr. Pelaez says.
Without too much structured menu planning, Dr. Pelaez recommends her patients get a protein source at every meal, whatever kind they can tolerate, and to eat foods in combination. "Some of my patients can eat chicken but can't cook it. Be really gracious with yourself," she says. "Healthy fats are important for hormone regulation and help promote the brain development in the kiddo, and help the body store the energy it needs to breastfeed. Don't be afraid of avocado, cook your vegetables in butter, and eat your nuts, seeds and olive oil."
She emphasizes that "eating for two" is a misrepresentation. "Your need for nutrients increases, but your need for calories doesn't increase as much," she says. "It's more like eating for 1.1. We only need a handful of extra calories each day until the third trimester, and we want to make sure those calories are really nutrient dense. While you only need about 300 extra calories in the third trimester, you need twice as much iron, Vitamin D and choline. Eat what you enjoy, what you can tolerate. Work within the symptoms you have."
Her advice for getting ready for pregnancy can't be overstated. "When it's possible, nourishing in preparation of pregnancy helps set mother and baby up for success," she says. "It makes sense that having our body in a healthy place going into pregnancy is going to pay dividends. The embryo is nourished by the nutrient stores of the mother. That's why pre-pregnancy health is so important. The baby seeps nutrients from the parent, which explains why pregnancy is so exhausting."
Whether you're celebrating Mother's Day for the first time or looking to a future bundle of joy, remember that it takes almost a year to grow a human and as much time to re-establish hormonal homeostasis and allow the body to heal. This is why Dr. Pelaez strongly recommends against calorie restriction for the first year postpartum. Though it isn't easy, motherhood is life's greatest adventure. Enjoy every step of this journey. Happy Mother's Day!
---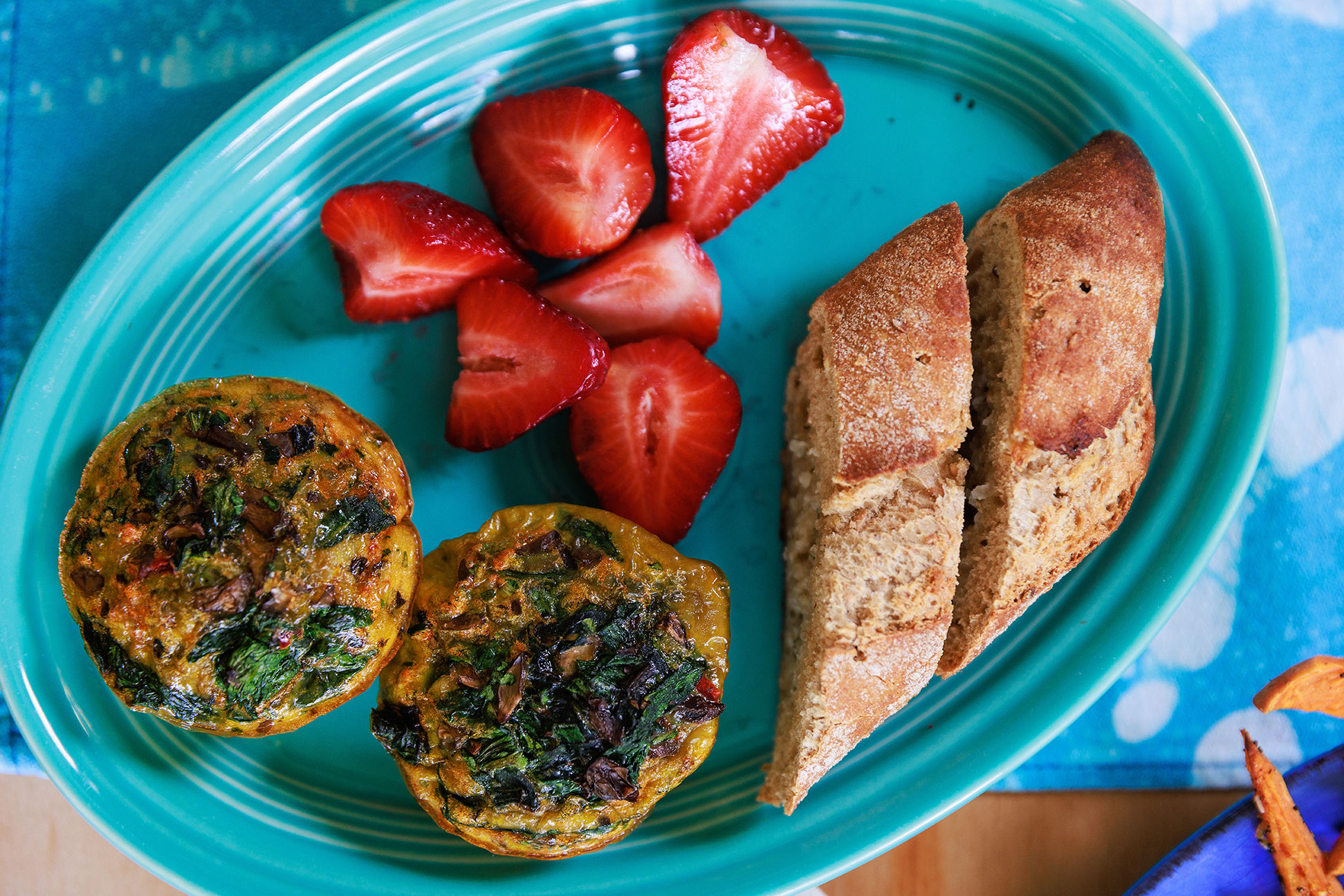 Egg Cups
These are as easy as they are versatile. Crack some eggs, whisk in your favorite sautéed veggies (cooked in cast iron for a nutrient bonus), and bake the mixture in muffin pans. They even freeze well so make a double batch!
Ingredients:
8 eggs, cracked into a large mixing bowl and whisked to blend
1 Tbsp. butter, plus extra for muffin pan
8 oz. mushrooms, roughly chopped
4 green onions, chopped
Salt to taste
6 oz. fresh spinach
1/4 cup chopped fresh parsley or basil
2 Tbsp. milk
1 tsp. hot sauce, if desired (I used Calabrian chile paste)
Instructions:
Preheat oven to 375 degrees. Butter the 12 wells of a regular-size muffin pan with a little soft butter.
Melt 1 Tbsp. butter in a large skillet (preferably cast iron) over medium heat, and sauté mushrooms, stirring occasionally, until almost tender. Add green onions and
½

tsp. salt and continue to cook until mushrooms have absorbed liquid. Scrape mixture out onto a large plate to cool.
Add spinach to hot skillet and stir in
½

tsp. salt. Cover skillet to allow spinach to wilt for a few minutes. Lift leaves out to a cutting board and coarsely chop.
Stir cooled mushroom mixture, chopped spinach and parsley into beaten eggs and add milk and hot sauce, stirring well to blend.
Divide mixture evenly among muffin cups and bake until golden on top and set, about 18 to 20 minutes. Let cool for 5 minutes. Run a thin knife around edge of each cup to remove from pan. Serve warm with whole grain bread and a side of strawberries or fresh orange slices.
To freeze, let cool completely out of pan and nest in a freezer-safe container with parchment paper between layers; label container with date before freezing. Reheat on a baking sheet at 350 degrees for 5 to 7 minutes.
Makes 12.
---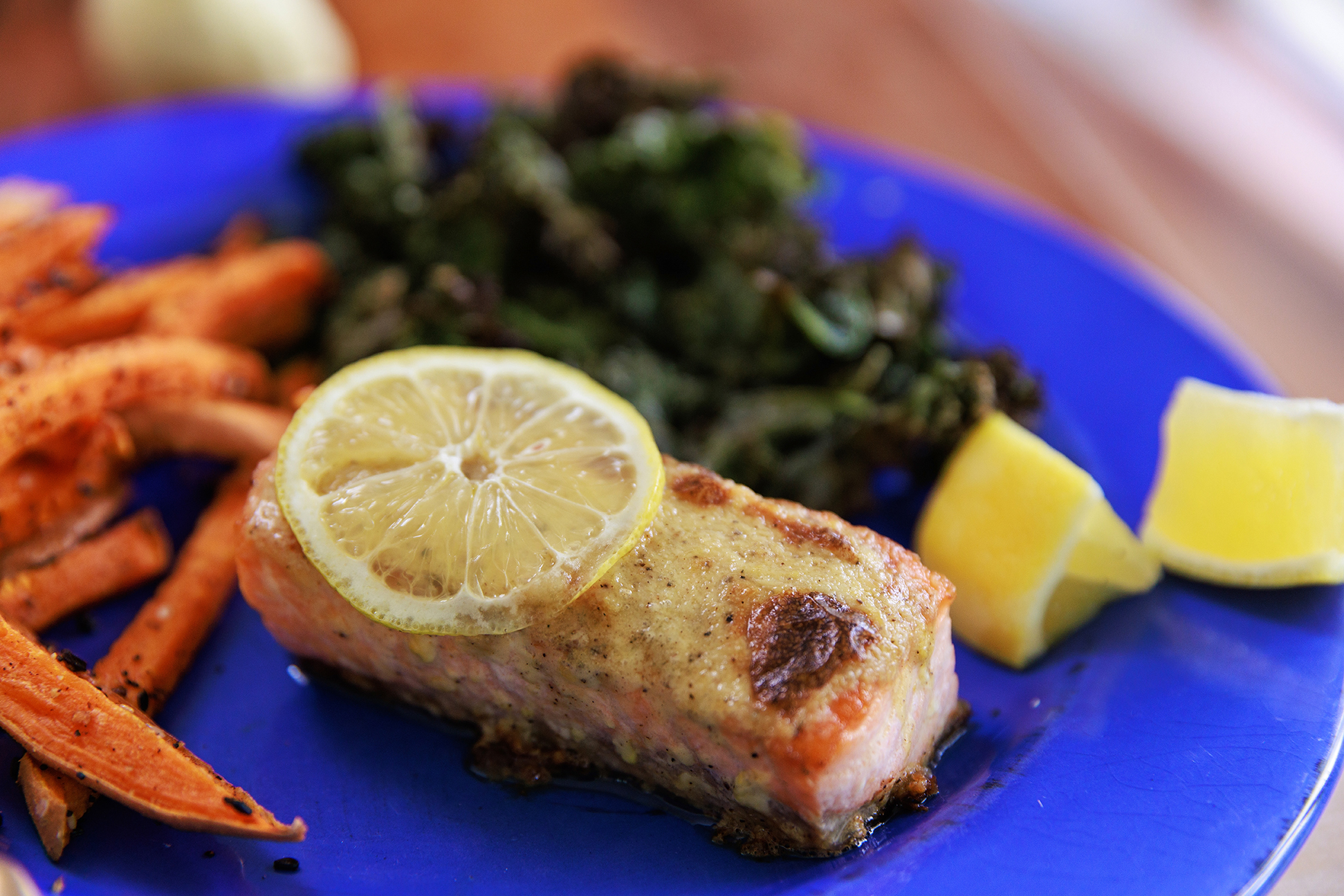 Chef Paul's Salmon with Sweet Potato Fries and Kale Chips
With thanks and congratulations to my friend Chef Paul Smith, a James Beard nominee for Best Chef, for this outstanding salmon recipe. Pairing salmon with colorful veggies is a big win, and who knew fries and chips could be part of a healthy pregnancy menu? Oven baked, these are that dynamic duo of delicious and nutritious.
Salmon
Ingredients:
4 skin-on salmon filets
2 Tbsp. mayonnaise
1 Tbsp. Dijon mustard
Zest of 1 lemon
Juice of
¼

lemon (with remaining lemon sliced for serving)
Salt and pepper to taste
Instructions:
Preheat oven to 425 degrees. Heat a large oven-proof/cast-iron skillet over a medium-high burner. Season the flesh side of each salmon filet with salt and pepper.
In a small bowl, combine mayonnaise, Dijon mustard, lemon zest and juice. Season with salt and pepper. Remove half of mixture to a small dish. When skillet is hot, lay filets in skillet flesh side down, and sear for a good minute. Turn them over, skin side down, and spread a bit of mayo mixture over each. Slide skillet into oven and roast filets for a few minutes until tops are golden and the fish flakes with a fork (total cooking time: about 7 minutes per inch of thickness). Serve with reserved lemon slices and sauce.
Makes 4 servings.
---
Sweet Potato Fries
Ingredients:
If pairing with the salmon, make the fries and kale chips first, then turn the oven up to 425 degrees to finish cooking the salmon.
1 large sweet potato, scrubbed and cut into long sticks
1 Tbsp. olive oil
1 tsp. "Everything seasoning"
Instructions:
Preheat oven to 400 degrees. Line a large, rimmed baking sheet with parchment paper.
Lay sweet potato sticks onto prepared sheet. Drizzle with olive oil and sprinkle with seasoning, then lay in a single layer. Bake for 10 minutes, then turn and continue cooking until fries are golden brown and slightly crisp on the outside and tender on the inside (test with a fork), about 20 minutes total.
Makes 2 servings.
---
Kale Chips
Ingredients:
1 large bunch kale, rinsed, dried and torn into bite-size pieces (remove large stem)
1 Tbsp. olive oil
½ tsp. salt
Instructions:
Preheat oven to 400 degrees. Line a large rimmed baking sheet with parchment paper.
Lay kale pieces onto prepared sheet. Drizzle with olive oil and sprinkle with salt, tossing to lightly coat. Bake for 10 minutes, then turn and continue cooking until crisp and lightly browned, about 20 minutes total. Let cool slightly before serving. Let cool completely before storing in an airtight container. Keeps for approximately 1 week.
---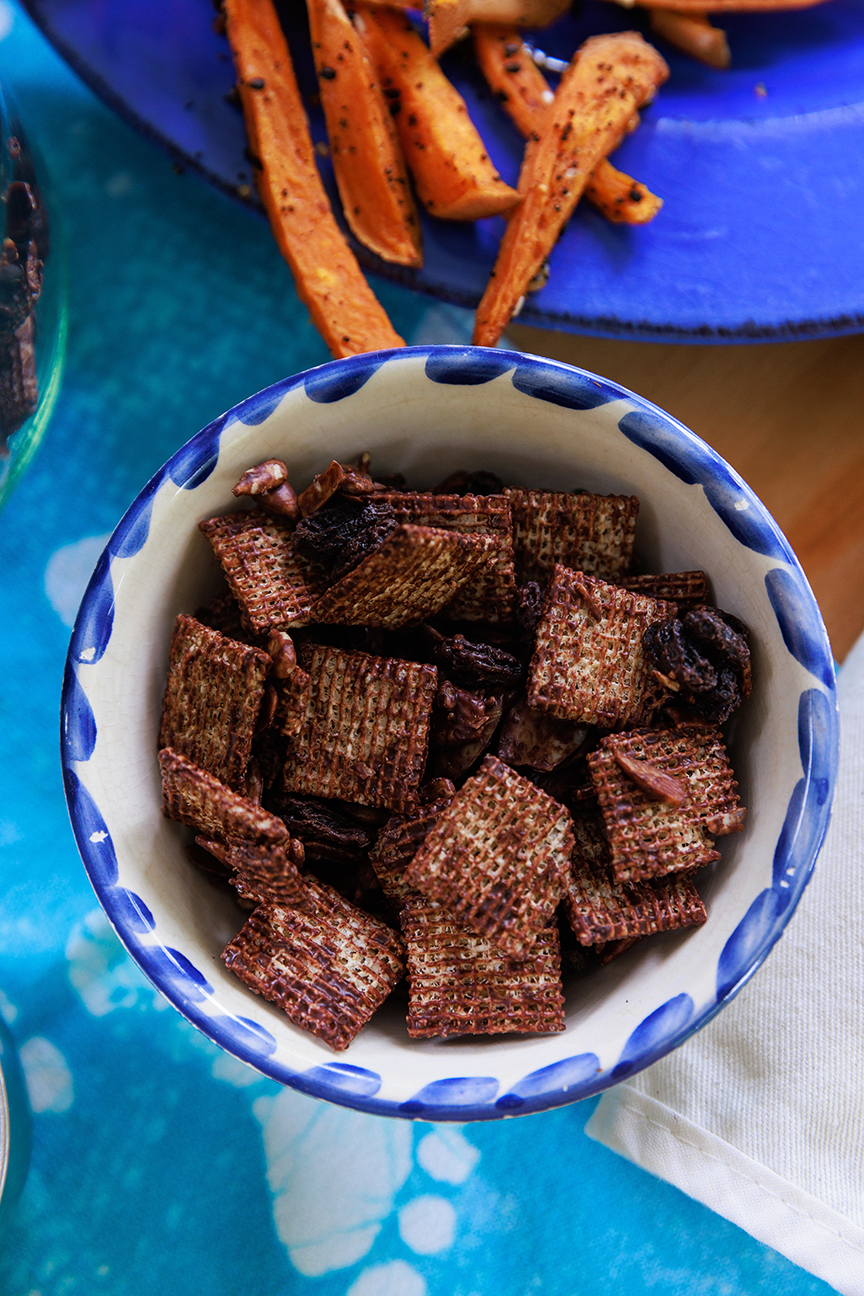 Dark Chocolate Crunch
I developed this recipe with the assistance of my friend Aimee Henry, a Denver-based registered dietitian. Whole-grain cereal squares mingle with toasted nuts and seeds—which are good sources of fiber, micronutrients and healthy fats—and raisins for iron, all lightly coated with dark chocolate and a sprinkle of sea salt.
Ingredients:
½ cup sliced almonds
½ cup pumpkin seeds
½ cup sunflower seeds
3 cups multigrain cereal squares
1 cup dark raisins
½ cup bittersweet chocolate chips, melted
½ tsp. coarse sea salt
Instructions:
Preheat oven to 350 degrees. Combine almonds, pumpkin seeds and sunflower seeds in a large cast-iron skillet and toast in oven until light golden and fragrant, about 7 to 10 minutes.
Transfer nut/seed mixture to a large bowl and toss with cereal squares and raisins. Drizzle with melted chocolate and stir gently to combine. Spread mixture onto a parchment-lined baking sheet and sprinkle with salt. Refrigerate until chocolate is set, about 30 minutes. Store in an airtight container or in individual snack bags.
Makes about 10 (½-cup) servings
---