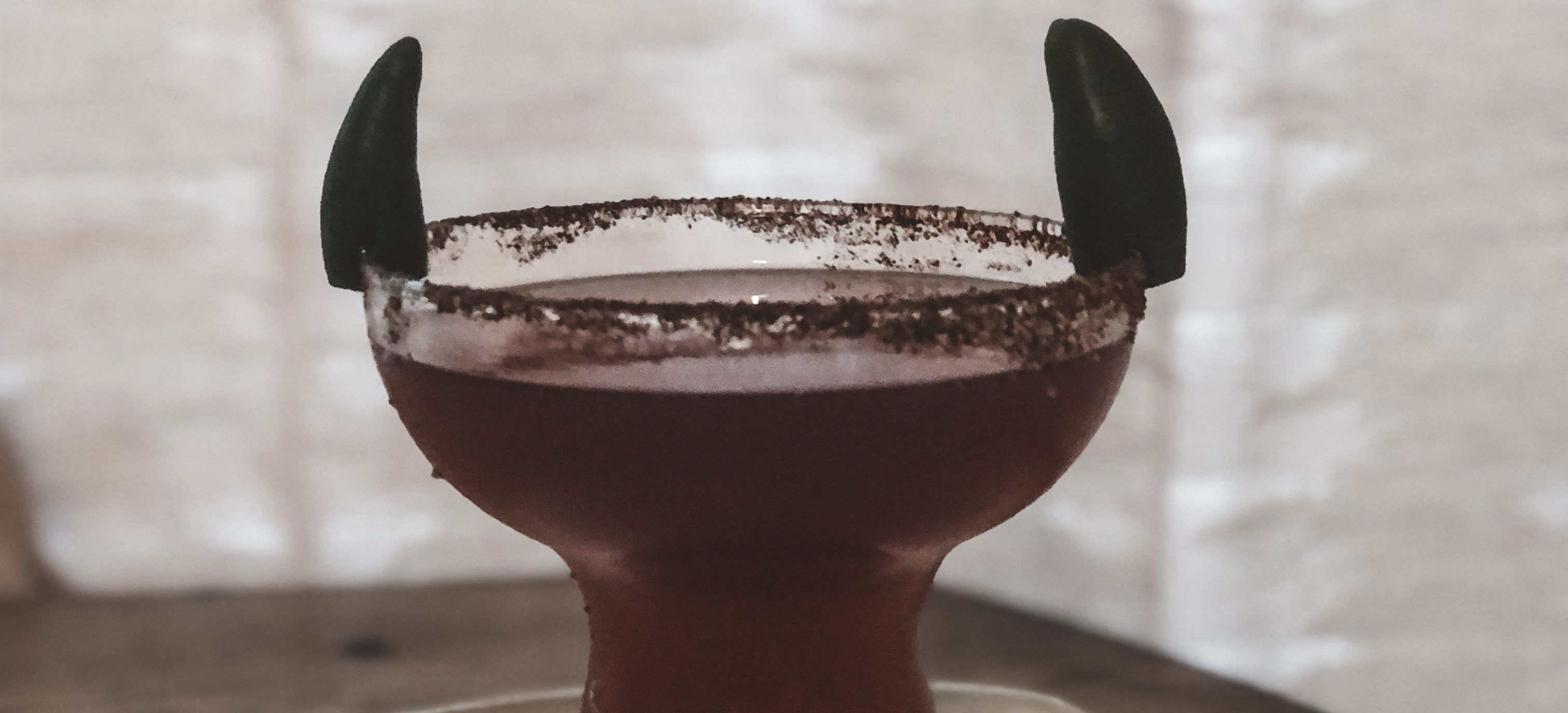 Tips for brewing wicked cocktails this Halloween
Back in March, when celebrations, fundraisers and even family get-togethers were relegated to the online sphere, the one thing that remained in real life was the drinks being shared–regardless of distance. For the majority of this year, people around the world have gathered around their computer and phone screens long after work hours, drink in hand, ready to spend some quality time with the ones they love most. Somehow, having a cocktail in common has made the distance seem less. At least that much is true for Katherine Roberts, who started her creative mixology Instagram account, Cocktails with Katherine, in the midst of the stay-at-home order.
"When we first started staying at home, I hosted a daily virtual happy hour with my friends through Instagram," explains Roberts, whose day job is far from mixology, as she works at local stationery store The Keeping Room. "I would post a photo on my personal Instagram story of my cocktail and its ingredients, then invite others to share their beverage of the day."
Through Google searches, in addition to tips from others, Roberts slowly acquired a new knowledge and appreciation for the art of mixology. That's when she decided she had to share with everyone who would listen.
"My goal is to demystify cocktails: to make them fun and accessible for the at-home bartender," she says. "Most cocktails are very easy to make at home, it's just a matter of having good ingredients, an open mind and a little creativity."
With that in mind, we reached out to Roberts for some go-to tips, as well as four out-of-the-box concoctions perfect for Halloween celebrations this Saturday. Read on for all the insight:
---
A few tips to keep in mind:
1. Any cocktail can be a mocktail.
"There are several companies like Ritual Zero Proof and Seedlip that make alcohol alternatives that are absolutely delicious. The trick with mocktails is to use your favorite glass and really get creative with your garnish. Something as simple as adding a few ounces of Topo Chico to your favorite fruit juice and adding a citrus twist can make you feel like you're having your favorite cocktail. Bin Q has delicious blood orange sour mix that is about $6 and is a great starting point for a fun mocktail."
2. Think fresh.
"My No. 1 tip is to use fresh produce whenever you can. Adding seasonal produce, herbs and spices is a great way to be adventurous with your cocktails. Right now is the perfect time to add figs, apples, satsumas, pomegranates, smoked rosemary, thyme, cinnamon, nutmeg and even maple syrup to a classic cocktail to give it an autumnal feel."
3. Go local.
"I want to encourage people to safely patronize our local bars and restaurants, many of which have used this year's interesting circumstances as an opportunity to create new craft cocktails and improve upon old favorites. Our locally owned liquor stores are truly hidden gems of information and libations. Here in Louisiana, we can buy liquor just about anywhere at any time, but our local liquor stores have so many amazing options that are far more accessible than one might think. Buy local and drink local."
---
Now, to the cocktails:
FYI: Check out Cocktails with Katherine on Instagram for the full history and backstory of these creations.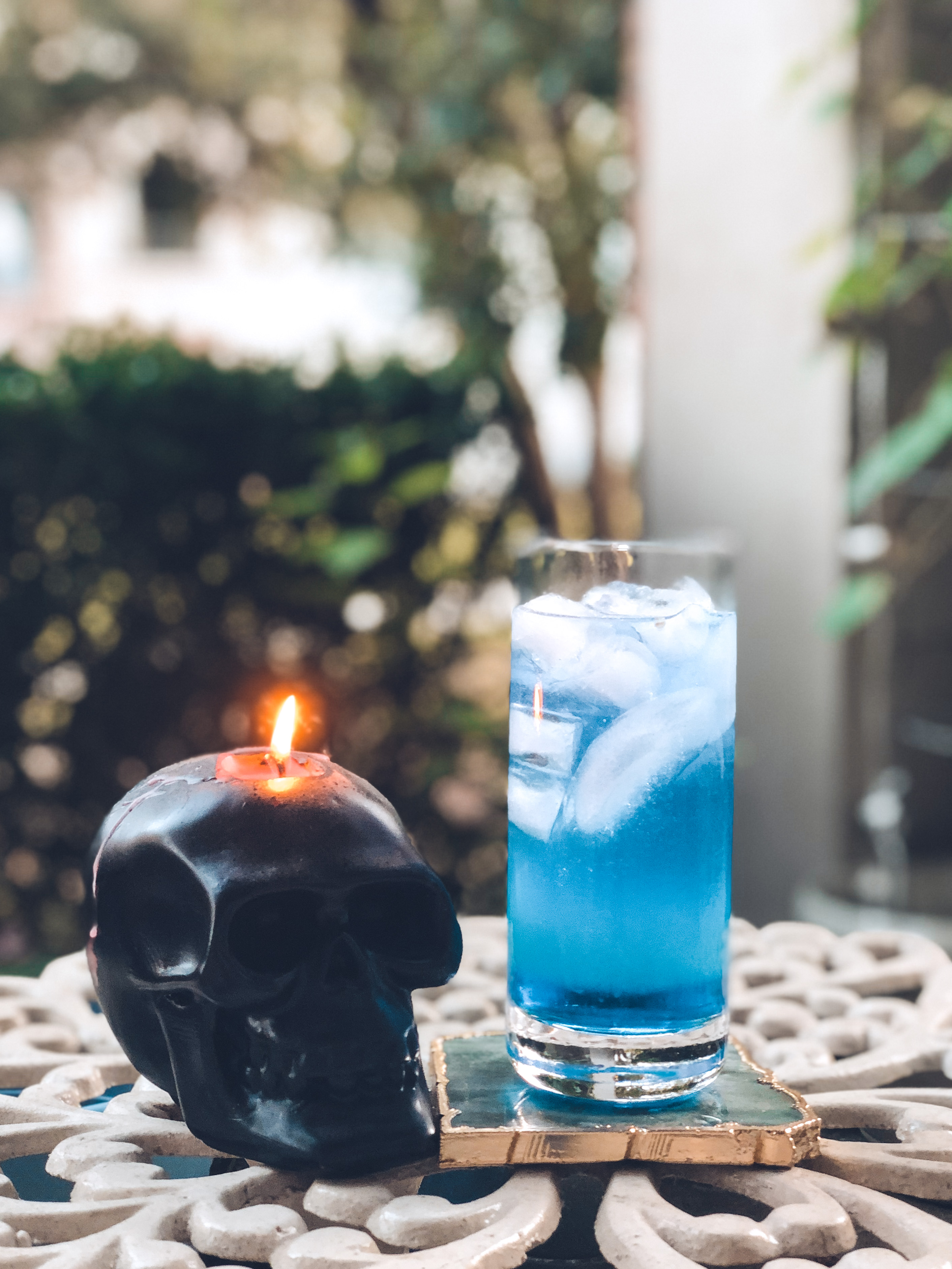 For friends who love gin: Hocus Pocus Cocktail
Ingredients:
1 1/2 oz. blue curaçao
1 1/2 oz. lemon juice
1 1/2 oz. Empress 1908 gin
2 oz. Topo Chico sparkling mineral water
Fill a highball glass with ice and pour the ingredients in the following order: blue curaçao, lemon juice, gin and sparkling mineral water. The ingredients will slowly begin to blend, creating an ombré effect in your glass.
---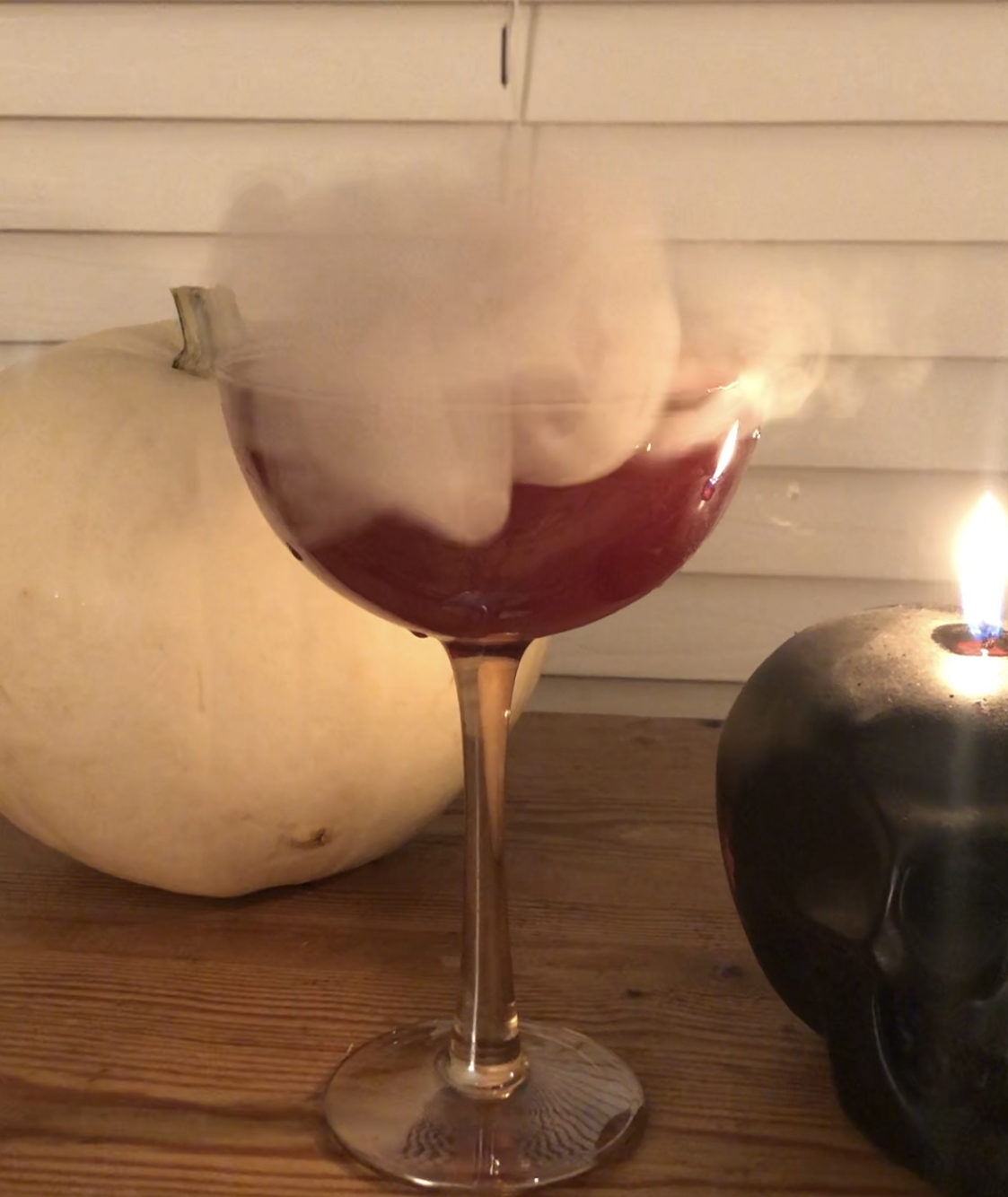 For rum lovers: Poison Apple
Ingredients:
4 oz. apple cider
1 1/2 oz. dark rum
1 1/2 oz. pomegranate juice
3/4 oz. grenadine
Combine apple cider, dark rum, pomegranate juice and grenadine in a shaker with ice. Shake briefly and strain into a cocktail glass.
Garnish with a cocktail smoke bubble, edible luster dust or an apple slice–whichever you have at home. Note: cocktail smoke bubble is a two-person job and takes quite a bit of patience.
---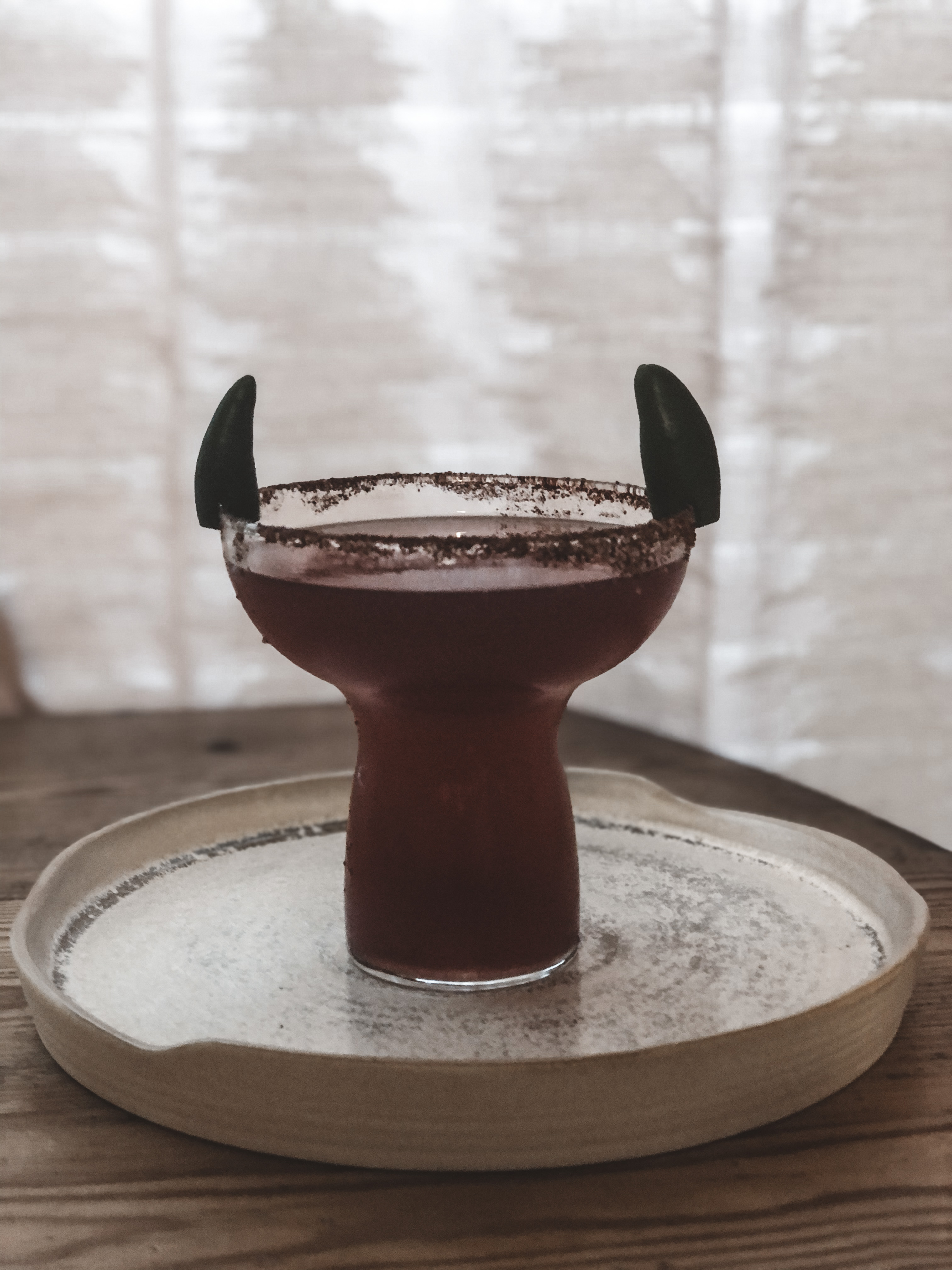 For vodka and tequila drinkers: Scary Story
Ingredients:
1 chopped jalapeño
1 1/2 oz. vodka
2 oz. Cointreau triple sec
1 1/2 oz. pomegranate juice
1/2 oz. lime juice
Salt, chili powder and peppers for garnish
Combine chopped jalapeños and vodka in a shaker for 10 to 15 minutes to infuse. Mix triple sec, pomegranate juice and lime juice, and add them to your vodka/jalapeño combo. Set mixture in fridge to chill.
Combine salt and chili powder on a plate. Rim your cocktail glass with a lime wedge and dip the rim in your salt/chili powder mixture.
Remove shaker from the fridge and add ice cubes; shake briefly. Strain into your cocktail glass.
---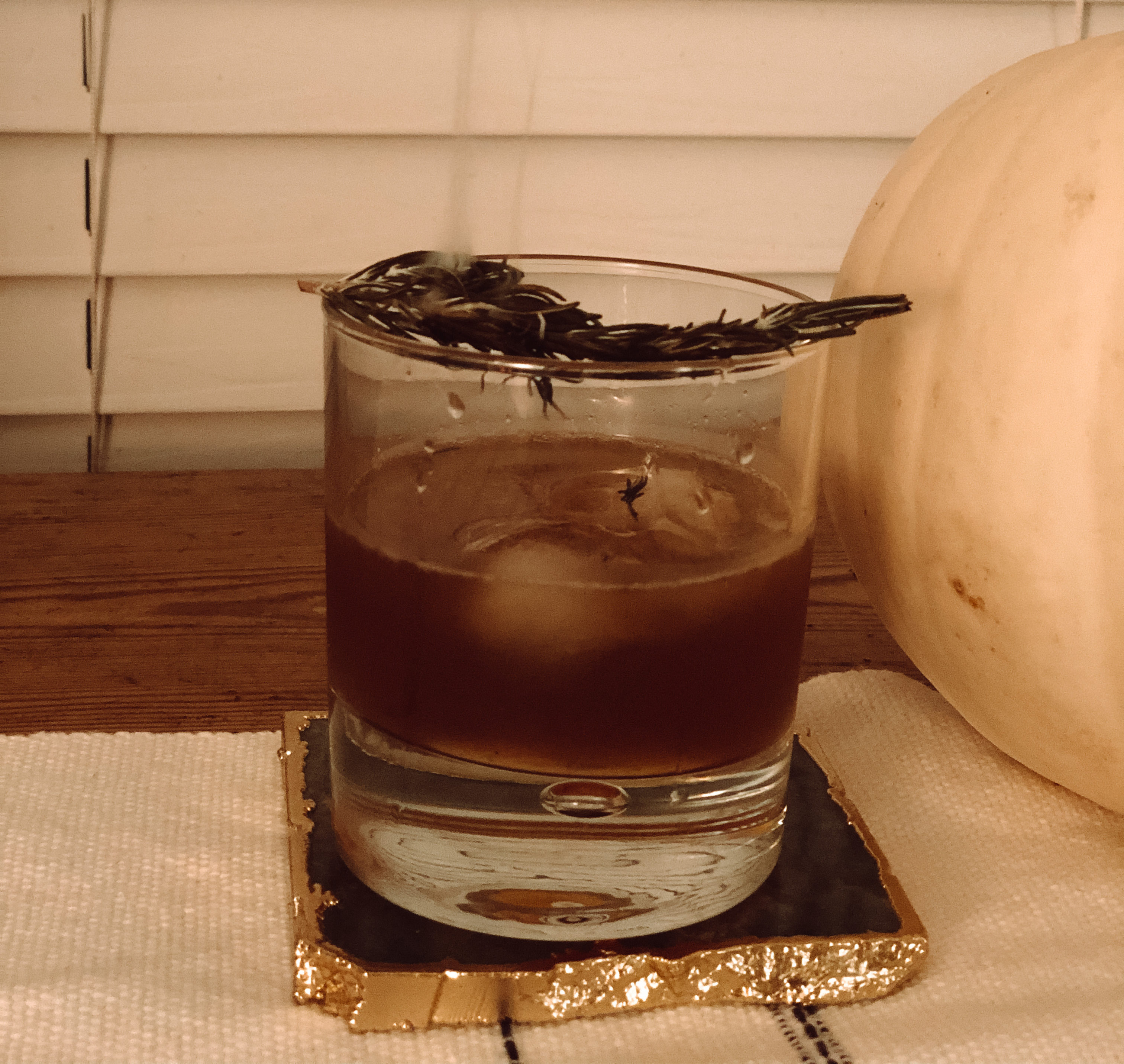 For bourbon and whiskey fans: Haunted Graveyard
Ingredients:
2 oz. bourbon
1 1/2 oz. maple syrup
2 orange slices
2 to 3 dashes orange or grapefruit bitters
Small sprig rosemary
Combine bourbon, maple syrup, orange slices and bitters in a shaker with ice. Shake well for 30 seconds, then strain into a lowball glass with a single large ice cube. Ignite a rosemary sprig to add smoke to your cocktail.
---
Follow @cocktailswithkatherine for more themed and everyday cocktails. And share your favorite cocktail creations in the comments below.