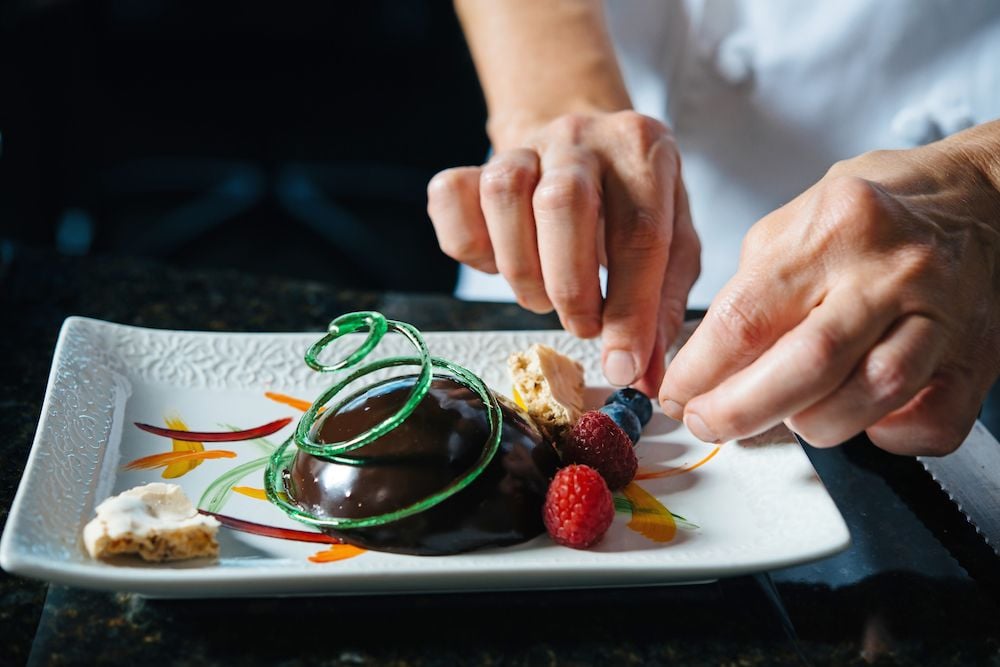 Food prep and presentation is finessed in home kitchens as everyday cooks kick it up a notch
---
Credit the cooking shows that make it look so easy and enjoyable. Attribute it to greater access to exotic ingredients. Point to personal cooking consultants as well as shops that sell high-end cooking gear with all the bells and whistles.
Everybody wants to be a chef these days.
"There's been a culinary explosion that's been going on in Baton Rouge in the last 10 to 15 years," says Charlie Ruffolo, public affairs director at the Louisiana Culinary Institute.
[caption id="attachment_20790" align="aligncenter" width="800"]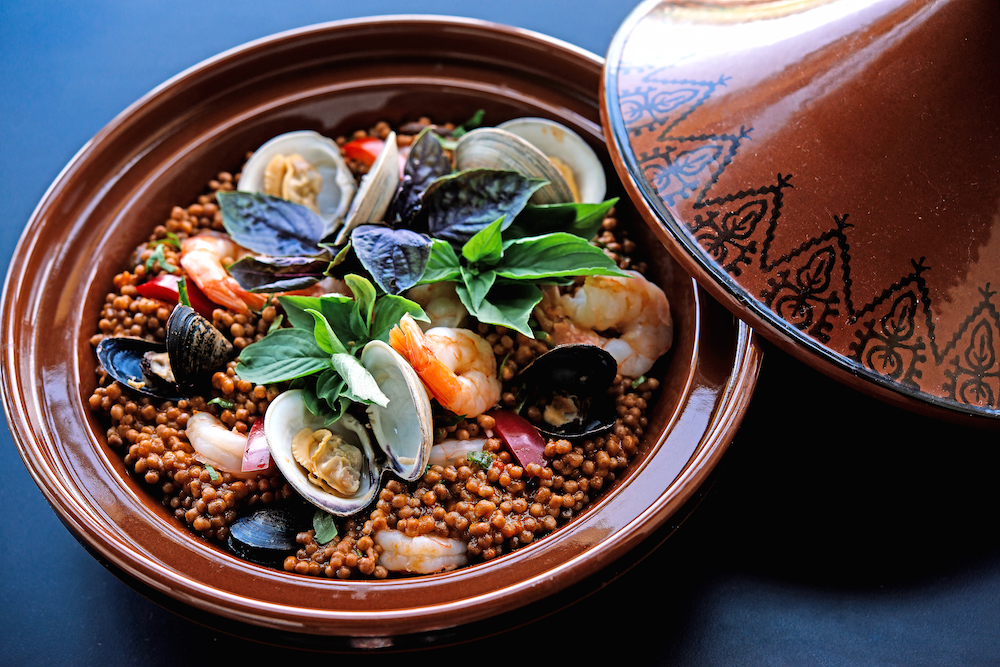 A taste for the exotic, spurred by a greater variety of available ingredients, gives home chefs the opportunity to cook restaurant-worthy meals in their own kitchens. (Photo by Denny Culbert)[/caption]
---
Amateur cooks have more resources than ever before to experiment at home and seek out epicurean adventures on the town. With approximately 900 restaurants now open in the city, according to Visit Baton Rouge, there are plenty of eateries from which home chefs can draw culinary inspiration.
"Baton Rouge has opened up quite a lot," says Christina Nicosia, an executive pastry chef who has taught at LCI for eight years. "It's grown quickly, especially after some of the big storms. That has brought in new ideas with new restaurants popping up with some great, young emerging stars. There's a lot of fine food around the area."
But the city's increased demand for culinary inventiveness—especially from home cooks—is also based on a desire to learn and expand on their grandmothers' family recipes, says Ruffolo. "People are just so passionate about their food down here."
For example, enrollment in LCI's weekend leisure cooking classes has increased dramatically, prompting the institute this past winter to triple the number of king cake baking classes it offered. Other popular classes include cake decorating, artisan bread baking and desserts, as well as traditional Louisiana comfort food. The classes allow a student to engage in a professional relationship with the chef instructor, who becomes a resource the student can call upon if they need help even after the class is over.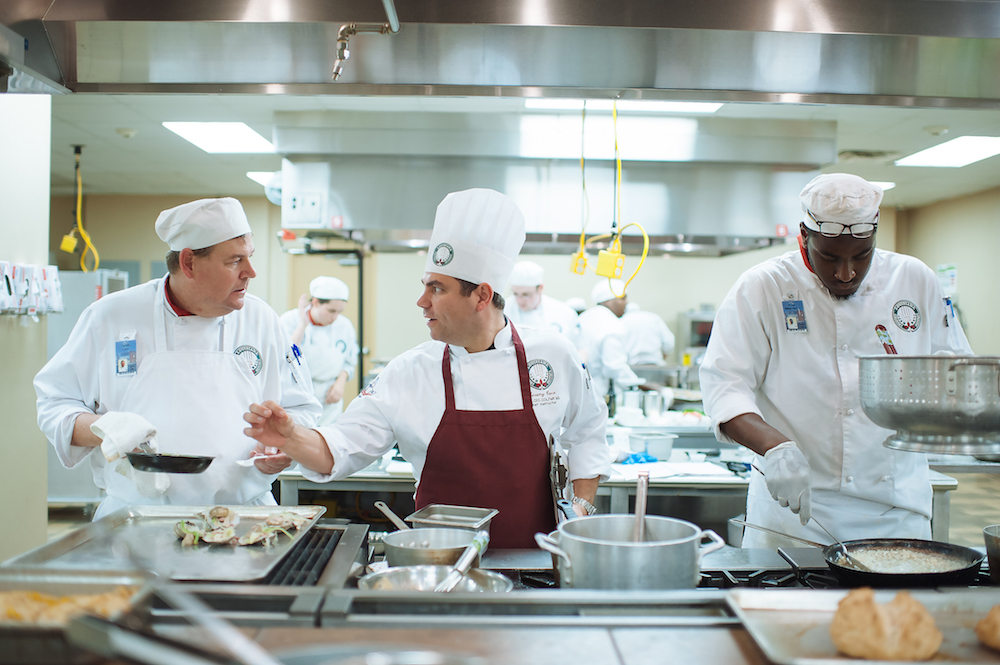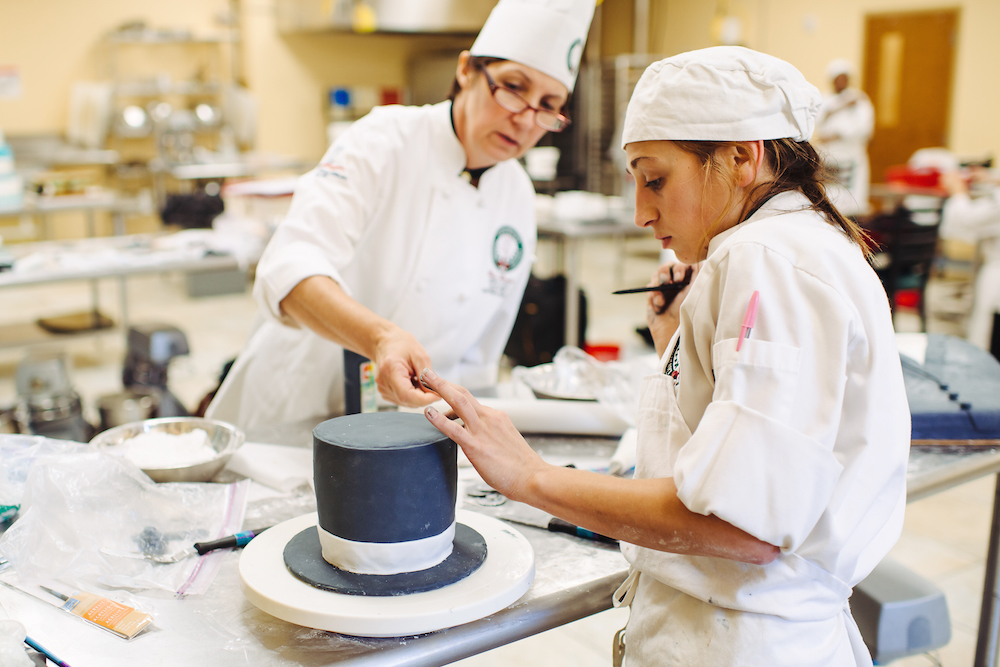 ---
"It's like a cool little community that goes on within the leisure class," Ruffolo says.
The typical leisure class student is usually a professional in another field who enjoys cooking, says Nicosia. And while people are still going out to eat, plenty more choose to stay home and cook in their own kitchens for several reasons.
"One, people are enjoying it," Nicosia says. "And two, value for your dollar. If you can have an evening of fun cooking with friends and make that dollar stretch a lot longer with some good quality products, why not?"
Steve Diehl, a personal chef who teaches cooking classes, knife skills and sushi-making techniques in private clients' homes, says people still like eating out. But they also want to know how to cook their own special, restaurant-quality dinners, he says.
"I think that people want to eat in their own homes," says Diehl. "They want to be able to prepare meals."
Diehl's services come into play when clients seek help in taking their culinary skills to the next level.
"A lot of people know how to cook," says Diehl, "but when they want do something fancy and impress people and entertain, that's where the classes come in."
Diehl, who calls himself a "worldly cuisine chef," agrees that his Baton Rouge clients are increasingly willing to try new dishes apart from the traditional Southern fare they may have grown up with. And many of these clients want local, healthy ingredients. Hot culinary trends like the farm-to-table and slow food movements are also changing the home cooking scene in Baton Rouge, he says.
[caption id="attachment_20581" align="aligncenter" width="800"]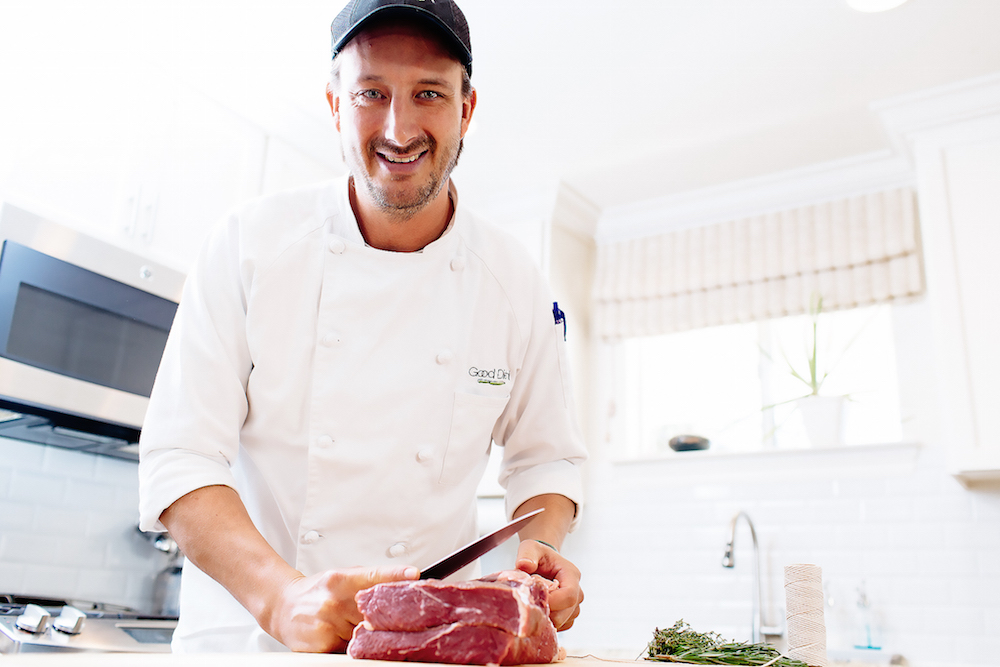 Personal chef Steve Diehl teaches meat-cutting techniques, along with many other chef skills, in a private cooking class setting. (Photo by Frank McMains)[/caption]
---
"There's a lot more out there than boudin and jambalaya and gumbo," says Diehl. "It really is becoming a big boom just knowing where your food comes from, how it's treated, the antibiotics, the hormones, and the fertilizers that have been put on the vegetables."
A desire to offer authentic ingredients spurred the Musso family to shut down their successful flooring business and open Season to Taste, an olive oil and balsamic vinegar tasting shop on Highland Road. Chris and Ginger Musso, along with their daughter Megan, offer oils and vinegars that have no preservatives, no colorings and no thickeners and are certified non-GMO.
"It's caught on," says Megan. "People are wanting to know where their food is coming from, where you're sourcing it from, what you're adding to it."
The specialty shop caters to both professional and non-professional cooks who want fresh ingredients for fresh food. The shop also sells Lavazza coffee at its espresso bar and local food products, kitchenware and soap. Customers love the taste-before-you-buy concept, with samples often provoking a "wow" moment, says Chris.
[caption id="attachment_20582" align="aligncenter" width="800"]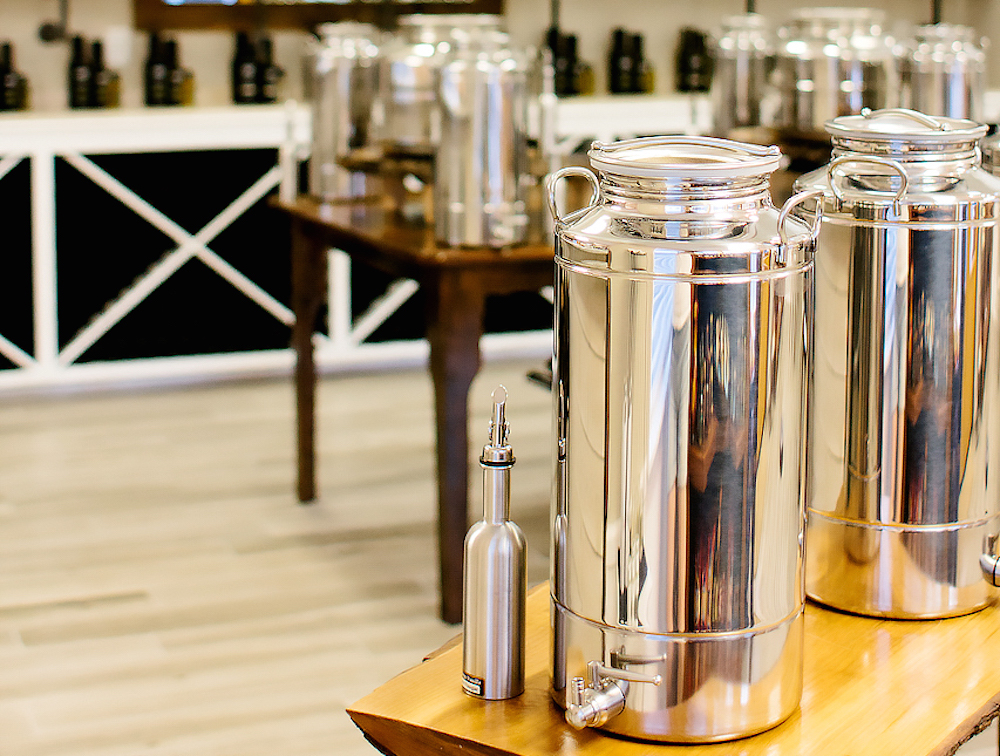 Large steel bins with dispensers—called "fustis"—house fresh oils and vinegars to sample at Season to Taste, an olive oil and balsamic vinegar tasting room that opened a few months ago on Highland Road. (Photo by Chelsea Caldwell)[/caption]
---
The family stores its 57 varieties of olive oil and balsamic vinegar in stainless-steel containers called fustis. The olive oils, which come from all over the world, range from mild to robust with different flavor notes and can be infused with different herbs or fruits including basil, butter, chipotle, blood orange and even Persian lime. The vinegars—from Modena, Italy—are dark or white and come in various flavors including cinnamon pear and Neapolitan herb.
But what led the family to believe the Baton Rouge market was ready for such a specialized shop?
"Food awareness is the biggest deal," says Chris. "The restaurant industry has changed so much in Baton Rouge. The cable networks have brought food to the attention of people. That's a big part of everyone calling themselves 'foodies' and enjoying the products we have here."
Ginger Musso says today's do-it-yourself cooking focus also encouraged the family to open the shop. Home chefs want real quality products to use to create custom salad dressings and more.
And Season to Taste is not alone in the specialty ingredient category. Anne Milneck, owner of Red Stick Spice Company, says she has seen an increase in customers interested in learning about which spices to incorporate into their recipes.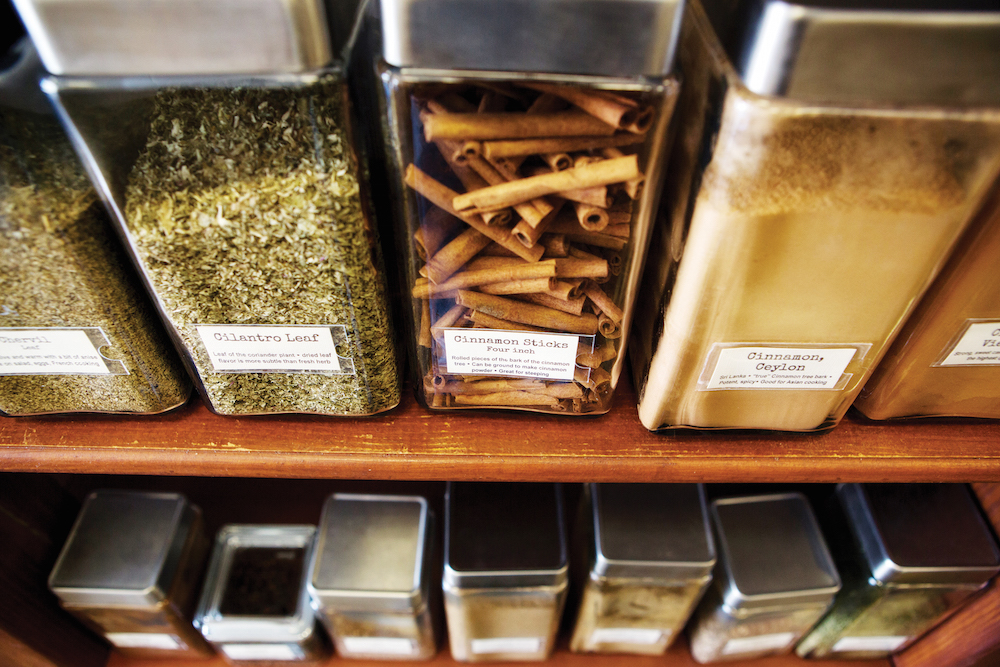 ---
"I attribute this to the wide variety of ethnic offerings that are available in Baton Rouge as well as food-centered video outlets and social media outlets," says Milneck. "Back in the day, my parents would not have ventured near an Indian restaurant. Today, curries are a twice-a-week occurrence in my household."
Milneck hopes to be able to offer a cooking course titled "Supper in 30" at her new Mid City shop location, which is projected to open in the coming weeks. In this class, she will cook a three-course meal from raw, unprepped ingredients in under half an hour. The idea was born in response to Milneck's hearing people talk about not having enough time to cook.
"Cooking at home has become this unreachable anomaly," Milneck says. "It's not. It's easy. It's doable. I feel that people get caught up in perfection and blog-worthy, photographable dishes. Mealtime doesn't have to be perfect. When you get a warm meal to the table where friends and family gather, that's perfection."
---
Read more from inRegister's epicurean issue:
One night only: Dining out takes on a new dimension with elevated fare in unexpected venues
A deliciously raw deal: The down and dirty on Louisiana's favorite mollusk
Feasts of the southern wild: More and more local restaurants are getting into the game with dishes featuring exotic meats
Weeknight wines: Ever wondered what your neighbors are drinking on a Wednesday? These unfussy, affordable bottles are versatile and appealing.