Freakshow cabernet sauvignon will rock your world, awaken your senses and make even the most discriminating red wine lover stand up and applaud. This red showstopper brings pure magic to the California cab circus. Vented and bottled by those outrageous Lodi brothers of Michael David Winery, it's a top pick for the world's best QPR (quality-price ratio). So much for so little!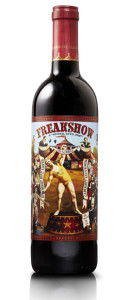 Big, burly and balanced, this maximum black cherry ultra-berry bomb provides ripe fruit flavors up front and a full finish. What's freaky is how the winemaker tamed the grapes to an elegant crème de cassis sweetness wrapped in smoky oak.
Freakshow is served BTG at Portobello's Grill, where it pairs perfectly with the Pure Cut Ribeye. Or pick up a bottle next door at Calvin's Bocage Market, fire up the grill and slap on the barbecue sauce because this "strongman" can handle heavy food and large crowds.
On any given gameday, Freakshow is the perfect Tiger bait.