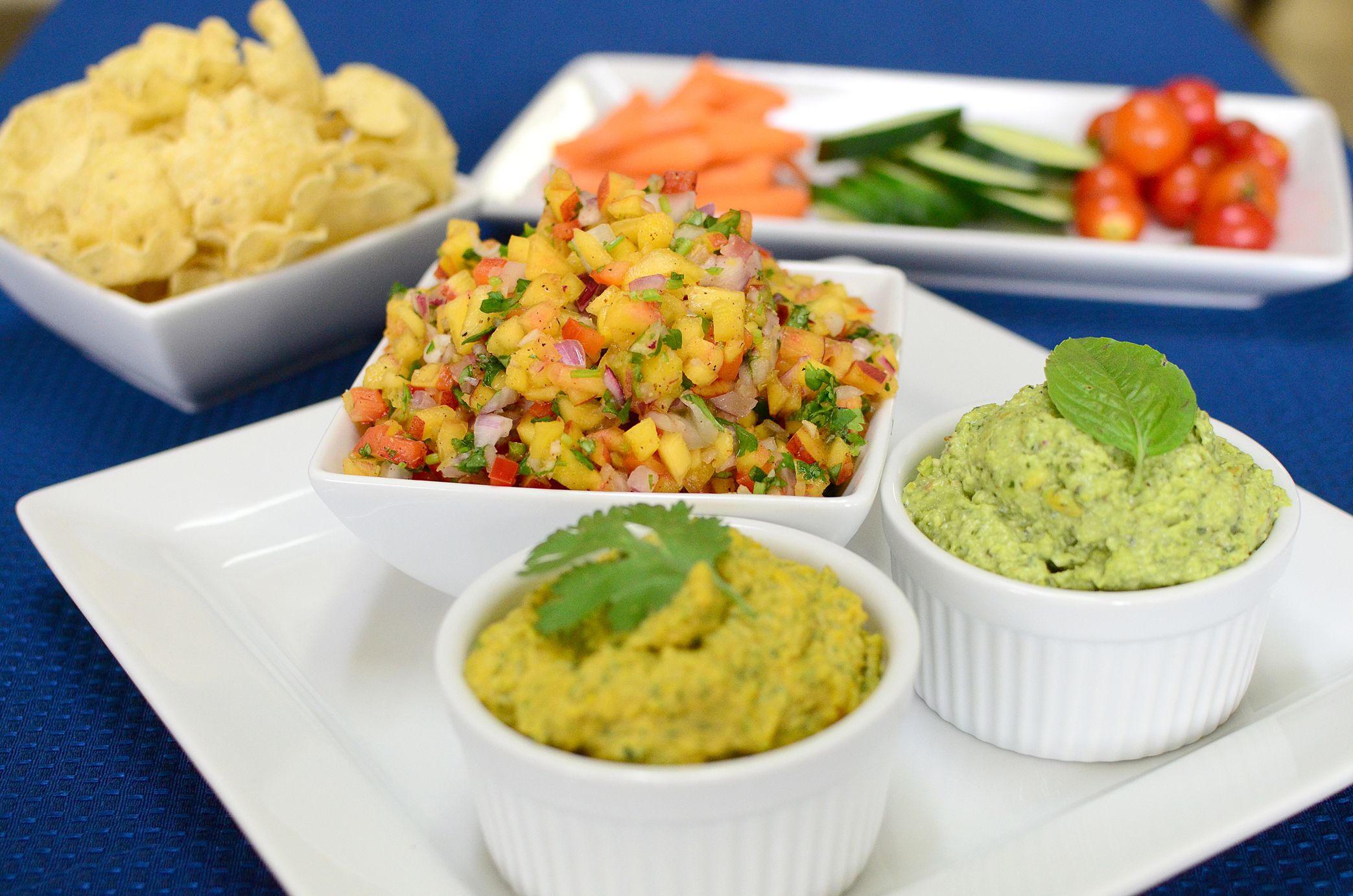 Skinny dipping: How to cut calories in classic dips without sacrificing flavor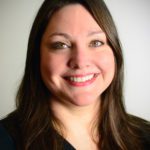 Behind those savory flavors in classic dips that have long been a staple of home entertaining, there is often one significant flaw. The creamy textures and flavorful tastes often come along with a heaping serving of calories, even for the smallest of servings. At times, the calorie levels are often high enough to replace an entire meal of calories in only a few helpings.
The recipes we are sharing with you here prove that dips don't have to be calorie-laden to be delicious. Dietitians in the metabolic research kitchen at LSU's Pennington Biomedical Research Center often look for ways to adapt traditional dishes to include fresh fruits and vegetables with bold flavors and bright colors. We put our background in nutrition and dietetics to work to create these three great dip recipes that we think even the most die-hard dip purists can appreciate.
A great late summer and early fall recipe, our colorful Fresh Peach Salsa is packed with important micronutrients like vitamin C that can help boost the immune system. We love this recipe as a dip because it's naturally fat free and is low in calories, but it can also be used in a variety of ways. You could use it as a topping for grilled fish, as a filler for fresh fish tacos, or in spinach salads. When fresh peaches aren't available, you can easily replace peaches with fresh pears. As an added benefit, leaving the skin on the fruit makes this dip higher in insoluble fiber, which can promote healthy digestion.
We also provide our spin on a classic pesto, an Italian sauce traditionally made with olive oil and pine nuts. Already, conventional pesto is a heart-healthy choice, but with this dish we traded pine nuts for pistachios, which are more affordable and easier to find in the grocery store. Also included in this recipe are avocados, which provide additional unsaturated fatty acids and fiber and can decrease the risk for heart disease. Try serving our Avocado Pesto with fresh veggies, or brush it on shrimp kebobs or top oysters before grilling.
Perhaps the most unique of our three recipes is a twist on classic hummus and Moroccan chermoula. Chermoula is a marinade often used in Algerian, Libyan, Moroccan and Tunisian cooking. Our savory Chermoula Hummus includes heart-healthy fats from olive oil and tahini, plus fiber and complex carbohydrates from chickpeas, which makes this a great choice for people who are working to manage diabetes. This recipe also has anti-inflammatory properties and antioxidants, making it a healthy treat.
Summer may be coming to an end, but with these easy recipes, the time for skinny dipping is now!
Fresh Peach Salsa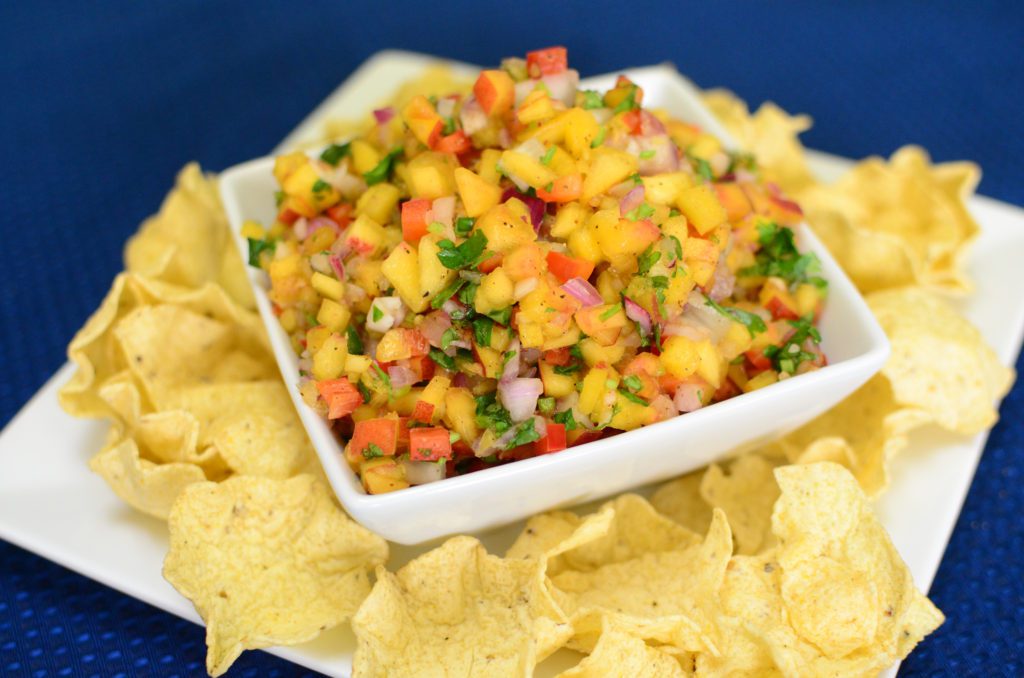 This fresh peach salsa is the perfect combination of sweet and spicy. Low in calories but high in important micronutrients like Vitamin C, serve it with tortilla chips, on tacos, grilled chicken,
or pork.
– 4 cups fresh peaches (about 6 peaches), pitted and diced
(with or without skin)
– 1 medium red onion, diced
– 1 red bell pepper, seeded and diced
– 1 jalapeño, seeded and diced*
– 1⁄2 bunch cilantro, chopped
– 1⁄4 tsp. chili powder
– Juice from 1 to 2 limes
– Salt and pepper to taste
– 1 clove garlic, minced (optional)
Combine all ingredients in a large bowl and mix thoroughly. Taste and add additional salt, pepper or chili powder if desired. Cover and refrigerate for at least 1 hour before serving.
*Jalapeño can be adjusted to taste.
Chermoula Hummus
This unique-tasting hummus is full of anti-inflammatory and antioxidant ingredients, as well as heart-healthy fats and lots of fiber. Serve with crackers, chips, raw veggies, or use as a sandwich spread.
– 2 (15 oz.) cans garbanzo beans or chickpeas, rinsed and drained
– 1⁄2 cup cilantro, chopped
– 1⁄2 cup parsley, chopped
– 1⁄3 cup fresh mint, chopped
– 3 Tbsp. olive oil
– 2 Tbsp. tahini
– 3 Tbsp. lemon juice
– Zest of 1 lemon
– 2 heads garlic, roasted, skin discarded
– 1⁄2 tsp. cayenne pepper (or to your
desired spice level)
– 1 tsp. ground ginger
– 1 tsp. ground cumin
– 1 tsp. ground coriander
– 1⁄2 tsp. smoked paprika
– 1⁄2 tsp. ground turmeric or 1 tsp. fresh turmeric root, grated
– 2 pinches saffron
– 1⁄2 tsp. salt
Combine all ingredients into a food processor. Process until ingredients are completely mixed and smooth.
Avocado Pesto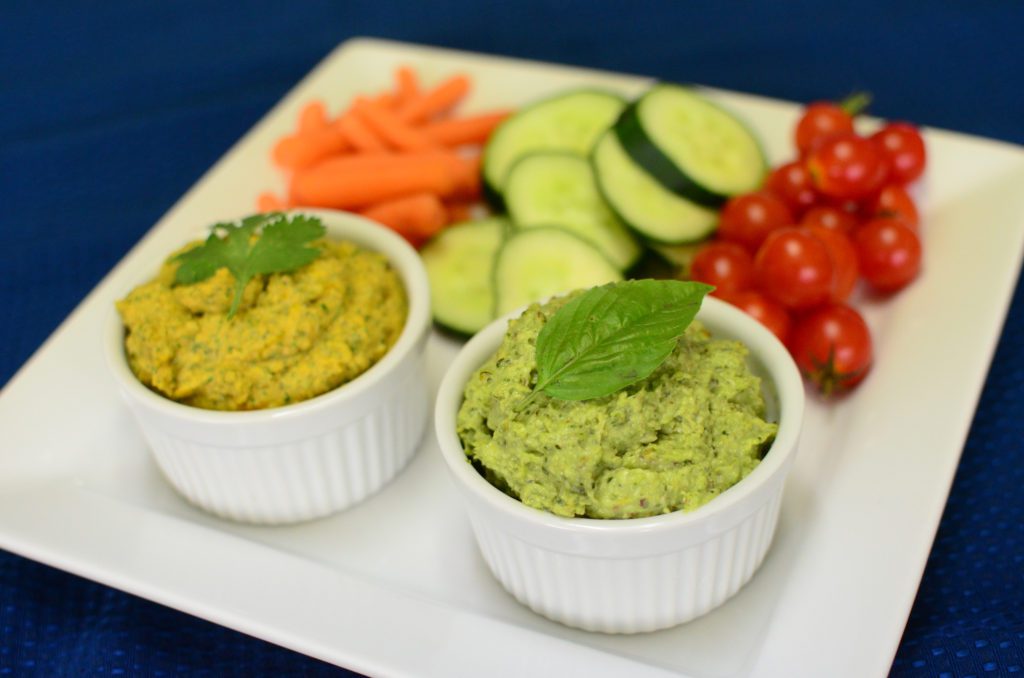 This rich pesto puts a new spin on an old favorite. Avocados and pistachios not only add great flavor, but heart-healthy fats and fiber, too. Use this pesto as a dip for roasted veggies or to top grilled shrimp or chicken.
– 1 cup fresh basil
– 1 large avocado
– 1⁄3 cup shelled pistachios
– 1⁄2 lemon, juiced
– 5 to 6 cloves garlic
– 1⁄2 cup olive oil
– 1⁄2 to 1 tsp. salt
– 1⁄2 cup Parmesan cheese, grated
Add all ingredients except Parmesan cheese to a food processor, and pulse until smooth. Add parmesan cheese and pulse a couple of times until incorporated.