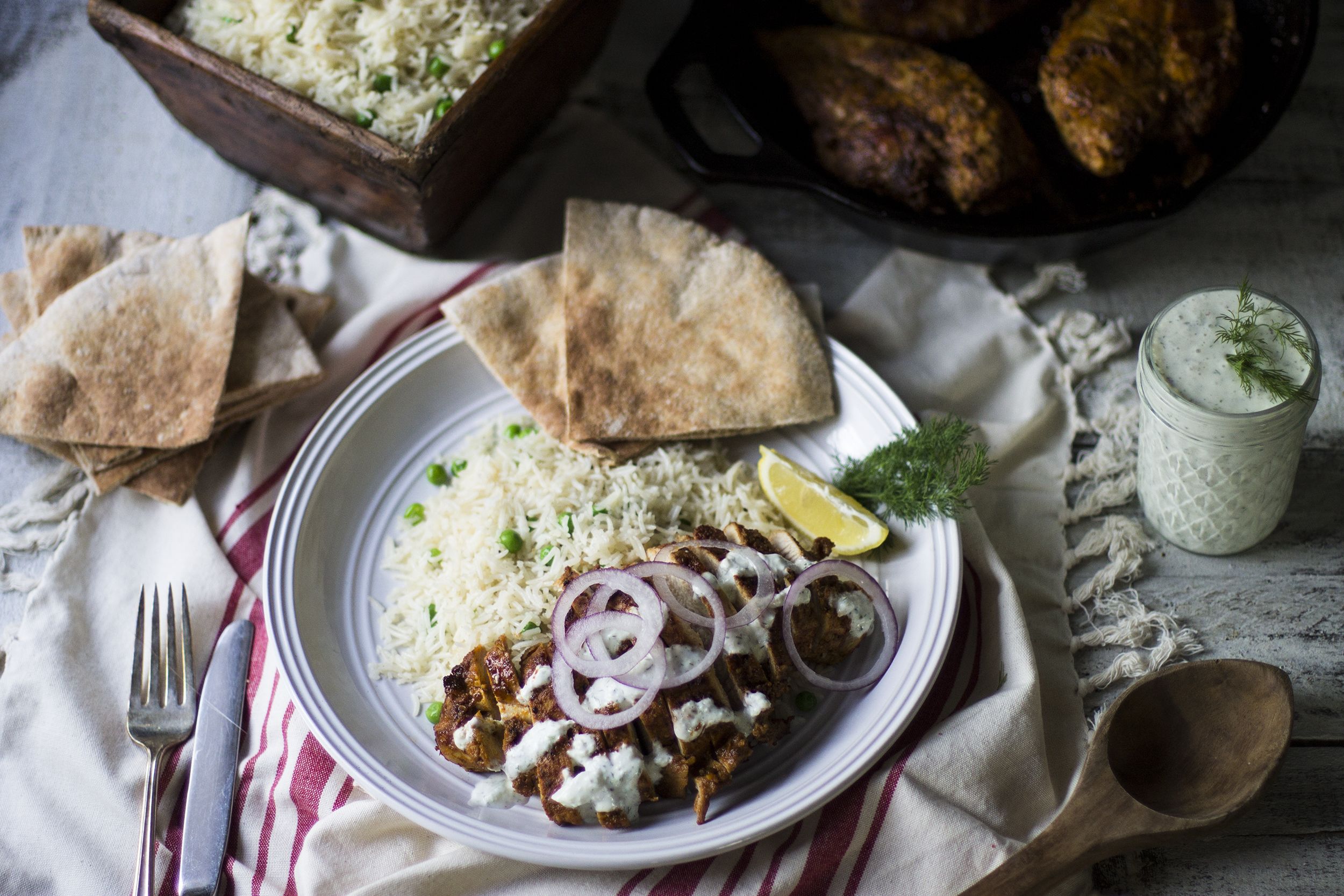 Photo by Leigh Ann Chatagnier
My husband and I are regulars at a local Lebanese restaurant. Its chicken shawarma is the best I've ever had. The rice is so full of flavor that my husband always orders an extra side of it. I started making my at-home version of this meal a couple of years ago to shave a few calories. … This recipe will satisfy your need for shawarma without breaking the bank.
Excerpted from Leigh Ann Chatagnier's blog, Mydiaryofus.com.
Chicken Shawarma over Greek Rice
Rice
3 cups white rice
3 cups chicken stock if using rice cooker; if cooking on stove, double liquid
2 garlic cloves, smashed
Juice from 1 lemon
1 1⁄2 tsp. salt
2 Tbsp. butter
1⁄2 cup frozen peas
Chicken
1 Tbsp. chili powder
1 Tbsp. cumin
1 Tbsp. smoked paprika
1 Tbsp. coriander
1 tsp. kosher salt
1 Tbsp. grill seasoning (I use Montreal)
Juice from 1 lemon
4 Tbsp. olive oil
4 boneless chicken breasts
4 garlic cloves, minced
Red onion
Tzatziki sauce
1⁄2 cup 2% Greek yogurt
Juice from 1 lemon
2 garlic cloves
2 Tbsp. fresh dill
1⁄4 cucumber, seeded and peeled
1 tsp. salt
1 tsp. pepper
Directions:
• For rice, if using a rice cooker, combine rice, chicken stock, garlic, lemon juice, and salt, and cook according to the cooker's instructions. If cooking on the stove, combine ingredients in a pot with the extra liquid, and cover and cook until liquid is absorbed and rice is fluffy.
• For chicken, combine spices, lemon juice, olive oil, and garlic in a bowl, and rub liberally onto chicken breasts. Marinate up to 24 hours but at least for 30 minutes.
• Grill chicken breasts over low heat for 10-12 minutes on each side or until no longer pink. You can also cook them in an iron skillet for the same amount of time on medium heat.
• While chicken and rice are cooking, mix together all tzatziki ingredients in a food processor and combine well. You can also make sauce by hand by mincing garlic and dill, and chopping or grating cucumber and combining all together. Either way, taste to see whether more salt is needed.
• When rice is done, add butter and peas, and stir until butter is melted and peas are defrosted and still bright green.
• Serve chicken over rice with a drizzle of tzatziki and sliced fresh red onion.
• Serve with a side of warm pita slices.