Shake it up: Spring cocktails as refreshing as the season
---
"There is something inherently Southern about sharing food and drink with others and the joy it brings in sharing what we love," remarks Instagram mixologist Katherine Roberts as she adjusts an edible flower on her "No Basil Mintini." Roberts, known as @cocktails_with_katherine on Instagram, has been dreaming up and sharing creative cocktails online since a bout of quarantine boredom last spring. Over the past year, the hobby has flourished into a passion, as she grows in alcohol-infused knowledge alongside her expanding follower base.
Here, she shares a few of her go-to picks for this spring, complete with freshly squeezed juice (always opt for what you can find at the local farmers market) and plenty of festive garnish (hello, edible flowers).
---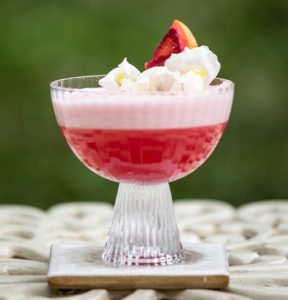 Blood Orange Gin Sour
Ingredients
2 oz. gin
1 oz. fresh blood orange juice
½ oz. simple syrup
¾ oz. fresh lime juice
1 egg white
Blood orange slice for garnish
Combine gin, blood orange juice, lime juice, simple syrup and egg white in a shaker without ice. Shake it like a Polaroid picture (about 5 to 7 minutes). Add ice and then shake it like a salt shaker (about 2 minutes). Strain and pour into a cocktail glass. Garnish with a blood orange slice and a few white snapdragon flowers.
---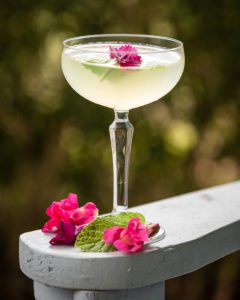 No Basil Mintini
Ingredients
4 to 5 mint leaves
1 oz. fresh lime juice
1 oz. simple syrup
1 ½ oz. Seedlip Garden 108 (or 1 oz. cucumber vodka)
2 oz. vodka
Mint sprig and edible flowers for garnish
Place mint leaves and lime juice in a shaker, and gently muddle to allow mint to release its oils and fragrance. Add simple syrup, Garden 108, vodka and ice, and shake briefly. Double strain into a chilled coupe glass and garnish with a mint sprig and dianthus flowers.
---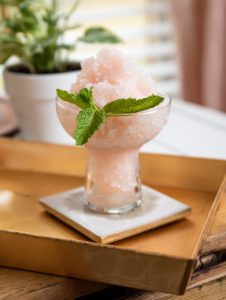 Grapefruit Margarita-Pink-Tequila
Ingredients
2 oz. blanco tequila
1 oz. Cointreau
4 oz. fresh grapefruit juice
1 oz. fresh lime juice
2 dashes grapefruit bitters
Ice
Mint sprig for garnish
Combine all ingredients in a blender and blend until smooth. Pour into a plastic container and freeze for 2 to 4 hours or overnight. Serve in a margarita glass packed tall like a snowball. Garnish with a mint sprig.