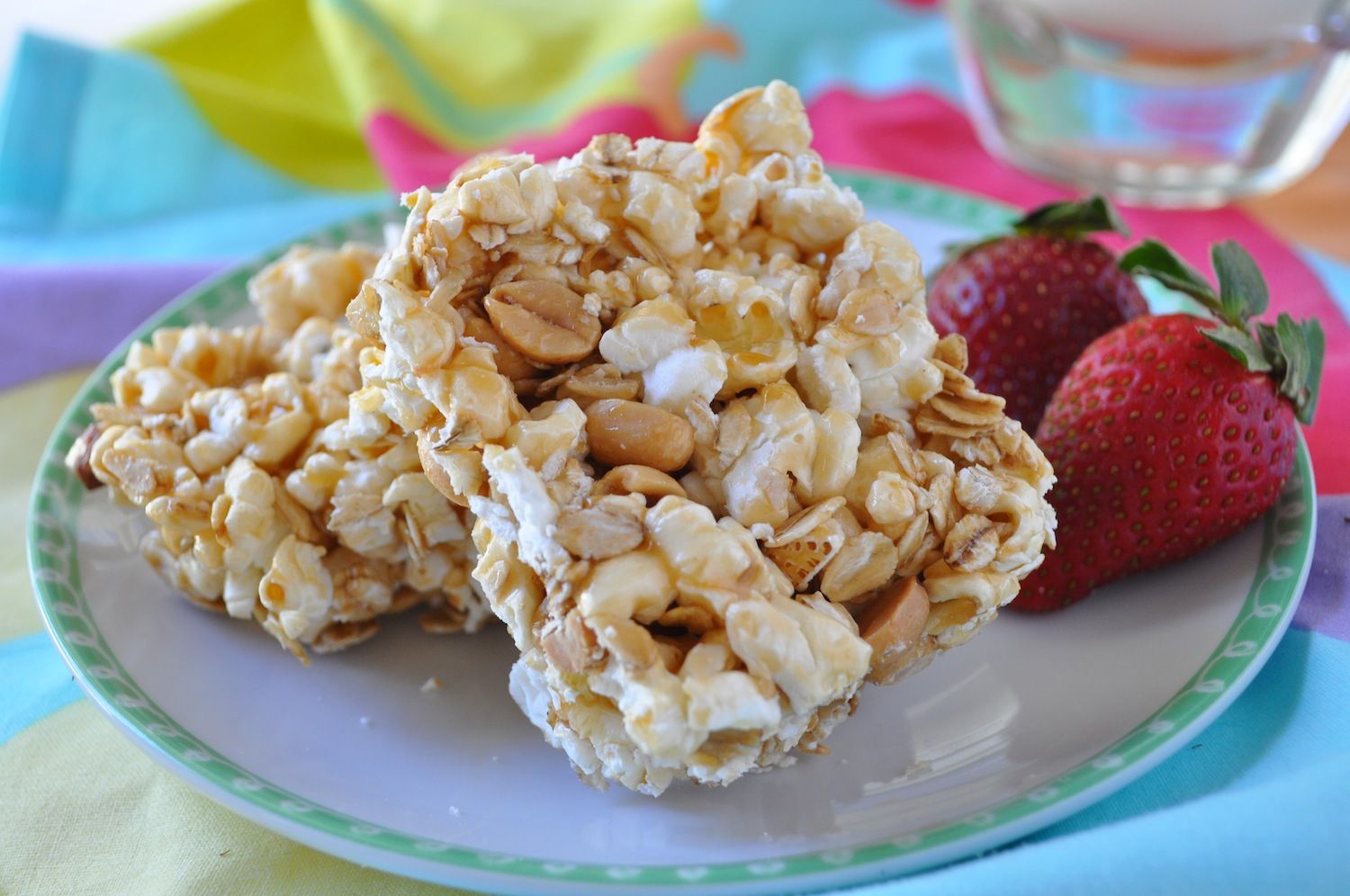 Sensational simple snacks
By Holly Clegg
School is back in session this month, and kids of all ages—from 8 to 80—love a tasty snack. When my kids were younger, they were always complaining of hunger as soon as they hit the door. After-school snacks are a must, and the healthy options on these pages will soon become your family favorites for a midmorning break or an afternoon pick-me-up. Don't underestimate the value of the between-meal nibble. Snacks are a great way to sneak in nutrition, and these are simple to make while full of flavor.
Blueberry Muffins are the perfect anytime snack. Don't limit these to just breakfast. They are also great as after-school fuel or even as a late-night sweet treat. Muffins are a great portion-controlled snack and are easy to tote. They can be frozen and quickly defrosted. In addition, the blueberries they contain are chock-full of good-for-you antioxidants. If you use frozen blueberries, do not defrost before adding to the mix, as they will get too soft.
Sweet Potato Skins use only four ingredients—naturally sweet yams, turkey bacon, melted cheese and a sprinkle of onion. The use of sweet potatoes in this all-American pick-up will win many fans. Get a dose of yummy nutrition with Louisiana yams, which provide fiber, twice the recommended daily amount of vitamin A, and one-third of the RDA of vitamin C. Use this terrific tip when preparing the skins: With the extra potato pulp, make mashed sweet potatoes by mixing in skim milk, sour cream, salt and pepper, and a dash of cinnamon.
And next time you are craving something sweet and salty, try Caramel Popcorn Peanut Bars. I lose all of my willpower to this nutritious, addictive treat. Popcorn is a great fiber option to maintain a healthy weight, as two cups of popcorn provide three grams of fiber. The caramel and peanut butter flavors really jazz it up. This great recipe lets you prepare bars in bulk; cut extras into squares and store in a zip-top bag to pull out for a quick snack enjoyed on the run. For the young, and the young at heart, everyone will want to grab a bite!
---
Caramel Popcorn Peanut Bars
Popcorn, peanuts and oatmeal with caramel syrup make a snack that's irresistible.
1 1/2 cups old-fashioned oatmeal
1 cup dry roasted peanuts
4 Tbsp. butter
2 Tbsp. canola oil
2/3 cup light brown sugar
1/3 cup honey
1/2 tsp. vanilla extract
1/2 cups popped popcorn
Preheat oven to 350 degrees. Place oatmeal and peanuts on baking sheet and bake 12-14 minutes. In medium pot, combine butter, oil, brown sugar and honey over medium heat, stirring until mixture comes to boil. Boil 1 12 minutes. Remove from heat and add vanilla. Place popcorn in large bowl, and pour hot syrup mixture over popcorn, stirring until coated. Add oatmeal and peanuts, mixing well. Transfer mixture to 15x10x1-inch baking pan lined with foil and coated with nonstick cooking spray; press into pan. Cool, then cut into squares. Store in airtight container. Makes 42-48 squares.
Nutritional information per serving: Calories 74 | Calories from fat 47% | Fat 4g | Saturated fat 1g Cholesterol 3mg | Sodium 8mg | Carbohydrate 9g | Dietary fiber 1g | Sugars 5g | Protein 1g | Dietary exchanges: 12 other carbohydrate, 1 fat
Sweet Potato Skins
This all-American favorite gets a deliciously healthy spin with fiber-rich sweet potatoes.
6 medium sweet potatoes
4 slices turkey bacon, cooked and crumbled
1/2 cup chopped green onions
2/3 cup reduced-fat shredded Cheddar cheese
Wash potatoes well, and dry thoroughly. Microwave on high 8-10 minutes, depending on size, or bake in oven at 425 degrees for 50-60 minutes. When potatoes cool enough to handle, cut in half lengthwise; scoop out pulp, leaving a 14-inch shell (save pulp for another use). Cut potato skins in half width-wise. Place potato skins on baking sheet lined with foil. Coat skins with nonstick cooking spray. Bake at 475 degrees for 5-7 minutes; turn and coat skins on other side with nonstick cooking spray. Bake until crisp, 3-5 minutes more. In small bowl, mix together bacon, green onions, and cheese. Sprinkle mixture inside skins. Bake 2 minutes longer or until cheese is melted. Makes 12 potato skins.
Nutritional information per serving: Calories 79 | Calories from fat 25% | Fat 2g | Saturated fat 1g | Cholesterol 7mg | Sodium 155mg | Carbohydrates 11g | Dietary fiber 2g | Total sugars 2g | Protein 4g Dietary exchanges: 1 starch, 12 lean meat

Blueberry Muffins
They're sweet, fluffy and berry-full—bet you can't eat just one!
1 cup light brown sugar
2 eggs
1/3 cup canola oil
1 cup buttermilk
2 tsp. vanilla extract
1 1/2 cups all-purpose flour
1 cup whole wheat flour
2 1/2 tsp. baking powder
1 tsp. baking soda
1 tsp. ground cinnamon
2 cups blueberries
Preheat oven to 400 degrees. Coat muffin pans with nonstick cooking spray, or use paper liners. In bowl, whisk together brown sugar, eggs, oil, buttermilk and vanilla. In another large bowl, combine both flours, baking powder, baking soda and cinnamon. Add egg mixture, stirring just until mixed. Fold in blueberries. Fill muffin pans about 23 full. Bake 17-20 minutes or until tops are golden brown. Makes 20 muffins.
Nutritional information per serving: Calories 152 | Calories from fat 27% | Fat 5g | Saturated fat 1g Cholesterol 19mg | Sodium 136mg | Carbohydrates 25g | Dietary fiber 1g | Total sugars 13g | Protein 3g | Dietary exchanges: 1 12 starch, 1 fat
| | |
| --- | --- |
| | Holly Clegg is the author of the best-selling trim&TERRIFIC cookbooks, Eating Well Through Cancer and Too Hot in the Kitchen: Secrets to Sizzle at Any Age. For more information, visit hollyclegg.com or thehealthycookingblog.com. |