Scary good Halloween recipes with Aimee Broussard
With Halloween just days away, you can expect social media to blow up with all things spooky, sweet and perfectly themed. If you haven't had time to binge on Pinterest or scroll Instagram in search of the ideal snacks to serve your guests next Wednesday, you're in luck, because local blogger and inRegister food columnist Aimee Broussard is sharing some her top picks from her recent #HalloweenTreatsWeek roundup, as well as the recipe for the perfect Halloween confection you didn't even know you needed.
Several weeks ago, Broussard and a group of bloggers and sponsors (Dixie Crystals, Adam's Extract, Wilton, Sweets & Treats Boutique & Treat Street USA) got together to prepare a list of over 50 recipes designed to celebrate the 31st of October. "From over-the-top cakes and festive fudge to brownies and spider cheeseballs, the list is quite impressive," says Broussard.
https://www.instagram.com/p/BoY8gWtBGbK/?taken-by=aimeebroussard
If it wasn't for all of the neighborhood fun, Broussard says she would probably be temped to turn off her lights and pretend she wasn't home when the long-awaited day came around. But that simply isn't the case.
"I have one set of neighbors who paint themselves blue like Smurfs as they take off skipping down the sidewalk handing out candy. Another neighbor hooks up his trailer and provides hayrides for all the kids. And yet another neighbor? Well, she drags out the bar cart and serves wine and cocktails to those parents looking like they might need a little treat of their own," says Broussard. "That neighbor would be me."
Check out Broussard's recipes below for a Halloween pairing that is perfect for the parents.
---
BACON AND PECAN CHEESEBALL "PUMPKIN"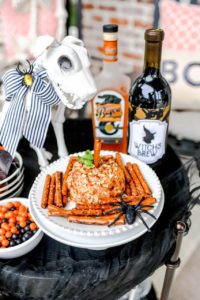 8 oz, cream cheese, softened
4 to 5 slices bacon, crisply cooked and crumbled
½ bunch green onions, chopped
1 tsp. Worcestershire sauce
1 tsp. garlic powder
Salt and pepper to taste
1 cup pecans, chopped
1 bag pretzel sticks
Beat cream cheese in a mixing bowl until creamy and smooth. Add bacon, green onions, Worcestershire, garlic powder, salt and pepper. Using plastic wrap, form cream cheese mixture into a ball, wrap completely, and place in refrigerator for about 1 hour to firm. Place chopped pecans in a single layer on a cookie sheet or large plate. Remove plastic from cheeseball, and roll it in the chopped pecans to completely cover. Place a single pretzel stick in center of cheeseball. Chill in refrigerator until ready to serve, at least a couple of hours to allow cream cheese to re-harden. Serve with assorted party crackers or additional pretzel sticks, and garnish with a bit of green for the pumpkin leaf.
---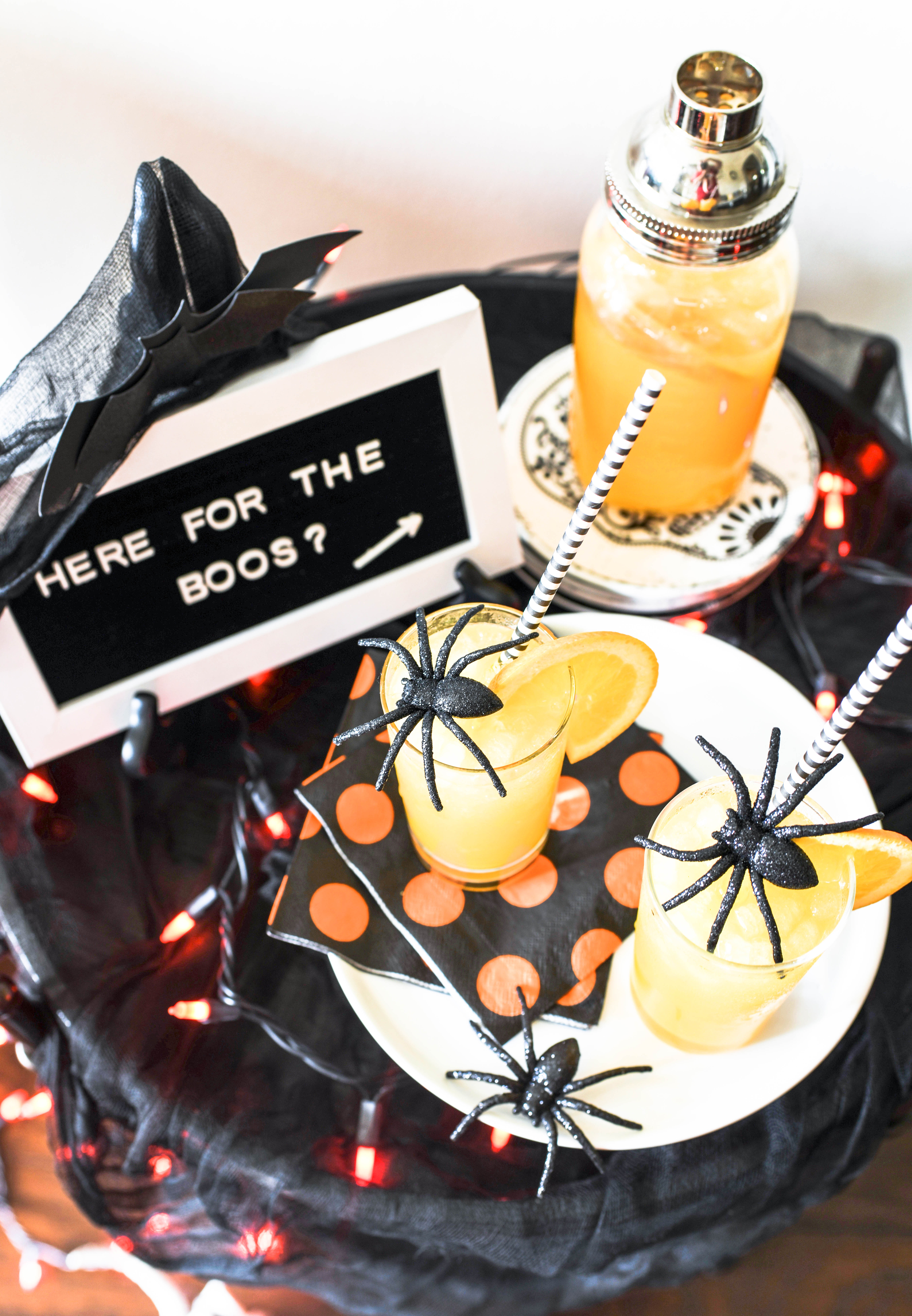 NOT SO SCARY SATSUMA COCKTAIL
3 oz. Satsuma Bayou Rum Liqueur
8 oz. orange juice
Juice of 1 medium lemon
2 oz. simple syrup
Orange slices for garnish
Prepare simple syrup: In a small saucepan, bring 1 cup sugar and 1 cup water to a boil; simmer until sugar is completely dissolved. Remove from heat and allow to cool completely.
In a cocktail shaker, add liqueur, orange juice, lemon juice and 2 oz. simple syrup along with 1 cup ice. Shake vigorously until contents are well blended and shaker becomes cool to the touch. Strain into prepared cocktail glasses. Garnish each glass with an orange slice.