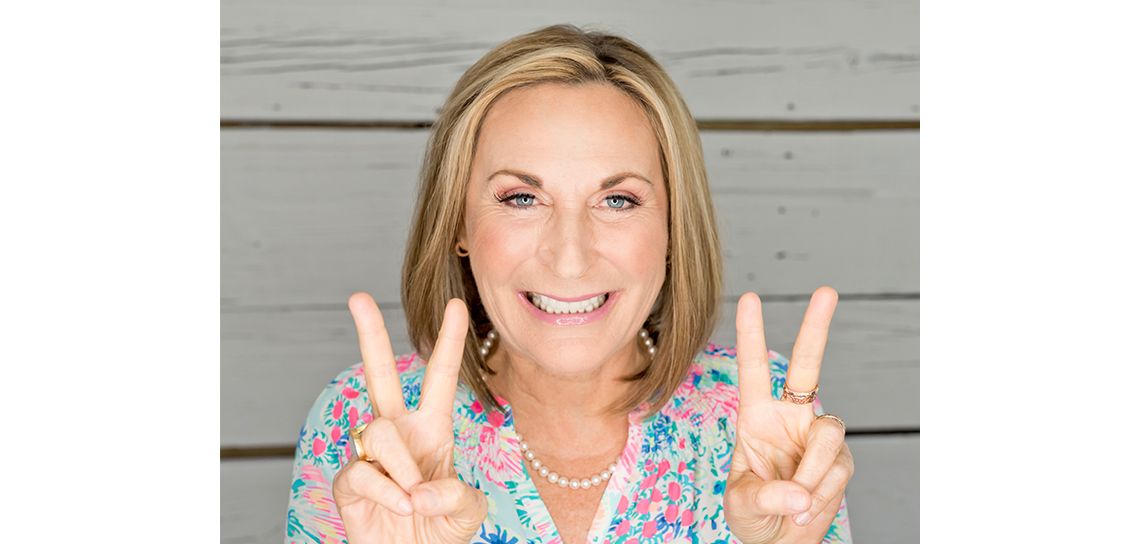 Salt life: Lucy Buffett's coastal culinary escapades
---
Lucy Buffett has been described as "the wacky, adventurous, talented sister of singer Jimmy Buffett," and any conversation with the attractive Gulf Coast resident proves it. Her mind is racing as fast as the flow of conversation about her recently published new cookbook, Gumbo Love, her first in eight years. LuLu's outgoing personality bubbles with enthusiasm as she discusses her love of the Gulf Coast and her love for gumbo and good Southern food.
---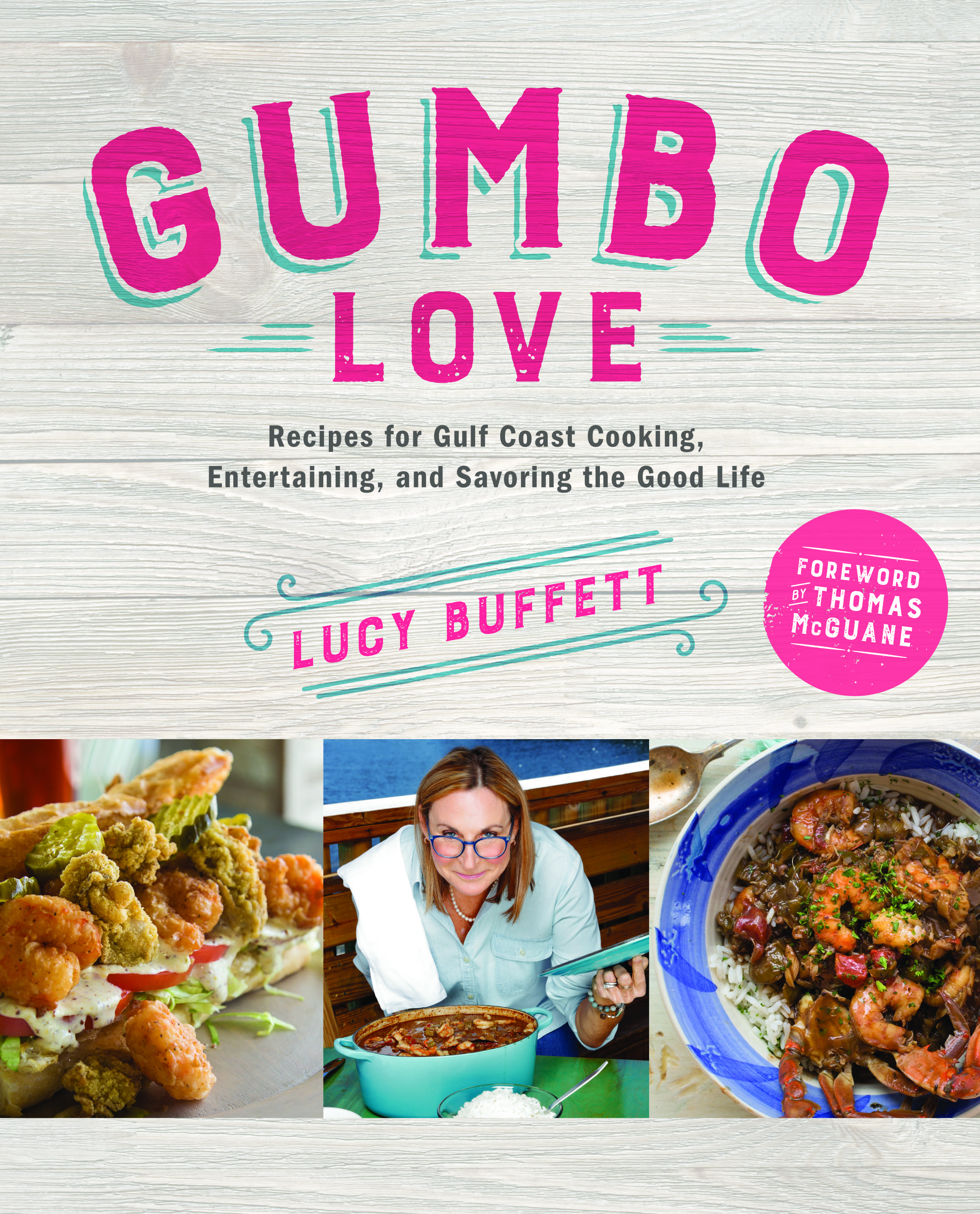 What is the attraction of gumbo that you love it so much? The actual making, tasting, eating?
Gumbo is a family tradition; my grandmother made gumbo every Friday in her small Pascagoula, Mississippi, kitchen. I like to say that gumbo is not the first dish I learned to cook, but it is the first one that I mastered! I started making gumbo as a young wife and mother. It took years for me to be able to do it without having to throw out the first scorched roux. The process of making gumbo became a truly reverent thing, and that is what I tried to convey in my book. All the important life lessons that I have learned along the way can be found in the process of making gumbo: preparation, patience, mindfulness, perseverance, sharing, celebration and love, to name a few. And then at the end, there is this absolutely scrumptious, tasty peasant stew that you offer to the folks who you love. Everything about gumbo is wildly joyful and spiritual for me.
So what is your favorite gumbo? 
The gumbo I make the most often is the Summer Seafood Gumbo in my book, because we like to catch the crabs on the end of our dock. But one of the best gumbos I ever made was a Winter Gumbo for some sweet friends' birthdays in Palm Beach. Wynton Marsalis happened to be at the party, and when he tasted the gumbo, he sought me out and made the declaration that it was the "real thing." That is one of the best gumbo compliments I've ever received!
This is a new year, so do you make resolutions and, if so, do you keep them?
I used to make them and I always broke them, mainly because it was about giving up something that I loved—usually a food item. I have a strong constitution but weak self-control. So I began making intentions for my personal growth and making a list of things I would like to achieve during the year. I've been much more successful with that approach to New Year.
Do you think people overdo the commitment to changing eating habits at the beginning of a new year? 
Not really. I think we Americans, and especially we Southerners, have some terrible eating habits. It's a tricky subject because overeating can also be an emotional thing. However, the public almost demands that servings in a restaurant be at least twice as much as a body needs for one meal. I'm not blaming anybody. I sit down at LuLu's and eat the entire basket of chips with salsa and queso dip. I just try not to do it every day. I think giving yourself permission to start over is self-nurturing. I start over almost every Monday!
Do we put too much emphasis on diet and weight?
We put too much emphasis on how a person looks, so often diet and weight become a factor. It becomes a big pressure and barometer for if a person is worthy or successful. Diet and weight have always been a struggle for me. I love food. And I love all the food that is considered "bad." But I prefer to acknowledge that some food supports my health better than others. There is no way I'm ever giving up fried chicken, but I no longer eat fried food on a daily basis. My body feels better when I enjoy my vices in moderation, but moderation is a challenge for this gal. There is a Mark Twain quote that I will probably annihilate, but to paraphrase, he said that you can't give up all of your vices because when you get to the pearly gates, you need one of them for negotiation purposes.
[caption id="attachment_44921" align="alignleft" width="400"]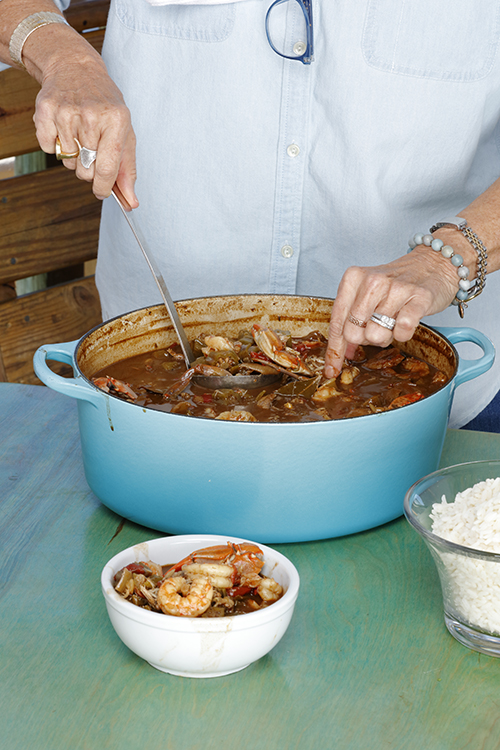 Born in Mobile, Alabama, Lucy has worked in the culinary industry in New Orleans, Los Angeles and New York but is now back on the Gulf Coast where she says she feels most at home. Photo by Courtland WIlliam Richards.[/caption]
You have a chapter in the book that suggests eating dessert first. Do you mean it?
That chapter is an homage to my mama. She loved her sweets and her gin and tonics. After she had a stroke, she started ordering dessert first when she would go out to eat. I have a rebellious nature, so I wanted to do something different with my book. Putting the dessert section first was something I thought would be fun. As I get older, the desire to savor the sweetness of life is top of mind for me.
Is it difficult to find the fresh and local products you want to serve? 
Thankfully, fresh ingredients have become more plentiful with the popularity of the "fresh and seasonal" food movement. It is a challenge for us to find the volume of fresh seafood we need at times, but we are dedicated to showcasing the bounty of the Gulf Coast. We have also partnered with some farmers to grow for us, like our tomatoes in the summertime. I'm passionate about using the best ingredients we can find.
 This book has lovely pictures of the outdoors, and you can almost smell the fresh air; your enthusiasm for the area is catching. Gumbo Love is a philosophical book, too. Your thoughts and feelings are captured in each page; you are so very passionate about your feelings for the Gulf Coast and the food, and the reader can feel it.
I hope that my love for the Gulf Coast translated to the pages. I wanted to not only showcase the classic recipes but the coastal lifestyle that is so unique. We work hard and we play hard. The culture is entirely influenced by being a waterfront community—the rivers, estuaries, bays and sugar-sand beaches along the Gulf are where we recreate. Fishing, boating, beaching, paddle-boarding and so many other activities are easily available to us. And then we have the same strong food culture of the Deep South, with a splash of the New Orleans flavors and a strong emphasis on seafood. It is truly a special place to live and visit.
Do you ever get to Baton Rouge?
Not as often as my husband does. He owns the Krispy Kreme there. He inspired and supplies the doughnuts for the Krispy Kreme bread pudding I serve at LuLu's. I plan to make some trips with him this year to Baton Rouge.
What's next on your hectic agenda?
I keep threatening to cut back and maybe retire. I have precious twin grandchildren who just turned seven, and I want to spend more time with them. But I'm opening another LuLu's in North Myrtle Beach at Barefoot Landing in May 2018. As I mentioned, I'm not good at moderation! One day, I want to sit on the beach in the morning and write poetry in the afternoon. That will be one of my New Year's intentions this year.
---
CUBAN-STYLE SHRIMP CREOLE
[caption id="attachment_44919" align="alignright" width="400"]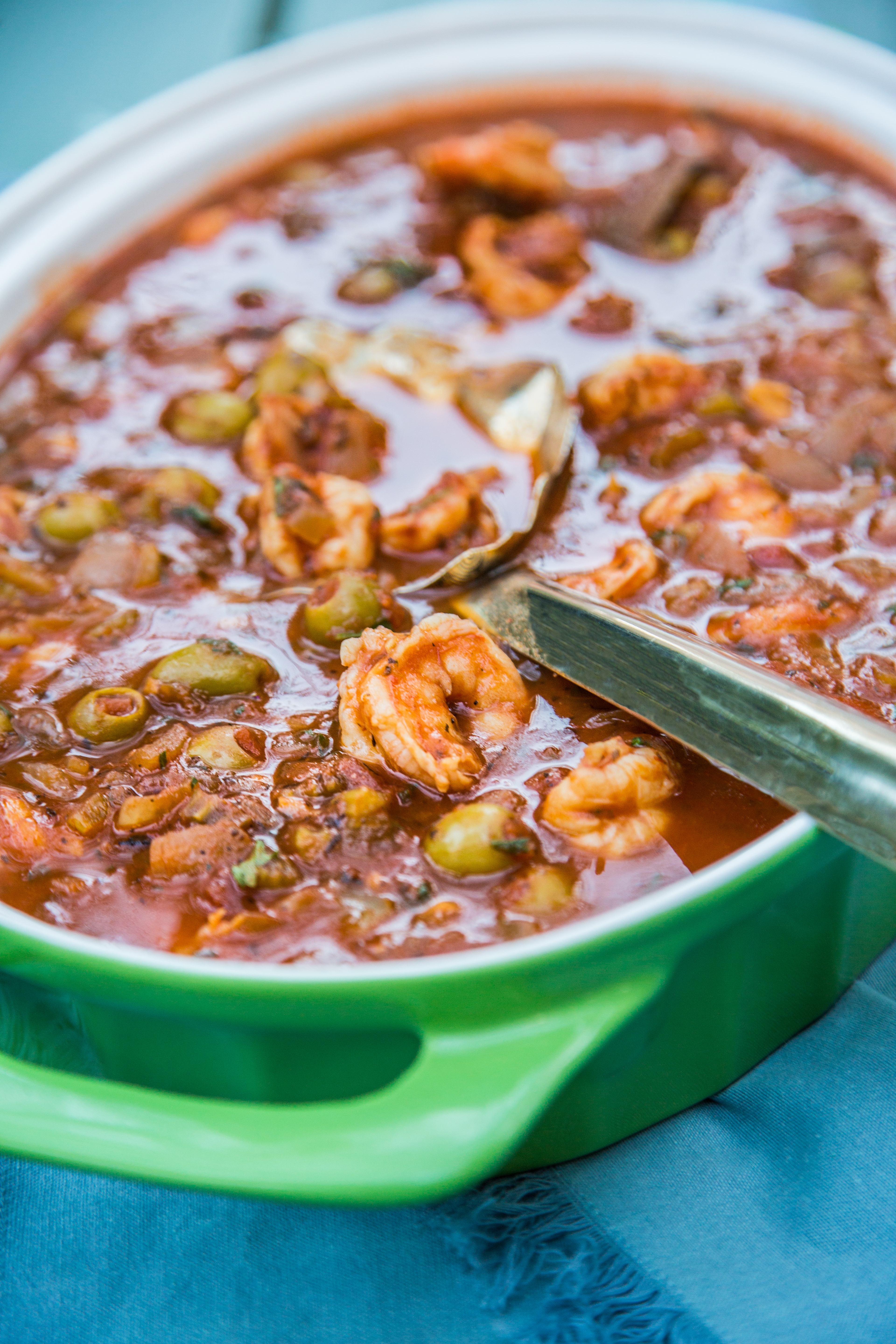 Photo by Angie Mosier[/caption]
Ingredients
1 Tbsp. unsalted butter
3 Tbsp. extra-virgin olive oil
2 medium yellow onions, chopped
1 green bell pepper, chopped
6 garlic cloves, finely chopped
2 (15-oz.) cans crushed tomatoes
2 Tbsp. tomato paste
2 bay leaves
2 tsp. dried thyme
2 tsp. dried oregano
2 tsp. Creole seasoning
1 sp. dried basil
½ tsp. ground cumin
2 Tbsp. sugar
2 Tbsp. Worcestershire sauce
1 tsp. hot sauce
1 cup pimiento-stuffed green Spanish olives, drained
1½ tsp. sea salt
½ tsp. freshly ground black pepper
½ cup white wine
2 lbs. medium wild-caught Gulf shrimp, peeled and deveined
¼ cup chopped fresh parsley
Prepared yellow rice
In a large heavy skillet (10 to 12 inches), melt butter with olive oil over medium heat. Add onion and sauté until translucent. Add bell pepper and garlic. Sauté for a few minutes, making sure not to burn garlic. Add crushed tomatoes and stir. Add tomato paste and stir. Add bay leaves, thyme, oregano, Creole seasoning, basil, cumin, sugar, Worcestershire and hot sauce. Stir until well combined and simmering.
Add olives, salt and black pepper. Add wine; stir, cover and simmer for 30 minutes to let flavors meld. Add water if sauce starts to get too thick. About 5 minutes before serving, add shrimp, stirring to incorporate into sauce. Cook for 5 minutes or until shrimp turn pink—being careful not to overcook them! Remove from heat and add parsley. Remove and discard bay leaves. Serve over yellow rice.
Makes 6-8 servings. Excerpted from Gumbo Love.