Resolve to eat local this year with finds from Louisiana farms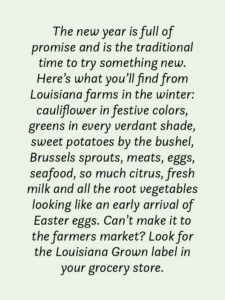 As the calendar unveils a brand new year, it's the perfect time for a fresh start. Fresh food instead of fast is a great place to begin, an attainable endeavor that reaps tremendous rewards. Take it a step further and resolve to buy your fresh ingredients from local farmers, and everybody wins!
Lots of us make New Year's resolutions. Most of us don't actually maintain these promises beyond the first few weeks of January. In fact, the statistic is that a tiny 8% of us follow through. Imagine the benefits of buying local. I'll tell anyone who asks, I was raised on fresh fish and farm stands. The "eat local" habit is almost in my DNA. If this is not part of your normal routine, it's easy to get hooked, and a trip to the farmers market is a fun family outing that can become a rewarding ritual.
Just-picked produce keeps its delicious nutrients intact, and with the dollars staying in the community, the local economy also gets a boost. With many farmers markets across the state open year round, making the choice to buy locally grown is an easy one in abundant Louisiana. It is no secret that I said YES to moving to Baton Rouge after a spring weekend visit that included a trip to the Red Stick Farmers Market—that the abundance takes place every calendar month was an unknown bonus.
We've all had to spend much of the past year in a sort of unexpected hibernation. January can cajole us into a new routine. Though we can't literally shake the hand that feeds us right now, we can still forge friendships with our farmers and celebrate the bounty of a bright new year. From citrus to seafood, Louisiana is the land (and sea) of plenty.
---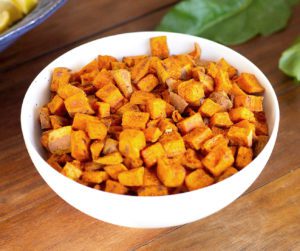 Sweet Potato Croutons
Sweet potatoes weren't on the menu in my mom's kitchen, but I have fallen in love with them since moving to Louisiana! My preference is to partner their natural sweetness with a lot of spice. These little cubes are like golden confetti, ready to be sprinkled on salads, soups or a bowl of hearty chili. They add sunshine to every dish they crown!
Ingredients
2 medium sweet potatoes, peeled and cut into ½- to ¾-inch cubes
1 Tbsp. olive oil
2 tsp. Louisiana seasoning (or to taste depending on salt content and how spicy you like it)
Preheat oven to 400 degrees. Line a rimmed baking sheet with parchment paper. Place sweet potato cubes on prepared sheet and drizzle with olive oil. Using the paper to assist, toss together to lightly coat with the oil. Sprinkle with seasoning and toss again.
Bake until cubes are lightly crisp on the outside and tender inside (check with the tip of a paring knife), about 20 minutes, tossing them with a spatula halfway through. Serve immediately, or cool and transfer to an airtight container for up to 4 days to enjoy throughout the week.
Note: If you have a convection oven, this is a great recipe for the convection setting. Even better, if you have a pizza stone handy, place it on your middle oven rack while the oven preheats, and set your rimmed baking sheet right on the stone. This technique may reduce the cooking time and gives a little extra crispness. It sort of replicates "air frying."
---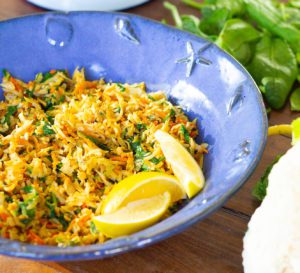 Cauliflower Couscous
This super-vegetable became super popular in the low-carb craze. Did you know that you can make your own "riced" cauliflower from a head of fresh cauliflower? A food processor makes the kitchen task a breeze, but you can also grate it on the large holes of a box grater.
For the processor method, cut a whole medium-size head of cauliflower (or half a large one, or go ahead and "rice" the whole thing and save some for another recipe) in quarters going through stem, then cut off base of stem. Cut through stem into pieces that will fit through processor's top tube and use grating disc. For this recipe, you can first grate your carrot in the processor and remove it before running cauliflower through. Love a multi-use tool!
For the grater method, leave cauliflower quarters intact and place grater in a large bowl. Scrape cauliflower on large holes of grater using stem as a handle.
Recipe adapted from Sheryl Crow's If It Makes You Healthy cookbook
Ingredients
1 Tbsp. canola or avocado oil
½ medium onion, chopped
1 medium or 2 small carrots, peeled and grated to make about ½ cup
3 cloves garlic, minced or crushed
2 tsp. Louisiana seasoning
¼ cup vegetable broth or water
Zest and juice of ½ lemon
1 medium head cauliflower, grated
1 large handful fresh spinach leaves, thinly sliced
Lemon wedges for serving
Heat oil in a large pot over medium heat. Add onion and sauté for a few minutes to soften. Add grated carrot, garlic and seasoning, and stir to combine. Deglaze pot with ¼ cup broth or water and the lemon juice. Add grated cauliflower; stir well and cover to let it steam until it resembles cooked couscous, about 8 minutes, stirring halfway through. Fold in spinach and lemon zest. Remove from heat and keep covered to wilt spinach, about 1 minute. Serve warm with lemon wedges or cool and transfer to an airtight container for up to 4 days to enjoy throughout the week.
---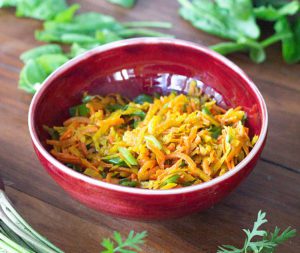 Dressed in the bowl beet and carrot salad
Box grater + big bowl = grated beets for salad. Here's my confession: Beets are usually on my "no thank you" list, and my daughters were incredulous that I'm sharing a recipe with beets in it. This salad converted me! Combining earthy beets with sweet carrots and fresh citrus makes a refreshing and oh-so-good-for-you salad perfect with the winter harvest. Golden beets were available on my market day, so here you have a bowl of sunshine and your fingers don't get stained.
Ingredients
3 small beets, peeled and grated with large holes of box grater (greens reserved for another use)
1 large or 3 small carrots, peeled and grated to make about ¾ cup
1 Tbsp. olive oil
1 Tbsp. fresh citrus juice (satsuma for sweet, lemon for tangy)
½ tsp. coarse salt and freshly ground black pepper to taste
Combine grated beets and carrot in a medium bowl. Drizzle with olive oil and citrus juice, sprinkle with salt and pepper, and toss to dress. Serve immediately or transfer to an airtight container and refrigerate for up to 4 days to enjoy throughout the week.