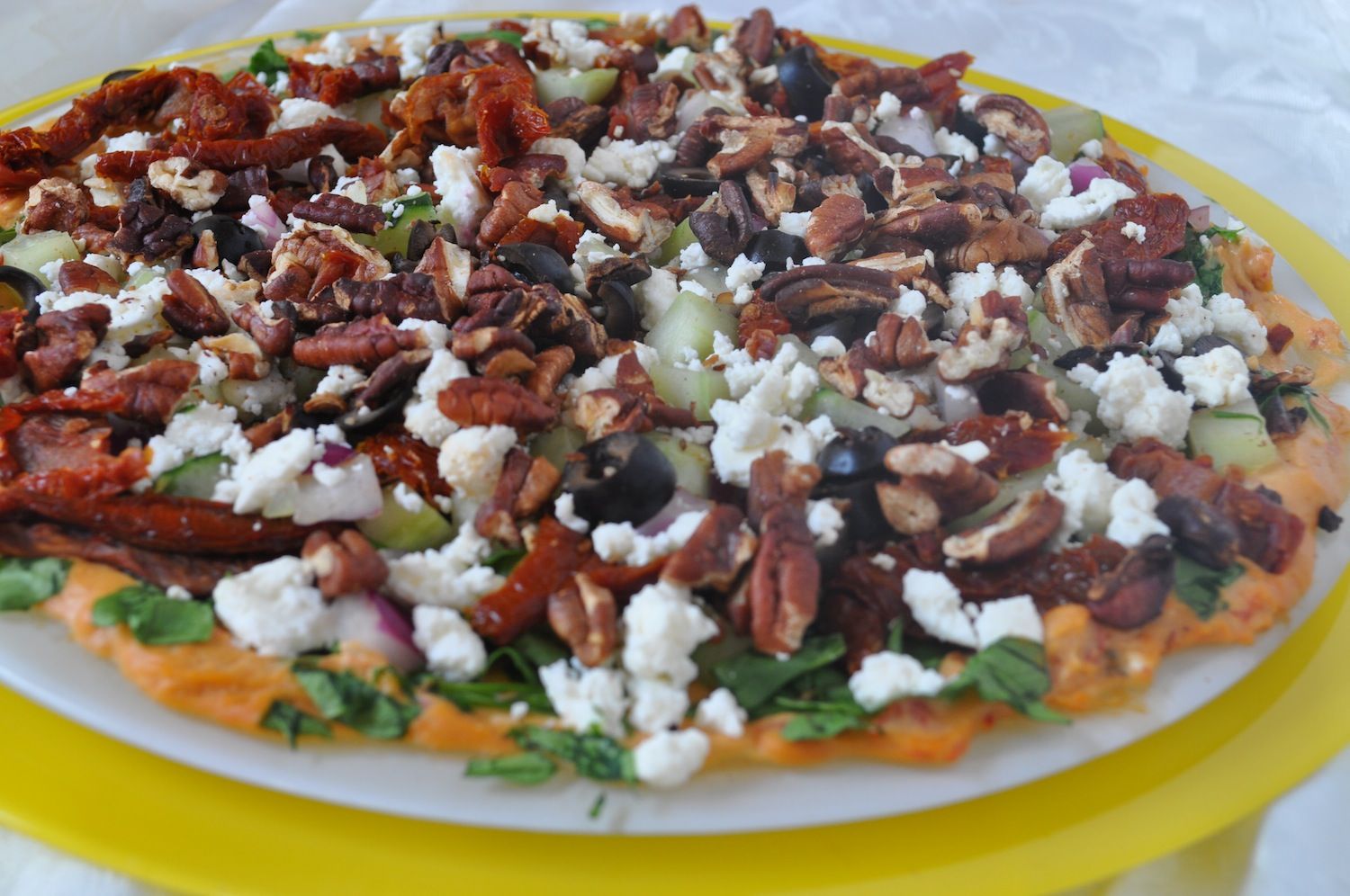 By Holly Clegg
In the spirit of inRegister's 25th anniversary issue, I want to share a few of my trim&TERRIFIC fan-favorite dishes. These recipes have stood the test of time. I love to cook, and I love to eat—so it's hard for me to pick a personal favorite. However, few recipes have garnered as much attention as the following three have over the years.
I remember walking downtown and hearing a couple of young girls call out "Holly Clegg, Mediterranean layered dip!" It made me giggle that this dish came to their minds when they saw me! The Mediterranean Layered Spread is probably my single most requested recipe, in and out of my home. And as much as I make and eat it, the savory dip never gets old. Healthy, delicious, quick and easy—even diabetic friendly— this appetizer sums up all that I love in a recipe. It calls for hummus, and roasted red bell pepper hummus is my favorite, but look for different varieties that appeal to you. A useful tip is to raid an olive bar for quality olives in the amount you need.
A make-ahead meal you can freeze till you're ready to bake it is a winner in my book, especially if, like the Quick Chicken Lasagna, it's easy to prepare. Turn leftover or rotisserie chicken into another meal using no-boil noodles, marinara, and cheese—even add your favorite veggies. A great tip, especially for those cooking for fewer people, is to freeze the lasagna in smaller portions. By having a freezer full of healthy delicious meals, you can pull out and serve dinner in a snap. For frozen meals there are certain tech- niques to follow to ensure the best flavor and texture of your food.
• Food must be at room temperature before freezing.
• Avoid freezing high-sodium foods, as salt lowers the freezing point of water.
• Don't overload your freezer.
• Do not put a cold dish in a hot oven, as the dish may break.
Around here LSU football rules, giving most fall weekends are an opportunity to entertain and party. Whether you are tailgating near the stadium or in front of the television in the comfort of your own home, a sweet treat is a must. The Ooey Gooey Squares combine the best of a brownie and chocolate chip cookie, and they can't be beat. These are a favorite of my daughter Haley, and the treat most requested by her friends.
When inRegister launched in 1989, Haley was just 1 year old and I had just signed with Random House books. Now Haley is engaged to be married, and thank- fully I am still writing cookbooks. In reflecting over the last 25 years, I am blessed to say that my pas- sion for "trim and terrific" food has remained the same. A special thank you to Baton Rouge and inRegister for helping me keep the food- focused fun alive!
---
Mediterranean Layered Spread
This captivating dip layered with fantastic flavors is a showstopper—and easy to double.
1 8-oz. package reduced-fat cream cheese
1/2 cup nonfat Greek yogurt
1 tsp. dried oregano leaves
1/2 tsp. minced garlic
2 tsp. lemon juice
Salt and pepper to taste
1 1/2 cups roasted red pepper hummus
1 cup chopped tomatoes
1 cup chopped cucumber
1/3 cup chopped green onion
1/4 cup crumbled reduced-fat feta cheese
3 Tbsp. sliced Kalamata or black olives
In bowl, blend together cream cheese, yogurt, oregano, garlic, lemon juice and season to taste. Spread on large round serving plate. Carefully spread hummus over cream cheese. Sprinkle evenly with remaining ingredients, refrigerate until serving time. Makes 14 servings.
Nutritional information per serving: Calories 100 | Protein 4g | Carbohydrate 6g | Fat 7g Calories from fat 59% | Saturated fat 3g | Dietary fiber 1g | Cholesterol 13mg | Sodium 260mg Diabetic exchanges: 0.5 lean meat, 0.5 fat

Quick Chicken Lasagna
This throw-together lasagna is low in fat but big in flavor.
4 cups cooked cubed or shredded skinless chicken breast
6 cups fat-free marinara sauce
1 8 oz. package no-boil lasagna noodles
1 3/4 cups shredded part-skim mozzarella cheese
2 10-oz. packages chopped spinach, thawed and drained
Preheat oven to 350 degrees. Coat oblong baking dish with nonstick cooking spray. In large bowl, combine chicken and marinara sauce. In prepared dish, spread thin layer of sauce. Top with layer of noodles, more chicken sauce, mozzarella cheese, and half of the spinach. Repeat layering with noodles, chicken sauce, cheese, and remaining spinach. Continue with remaining noodles, sauce, and cheese. Bake covered for 50 minutes. Uncover and bake 5 minutes or until bubbly. Makes 10 servings.
Nutritional information per serving: Calories 268 | Calories from fat 48% | Fat 5g Saturated fat 2g | Cholesterol 48mg | Sodium 588mg | Carbohydrate 31g | Dietary fiber 4g Sugars 9g | Protein 24g | Diabetic exchanges: 2 starch, 3 very lean meat

Ooey Gooey Squares
This is one of my favorite desserts from my book Kitchen 101 and perhaps one of the easiest to make.
1 18.25-oz. box yellow cake mix 1⁄2 cup butter, melted
1 large egg
1 Tbsp. water
1 8-oz. package reduced-fat cream cheese 1 16-oz. box confectioners' sugar
2 large egg whites
1 tsp. vanilla extract
1 cup semisweet chocolate chips
Preheat oven to 350 degrees. In mixing bowl, beat together cake mix, butter, egg and water until well blended. Spread batter onto bottom of 13x9x2-inch baking pan coated with nonstick cooking spray. In mixing bowl, beat together cream cheese, confectioners' sugar, egg whites and vanilla. Stir in chocolate chips. Pour this mixture over batter in pan. Bake 40-50 minutes or until top is golden brown. Cool to room temperature and cut into squares. Makes 48 squares.
Nutritional information per serving: Calories 134 | Protein 1g | Carbohydrate 21g Fat 5g | Calories from fat 34% | Saturated fat 3g | Dietary fiber 0g | Cholesterol 13mg Sodium 108mg | Diabetic exchanges: 1.5 other carbohydrate, 1 fat
| | |
| --- | --- |
| | Holly Clegg is the author of the best-selling trim&TERRIFIC cookbooks, Eating Well Through Cancer and Too Hot in the Kitchen: Secrets to Sizzle at Any Age. For more information, visit hollyclegg.com or thehealthycookingblog.com. |