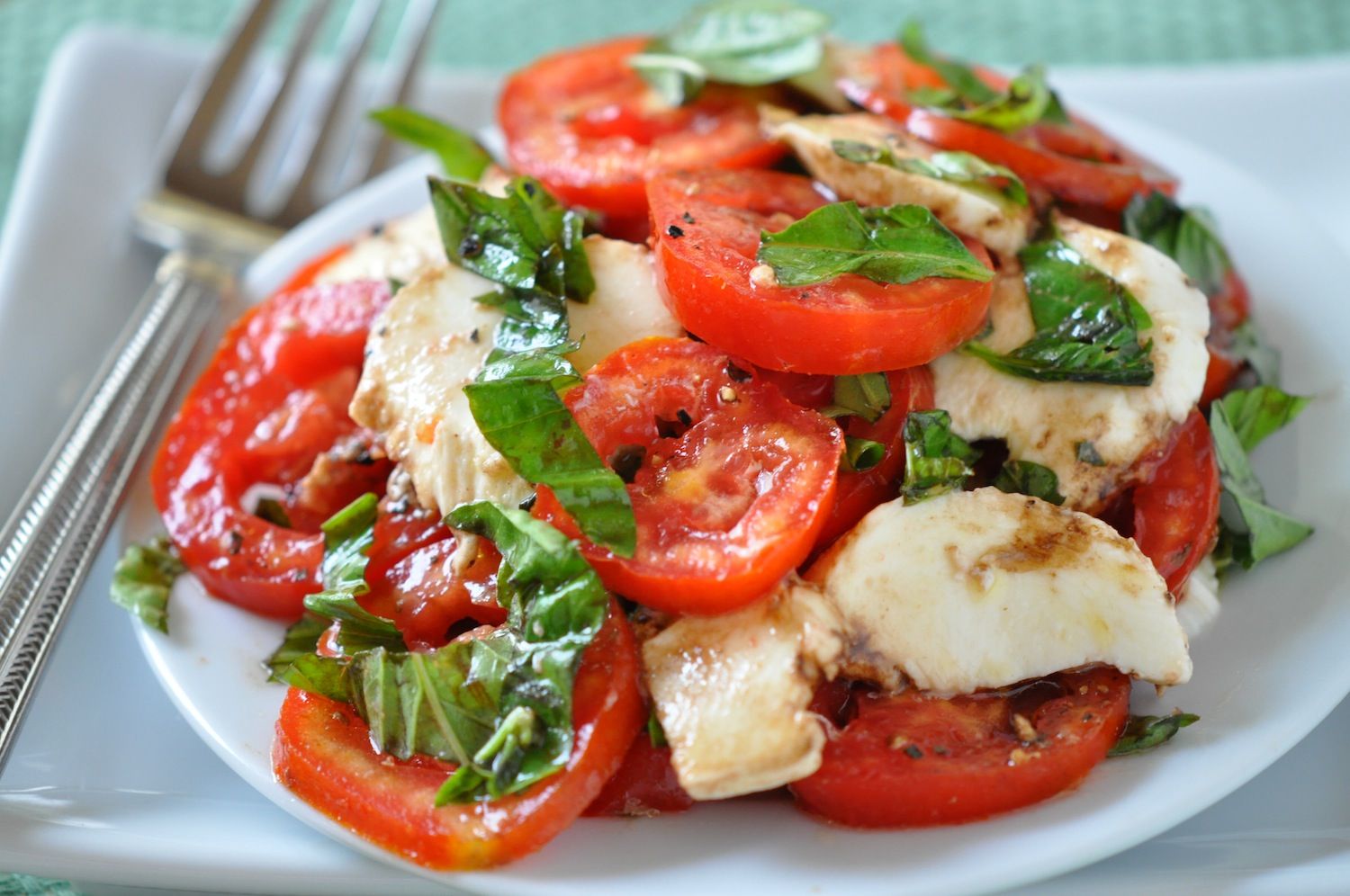 By Holly Clegg
When I think of summer, I think of nights camping out, barbecues, and lazy evenings on the porch. In celebration of the Fourth of July, I am sharing some colorful summer dishes that will add to your outdoor activities. These recipes highlight the fresh ingredients of the season and are sure to be worthy of the fun and fireworks on those hot summer nights.
For a light, any-occasion dish, the Caprese Salad does not disappoint, and it adds lovely color to your table. Fresh tomatoes, basil and creamy mozzarella are mixed together for an all-star crowd favorite. To easily seed tomatoes, cut it in half from side to side, then gently squeeze it; seeds will pop out easily. Chop fresh basil by rolling it up before slicing.
Watermelon is a summer standout ingredient, so my Watermelon and Tomato Salad is an awesome star-spangled red dish! The combination of cool crisp watermelon, cherry tomatoes, and fresh basil with balsamic vinegar creates an extraordinary and invigorating salad. It is a fantastic way to use leftover watermelon. And it's healthy, too! Although water accounts for more than 90% of watermelon's weight, is a rich source of potassium and vitamins A and C. And tomatoes are one of the best sources of lycopene, a powerful antioxidant that helps reduce the risk for heart disease and some cancers.
There is no better way to highlight the color blue than with the show-stopping White Chocolate Blueberry Bundt Cake. You can't beat the combination of white chocolate and blueberries drizzled with a scrumptious almond glaze. Blueberries are little jewels packed with fiber and antioxidants that help slow the aging process. They also provide memory protection, reduce the risk of cancers and decrease infections. Frozen will do the trick as well as fresh and can be kept in the freezer year-round. If using frozen blueberries in your cake, don't defrost them.
Whether your evenings are spent under the stars or under fireworks, be sure to gather around loved ones and friends and enjoy these scrumptious dishes—tailored for the season. Throw meat on the grill and take advantage of the best seasonal fruits and vegetables the summer has to offer. Happy red, white and blue!
---
Caprese Salad
Ripe juicy tomatoes, fresh basil and mozzarella make this dish a delight.
2 cups sliced ripe tomatoes
3 oz. fresh mozzarella cheese, thinly sliced
3 Tbsp. coarsely chopped fresh basil
Salt and pepper to taste
1 Tbsp. olive oil
1 Tbsp. balsamic vinegar
In shallow bowl or plate, layer or arrange tomatoes, mozzarella and basil. Season to taste. Drizzle with olive oil and balsamic vinegar. Serve immediately.
Nutritional information per serving: Calories 109 | Calories from fat 69% | Fat 9g | Saturated fat 3g | Cholesterol 17mg | Sodium 18mg | Carbohydrates 4g | Dietary fiber 1g | Total sugars 3g | Protein 4g | Dietary exchanges: 1 vegetable, ˝ lean meat, 1˝ fat

Watermelon and Tomato Salad
An invigorating mixture of crisp watermelon, juicy tomatoes and fresh basil.
4 cups scooped-out watermelon balls or chunks
˝ cup chopped red onion
1 pint cherry tomatoes, each halved
2 Tbsp. fresh chopped basil
1 Tbsp. olive oil
2 Tbsp. balsamic vinegar
Salt to taste
In a bowl, combine watermelon, onion, tomatoes and basil. Whisk together oil and vinegar, then toss with salad. Season to taste. Serve immediately or that day. Makes 10 1/2-cup servings.
Nutritional information per serving: Calories 46 | Calories from fat 29% | Fat 2g | Saturated fat 0g Cholesterol 0mg | Sodium 6 mg | Carbohydrate 8g | Dietary fiber 1g | Sugars 6g | Protein 1g | Dietary exchanges: 1/2 fruit, 1/2 fat

White Chocolate and Blueberry Bundt Cake
Melt-in-your-mouth decadence with two of my favorite ingredients.
1 cup white chocolate chips
6 Tbsp. butter, softened
1Ľ cups sugar
2 eggs
1 egg white
2 tsp. vanilla extract
2˝ cups all-purpose flour
2 tsp. baking powder
1 tsp. baking soda
1 cup buttermilk
˝ cup chopped pecans, optional
2 cups fresh or frozen blueberries
Almond Glaze (recipe follows)
Preheat oven to 350 degrees. Coat Bundt pan with nonstick cooking spray. Melt white chocolate chips in microwave one minute in microwave-safe bowl; stir until melted and cool slightly. In mixing bowl, beat butter and sugar until creamy. Beat in eggs and egg white, one at a time, beating well after each addition. Add vanilla and melted white chocolate, mixing well. In another bowl, combine flour, baking powder and baking soda. Gradually add dry ingredients to buttercream mixture, alternating with buttermilk, just until combined. Add pecans, if desired. Pour half of batter into prepared pan. Sprinkle blueberries over batter; top with remaining batter and swirl carefully with knife. Bake 40-50 minutes or until wooden toothpick inserted in cake comes out clean. Cool 10 minutes, then invert on serving plate. Drizzle with Almond Glaze. Makes 16-20 servings.
Almond Glaze
Simple but makes a difference.
1 cup confectioners' sugar
1 tsp. almond extract
1 Tbsp. skim milk
In small bowl, mix together all ingredients.
Nutritional information per serving: Calories 239 | Calories from fat 27% | Fat 7g | Saturated fat 4g | Cholesterol 31mg | Sodium 155mg | Carbohydrate 41g | Dietary fiber 1g | Sugars 27g | Protein 4g | Dietary exchanges: 2 ˝ other carbohydrate, 1 ˝ fat
| | |
| --- | --- |
| | Holly Clegg is the author of the best-selling trim&TERRIFIC cookbooks, Eating Well Through Cancer and Too Hot in the Kitchen: Secrets to Sizzle at Any Age. For more information, visit hollyclegg.com or thehealthycookingblog.com. |