This Pumpkin Spice Latte Loaf is the perfect fall treat
If the lattes aren't enough for you this fall, then Aimee Broussard's Pumpkin Spice Latte Loaf might just do the trick. This moist dessert combines the rich flavors of the season by including the star of the show: pumpkin spice brewed coffee. With homemade cream cheese frosting on top, this recipe provides a soft sweetness that is sure to satisfy any sweet tooth.
---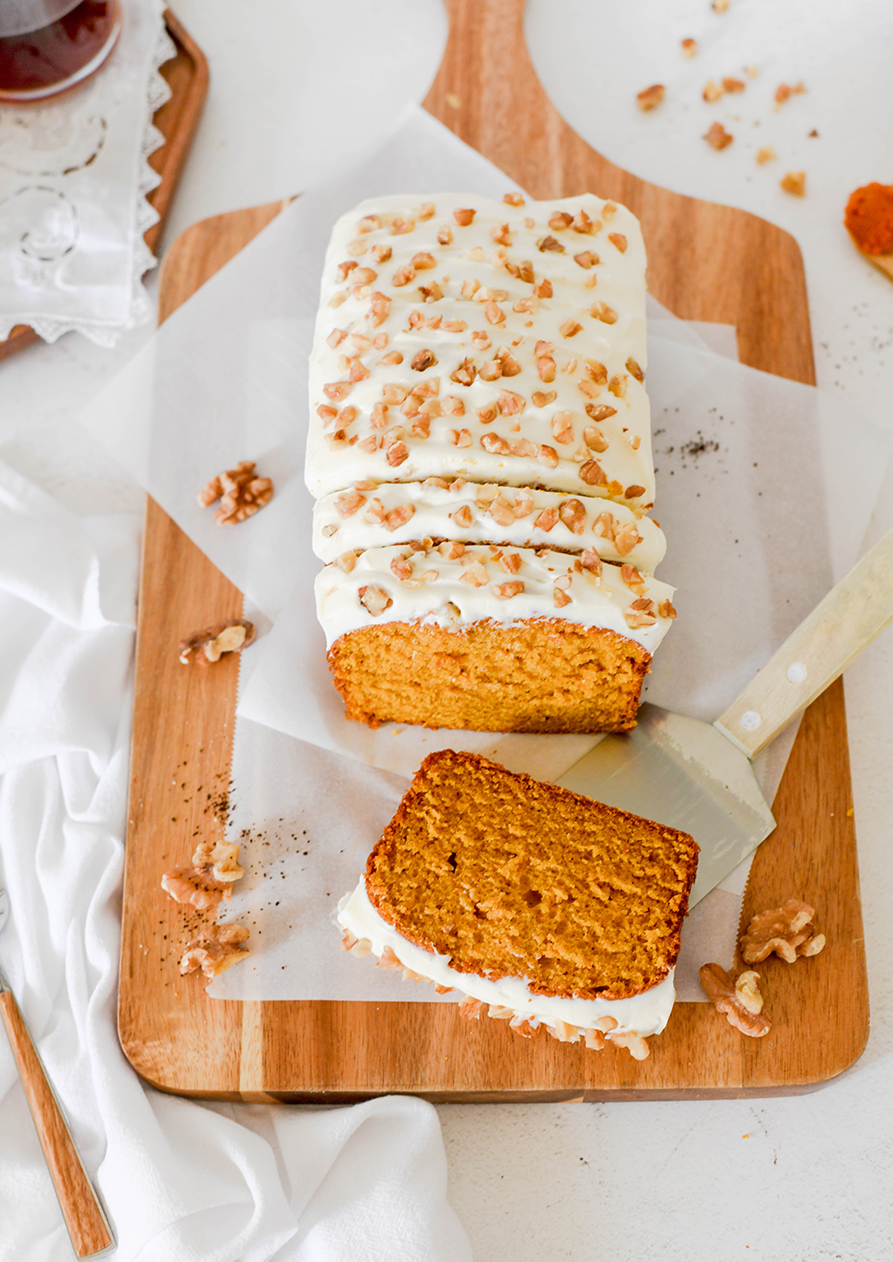 Loaf:
2 cups all-purpose flour
1 tsp. baking powder
½ tsp. baking soda
½ tsp. salt
2 tsp. cinnamon
½ tsp. nutmeg
½ tsp. ginger
¼ tsp. allspice
½ cup unsalted butter, room temperature
¾ cup granulated sugar
¼ cup firmly packed light brown sugar
¼ cup vegetable oil
1 tsp. vanilla extract
2 large eggs
3 Tbsp. pumpkin spice coffee, brewed (I used Sprouts brand)
1 cup pure pumpkin purée (not pie filling)
Frosting:
4 oz. cream cheese, softened
¼ cup unsalted butter, softened
1 cup confectioners' sugar, sifted
2 to 3 Tbsp. milk (plus more as needed)
1 tsp. vanilla extract
¼ cup chopped walnuts, optional
Preheat oven to 350 degrees. Coat an 8½ x 4½-inch loaf baking pan with nonstick baking spray or flour, and line with parchment paper the length of the loaf pan, letting excess extend over sides of pan.
In a medium bowl, whisk together flour, baking powder, baking soda, salt, cinnamon, nutmeg, ginger and allspice.
In a large bowl, with an electric mixer on medium speed, cream together butter and both sugars until light and fluffy, about 2 to 3 minutes. Add oil and vanilla. Add eggs 1 at a time, beating just until combined and scraping down sides of bowl between each addition. Add coffee and pumpkin purée; mix until fully incorporated. 
Add flour mixture to wet ingredients a little at a time, mixing between additions, just until combined. Pour batter into prepared baking pan. Bake until a toothpick inserted into center of loaf comes out mostly clean, about 55 minutes.
Transfer loaf to a cooling rack and let cool slightly, then use parchment handles to remove it from pan.
For Frosting, in a large bowl, with an electric mixer on medium speed, beat cream cheese and butter until smooth. Add confectioners' sugar, 2 tablespoons milk, and vanilla. Beat until just combined. To thin, add 1 tablespoon more of milk. Add more confectioners' sugar for a thicker consistency.
Once loaf has cooled, use an offset spatula to evenly spread frosting. Sprinkle with chopped walnuts, if desired.
Makes 8 servings.
---