Pro tips for assembling an eye-catching salad
My mother's refrigerator always provided good things for a salad, and the key ingredient was the homemade dressing. Back in the day, before olive oil made its splash in the U.S., Mom made her signature salad dressing with "salad oil." That's what she called it. I can still recall the oil's label with its whimsical stalk of corn. We kids took turns making the dressing whenever the jar got close to empty. She always said the ingredient sequence was important. 
First pour in white vinegar, then a splash of water, and add dried herbs, garlic powder, salt and pepper, and a generous amount of parmesan cheese. There were ratios that Mom knew by sight. It looked like sand art until you poured in the oil on top, which gave a lava lamp effect. Then you shook it like crazy to blend it into the perfect Italian dressing. This tradition steered me clear of bottled dressings, and I've expanded my repertoire to dress any number of greens or purples or reds with a custom blend of good things. 
Dressing up a bed of greens is like composing a great outfit. I like a collage of color and textures and treat my salads the same. The end result is sometimes almost too pretty to eat. Following a few rules will guarantee salad success: seasonal ingredients, beautifully dressed, and keep a few aces on hand to jazz things up. Blushing peaches paired with nutty arugula, prosciutto and good cheese, or garden tomatoes with crispy bacon and mild greens dressed with herbed buttermilk dressing are summer favorites. For anytime salads, carrots, celery and cabbage keep for weeks in the crisper drawer and add color and crunch. Toasted nuts and seeds add a protein boost. Canned beans, drained and tossed with a few spoonfuls of homemade dressing, also elevate the nutrition. 
When I first moved to Baton Rouge, a welcome-to-the-neighborhood dinner invitation had me asking "What can we bring?" Working with what I had on hand, I offered: salad or meatballs? The response was a line from The Simpsons: "You don't win friends with salad." I was unfamiliar with that episode and laughed out loud while I assembled my farmers market haul into an elegant salad. The evening conversation revolved around the comedy of that salad clip while a new friendship was forged with the neighbors. We have kicked that concept to the curb and delight in making every sort of friends-winning salad—the prettier the better.
 

Salad Side Notes
• Always in season: Galen Iverstine of Iverstine Farms shares his grandmother's secret salad ingredient: a minced-to-powder blend of celery, parsley and green onion. "It's the best! Keep that alive," he says. I mince up a container full of this magical concoction and sprinkle it on all my salads.
• Kids' stuff: When I interviewed my daughter Reilly for my blog, her cooking tip was in the salad category: "Always make your own salad dressing." Taking the lead from her grandmother, Reilly is our salad queen. She and I appeared on a morning news program making her "famous" dressed-in-the-bowl Caesar when she was nine.
• Let's talk equipment: A salad spinner is a girl's best friend! I like to wash my salad greens, give them a spin, and store in a reusable large zip-top bag so they are ready at a moment's notice. 
• In the cupboard: I keep a variety of vinegars, which have a long shelf life. Favorites are sherry vinegar, unfiltered cider vinegar, red wine vinegar and balsamic for drizzling. In the spirit of  "shake the hand that feeds you," California Olive Ranch is my go-to olive oil; I met their miller at a food writers' retreat and learned how they source and press their olives, and the comparative tasting made me a believer.
• In the crisper: I keep my celery wrapped in foil to keep it fresh longer. Carrots keep best in a ventilated plastic bag, and cabbage keeps for weeks well-wrapped. 
• On the counter: I keep a couple of avocados and fresh lemons and limes on hand.
---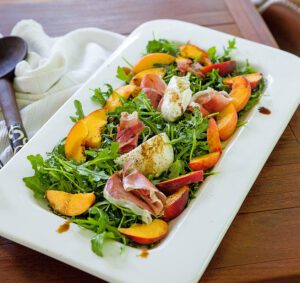 Summer Peach Salad
We took this recipe on the road for a taste of home when my daughter was in the hospital in New York two summers ago. Combining her favorites—summer peaches and prosciutto—we tossed the salad inside the plastic arugula container and it worked like a charm. I prefer it served on a pretty platter, but the plastic container was a fine substitute under the circumstances.
Ingredients:
2 heaping handfuls fresh arugula or other salad greens
1 Tbsp. olive oil
Coarse salt and freshly ground black pepper
2 firm-ripe peaches, pitted and cut into eighths
4 paper-thin slices prosciutto
1 small ball Burrata cheese, cut into quarters
2 tsp. balsamic vinegar
Toss arugula with olive oil in a large bowl. Sprinkle with salt and pepper and toss again. Transfer to two chilled salad plates, and arrange peaches, prosciutto and Burrata over each salad. Drizzle each with 1 tsp. balsamic vinegar and serve.
Makes 2 servings. Scale up the ingredients and arrange it all on a big platter for your next summer soirée.
---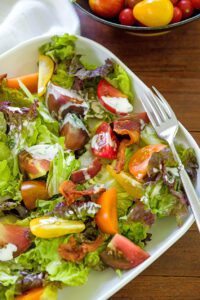 BLT Salad with Herbed Buttermilk Dressing
The classic sandwich makes a great salad. Juicy summer tomatoes and good dressing are a must.
Ingredients for Dressing:
2 Tbsp. cider vinegar
1 clove garlic, minced or crushed

1

⁄

3

cup buttermilk


1

⁄

3

cup sour cream


1

⁄

3

cup mayonnaise
1 Tbsp. chopped fresh parsley
1 Tbsp. chopped fresh chives
1/2 tsp. coarse salt
1/4 tsp. freshly ground black pepper
Whisk together all ingredients in a medium bowl. Refrigerate in an airtight container for up to a week.
Ingredients for each salad:
2 large handfuls freshest salad greens (romaine, baby spinach, red leaf or a combination)
1 tomato, chopped or sliced
2 strips crisply cooked bacon, chopped or crumbled
1/4 avocado, chopped (optional)
Lay greens out in a shallow serving bowl or on a large dinner plate. Top with tomatoes and bacon; top with avocado if desired. Drizzle with 2 Tbsp. dressing and serve.
Makes 1 serving plus dressing for extras. Scale up the ingredients and serve on a pretty platter for a summer supper.
---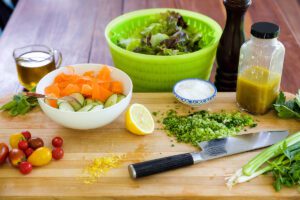 Classic Vinaigrette
Following my mom's lead, I am a homemade dressing purist. Oil-and-vinegar-based dressings are my go-to, and here's the one I keep on hand.
Ingredients:
Zest of 1 lemon
1/2 tsp. garlic powder
1 small shallot, finely minced (about 1 Tbsp.)
1 tsp. Dijon mustard

1

⁄

3

cup sherry vinegar (can substitute cider or red wine vinegar)
3/4 tsp. coarse salt
1/2 tsp. freshly ground black pepper
1 cup olive oil

 
Combine all ingredients in a 1-pint Mason jar, and shake well to blend. Keep refrigerated for up to 2 weeks. Oil will solidify when it's chilled. Shake well before each use to re-liquefy.