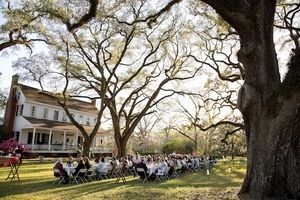 Editor's note: Dinner in the Field, originally scheduled for April 6, has been cancelled by Slow Food Baton Rouge. These changes were made after inRegister Magazine went to press.
It's hard to find a more devoted locavore than Monique Evans. The Baton Rouge yoga instructor and speech pathologist is a local foods fanatic, so much so that if she can't buy it from a regional grower or producer, it doesn't end up in her kitchen. Evans is a regular at the Saturday Red Stick Farmers Market, picking up seasonal produce, meats, dairy items and other fare while catching up with the farmers she now considers personal friends.
"Knowing where my food comes from has become such a priority for me, not because it's trendy, but because the older I get, the more cognizant I become about my choices," says Evans. "And nowhere is that more obvious than in the case of food. I want to know what I'm putting into my body."
The farmers market is just part of Evans' food routine. She eats out at restaurants like Beausoleil and Nino's, where chef-owners are integrating local foods into their menus. And she participates in the growing number of farm-to-table outdoor dining events happening in Baton Rouge.
On April 6, for example, she will once again attend the Slow Food Baton Rouge Dinner in the Field event, a multi-course meal prepared by a team of volunteer local chefs who will cook almost exclusively with local ingredients.
It's not the only opportunity this month for local foods fans to dine out—literally. On April 25, the Louisiana Culinary Institute will host its second annual outdoor dinner featuring a progressive, locally sourced lineup of dishes along with live music and dancing. The LCI Gourmet in the Garden event will be held at the LSU AgCenter Botanic Gardens at the Burden Center.
The two alfresco dining events have grown significantly. Slow Food Baton Rouge founding board member Carl Motsenbocker, an LSU professor of horticulture, says that Slow Food is expecting 150 attendees at the fourth annual Dinner in the Field event this year, up from 45, 75 and 100 guests in each of the first three years.
"It's exciting because this brings awareness to the farm-to-table movement and the idea of connecting farms to consumers and chefs," says Motsenbocker.
LCI Public Affairs Director Charlie Ruffolo says that he's planning for 300 attendees at Gourmet in the Garden this year, up from 165 in 2013.
Nino's owner and Executive Chef Elton Hyndman is coordinating a team of chefs for the Slow Food Dinner in the Field event this year. The chefs will volunteer their time and cook on-site at Afton Villa Gardens in St. Francisville, the first time the event has been held at this venue. Each chef will cook a different course, which will be paired with a featured wine. Guests will sit at tables under Afton Villa's signature live oaks.
"Instead of large tables like we've done in the past, we're going to do smaller tables of eight," says Hyndman. "We're also going to get each chef to come out and discuss his or her dish as it arrives so that diners can really understand what went into the preparation, and how the wines are meant to complement."
The Slow Food Dinner in the Field event is more than just a lush, local outdoor dinner. It's also a fundraiser for the nonprofit's Greauxing Healthy Baton Rouge program, a school garden project taking place at The Dufrocq School, the Baton Rouge Foreign Language Immersion Magnet School, Ryan Elementary and University Terrace Elementary.
In addition to recruiting fellow chefs, Hyndman has recruited partner farms to supply eggs, cheese, dairy products, meats and produce. The chefs will prepare a vegan option as well as traditional entres.
Hyndman says that he has witnessed massive changes over the last few years in Baton Rouge's acceptance of local foods.
"It's really an exciting time," Hyndman says. "As a chef, I've always believed in sourcing local. I want the best thing on my plate, and it's exciting to watch consumers support this."
At the LCI Gourmet in the Garden event in April, the extent of this support will be evident throughout the Burden Center. Ruffolo says 10 to 15 award-winning, local chefs from area restaurants will serve specialties at different stations: at the Steele Burden Memorial Orangerie and its garden area, near the Rose Garden, and in the Pavilion, where live music and dancing will also take place.The event benefits Burden as well as the educational programs of the LCI Foundation, which provides scholarships for culinary arts students.
Last year, the event was so popular, organizers had to add last-minute seating to accommodate the overflow crowd.
"This is about people getting together, having a great time and concentrating on everything Louisiana," says Ruffolo. "We now have a lot of momentum for events like this and for the local foods movement in Baton Rouge. I definitely don't see this going away."
Ruffolo says that current LCI student chefs will also prepare their own specialties.
"It's become a big priority for our students to learn to cook seasonally and with local ingredients," says Ruffolo. "What the Red Stick Farmers Market has been able to accomplish has been amazing, and we're glad to be part of the farm-to-table movement and to encourage our students to take advantage of local ingredients."
For more information or to purchase tickets, visit slowfoodbr.org and lci.edu.