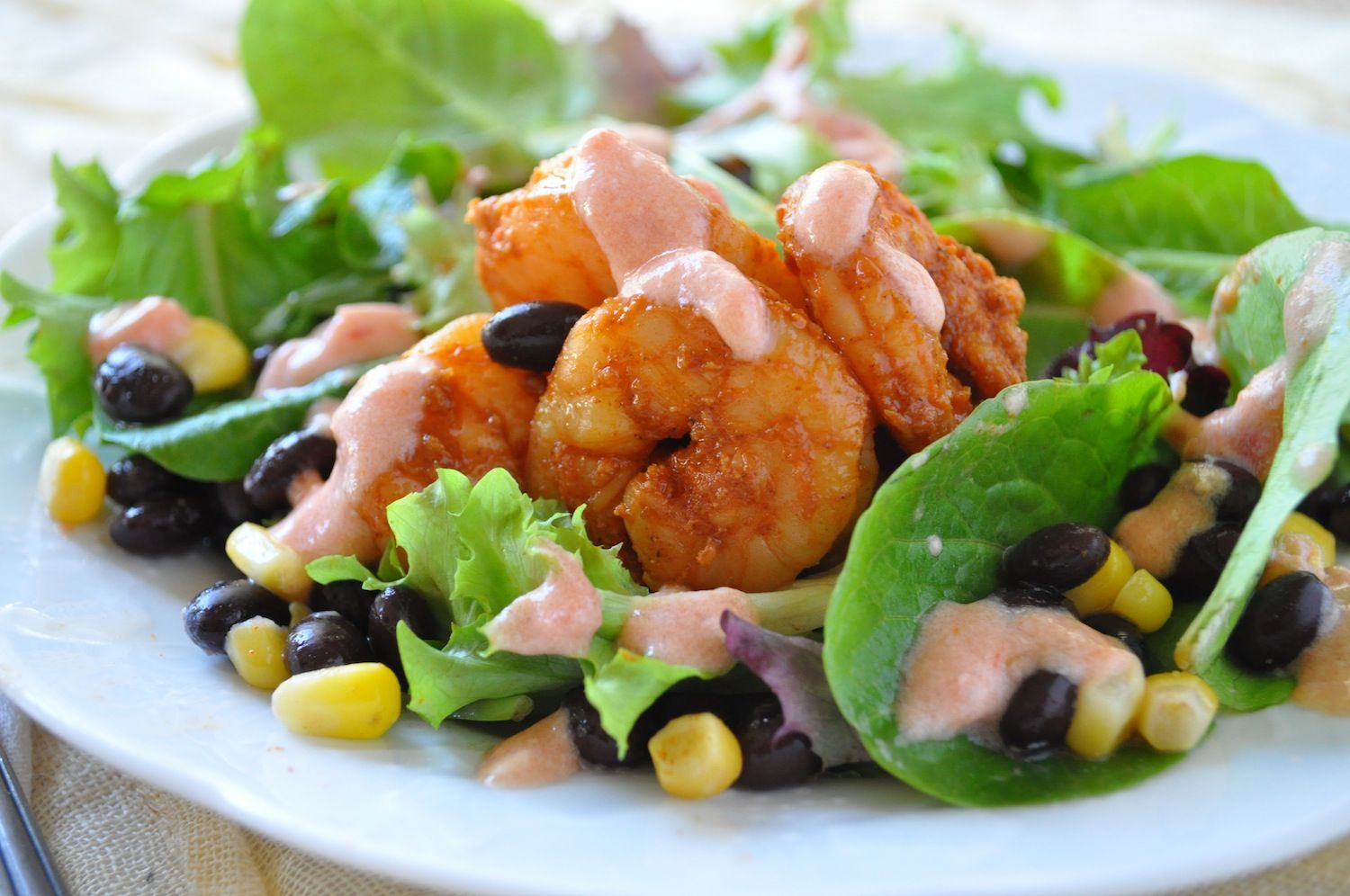 By Holly Clegg
The Head 2 Toe event hosted by inRegister and 225 Magazine was held in May, and I had the pleasure of providing the luncheon menu from my trim&TERRIFIC cookbooks. I have received so many requests for recipes of the dishes served at the event that I decided to share with inRegister readers the scrumptious entrée salad recipe. Salads have come a long way, and the Southwestern Shrimp Salad is a hearty main dish, refreshing on a hot summer day. Forget the simple salad with iceberg lettuce, tomato and dressing, maybe tossed with a few croutons. This delicious shrimp and greens salad includes Southwestern seasonings mixed with salsa, corn and black beans. For the Head 2 Toe lunch, I substituted chicken for shrimp, to good effect. In fact, you can use any meat you already have cooked, as this salad is a perfect way to transform last night's grilled leftovers. It's an easy meal when there's no time to cook, especially on a sweltering summer day.
Bran Oatmeal Muffins accompanied the Head 2 Toe main dish salad for a tasty bite of sweetness plus a boost of nutrition. However, I have to include here my favorite, Banana Blueberry Muffin, to take advantage of those last-picked summer blueberries. Of course, you can leave out the blueberries to make plain banana muffins, but why? Both recipes are from my trim&TERRIFIC Gulf Coast Favorites cookbook, chocked full of healthy dishes that make use of our abundant Louisiana produce.
I also reveal here one of my new favorite summer dessert recipes, from my upcoming book KITCHEN 101: Secrets to Cooking Confidence. Due out in September, it contains everything you need to know about easy, healthy meals, complete with menus and slow-cooker recipes. The impressive-looking Strawberry Cheesecake Parfaits are light, tasty and easy to make for a fresh summer treat.
The key to flavorful, one-dish entrée salads is keeping fun and health in mind. Add a personal touch to salads and muffins by tossing in your favorite fresh ingredients. Sprinkle in blueberries and sliced strawberries, or for a tropical flair try mango and papaya. There's no need to settle for a plain, ho-hum side salad or bran muffin. These recipes are sure to please everyone while maximizing time you have to enjoy your family!
---
Southwestern Shrimp Salad
This salad sizzles with flavors reminiscent of the Southwest, then surprises with seafood.
2 Tbsp. chili powder
1/2 tsp. garlic powder
1 tsp. ground cumin
1 Tbsp. lime juice
1 1/2 lbs. medium peeled shrimp
1 cup frozen corn
1 15-oz. can black beans, rinsed and drainedv
1 cup salsa
1 cup plain nonfat yogurt
6 cups coarsely chopped Romaine lettuce or mixed greens
Avocado (optional garnish)
In a small bowl or resealable plastic bag, combine chili powder, garlic powder, cumin and lime juice. Add shrimp and toss to coat. In a large nonstick skillet coated with nonstick cooking spray, cook shrimp over medium heat until done, about 5 minutes. Add corn and beans. Remove from heat. In a small bowl combine salsa and yogurt. Pour over shrimp mixture in skillet, stirring and scraping pan to get bits into sauce. When ready to serve, place lettuce in a large bowl and spoon shrimp mixture over it, tossing gently to coat. Garnish with avocado, if desired. Serve immediately. Makes 6 servings.
Nutritional information per serving:
 Calories 224 | Calories from fat 10% | Fat 3g | Saturated fat 0g | Cholesterol
169mg | Sodium 631mg | Carbohydrate 24g | Dietary fiber 7g | Sugars 6g| Protein 26g | Diabetic exchanges: 1 1⁄2 starch, 3 very lean meat

Banana Blueberry Muffins
These muffins will go as fast as you can bake them.
1 cup mashed ripe bananas 
(about 2 bananas)
1⁄3 cup light brown sugar
2 Tbsp. canola oil
1 egg, slightly beaten
1 tsp. vanilla extract
1 3⁄4 cup all-purpose flour
2 tsp. baking powder
1⁄4 tsp. baking soda
1 tsp. ground cinnamon
1⁄2 cup buttermilk
1 cup fresh or frozen blueberries
Preheat the oven to 375°F. Line muffin tin with paper cups. In bowl, mix together bananas, brown sugar and oil. Gradually stir in egg and vanilla. In small bowl, combine flour, baking powder, baking soda and cinnamon. Pour flour mixture into banana mixture alternately with buttermilk, stirring until the mixture is just moist. Fold in blueberries and spoon into the muffin tin. Bake 20 minutes or until muffins spring back when touched lightly in the center. Makes 12 muffins.
Nutritional information per serving: Calories 145 | Protein 3g | Carbohydrate 27g | Fat 3g | Calories from fat 19%
Saturated fat 0g | Dietary fiber 1g | Cholesterol 18mg | Sodium 113mg | Diabetic exchanges: 1.5 starch, 0.5 fruit, 0.5 fat

Strawberry Cheesecake Parfaits
A fabulous no-cook dessert! The berry infusion broadens the appeal of this variation on cheesecake.
1 lb. strawberries, stemmed and sliced
1 Tbsp. sugar
1 8-oz. package reduced-fat cream cheese
1⁄2 cup plain or vanilla nonfat Greek yogurt
1⁄2 cup confectioners' sugar
1 tsp. almond extract
1 1⁄2 cups frozen nonfat whipped topping, 
thawed, divided
2⁄3 cup graham cracker crumbs
Mint (optional garnish)
In bowl, sprinkle strawberries with sugar, toss and set aside. In mixing bowl, beat cream cheese, yogurt, confectioners' sugar and almond extract until smooth. Fold in 1⁄2 cup whipped topping. To assemble parfaits, in small dish or glass, layer graham cracker crumbs, cream cheese filling, and then strawberries. Repeat layers if space allows, and end with dollop of whipped topping. Garnish with mint, if desired. Makes 8 parfaits.
Holly's hint: Any berries or a combination of berries may be used. Anytime a recipe calls for yogurt or Greek yogurt, either is fine. I like Greek yogurt, as it is a richer, creamier and thicker yogurt—especially suitable in this dessert—but make sure to get vanilla flavor.
Nutritional Information per serving:
 Calories 188 | Calories from fat 34% | Fat 7g | Saturated fat 4g | Cholesterol 20mg Sodium 170mg | Carbohydrates 25g | Dietary fiber 1g | Total sugars 17g | Protein 6g Dietary exchanges: 1 1⁄2 other carbohydrate, 1 lean meat, 1 fat



| | |
| --- | --- |
| | Holly Clegg is the author of the best-selling trim&TERRIFIC cookbooks, Eating Well Through Cancer and Too Hot in the Kitchen: Secrets to Sizzle at Any Age. For more information, visit hollyclegg.com or thehealthycookingblog.com. |