Pie shop pies: Baking is an outlet for this local physician
---
The butter's perfume fills the air. Ornate pies, no two alike, dot every surface as they cool on racks and serving platters. A basket of apples lends a clue to the treasure inside the double-crusted beauty sparkling with coarse sugar and cinnamon on top. This is not an artisan bakery or a grandmother's kitchen. This is the home of Dr. Matt Foy, where the dining room table doubles as a display case for his famous pies.
By day, Foy is the staff nephrologist at LSU School of Medicine and trains internal medicine residents. He's the father of three school-age boys and helps his wife Lori shuttle them to and from school and a roster of activities. He shifts easily from day job to skilled baker, trading the buttoned-up white coat for a tied-on kitchen apron. 
"In medical school, we brought in dishes for potluck events. I decided to bring pie and looked up a basic apple pie recipe. It was a lot of fun and it was tasty!" Foy recalls with a smile at the memory still sharp from 15 years ago. 
Building on that initial success, he continues with the same pastry recipe that started his moonlighting, a classic French Pâte Brisée, and plays around with the fillings. "People really get excited about the crust," he marvels. "No matter what's inside, everyone always raves about the crust!"
Depending on the season and the celebration, the pie offerings are customized to match. "Once I got a reputation for it, the requests keep coming," he says. "My mother-in-law asks for a pie for her birthday, so I bake her one of my fruit pies." 
The fruits fluctuate per the recipient, including a mixture of berries, peaches and his most popular, classic apple. His cream pies also have their fans who can choose between coconut, banana or chocolate crowned with freshly whipped cream and dark chocolate shavings.
The prize-worthy pies aren't limited to dessert. Foy's repertoire also includes savory delicacies like chicken pot pie, pork and brie hand pies with fig preserves tucked inside, and his hat tip to fall, a butternut galette with leeks and thyme. "Galettes are super easy," he says. "You just roll them out and fill them. They are a great way to use up pastry trimmings."
Force him to choose a favorite and he doesn't hesitate: "My personal favorite is lemon meringue. There's something very satisfying about meringue. My next experiment will be pavlovas." 
Even with a fulfilling career as a physician, his kids are quick to celebrate their dad's additional talent. "You know dad, you could open a pie shop," they tell him. "If the doctoring thing doesn't work out, you should think about it." 
No plans for a career change are underway, though he will be doctoring some recipes for the family's Thanksgiving.
"That's the thing I like about baking pies," Foy says. "You can tinker and mix some art and creativity in with the science. It's also nice having that going on in your house. It smells really good."
---
Pie Crust
Ingredients:
2 1/2 cups all-purpose flour
1 tsp. white sugar
1 tsp. salt
1/2 lb. cold unsalted butter
1/4 cup solid vegetable shortening
1/3 cup ice cold water, plus more if needed
Mix flour, sugar and salt in a large bowl. Grate cold butter using holes of a cheese grater, and gradually work into dry ingredients. (Alternatively, cube butter into ¼-inch pieces and add to dry ingredients.) Using a pastry blender or 2 knives, cut butter into flour to create pea-size pieces. Add vegetable shortening in large chunks, and toss together to distribute throughout mixture. Continue cutting mixture until it is mostly coarse crumbs with some pea-size pieces. Gradually drizzle water over mixture and cut into mixture using a rubber spatula. Mixture should start to stick together. If it still appears dry, add an additional 1 to 2 Tbsp. ice water. Press dough with your hands until it binds together. It should still appear somewhat rough, not entirely smooth. Divide dough in half, and press into a thick, flat disk; wrap tightly in plastic. Refrigerate for at least 30 minutes, ideally for several hours before rolling.
Tips from Dr. Foy's kitchen: I have found that using a good butter makes a world of difference—I like Kerrygold. Freezing the butter for about 30 minutes prior to chopping (or grating) helps. When going to roll out the chilled dough, let it sit on the counter for 15 to 20 minutes; it will be much easier to roll.
Makes enough crust to make 2 (9- to 10-in.) pie crusts.
---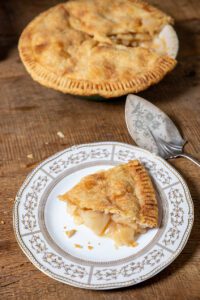 Apple Pie
Ingredients:
2 (9-in.) pie crusts
2 1/2 lb. apples (5 to 6 medium to large), peeled, cored, and sliced ¼ inch thick
3/4 cup sugar
2 to 3 Tbsp. all-purpose flour
1 Tbsp. strained fresh lemon juice
1/2 tsp. ground cinnamon
1/8 tsp. salt
2 Tbsp. unsalted butter
Preheat oven to 425 degrees, and place a rack in lower third of oven. Roll out half of dough into a 13-in. round, and fit into a 9-in. pie pan; trim off overhanging excess dough. Refrigerate pie crust in pan. Measure 6 cups sliced apples and combine with sugar, flour, lemon juice, cinnamon and salt. Stir well and let stand for 15 minutes, stirring several times during the 15 minutes. Pour mixture into chilled crust and level out gently, leaving center slightly higher than edges. Dot top with butter, grated or cut into cubes. Brush edges of crust with cold water.
Roll out remaining half of dough and cover top of pie, gently pressing edges of top crust into edges of bottom crust. Cut off excess dough and seal edges with a fork. Cut 3 steam vents in top of pie and sprinkle with another 1 to 2 tsp. sugar and
1

⁄

8

tsp. cinnamon. Bake for 30 minutes. Reduce temperature to 350 degrees, put a baking sheet under pie, and bake until fruit feels just tender when poked with a sharp knife through steam vent and juices are bubbling from steam vents, about another 30 to 45 minutes. Remove from oven and allow to cool completely on a rack (about 3 to 4 hours). Serve at room temperature or rewarm the pie at 350 degrees for 15 minutes.
Tips from Dr. Foy's kitchen:
I like to use a bit more apple than the recipe calls for—usually about 7 cups. I don't change any of the other portions of the recipe. Consider covering edges of crust with foil or a pie crust shield about halfway through baking, as they tend to brown faster. Check on pie during the last 15 to 20 minutes of baking to make sure it is not browning too fast. If it is, loosely cover it with foil for remainder of baking time. As far as apple varieties, I like Golden Delicious or Honeycrisp for this recipe. Finally, save extra crust cut from overhang, wrap in plastic, and refrigerate. It can be used for other recipes.
---
Chocolate Cream Pie
Ingredients:
1 (9-in.) pie crust
1 cup sugar
3 Tbsp. cornstarch
1/4 tsp. salt
2 1/2 cups whole milk
5 large egg yolks (raw whites can be frozen
for future use)
3 Tbsp. unsalted butter, cut into small pieces
1 Tbsp. vanilla
4 oz. unsweetened baking chocolate, finely chopped
1 cup cold heavy cream
Chocolate shavings for garnish
Prepare the crust: Preheat oven to 400 degrees, and place a rack in lower third of oven. Roll out dough into a 13-in. round and fit into a 9-in. pie pan; trim off overhanging excess dough. Refrigerate pie crust in pan for 30 minutes. Remove pie crust from fridge and place a sheet of heavy-duty aluminum foil, shiny side down, over bottom and sides of crust, flaring excess over edges. Fill foil with raw beans, rice, or pie weights, banking them against sides. Bake for 20 minutes, then carefully lift out foil and weights. Prick crust thoroughly with a fork. Return crust to oven and bake for 5 to 10 more minutes until golden brown all over. Check during this period for any puffing up of crust; if this occurs, press it back down gently with back of a spoon. Remove from oven and allow to cool.
Make the filling: Combine sugar, cornstarch and salt in a heavy saucepan, off of heat, and whisk well. Gradually whisk in milk. Whisk in egg yolks until completely blended and there are no more yellow streaks. Cook over medium heat, stirring mixture constantly with a wooden spoon. Bring to a bare simmer, remove from heat, and scrape corners of pan. Whisk until smooth and return to heat, continuing to whisk constantly. Bring to a simmer and cook for about 30 to 60 seconds. Remove from heat and add butter, vanilla and baking chocolate. Whisk until well mixed. Spoon filling into pie crust, allow to cool slightly, then cover with plastic wrap. Refrigerate pie for at least 3 hours. Prior to serving, top pie with whipped cream and sprinkle with chocolate shavings.
For whipped cream, in a large, chilled bowl and with chilled beaters, beat cold heavy cream until thickened. If desired, add 1 Tbsp. sugar and beat to preferred thickness (be careful not to overbeat).
Pie crust, apple pie and chocolate cream pie recipes from Joy of Cooking.
---
Butternut Squash, Leek and Goat Cheese Galette
Ingredients:
1 (9- to 10-in.) pie crust
2 cups cubed fresh butternut squash (cut into ½-inch cubes), or frozen cubed butternut squash
4 Tbsp. olive oil, divided, plus additional for brushing
Salt and pepper to taste
2 Tbsp. butter
2 large leeks (white and light green parts), halved lengthwise, thinly sliced and rinsed well
2 cloves garlic, minced
1 Tbsp. chopped fresh thyme leaves
3 oz. goat cheese, broken into tsp.-size bits
Toasted sliced almonds (optional)
Preheat oven to 375 degrees. Combine butternut squash with 2 Tbsp. olive oil, salt and pepper, and place on a baking sheet. Roast until easily pierced with a knife (about 25 minutes), stirring halfway through. Remove from pan and set aside. While squash is roasting, heat butter and 2 Tbsp. olive oil over medium-high heat in a sauté pan. Add leeks and reduce heat to medium-low. Cook, stirring often, until very soft (about 20 minutes). Stir in garlic and thyme, cook for an additional minute, then remove from heat. Place parchment paper or about 2 Tbsp. cornmeal on a baking sheet. Place pie crust on baking sheet. Spread leek mixture over crust, about 2 inches from edge. Distribute goat cheese throughout leek mixture. Top with butternut squash. Fold edges in toward center, leaving an open center. Brush crust with olive oil. Bake for 30 to 35 minutes. Garnish with sliced almonds, if desired. Serve warm.
Recipe adapted from
fromachefskitchen.com.
Tips from Dr. Foy's kitchen: If making other types of pies, you will likely have leftover crust from trimming overhang or from cutting out rounds. You might have enough for the galette, meaning you don't have to make extra (and don't waste any crust).
---
Pork, Brie, and Fig Hand Pies
(makes 8 hand pies)
Ingredients:
8 oz. pork tenderloin, cubed into bite-size pieces
Salt and pepper to taste
4 (9-in.) pie crusts
2 Tbsp. butter
8 Tbsp. fig preserves
8 Tbsp. chopped pecans
Baby spinach leaves
8 oz. Brie cheese sliced into ½-oz. slices
1 to 2 large eggs, lightly beaten
Season pork cubes with salt and pepper. Preheat oven to 425 degrees. Melt butter in a large pan over medium-high heat. Add pork and cook until cooked through (about 5 minutes); set aside.
Line a rimmed baking sheet with parchment paper or a silicone baking mat. Roll out pie dough and cut 4 (4.5-in.) rounds from each sheet of pie dough (should yield 16 total pie rounds). Place 8 onto baking sheet (or 4 on each baking sheet if using 2 sheets). Put a scant Tbsp. fig preserves in center of each pie round. Place 1 Tbsp. pecans, 2 to 3 spinach leaves, 3 to 4 cubes (about 1 oz.) pork, and 2 (½-oz.) slices brie on top of fig preserves (keep everything centered, away from edges). Wet outside of each pie round with water (using a pastry brush or your finger). Put remaining 8 pie rounds on top of filling and press edges together with your fingers. Seal edges with a fork. Brush pie tops with beaten eggs. Using a sharp knife, cut 3 to 4 small slits for venting at center of top crust. Bake for 15 to 20 minutes or until golden brown. Remove from oven and allow to cool slightly. Best to serve warm.
Recipe adapted from showmetheyummy.com.
Tips from Dr. Foy's kitchen: Check pies about 10 minutes in to see how they are cooking and then every 5 minutes thereafter to make sure they aren't overbrowning. Save any leftover crust after cutting the rounds, wrap in plastic, and refrigerate. It can be used for other recipes.