As the weather warms up this spring, why not take advantage of Louisiana's beautiful landscapes by packing a picnic lunch? While traditional al fresco cuisine may include heavy fare like potato salads, chips or rich, sugary desserts, here are some fresh picnic ideas that can help you save on calories without skimping on flavor.
These dishes are healthy, portable and quick to make so you can get outside, enjoy the great outdoors, and stay nourished.
A fresh and tangy take on traditional coleslaw, our Crunchy Chicken Slaw packs less mayonnaise than customary recipes and replaces it with crisp and refreshing flavors from cilantro, jalapeños, carrots, green onion, cabbage, hot sauce, sesame oil, lime juice and several other delicious spices. If you're in a hurry, rotisserie chicken or other leftover chicken would go well with this recipe. (Full disclosure: our shredded chicken recipe is still our favorite pairing!) If you're looking for a sandwich replacement, we suggest wrapping the slaw and protein up in a tortilla with cucumbers and tomatoes for a more substantial meal to keep you full through plenty of outdoor springtime activities.
Tart and full of flavor, our Garlic Dill Pickles may become your new favorite go-to snack, whether you're planning a picnic or not. Pickles are a classic, nutritious, low-calorie snack and are actually very easy to make at home. Our recipe is simple and uses natural preservatives like salt and vinegar. The seasonings in this recipe can be adjusted to taste, and the sugar can be omitted if desired. This recipe isn't limited to okra and cucumbers. Try the same recipe using green beans, carrots, jalapeños or cabbage—it's sure to impress at your next gathering.
For a light and satisfying dessert, our Pinterest-worthy Blueberry Cheesecake Cups taste as good as they look. Not only do the jars make the cheesecake cups gorgeous and more portable, but they also provide a perfectly portioned serving of this lighter alternative to traditional cheesecake. We lowered the total fat by swapping out full-fat cream cheese with Neufchatel, and then added mascarpone for creaminess and flavor. The recipe uses a small amount of added sugar (which, again, can be easily omitted), while highlighting the natural sweetness of honey and blueberries. Simple to prepare and kid friendly, this dessert feels like a luxury.
We hope you enjoy these healthy and tasty twists on traditional picnic fare. Outside in Louisiana's beautiful landscape or indoors with family and friends, we encourage you to try these original recipes and to add your own creative spin to healthier versions of old classics.
---
Crunchy Chicken Slaw Wraps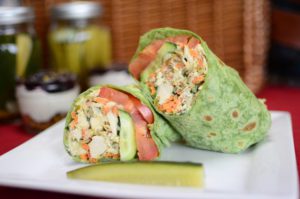 3 cups cooked shredded chicken*
1 (14-oz.) bag cabbage coleslaw mix
1 (10-oz.) bag shredded carrots

1

⁄2 cup sliced green onion
1 cup chopped fresh cilantro
2 Tbsp. chopped pickled jalapeños**


1

⁄4 cup sunflower seeds


1

⁄4

 

cup light mayonnaise


1

⁄4

 

cup light sour cream
4 Tbsp. lime juice
2

1

⁄2 tsp. green pepper hot sauce
1 tsp. salt
1 tsp. black pepper


1

⁄2 tsp. garlic powder
1 tsp. sesame oil


1

⁄2 cucumber, sliced
1 tomato, sliced
3 (10-in.) tortillas
To make slaw, add chicken to a large bowl and toss with coleslaw mix, shredded carrots, green onion, cilantro, jalapeños and sunflower seeds.
Create dressing by whisking together mayonnaise, sour cream, lime juice, hot sauce, salt, black pepper, garlic powder and sesame oil. Pour dressing over slaw and toss together. Place a few slices of cucumber and tomato and about 1 cup slaw in the center of each tortilla. Roll tortillas up and slice in half. Makes 3 sharable wraps or 6 servings.
*To cook chicken, we added 1
1

⁄2 lbs. raw chicken breast, 1 sliced onion, 1 Tbsp. minced garlic,

1

⁄2 tsp. onion powder,

1

⁄2 tsp. garlic powder, 2 cups chicken broth and 2 cups water to a stock pot, covered it, and boiled over medium heat for 30 minutes. Chicken can be removed and shredded and the stock saved for soup.
**Make your own using the Garlic Dill Pickle recipe that follows.
Nutritional information per serving:
Calories 360 | Fat 13g | Saturated fat 3g | Monounsaturated fat 4g
 | 

Polyunsaturated fat 5g | Carbohydrates 32g | Fiber 6g | Protein 28g
---
Garlic Dill Pickles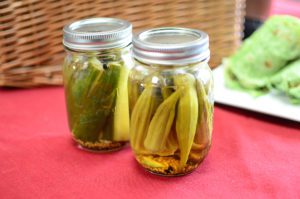 2 pint-size jars
2 tsp. dill seeds
2 tsp. peppercorns
2 tsp. mustard seeds
6 garlic cloves, sliced

1

⁄2 lb. whole okra or 2 cucumbers, washed
1 cup water
1 cup vinegar
1

1

⁄2 Tbsp. kosher salt
1 Tbsp. granulated sugar
To each pint-size jar, add 1 tsp. dill seeds, 1 tsp. peppercorns, 1 tsp. mustard seeds and 3 sliced garlic cloves. If using cucumber, slice off ends and then cut into spears. Pack cucumber spears or okra tightly into jars.
In a small saucepan, bring water, vinegar, salt and sugar to a full boil. Pour mixture into jars to within 1/4 inch of top. Screw lids onto jars and allow to cool before placing in refrigerator. Refrigerate for at least 2 days. Pickles will keep in the refrigerator for a few months.
---
Blueberry Cheesecake Cups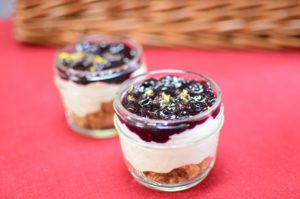 7 whole graham crackers (roughly 5 x 6 inches each)
3 Tbsp. coconut oil, melted
3 Tbsp. plus 1/2 cup honey, divided
Pinch salt
2
1

⁄2 cups fresh blueberries
Juice of

1

⁄2 lemon
1 Tbsp. cornstarch mixed with

 

2 Tbsp. cold water
Zest of 1 lemon
12 oz. Neufchatel cheese (or low-fat,

1

⁄3-less-fat cream cheese)


3

⁄4 cup skim milk
1 tsp. vanilla extract


1

⁄2 cup confectioners' sugar


1

⁄2 cup mascarpone cheese
Create crust by placing graham crackers in a large bowl and crushing them into crumbs with a spoon. Add melted coconut oil, 3 Tbsp. honey and a pinch of salt to graham crackers, and mix until thoroughly combined. Set aside.
Create topping by placing blueberries, lemon juice and
1

⁄2 cup honey in a pan and heating gently until blueberries start to break down. Gently stir in cornstarch mixture (so as not to break up blueberries too much) and heat through, while stirring for another 30 seconds until mixture has thickened. Turn off heat and allow to cool.
Create filling by placing Neufchatel or cream cheese and milk in a bowl and mixing until smooth. Add vanilla extract and confectioners' sugar, and whisk until combined. Slowly mix in mascarpone. Gently stir to combine until evenly mixed.
Assemble cups by spooning 3 heaping tablespoons cracker crumbs into the bottom of each of 10 small Mason jars. Press crumbs down with a spoon. Gently spoon 2 heaping tablespoons cream cheese mixture on top of crust and level it. Add 2 tablespoons blueberry mixture to top. Place lids on jars, and refrigerate until needed. Makes 10 servings.
Nutritional information per serving:
Calories 320 | Fat 17g | Saturated fat 11g
 | 

Monounsaturated fat 4g | Polyunsaturated fat 1g | Carbohydrates 40g | Fiber 1g | Protein 6g
---
Renee Puyau (left) and Kate Ruggles (right) are registered dietitians in the Metabolic Kitchen at LSU's Pennington Biomedical Research Center. Puyau is also the kitchen's director, with a focus on designing and administering specialized diets for studies and creating healthy recipes. Find more recipes at pbrc.edu/kitchen.