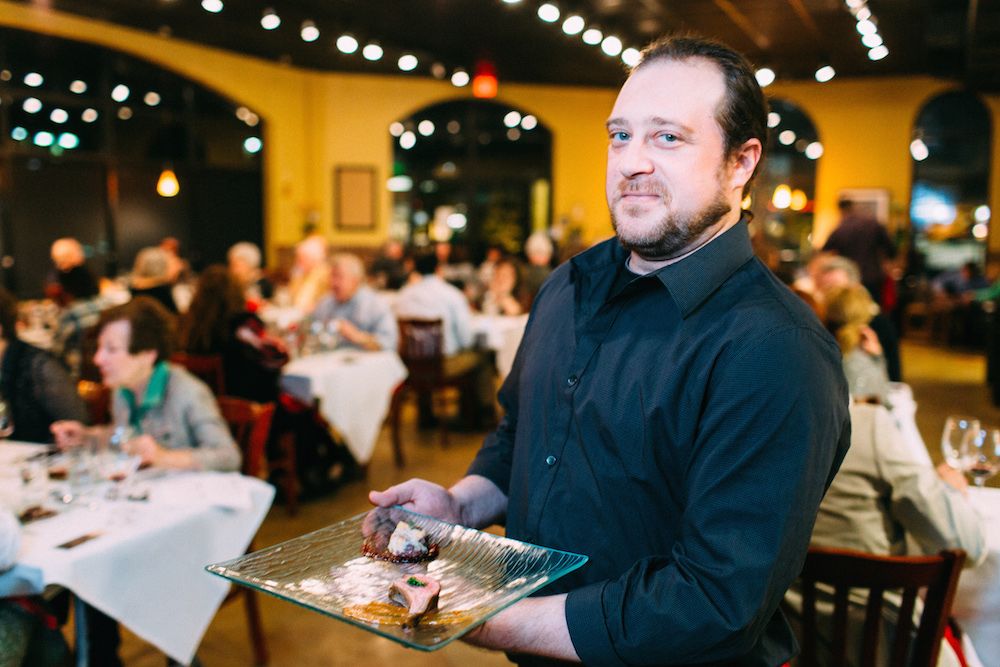 Dining out takes on a new dimension with elevated fare in unexpected venues
---
Wine glass in hand, you head to your table and nestle among those you know and, perhaps, some that you are destined to meet. A detailed menu awaits. Soon, the host will command attention of all in the room to reveal a bit more about the food and drinks being served this evening.
This is more than a meal. More than a night out on the town. This is a new culinary experience that will inform you, entertain you, and certainly fill you up. This is the new supper club, and it's a growing national trend that is creating a quite a stir in the Capital City.
"Food and drink have always brought people together, but today we're seeing a desire for a greater connection over a meal," says Lathan Alexander, co-owner of Alexander's Highland Market who now hosts bi-monthly wine dinners. "Even folks who might not consider themselves 'foodies' have a keen interest in learning more about what they're eating, where it was grown, how it was processed. They enjoy hearing stories about the family businesses behind the food or the guest chef who has stepped in to cook for them. So our wine dinners and our farmers markets are more than meals—they're educational and cultural experiences."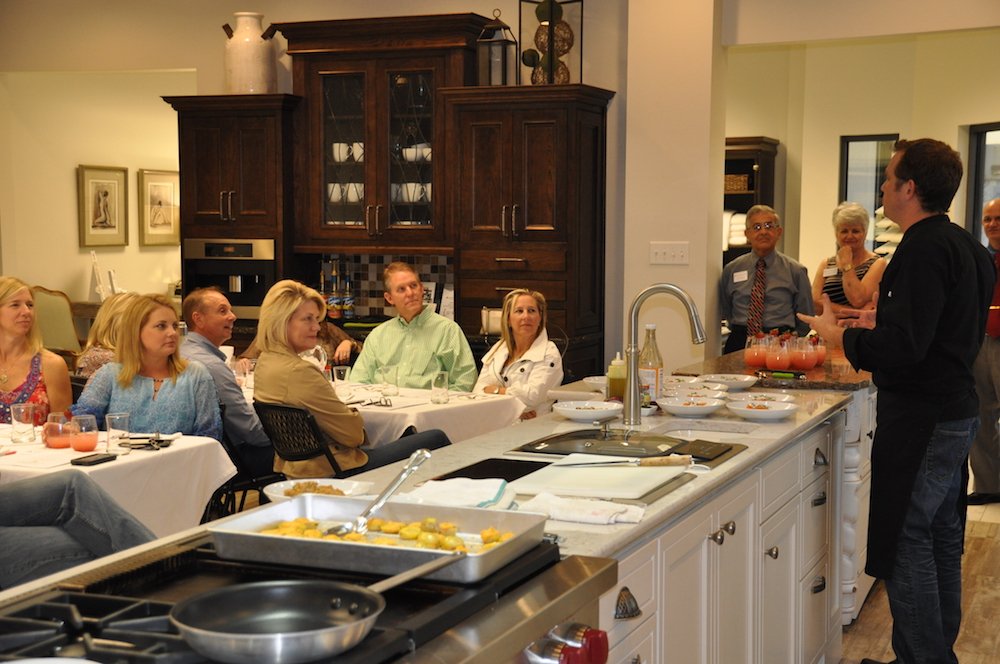 ---
Today, non-traditional dining experiences like wine suppers, beer pairings and pop-up dinners are racing to the top of Baton Rouge's reservation list with special epicurean events designed to attract crowds in unique locations other than brick-and-mortar restaurants. Grocery stores, home improvement shops and breweries, for example, now offer upscale cuisine with fine spirits and cocktails. Even the promise of a great meal prepared and served in an unknown location draws from the market once reserved solely for traditional restaurants, cafés and bistros.
Dinner Lab, a New Orleans-based experiment in cuisine that has since expanded to more than 30 U.S. cities, now offers membership in Baton Rouge. The culinary club allows adventurous diners to try new recipes cooked by rotating chefs in pop-up spaces only created for 24 hours.
"It has the ability to give you a little bit of mystery, some good food and a good social experience," says member David Duggins.
Each month, Duggins gets an email about an upcoming Dinner Lab meal. He can choose whether or not to purchase a ticket and attend based on the date, the menu and the guest chef. The location of the dinner, however, is unknown until the day before the event, when the secret spot is revealed via email. One dinner took place in the warehouse of a former car dealership, another in the backyard of a private home, and still another in a church.
"That's the fun part of it," Duggins says. "You just really never know."
The guests critique the meal on a scorecard afterward, which appeals to Duggins, who spent 20 years in the restaurant industry before getting into the medical financing business.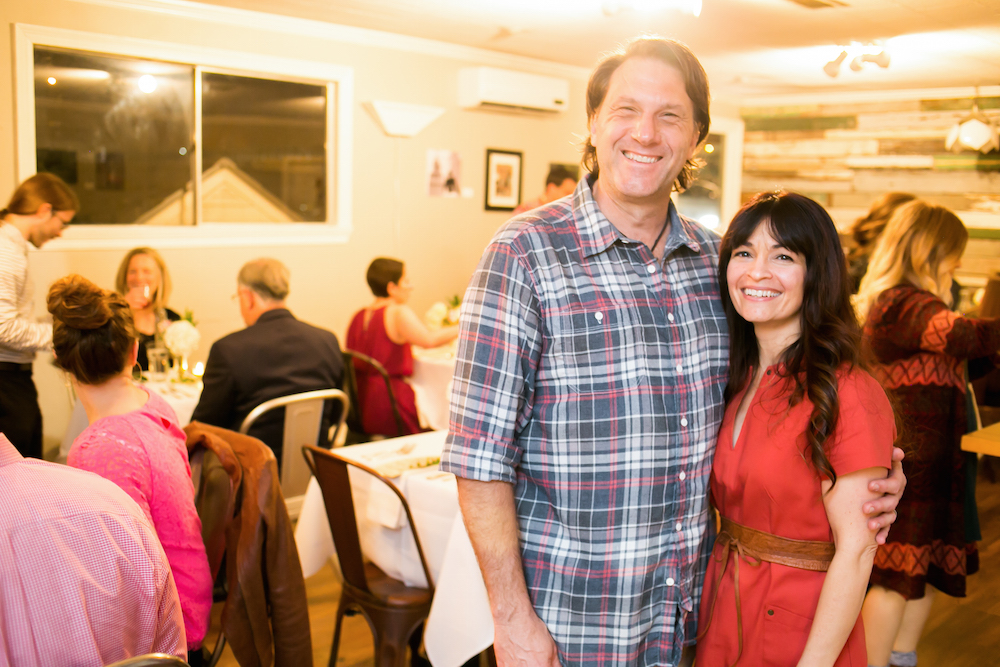 ---
"Food is a big part of my life," he says.
The Dinner Lab membership roster is eclectic, encompassing a variety of age ranges and professional backgrounds. The common thread is that all are looking for good food and a good time.
"It's just a unique crowd," Duggins says."It's never the same."
And sameness seems to be what most of these supper clubs are eschewing. Magpie Café, known for its coffee, morning and mid-day delicacies, began hosting monthly supper socials last fall, says David Villa, the café's operations manager. The suppers are chances for "people to do something a little different in a small group setting," says Villa.
A recent supper social at Magpie featured five courses including parsnip soup with thyme oil, zucchini chutney and goat cheese galettes, buckwheat crepes with roasted tomatoes and mushrooms, pork scallops with onion jam and sage leaf tempura, and chocolate tortes with rosewater ganache. Like its early morning offerings, these dinners emphasize Magpie's dedication to offering local, farm-to-table cuisine.
Tin Roof Brewing Company—another company with a penchant for tapping into local resources—decided last year to begin hosting more events in earnest after building a dedicated tap room, says Rivers Hughey, the brewery's director of marketing and special events.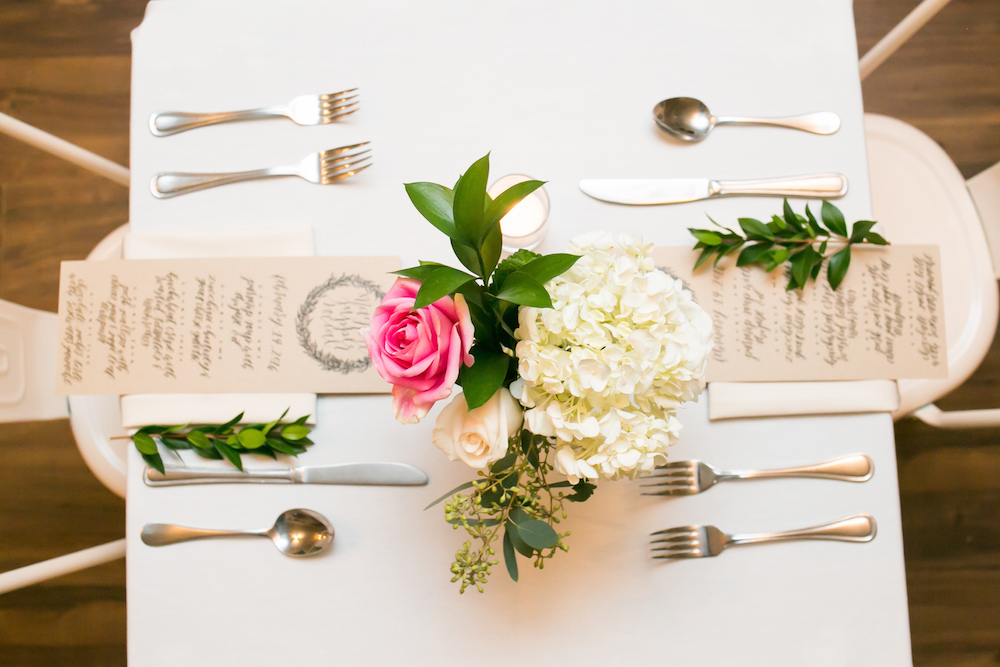 ---
The success of a September dinner at the brewery featuring local Food Network Star finalist Jay Ducote and MasterChef contestant Jesse Romero confirmed that Baton Rouge diners were willing to try something different. So Tin Roof hosted a beer dinner in January with Romero and Chef Kelley McCann of Galatoire's Bistro. The pair prepared a five-course meal of oyster mignonette, citrus-poached Louisiana shrimp, a soup prepared with the brewery's latest house beer, and lamb two served two ways, plus a delicate mousse for dessert. Each course was paired with a different half-pint of the brewery's beer.
"I feel like a lot of the people who came ended up leaving with a lot of information about brewing they didn't know before," says Hughey, who notes that it's an educational experience for most guests who have never learned how beer is brewed.
The promise of a culinary crash course also attracts dinner guests to Acadian House Kitchen & Bath Studio, which offers monthly Sip and Sauté dinners in the full Wolfe and Sub-Zero kitchen at its Exchequer Drive headquarters.
"We've always really enjoyed the dinners, and the clients enjoy them too because they can learn how to use their new appliances," says Angela Poirrier, firm vice-president and designer. "Also, if you're thinking of purchasing new appliances, you can see the latest and greatest and see if it's really worth it to you."
But a Sip and Sauté guest doesn't have to be renovating to benefit from the experience. Diners can also pick up cooking tips by watching Chef Matt Reed, two-time Fête Rouge "Best in Show" winner and executive chef of Reed's Cakes and Catering, prepare dinner for the attendees. A typical meal at Acadian House starts with a cocktail then features three courses with drink pairings. Each month the menu changes to feature fresh, local ingredients and interesting themes. For example, a "Guys' Night" dinner planned for March 8 will offer beer pairings with barbecued chicken wings, slow-smoked Cuban sandwiches, and banana Elvis cupcakes with peanut butter cream cheese topped with chocolate ganache and hickory bacon.
[caption id="attachment_20595" align="aligncenter" width="800"]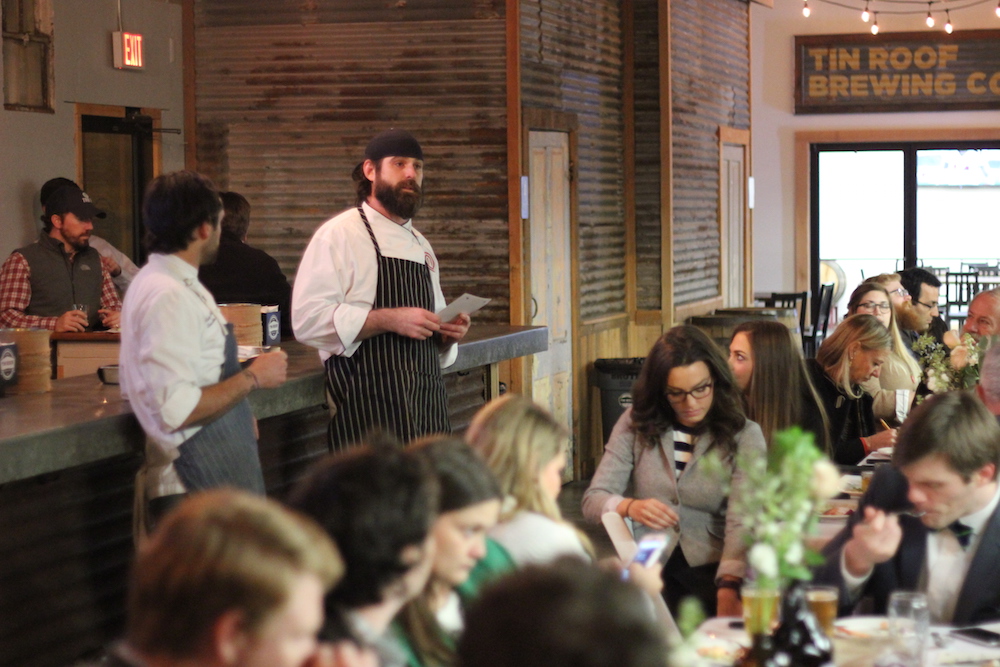 Beer dinners at Tin Roof Brewery feature five-course meals prepared by visiting chefs with each course paired with a half pint of the brewery's beer. (Photo courtesy Tin Roof Brewery)[/caption]
---
Although most supper clubs in town are in the $70 per person range, Acadian House's meal experience is a bargain at $35.
"It's more about having some fun with it and having people participate with Matt and with us in a different way," Poirrier says.
Matt Reed is also the chef behind the wine dinners at Alexander's. Tables draped in white tablecloths and topped with flowers and china aren't the standard scene in the café section of a grocery store right next to the gelato counter. But this is not a typical meal. Recently, Reed served a sold-out crowd of 40 based on the theme "Better Together," featuring famous pairings of smoked pork and applesauce, slow-braised chicken and dumplings, and New York strip steak and butter-poached lobster, as well as wine pairings from family-owned Napa winery Rombauer. One couple at Alexander's most recent dinner told Lathan Alexander that they enjoyed indulging in a leisurely meal in which they didn't feel rushed to let a restaurant turn the table over to new guests. The dinner ran about three hours.
"It's a nice alternative for people not to have to go out and have to have that restaurant experience when you're just trying to be more low-key than that," says Jesse Casciaro, wine and spirits manager at Alexander's. "It's relaxed, and it's nice to be able to sit next to your friends and neighbors and share a meal."
---
Read more from inRegister's epicurean issue: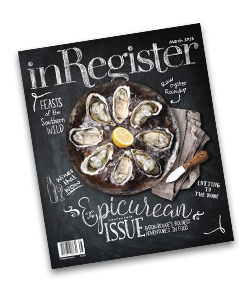 The gourmet revolution: Food prep and presentation is finessed in home kitchens as everyday cooks kick it up a notch
A deliciously raw deal: The down and dirty on Louisiana's favorite mollusk
Feasts of the southern wild: More and more local restaurants are getting into the game with dishes featuring exotic meats
Weeknight wines: Ever wondered what your neighbors are drinking on a Wednesday? These unfussy, affordable bottles are versatile and appealing.