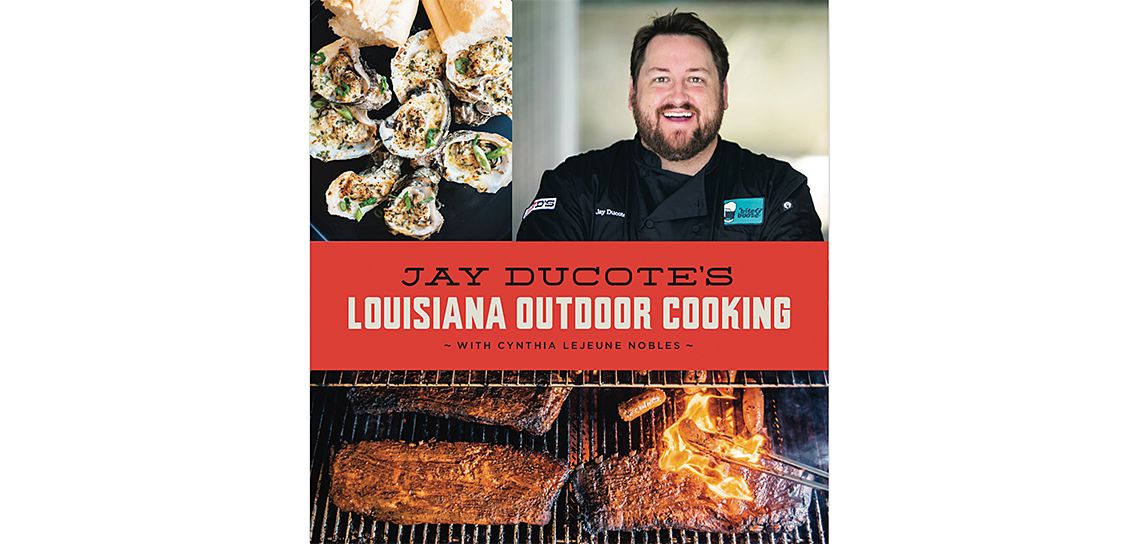 Off the page: 'Jay Ducote's Louisiana Outdoor Cooking'
---
Sitting on a high shelf in Jay Ducote's kitchen is a stack of well-worn cookbooks that once belonged to his grandmother. Her favorite editions of River Road Recipes, a community cookbook from Avoyelles Parish, and a copy of the 1962 book The Art of Creole Cookery hold prominence of place in this space because of the lasting love of cooking that she imparted on her grandson.
Ducote dedicates his debut cookbook, Jay Ducote's Louisiana Outdoor Cooking, to both of his grandmothers, noting, "The smells that came from the kitchens that my parents grew up in still inspire my food dreams today." Those dreams have definitely taken flight since the chef's earliest days in front of the grill as an LSU freshman feeding hungry friends and family members at football tailgate parties. This culinary diehard's long resume now includes a second-place finish on Food Network Star, appearances on a handful of other national cooking shows, a food blog, a radio show, and a soon-to-open restaurant.
Through it all, cooking outdoors has been one of Ducote's prevailing passions—something he has in common with the Louisianans of long ago. "In the semitropical climate of Baton Rouge … the natural thing to do was to barbecue and stir hot kettles under the trees," he writes. "For me, cooking outside, even under challenging conditions, is fun. I don't care if the mosquitoes are swarming and the temperature is soaring … cooking outdoors always feels like a celebration."
Created with New Orleans-based food writer Cynthia LeJeune Nobles, the book features more than 150 recipes that read like a road map to Ducote's culinary career. Dishes include crawfish fritters like the ones he used to Beat Bobby Flay, a blackberry-bourbon injected Boston butt that earned him the Tony Chachere's Tailgate Cook-Off Award, the praline-bacon-topped Cajun cheeseburger he made during a food truck challenge on Food Network Star, and a tri-tip roast rubbed with a coffee and chili blend developed for his restaurant Gov't Taco.
"I mostly spend my days stirring pots, traveling and promoting the culture and cuisine of south Louisiana," Ducote writes. "To me, every day is a holiday, especially when it's spent cooking and sipping a cold one in the great outdoors."