Dining in: Healthy meets gourmet with the new 'Eat Fit' cookbook
---
At the launch party for Molly Kimball's new book The Eat Fit Cookbook, a New Orleans restaurant icon heaped on the high praise. "She is changing the way New Orleans eats," said Ti Martin of Commander's Palace, "and that's saying something. Other cities are trying to follow New Orleans in eating nutritiously. What's she's accomplished is unbelievable."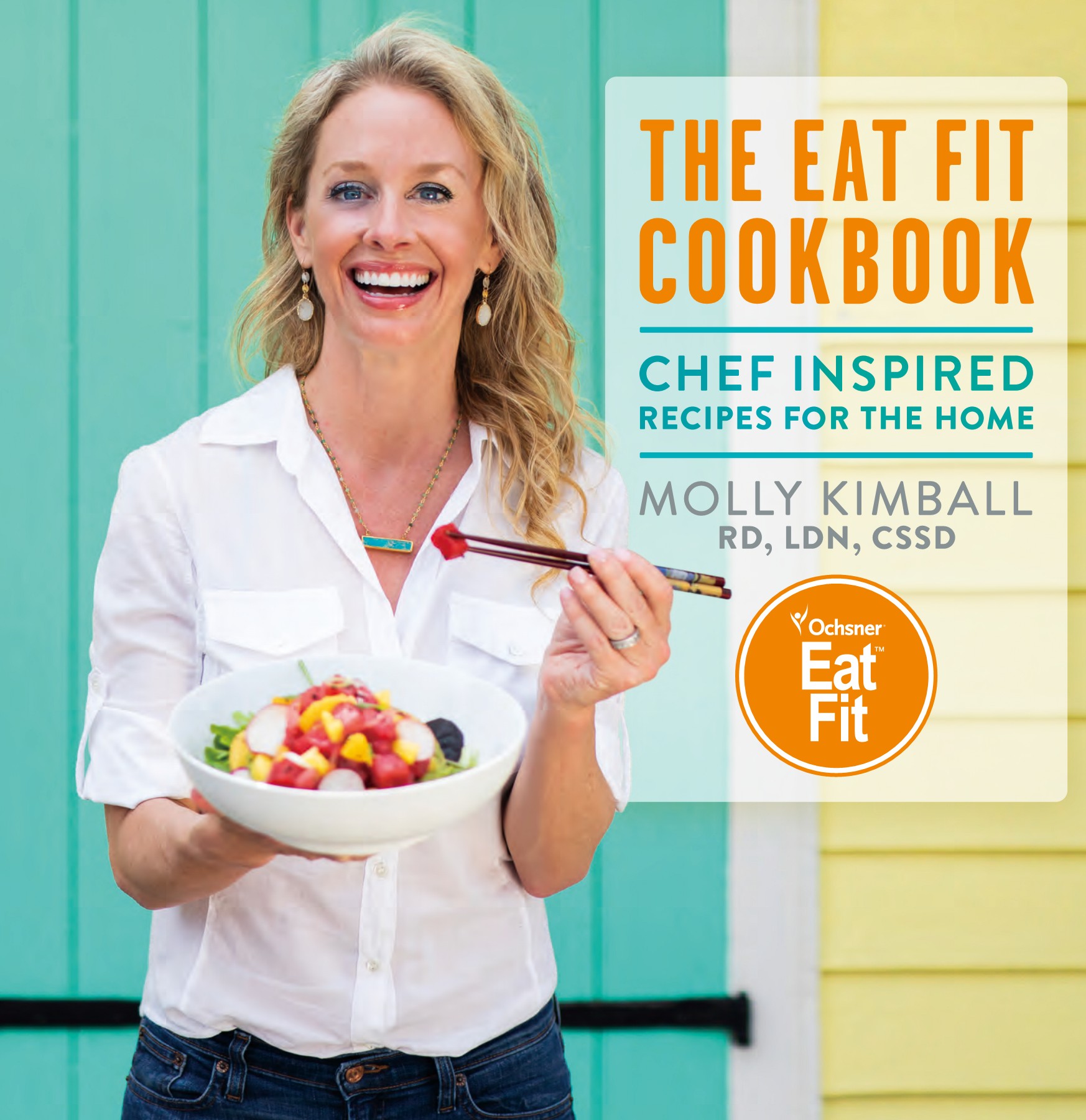 How exactly did Kimball, who serves as a registered dietitian with Ochsner Fitness Center, take a city known for its rich sauces and deep-fried everything and turn it on its culinary head? It all started back in 2013 with a spark of inspiration. "We had this idea: What if we worked with restaurants to put a seal of approval on these menu items to let people know what was healthy?" recalled Kimball at the cookbook launch party. One of her first stops to pitch the concept was Commander's, and Ti Martin. "She supported it. She embraced it. She immediately put it on their menus and really pushed all the chefs to have it on their menus," Kimball said. "And that really gave us credibility, and it validated us."
From that first participating restaurant, the program has grown to include more than 300 restaurants around Louisiana, each of which offers dishes that meet Eat Fit's nutritional criteria aimed at helping diners eat clean, watch their weight, and manage diabetes, blood pressure and cholesterol. In Baton Rouge, Eat Fit items are found in 61 locations from Mestizo to City Pork to Tsunami.
But what about when you just want to stay home? That's where The Eat Fit Cookbook comes in.
Featured inside are dozens of recipes derived from dishes served in Eat Fit restaurants, along with a section on decadent but still healthy desserts that incorporate New Orleans-based Swerve sweetener. Below, find two dessert recipes from the book—one that's a riff on Domenica restaurant's chocolatey after-meal indulgences and one that gives Reese's a run for its money.
"We can't eat out all the time," Kimball writes. "The recipes in this book will eliminate the nutrition guesswork and help all of us Eat Fit any time, any place."
ochsner.org/eat-fit/cookbook
---
[caption id="attachment_76175" align="alignnone" width="1024"]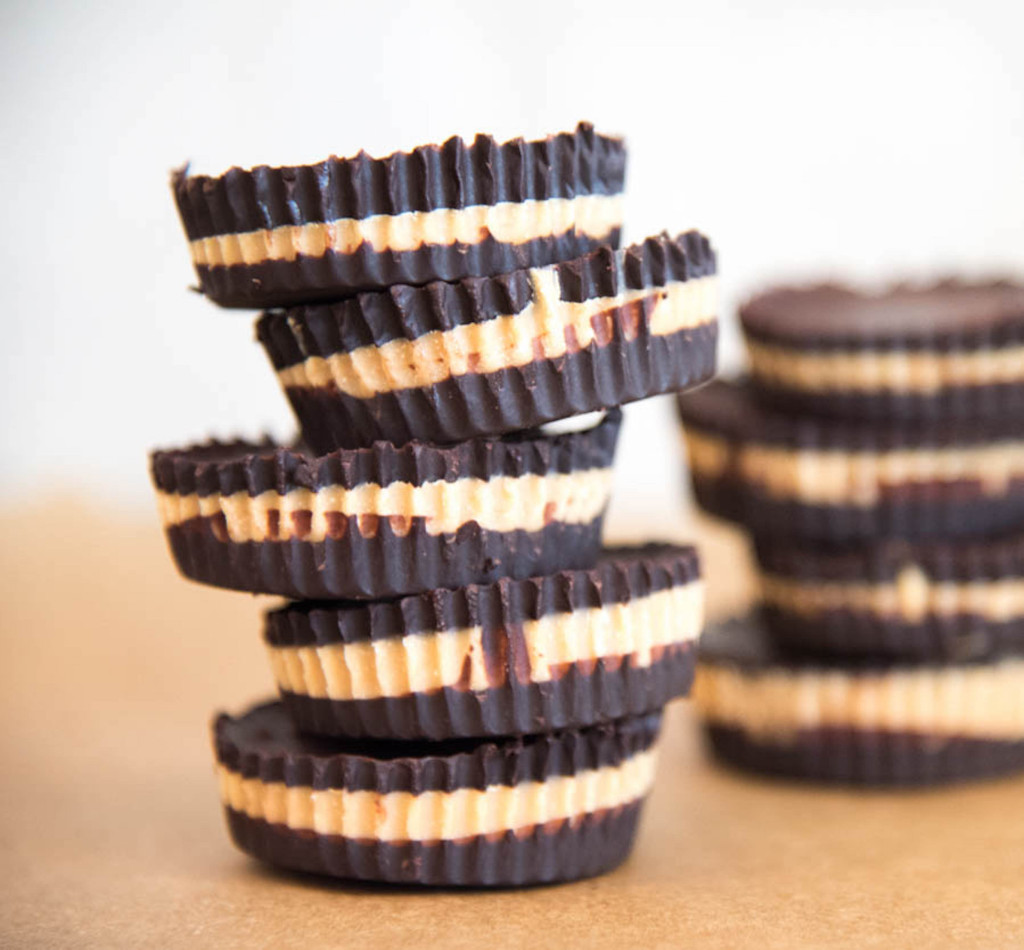 Photo by Teddie Taylor.[/caption]
SALTED DARK CHOCOLATE PEANUT BUTTER CUPS
INGREDIENTS
Chocolate Coating:
¾ cup coconut oil
¾ cup unsweetened cocoa powder
¼ cup plus 2 Tbsp. Swerve Confectioners
Peanut Butter Filling:
½ cup no-sugar-added creamy peanut butter
¼ cup cacao butter, melted
¼ cup Swerve Confectioners
1 ½ tsp. sea salt
In a muffin pan, place liners into 12 cups. Set aside.
To prepare Chocolate Coating, whisk together melted coconut oil, cocoa powder and Swerve in a medium bowl. Spoon 1 Tbsp. of chocolate mixture into each muffin liner. Freeze for 5 minutes or until mixture is no longer shiny on top.
To make Peanut Butter Filling, whisk together peanut butter, melted cacao butter, Swerve and sea salt until combined. If it seizes up, microwave for 10 seconds.
Remove muffin pan from freezer and add 1 Tbsp. peanut butter mixture to frozen Chocolate Coating. Return pan to freezer for 5 to 10 minutes. After mixture has set, remove pan from freezer and add ½ Tbsp. of remaining chocolate mixture to each cup, covering peanut butter layer. Freeze for 5 to 10 minutes or until completely frozen. Store in refrigerator or freezer in an airtight container.
Makes 12 servings.
Note: These are equally decadent with almond, cashew or sunflower seed butter.
NUTRITION INFO PER 1-CUP SERVING
Calories 240 | Fat 24g | Saturated fat 15g | Sodium 240mg | Carbohydrates 13g Fiber 3g | Sugar <1g | Protein 4g
---
[caption id="attachment_76177" align="alignnone" width="2048"]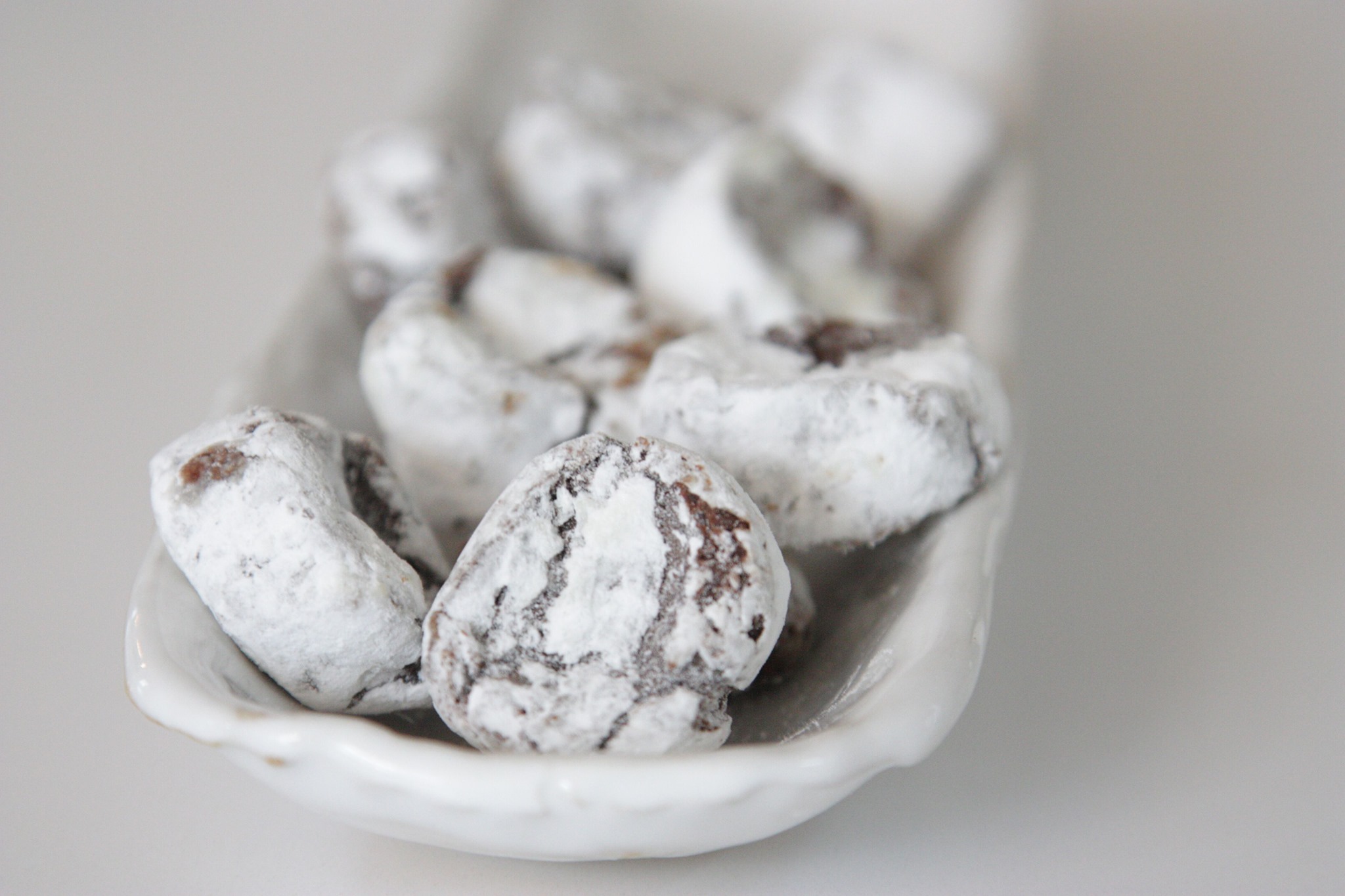 Photo courtesy Eat Fit.[/caption]
BRUTTI MA BIONI
INGREDIENTS
½ cup almond flour
¼ cup coconut flour
1 ½ tsp. baking powder
1 ½ tsp. salt
¾ cup unsweetened chocolate (100% cocoa), chopped
2 ¼ cups unsweetened chocolate (at least 70% cocoa), chopped
½ cup unsalted butter, softened
6 eggs (room temperature)
2 cups Swerve Granular
¼ cup finely ground espresso
1 ½ tsp. vanilla extract
2 ½ cups stevia-sweetened chocolate chips (such as Lily's), frozen
½ cup Swerve Confectioners
Sift flours, baking powder and salt into a bowl; set aside.
Melt both varieties of unsweetened chocolate in a double boiler, taking care not to burn chocolate once it is melted. Whisk in butter.
In a separate bowl, whisk together eggs and Swerve Granular until mixture becomes very thick and pale in color, approximately 6 to 8 minutes. Slowly stir in melted chocolate, occasionally scraping sides of bowl. Fold in flour mixture and scrape bowl again. Add espresso and vanilla extract and mix until combined. Do not overmix or mixture will get too crumbly. Fold in frozen stevia-sweetened chocolate chips. Spread mixture on a parchment-lined sheet pan. Cover lightly and refrigerate for 12 hours or until combined.
Roll chilled mixture into balls about 1 inch in diameter. Press gently to flatten. Place cookies in freezer for at least 1 hour.
Preheat oven to 350 degrees. Roll batter in Swerve Confectioners, then arrange on a baking sheet. Bake for 10 to 12 minutes, until cookies are slightly puffed and fine lines or cracks appear. Remove from oven and transfer to parchment paper to cool. Sprinkle with additional Swerve Confectioners, if desired, before serving.
Makes 160 cookies.
NUTRITION INFO PER 1-COOKIE SERVING
Calories 35 | Fat 3g | Saturated fat 1.5g | Sodium 30mg | Carbohydrates 6g | Fiber 1g | Sugar <1g | Protein <1g