Mixes make quick food fixes
By Holly Clegg
I love healthy food that is quick and easy to make! Box mixes are a great shortcut secret weapon I love to use. The ultimate in convenience, ready-made box mixes have many varieties—from desserts to cornbread to biscuits—and they save you a few steps in the cooking process. Keep box mixes stocked in your pantry for ease in whipping up these trim and terrific meals, desserts and sides.
A Southern pantry staple, cornbread mix is an inexpensive ingredient to keep on hand. Sweet Potato Cornbread is one of my favorite variations of this delectable side dish. Yams are one of Louisiana's finest agricultural products and add a natural sweetness to the mix. This recipe is diabetic-friendly and can be made into a gluten-free dish when one of the readily available gluten-free mixes is used. It's a delicious cornbread for the health conscious.
My pantry is always stocked with biscuit baking mix, as I use it to make everything from drop biscuits to quick breads, and even entre meals like chicken and dumplings. This Simple Baked Chicken incorporates the biscuit baking mix to create a light and tender chicken dish that will please even the pickiest of palates. Be sure to serve with rice to soak up the last drop of gravy. Found in my new e-book version of Eating Well Through Cancer, it is actually a superb homemade meal that will win fans in any home!
The most obvious mix to rely on (but definitely my favorite) is the box cake mix. At any given time, I have at least five cake mixes on my shelf in many varieties, including yellow, butter pecan, and devils food cake. My stash enables me to whip up desserts such as trifles and Bundt cakes in a jiffy. You will love how quick and easy the Chocolate Fudgies are, with only four ingredients. But for my loaded variation of this sweet treat, I add a half cup of dark chocolate chips and a half cup of pecans before baking.
---
 Simple Baked Chicken
Tender chicken with gravy makes a very comforting, flavorful meal.
1 12 lbs. chicken breast tenders
14 cup biscuit baking mix
1 Tbsp. olive oil
1 tsp. minced garlic
1 Tbsp. all-purpose flour
1 (16-oz.) can low-sodium, fat-free chicken broth
Preheat oven to 375 degrees. Coat 3-quart oblong baking dish with nonstick cooking spray. Coat chicken in baking mix and place in prepared dish. Bake 40 minutes. In small nonstick pot, combine oil and garlic, and add flour. Whisk in chicken broth, bring to boil, and cook until slightly thickened. Pour over chicken, and continue baking, covered with foil, another 20-30 minutes, or until chicken is done. Makes 6 servings.
Nutritional information per serving: Calories 173 | Calories from fat 30% | Fat 6g Saturated fat 1g | Cholesterol 73mg | Sodium 197mg Carbohydrates 3g | Dietary fiber 0g | Total sugars 0g | Protein 25g | Dietary exchanges: 3 lean meat
Holly's hint: Add more seasoning as needed.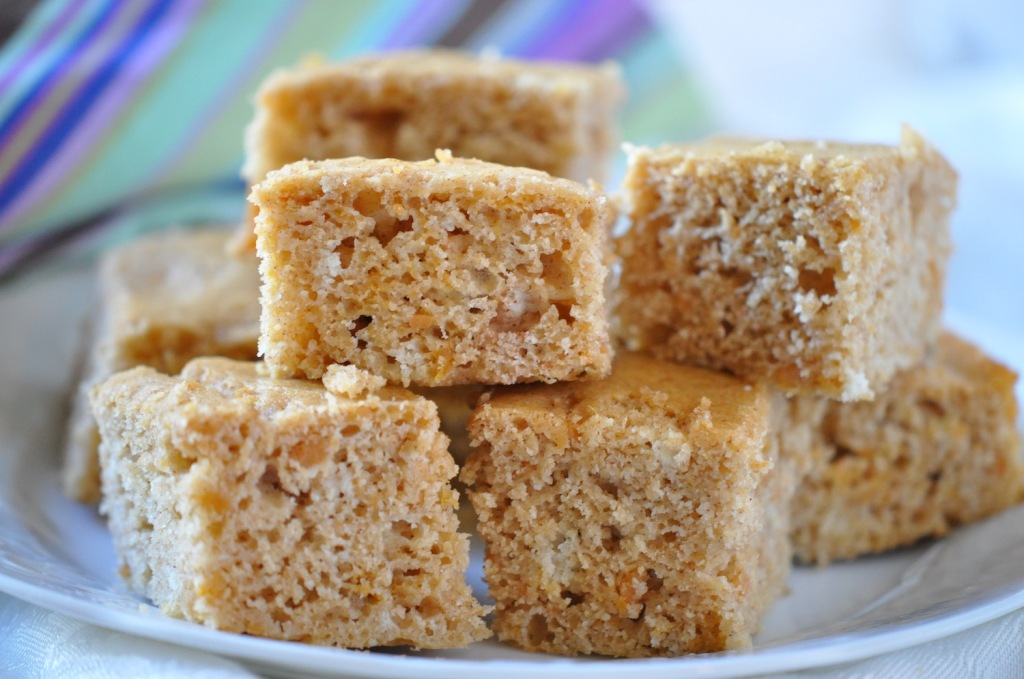 Sweet Potato Cornbread
Fresh or canned sweet potatoes may be used.
1 (6-oz.) package yellow cornbread mix
2 Tbsp. sugar
12 tsp. ground cinnamon
23 cup skim milk
1 egg, beaten
12 cup cooked mashed Louisiana yams (sweet potatoes)
Preheat oven to 400 degrees. Coat 8x8x2-inch pan coated with nonstick cooking spray. In bowl, combine cornbread mix, sugar and cinnamon. Stir in remaining ingredients, mixing until moistened; don't overmix. Transfer batter into prepared pan. Bake 20 minutes or until top is golden brown. Makes 12 squares.
Nutritional information per serving: Calories 84 | Calories from fat 19%
Fat 2g | Saturated fat 0g | Cholesterol 16mg | Sodium 244mg | Carbohydrates 15g | Dietary fiber 0g | Total sugars 5g Protein 2g | Dietary exchanges: 1 starch
Chocolate Fudgies
These melt-in-your-mouth cookies create a delicious surprise.
1 (18.25-oz.) box devil's food cake mix
1 (8-oz.) container fat-free frozen whipped topping, thawed
1 egg
14 cup confectioners' sugar
Preheat oven to 350 degrees. Coat baking sheet with nonstick cooking spray. In bowl, mix together cake mix, egg and whipped topping by hand. Batter will be sticky. Spread confectioners' sugar on plate. Form dough into teaspoon-size balls and roll in confectioners' sugar. Place on prepared pan. Bake 10-12 minutes. Makes about 48 cookies.
Nutritional information per serving: Calories 58 | Calories from fat 16% | Fat 1g | Saturated fat 0g Cholesterol 4mg | Sodium 98mg | Carbohydrate 11g | Dietary fiber 0g | Sugars 6g | Protein 1g | Dietary exchanges: 12 other carbohydrate
| | |
| --- | --- |
| | Holly Clegg is the author of the best-selling trim&TERRIFIC cookbooks, Eating Well Through Cancer and Too Hot in the Kitchen: Secrets to Sizzle at Any Age. For more information, visit hollyclegg.com or thehealthycookingblog.com. |