Kitchen therapy: The healing power of cooking and eating
---
A day without cooking is a day without sunshine. That's my mantra, and nurturing the people I love with home cooking is what I do best. Last year on the second Saturday of Jazz Fest, the sun went down and did not rise again for me until fall rolled around. A series of impossible-to-believe phone calls, the type every parent dreads, interrupted our walk from the Fair Grounds while Dave Matthews still sang in our happy heads. "There was an accident. She fell. From the roof…" Our brisk walk turned into triage and I was on the next flight out to New York.
"She's lucky to be alive" was my greeting from a trauma surgeon in the mazelike hallway of the Bellevue Hospital ICU. Seeing is believing, and I knew from the moment I kissed my daughter's cheek that she was going to be OK! Her girlfriends, the besties from college who witnessed the fall, this miracle, rescued me with soup and the moniker Momma Bear. Food became this obligation when your body is starving but you have no appetite. I longed for kitchen therapy, even the simple routine of brewing coffee. Instead it was life in a hospital with around-the-clock gratitude for my daughter's survival and the infinite support network that held us all up.
We were welcomed home in September with a feast prepared by our dear neighbors, the ones who thought on their feet, booking my flight from Jazz Fest fun to Manhattan madness. They tended our home and added our dog into their world while we were away and now fed us the first home cooking in months. Their voluntary intervention saved us.
Just as the Tigers kicked off their perfect season, I resumed spreading joy from my kitchen, preparing every nutrient-dense dish I could think of to help my daughter heal outside the hospital. Gumbo weather or not, a continuous pot of soup is simmering, made with good stock that cooks in the Crockpot while we sleep. We keep batches of granola baking, golden with local honey and rich with protein, fiber and good fats. By the handful, it's a perfect snack or a hearty breakfast with yogurt and fresh fruit. Our quarantine garden is a cucumber factory, so we keep cool with every cucumber dish you can imagine.
Over these months of trauma timeout, we are reminded that every day is a gift! We discover and celebrate all the silver linings. I have been able to test-drive my dream of operating a bed and breakfast, keeping the welcome mat out for the stream of visitors who have cleared their calendars to help us all heal. My kitchen hums around the clock, and we share the bounty with our Baton Rouge medical teams who treat us like family. They marvel at the healing that's happening.
And the beat goes on, grateful our soundtrack shifted from "I am Barely Breathing" to "Walking on Sunshine" and "Whistle on Occasion." We sing and dance in the kitchen, looking ahead to brighter days and raise our glasses to turning trauma into triumph.
---
Medical experts saved my daughter's life and getting back to cooking saved me! Every meal since we've been home is an opportunity to nourish my daughter's healing body. I try to infuse extra nutrition into everything I make. If I'm cooking rice, couscous, quinoa or grits, I use my homemade bone broth. Smoothies get a scoop of collagen and pineapple, which helps with inflammation. Salads have nuts and berries. We've also woven in plenty of decadence. Trips back to the hospital (three more major surgeries since November) call for ice cream, which we top with dark chocolate and raspberries—calcium and antioxidants!
---
Granola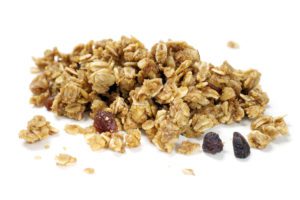 Ingredients
6 cups rolled oats
2 cups sliced almonds
2 cups pecans, halves or chopped
1 cup raw cashews, coarsely chopped
1 cup raw sunflower seeds
1 cup raw pumpkin seeds
1 cup unsweetened coconut, flakes or shredded
¾ cup expeller pressed canola or sunflower oil
1 cup honey, local preferred
2 tsp. vanilla extract
1 tsp. coarse salt
1 cup dried sour cherries, cranberries or raisins
There really is no substitute for homemade granola. This recipe is flexible regarding the nuts and seeds; add coconut if you like, and even dried fruit. Customize with what you have on hand and your taste preference. I like to toast mine extra dark and crunchy. Also makes a great gift packed in a Mason jar and tied with a ribbon.
Preheat oven to 325 degrees. Line a large rimmed baking sheet with parchment paper. Combine oats, nuts, seeds and coconut in a large bowl.
Heat oil and honey in a small saucepan and stir to liquefy honey. Stir in vanilla and pour over oat mixture. Sprinkle with salt and stir to combine. Spread mixture into an even layer on prepared baking sheet and bake for 30 to 45 minutes, stirring every 15 minutes. Let cool completely before stirring in dried fruit. Store in an airtight container for up to a month.
Makes about 16 cups.
---
Bone Broth
Ingredients
5 pounds chicken bones
Vegetable trimmings if desired—carrot, onion, celery are my go-tos, just a handful or so
4 to 5 quarts water
Bone broth has become a trendy product with a myriad of health claims. Cooking meaty bones overnight makes a delicious broth rich with collagen that enhances all sorts of dishes. I call it making stock while I sleep! We became friends with the surfer Bethany Hamilton when my daughter attended her Beautifully Flawed retreat. Bethany's recommendation for healing? Bone broth! I use chicken backs, necks, wing tips and feet from Iverstine's Butcher Shop.
Place bones in Crockpot (I put the feet in first so they aren't visible to anyone peering into the pot). Sprinkle in vegetable trimmings and cover with water. You may need to adjust amounts depending on size of Crockpot. Cover and cook on low for an overnight simmer, at least 12 hours and up to 24. Strain stock through a fine mesh strainer into a large heat-proof bowl or pot (I like to use my large Pyrex pitchers). Cool, then skim fat that rises to top (reserve if you like to have some schmaltz on hand). Pour stock into pint- or quart-size containers and refrigerate (up to 5 days) or freeze (up to 3 months).
Makes about 4 quarts.
---
White Bean and Kale Soup
Ingredients
1 Tbsp. olive oil
1 medium onion, chopped
3 cloves garlic, minced or crushed
1 qt. Bone Broth
5 oz. kale, chopped or torn into bite-size pieces (about 5 heaping cups)
1 (15-oz.) can cannellini beans, drained and rinsed (or about 1 ½ cups cooked white beans)
Salt and pepper to taste
A house favorite in all seasons. I like to garnish with pesto in the summer or simply top with shreds of parmesan, a spritz of lemon juice and a pinch of red pepper flakes.
Heat olive oil in a large saucepan over medium heat. Add onion and sauté for 5 minutes to soften. Add garlic and sauté for 1 minute. Stir in Bone Broth, kale and beans. Taste and season with salt and pepper. Bring to a gentle boil, then reduce heat and simmer, partially covered, until kale is tender. Ladle into bowls and serve with your choice of garnish.
Makes 4 servings.
---
Cucumber Yogurt Dip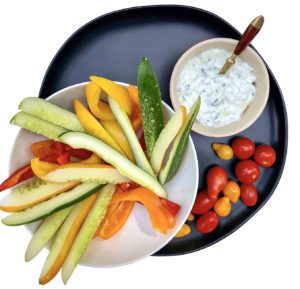 Ingredients
1 medium cucumber, peeled, halved, seeded and grated on the large holes of a box grater
1 cup plain Greek yogurt
1 Tbsp. minced fresh herbs
(mint and basil are favorites;
dill is nice, too)
1 green onion, finely minced
Zest of half a lemon
¼ tsp. coarse salt
Greek yogurt packs a lot of protein, calcium and all those "live and active cultures" great for healing. We love it as a dip for fresh veggies or pita or as a topping for grilled chicken.
Combine grated cucumber with yogurt, herbs, green onion, lemon zest and salt. Stir well to combine. Chill until ready to serve. Keeps up to 5 days in refrigerator.
Makes about 2 cups.