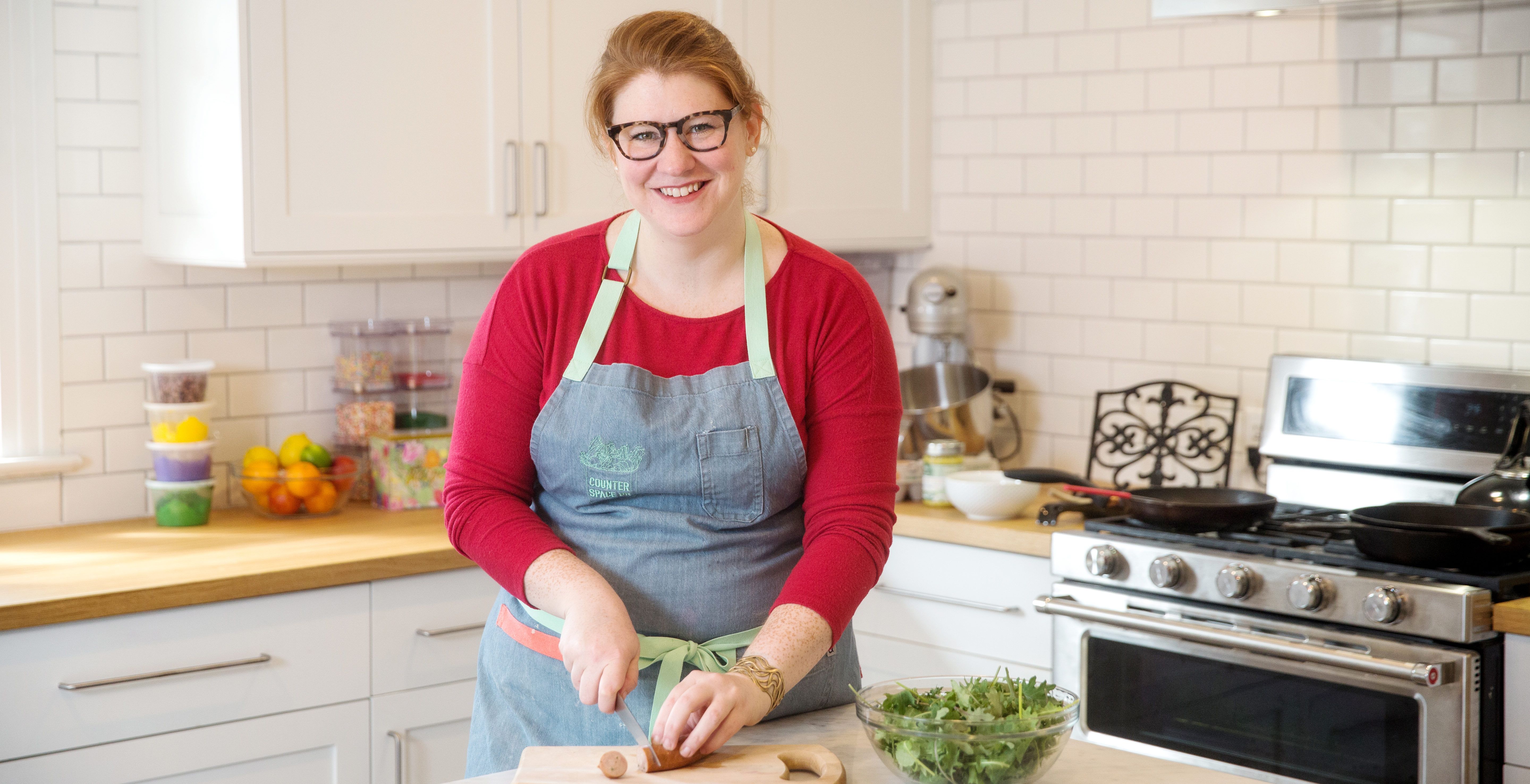 Kitchen confidence: Sarah Joy Hays aims to inspire through authenticity
---
To know Sarah Joy Hays is to be entertained. Her larger-than-life personality and over-the-top stories about the ironies of life regularly draw crowds wherever she goes. Oftentimes, people gather in her kitchen, where Hays enjoys developing delectable sweets, enhancing favorite recipes with just the right blends of new spices, and raiding the fridge full of random provisions to construct a meal that actually tastes good (truly a feat!).
In early 2017, Hays was inspired to combine her love of all things in the kitchen and her love of storytelling to create CounterspaceBR, a business centered around an Instagram account and blog. On the social media side, Hays showcases her inventive meal creations, artistic handcrafted pastries, meal prep ideas and kitchen hacks. In person, she hosts coffee, cocktail, dessert and brunch classes focused on home meal prep and entertaining, and she often comes close to selling out of her pastries at Mid City Makers Markets.
In a world where social media highlights perfection, CounterspaceBR has quickly gained followers who appreciate its charming, unrefined authenticity.
"I think that we all enjoy social media because we love to see what we could aspire to be, even if it seems fake—but I think people want a mix of real and perfect," says Hays. "I think people like to say, 'Oh, she might not be successful with this Instant Pot recipe—let's watch and see what happens.'"
[caption id="attachment_47631" align="alignleft" width="400"]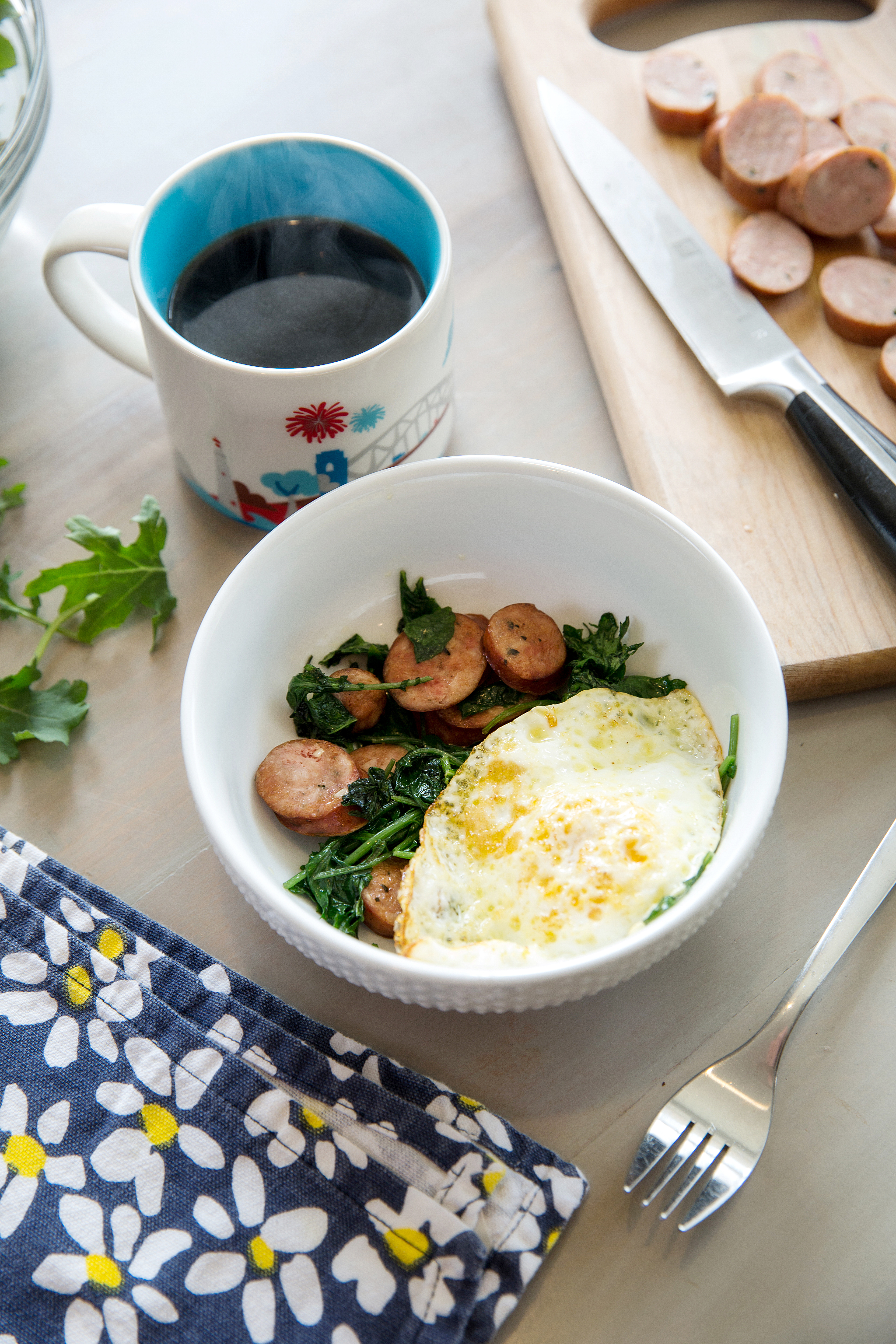 A hash made with baby kale, garlic chicken sausage and a fried egg is an example of Hays' penchant for pulling together ingredients on hand for a hearty dish.[/caption]
Hays recently delivered that realness to her audience with a quick snap of a nearly empty bowl captioned, "Doing @whole30 during king cake season is just cruel. That's the leftover cream cheese filling that I ate NONE OF."
While the wit is intentional, CounterspaceBR itself was something of an accident. During several years working in Washington, D.C., Hays baked king cakes each Lundi Gras, but she recalls they were always a little too dense. After her son Henry was born, she suddenly found an opportunity to perfect her dessert-making skills.
"I was home every night and Henry would go to bed at seven, and so I watched Gilmore Girls, drank wine, and baked," the single mom says with a laugh, detailing the cheddar biscuits and the orange cranberry bars she perfected before sharing with neighbors, friends and almost everyone she knew. "I was home alone—what else was I gonna do?" she says with a laugh.
When the Grand Coteau native and 2005 LSU alum moved back to Baton Rouge in 2015, she sensed a hole in the Baton Rouge market and asked a bartender friend to help host a cocktail crafting class.
"Around the same time, I attended a pie making class that [blogger] Joy the Baker hosted in New Orleans and I left really jazzed about life," Hays says. "I realized Baton Rouge needed classes on how to cook and entertain at home. People here eat out for every occasion, and I wanted to enable people to do more at home. You really can make a good cocktail, dessert and coffee at home."
At the time, Hays' kitchen was outdated, and she wasn't sure she'd have the time for more classes even if she freshened up the space. After all, she is a single mom who travels cross-country frequently for her job as chief of staff for a D.C.-based foundation, and she also spends a significant amount of time volunteering for her church and other local organizations (including a nonprofit she started on her own—the Foot Above Foundation—which benefits August 2016 flood victims). How would she maintain all that and start a business?
"Eh, what's one more thing?" Hays recalls thinking with a laugh.
As luck would have it, the sign Hays needed to solidify her resolve to start her business came when she won a full kitchen suite thanks to an Instagram contest hosted by Joy the Baker. Shortly after, CounterspaceBR was born.
Over the past year, Hays has renovated her entire kitchen with the goal of hosting more cooking classes similar to the ones she's led so far: coffee brewing, meal planning and prep, macaron making, and even a private birthday party brunch that featured coffee candied bacon, artichoke and spinach omelet rolls, Champagne cocktails, and homemade English muffins.
Hays' Mid City Makers Market inventory has grown to include strawberry Champagne donuts, sprinkle cookies, pistachio brown-butter donuts, tahini buttercream Oreos and more. She offers homemade pastries for special order, and the demand has surprised her.
"Around the holidays I expected five cinnamon roll orders, but I ended up with 30!" she says.
What does the future hold for CounterspaceBR? Hays has been approached by a local coffee shop about selling her baked goods, which is a very small step in the direction of making CounterspaceBR her full-time job. Hays jokes frequently about her dream of collaborating with Target, but in the meantime she's serious about raising the profile of the home kitchen. "At the end of the day, I want to help people see that the home is the heart of hospitality," she says, "and really try to bring people back to that."
---
Sarah Joy's Chocolate-Chip and Brown-Butter Banana Bread
1½ cups butter
6 to 8 bananas
2 cups sugar
2 eggs
2 tsp. vanilla extract
2 tsp. baking soda Pinch of salt 3 cups all-purpose flour 1 to 2 cups chocolate chips
1. Preheat oven to 350 degrees and grease two 9×4-inch loaf pans.
2. Put butter in a saucepan on the stove to melt down and brown.This removes water from the butter so there is crackling and popping, and it takes a minute to get it browning then BAM, watch out or it'll burn before you know it (kind of like a roux). Then pour browned butter into a separate bowl to cool off while you mash up the peeled bananas.
3. Mix sugar with bananas, then add brown butter. Stir thoroughly (but don't overstir). Add eggs and vanilla and fully incorporate.
4. Mix in baking soda and salt.
5. Fold in all the flour until it's fully incorporated and there are no pockets of flour hanging out.
6. Mix in chocolate chips! Yum.
7. Bake for about 1 hour. Every oven is a little different. I have an electric oven and this recipe takes about 5 minutes less. Basically at the 55-minute mark I use my cake testing stick to see if the stick can go in and come out dry. If it's still not done, bake it in 5-minute increments until it is ready.
I typically cool the banana bread in the pans for a good long while … maybe 30 minutes or so? Then flip them onto a baking rack to cool the rest of the way. I'm not gonna lie, the smell alone makes waiting hard. Be warned. I store it wrapped in aluminum foil and have never had to wonder how long it will last because we can finish a loaf within about 2 to 3 days.