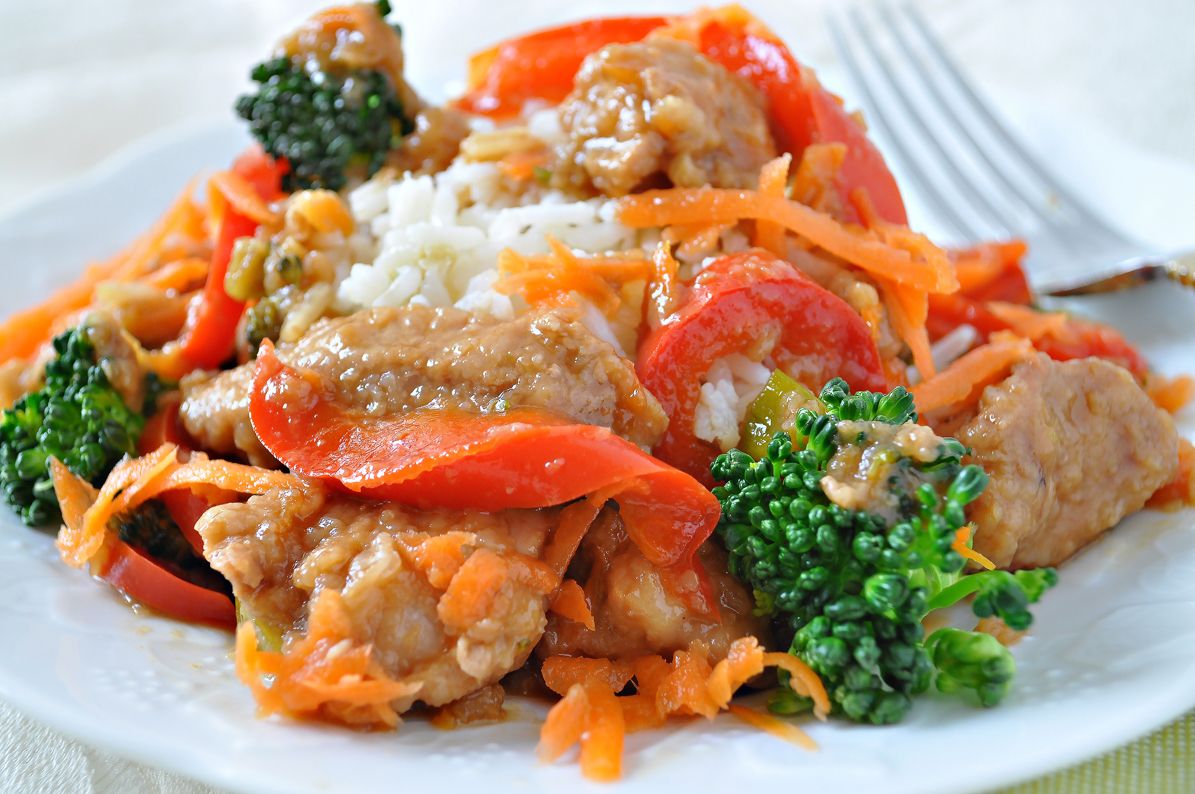 Holly's scoop: Sizzling stir-fry
From the moment the term "stir-fry" was introduced to Americans in the 1945 book How to Cook and Eat in Chinese, the quick cooking technique became a favorite among home cooks and restaurant-goers alike. With its ability to seal in flavors using high temperatures, stir-frying took the place of TV dinners in the 1970s, when busy working parents could whip out their woks and toss together a healthy meal in less than 15 minutes.
Chinese stir-fry is still a regular favorite dinner at our house. I consider stir-fry to be one of the best ways to load up on tons of whole grains, lean meats and veggies. And there's no need for a wok, actually—a large nonstick skillet will do just fine.
Pork and Broccoli Stir-Fry is packed with fresh ingredients including broccoli, bell pepper and carrots tossed with lean pork tenderloin, so you get all the flavor without added fat and calories. The dish is nicely spiced with ginger, a peppery-tasting root found in the produce section. I prefer fresh ginger in this recipe; however, ground ginger may be substituted.
Try serving the pork and veggies over whole-grain brown rice or, for a twist, with my delicious Stir-Fry Rice. In this simple side, savory flavors of garlic and soy sauce combine with onion, mushrooms, ginger and egg whites. This is hearty enough to serve as a satisfying vegetarian meal. Be creative and add whatever vegetables you have on hand or even leftover seafood, chicken or meat. Look for toasted sesame seeds in the spice section to add just the right crunch, texture and nutrition. Did you know sesame seeds are full of bone-building calcium? Whole sesame seeds contain about 88 milligrams of calcium per tablespoon.
Finish the stir-fry trifecta with Cauliflower Crisp Stir-Fry, a gluten free, diabetic friendly and vegetarian dish that tastes nowhere near boring or bland. Try this recipe once and cauliflower will become a favorite veggie, I promise! Lightly seasoned and tossed with Parmesan cheese, the fiber-rich morsels almost melt in your mouth.
Although authentic stir-fry can be complicated with a long list of fancy ingredients, reach for my easy flavorful recipes that are healthier, tastier and quicker than ever.
---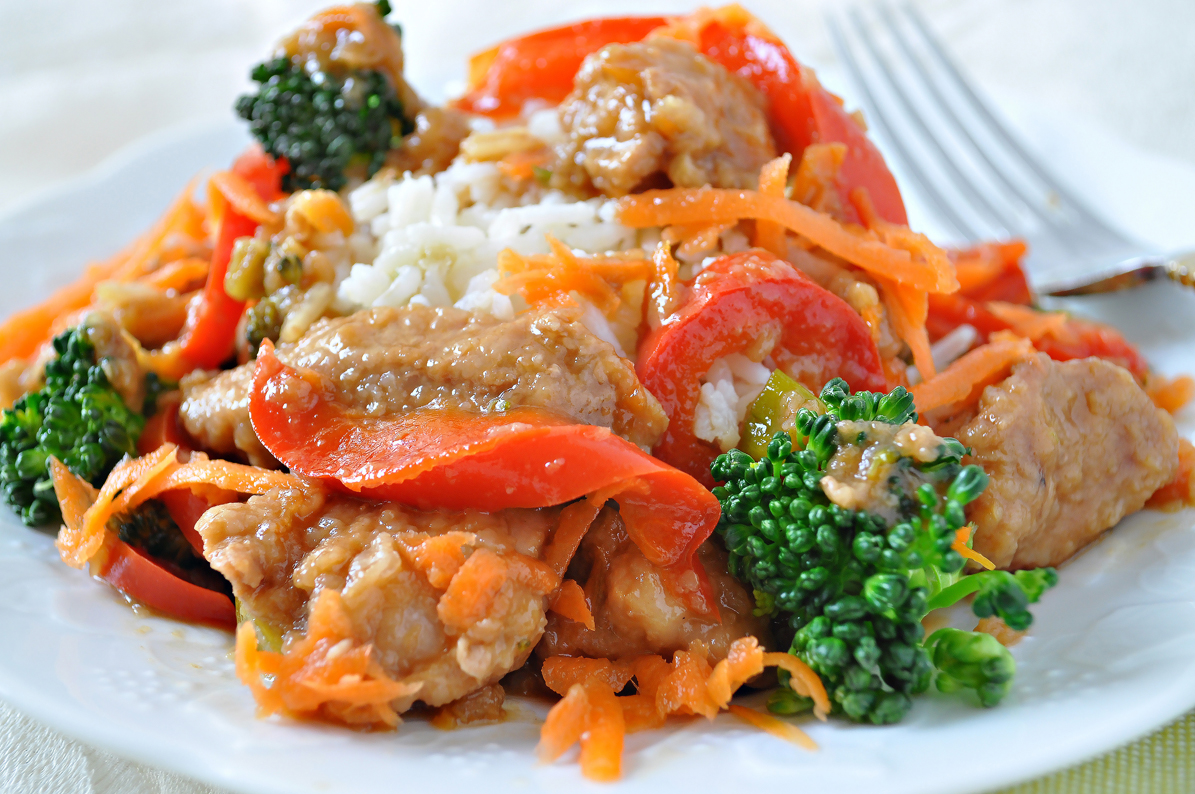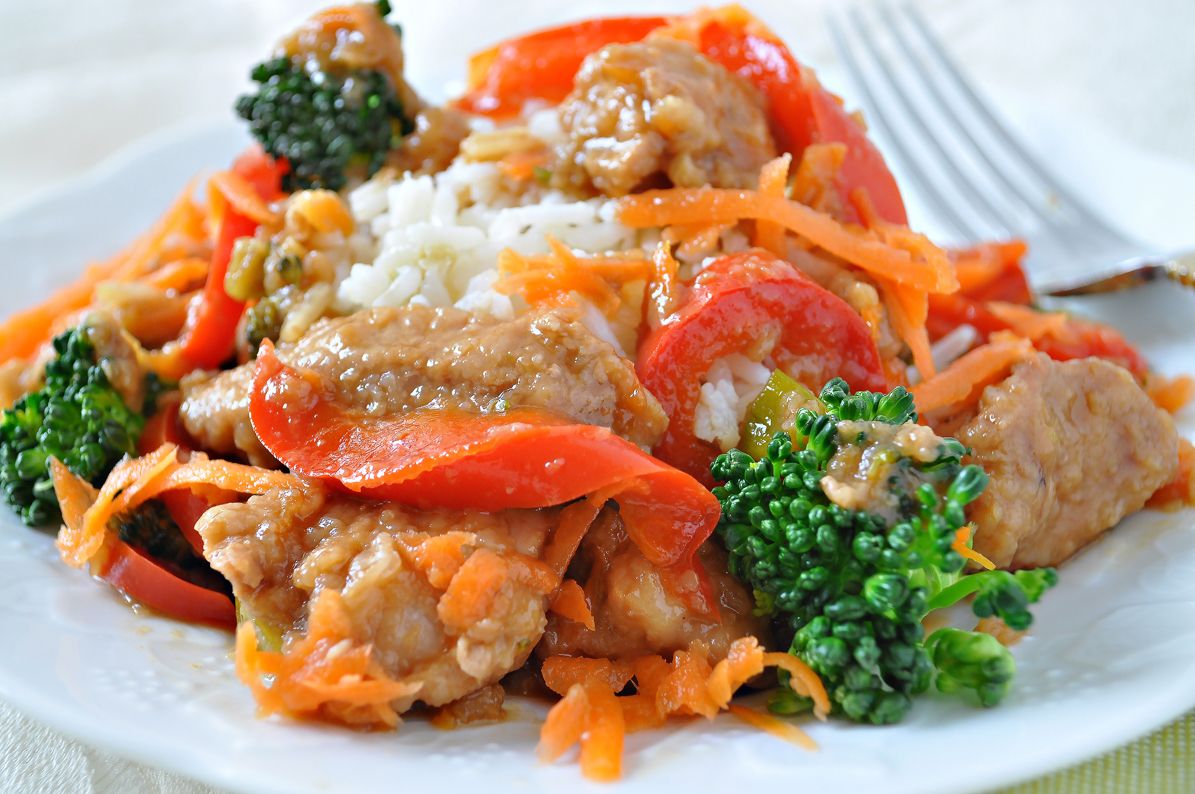 PORK AND BROCCOLI STIR FRY
This fantastic family pleaser was born when I needed dinner pronto and found a pork tenderloin in my fridge.
1 1⁄2 lbs. boneless pork tenderloin, cut into strips
1⁄4 cup cornstarch
1 Tbsp. sesame oil
1 red bell pepper, cored and cut into strips
2 cups broccoli florets
1 tsp. minced garlic
1 cup fat-free chicken broth
1 tsp. grated fresh ginger
1⁄4 cup hoisin sauce
1 Tbsp. seasoned rice vinegar
2 Tbsp. low-sodium soy sauce
1⁄2 cup grated carrots
1 bunch green onions, chopped
Toasted sesame seeds (optional)
In a resealable plastic bag, combine pork strips with cornstarch, coating well. In a large nonstick skillet coated with nonstick cooking spray, heat sesame oil over medium-high heat, and stir-fry pork strips for 5-7 minutes. Add bell pepper, broccoli, garlic, broth and ginger, scraping bits from bottom of pan.
In a small bowl, mix together hoisin sauce, rice vinegar, and soy sauce; add to pork mixture in skillet. Add carrots and continue cooking until pork is tender. Add green onions. Sprinkle with sesame seeds if desired. Makes 4 (1 cup) servings.
Nutritional information per serving
Calories 330 | Calories from fat 21% | Fat 7g | Saturated fat 2g | Cholesterol 111mg | Sodium 680mg | Carbohydrates 24g
 

Dietary fiber 5g | Sugars 9g | Protein 39g | Dietary exchanges: 1 starch, 2 vegetable, 4 lean meat
---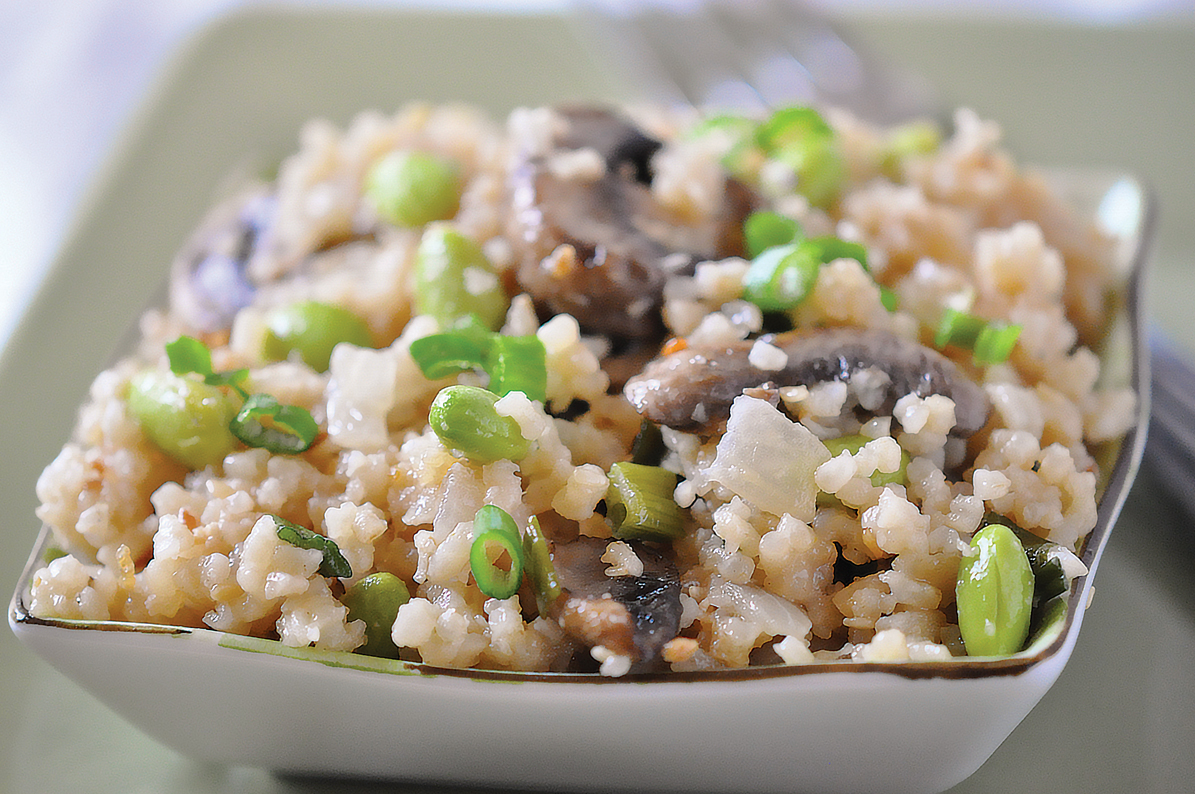 STIR-FRY RICE
Freeze leftover rice to prepare this fast-cooking side or vegetarian entrée.
2 Tbsp. canola oil
1⁄2 cup chopped onion
1⁄2 lb. sliced mushrooms
1 tsp. minced garlic
2 egg whites, beaten
3 cups cooked rice (white or brown)
2 Tbsp. low-sodium soy sauce
3 Tbsp. seasoned rice vinegar
1⁄3 cup fat-free vegetable or chicken broth
2 tsp. finely chopped fresh ginger or 1 tsp. ground ginger
1⁄2 cup shelled edamame (if frozen, thaw)
1⁄2 cup chopped green onions
1 Tbsp. sesame seeds, toasted (optional)
In a large nonstick skillet, heat canola oil and sauté onion, mushrooms and garlic for 5-7 minutes. Add egg whites and rice, stirring and cooking until egg whites are done. Add soy sauce, rice vinegar, broth and ginger, cooking and stirring until heated, about 3 minutes. Add edamame and green onions, stirring until well heated. Sprinkle with sesame seeds if desired. Makes 6 (1-cup) servings.
Nutritional information per serving:
Calories 196 | Calories from fat 26% | Fat 6g | Saturated fat 0g | Cholesterol 0mg | Sodium 303mg | Carbohydrates 30g | Dietary fiber 2g | Sugars 5g | Protein 7g | Dietary exchanges: 2 starch, 1 fat
---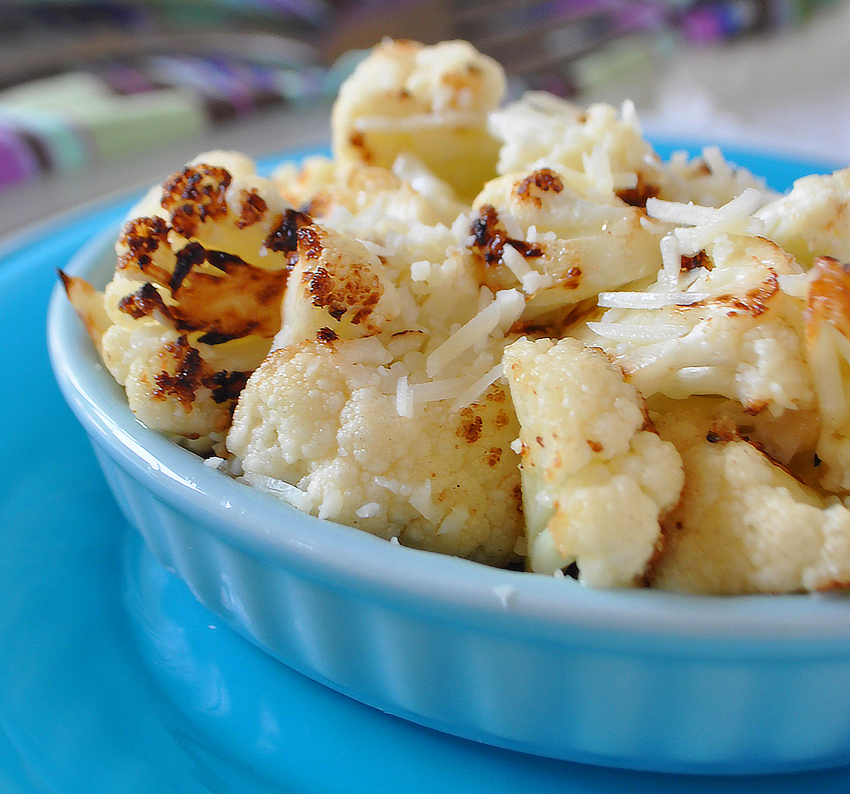 CAULIFLOWER CRISP STIR-FRY
Cauliflower takes on a toasty, rich flavor with few ingredients in this simple stir-fry.
2 Tbsp. olive oil
4 cups cauliflower florets, cut into tiny tree-shaped pieces
Salt and pepper to taste
2 Tbsp. grated Parmesan cheese
In a large nonstick skillet, heat olive oil and add cauliflower. Cook, stirring, for 6-8 minutes or until tender and crispy brown on edges. Season to taste. Sprinkle with Parmesan cheese before serving. Makes 4 (3⁄4-cup) servings.
Nutrition information per serving:
Calories 95 | Calories from fat 67% | Fat 8g | Saturated fat 1g | Cholesterol 2mg | Sodium 68mg | Carbohydrates 5g
 

Dietary fiber 2g | Sugars 2g | Protein 3g

 

Dietary exchanges: 1 vegetable, 1

1

⁄2 fat
---
Holly Clegg has sold over 1 million cookbooks in her trim&TERRIFIC and Eating Well series. Sign up for her Monthly Menu newsletter at hollyclegg.com, check out her blog at thehealthycookingblog.com, or watch Holly on YouTube at youtube.com/user/hollycleggonline.