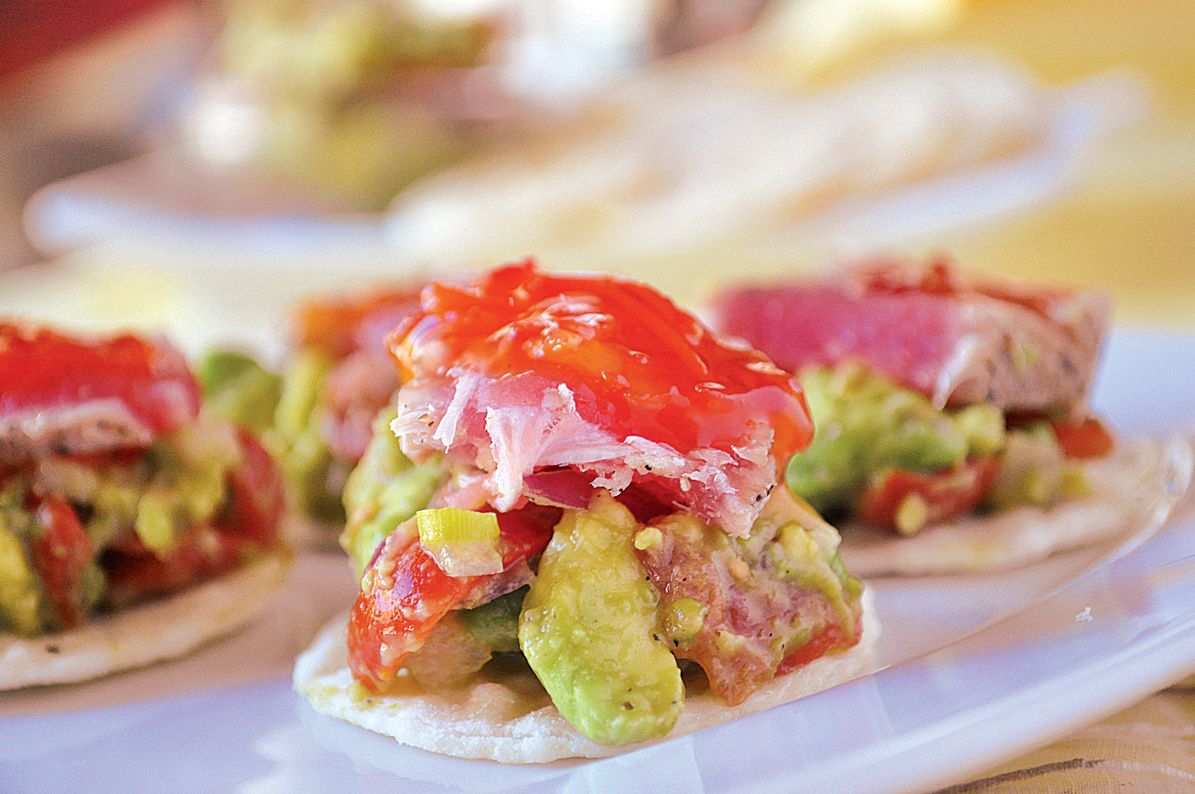 Holly's scoop: Recipes to impress
I am so honored to be recognized as the recipient of the Baton Rouge Epicurean Society's 10th-anniversary Grace "Mama" Marino Lifetime Achievement Award. The organization's website notes that this award "recognizes a person from the Baton Rouge area who has dedicated their life to service in the Baton Rouge community and is named in honor of its first recipient." What amazing company to be in!
The Award Dinner is Thursday, August 25, and will feature seven courses—and I don't even have to cook! The dinner will be prepared by outstanding local chefs including William Wells of Culinary Productions, Jared Tees of 18 Steak at L'Auberge, Scott Varnadoe of Restaurant IPO, Joseph Dicapo of Houmas House, Kelley McCann, and Gabby Loubiere of Brew Ha-Ha. Dinner will be paired with a selection of fine wines sure to complement each course.
I know that with these talented chefs, this dinner is sure to dazzle. However, if you want to impress your own guests, I want to share with you a few of my absolute standout recipes that get rave reviews every time I entertain. My go-to summer appetizer has been my Seared Tuna with Avocado Salsa on Rice Crackers. I have gotten so many requests for this recipe; it is somewhat last minute as you have to dish it up and put it together just before serving, but it is so easy. Avocado has got to be my favorite ingredient on the planet, and with summer tomatoes on sesame crackers combined with sweet chili sauce … Wow! Talk about a wonderful combination of flavors.
If you have been to my house for a sit-down dinner, then you have probably had my Pepper Dijon Beef Tenderloin. I don't grill, but I don't need to with this recipe—it comes out perfect every time. I hope you have leftovers as you will want to keep eating this impressive dish. Be sure to plan ahead and include time for the tenderloin to marinate.
Now my trim and terrific meal would not be complete without dessert, and my husband requests this Banana Éclair recipe for every dinner party. I have been making this showpiece-quality dessert for years. Though it is a little time-consuming, it's definitely worth the effort. Make the shell ahead, and fill on the day of serving. Slice the éclair in half lengthwise, and then cut in slices down the middle to serve to a crowd.
If you are thinking about entertaining, these dishes are sure to impress—and they're all trim and terrific!
For more information on the Award Dinner and to purchase tickets, see feterougebr.com.
Seared Tuna with Avocado Salsa on Rice Crackers

For easy prep, make the avocado salsa and sear the tuna ahead of time, then assemble when ready to serve.
1 (12-oz.) tuna fillet, 1⁄2 in. thick
Salt and pepper to taste
1 Tbsp. olive oil
1 1⁄2 cups finely chopped avocados
1 cup finely chopped tomatoes
1⁄2 cup finely chopped red onion
3 Tbsp. lime juice
48 rice crackers
1⁄2 cup sweetened chili sauce
Season tuna heavily with salt and pepper. In a nonstick skillet over medium-high heat, heat oil and sear tuna quickly on each side (sushi-rare in middle). Cool. Slice against grain into 48 squares. In a bowl, combine next 4 ingredients. Season to taste. To assemble, place a small amount of avocado salsa on each cracker, top with a tuna slice, and drizzle with chili sauce. Makes 12 (4-cracker) servings.
Terrific tip: Sweetened chili sauce is usually found jarred in the Asian section of the grocery store.
Nutritional information per serving:
Calories 135 | Calories from fat 31% | Fat 5g | Saturated fat 1g | Cholesterol 11mg | Sodium 182mg | Carbohydrates 15g | Dietary fiber 2g | Sugars 6g | Protein 8g | Dietary exchanges: 1⁄2 starch, 1 vegetable, 1 lean meat
---
Pepper Dijon Beef Tenderloin

This is the best-tasting meat you'll ever put into your mouth. Marinate ahead and pop into the oven when ready to cook.
1 (5- to 6-lb.) whole beef tenderloin, trimmed of excess fat
Salt and pepper to taste
1⁄2 cup fat-free Italian dressing
1⁄2 cup Worcestershire sauce
1⁄2 cup Dijon mustard
Coarsely cracked black pepper
Lay tenderloin in a glass dish, and season to taste. Coat and pat with Italian dressing and Worcestershire sauce. Cover with plastic wrap and refrigerate for 48 hours, time permitting. Let meat come to room temperature before cooking (at least 1 hour). Preheat oven to 500 degrees. Pour off marinade, then cover meat with mustard and season heavily with cracked pepper. Transfer to baking dish. Cook in oven for 12 minutes, then reduce temperature to 275 degrees and cook for another 25 to 30 minutes depending on doneness. Makes 20-24 servings.
Nutritional information per serving:
Calories 180 | Calories from fat 43% | Fat 8g | Saturated fat 3g | Cholesterol 71 mg | Sodium 350 mg | Carbohydrates 0g | Dietary fiber 0g | Protein 24g  Dietary exchanges: 3 lean meat
---
Banana Éclair
When I want an indulgent dessert with a spectacular presentation, this is my first choice.
1 cup water
1⁄2 cup butter
1 cup all-purpose flour
2 Tbsp. sugar
2 eggs
3 egg whites
Banana Cream Filling (recipe follows)
Chocolate Glaze (recipe follows)
Preheat oven to 400 degrees. In a large saucepan over medium heat, bring water and butter to a boil, and cook until butter is melted. In a small bowl, combine flour with sugar, and add to butter mixture all at once, stirring vigorously with a spoon until dough forms a ball and leaves sides of pan. Remove pan from heat. Beat in eggs and egg whites with spoon, 1 at a time; continue beating until dough is stiff and glossy.
On a 15 x 10 x 1-inch jelly roll pan coated with nonstick spray, form about 2⁄3 of dough into 1 long oblong shape 7 inches wide. Reserve a little extra dough to spoon into mounds along top of oblong. Bake for 20 to 25 minutes or until golden brown. Remove from oven, and with a sharp knife make slits along sides 2 inches apart to let steam escape. Return to oven for 10 minutes longer. Remove to cooling rack.
Carefully slice off top of éclair. It may come off in pieces. Scoop out any soft dough inside. Cool thoroughly. Place bottom éclair shell on serving platter. Fill with half of Banana Cream Filling. Slice remaining bananas over topping. Cover with remaining filling. Cover with baked shell top (or pieces to form top if not in a whole piece), then drizzle with Chocolate Glaze. Refrigerate until serving time. Makes 16-18 servings.
Terrific Tip: The banana liqueur may be omitted—just add 1 teaspoon vanilla to mixture.
Banana Cream Filling
2 envelopes whipped topping mix
1 cup cold skim milk
6 to 8 bananas, divided
1⁄4 cup banana liqueur
In a large mixing bowl, combine whipped topping with milk, beating until very thick and forms a peak. Mash enough bananas to make 2 cups (reserving remaining bananas), and mix mashed bananas with liqueur. Fold mixture into topping.
Chocolate Glaze
1 Tbsp. butter, melted
2 Tbsp. cocoa
1 tsp. vanilla extract
2⁄3 cup confectioners' sugar
3 Tbsp. boiling water
In a small bowl, combine first 4 ingredients. Stir in boiling water to make a thin glaze. Refrigerate.
Nutritional information per serving:
Calories 187 | Protein 3g | Carbohydrates 26g | Fat 8g | Calories from fat 36% | Saturated fat 2g | Dietary fiber 1g  Cholesterol 24mg | Sodium 96mg | Dietary exchanges: 1 1⁄2 other carbohydrate, 1 1⁄2 fat
---
Holly Clegg has sold over 1 million cookbooks in her trim&TERRIFIC and Eating Well series. Sign up for her Monthly Menu newsletter at hollyclegg.com, check out her blog at thehealthycookingblog.com, or watch Holly on YouTube at youtube.com/user/hollycleggonline.