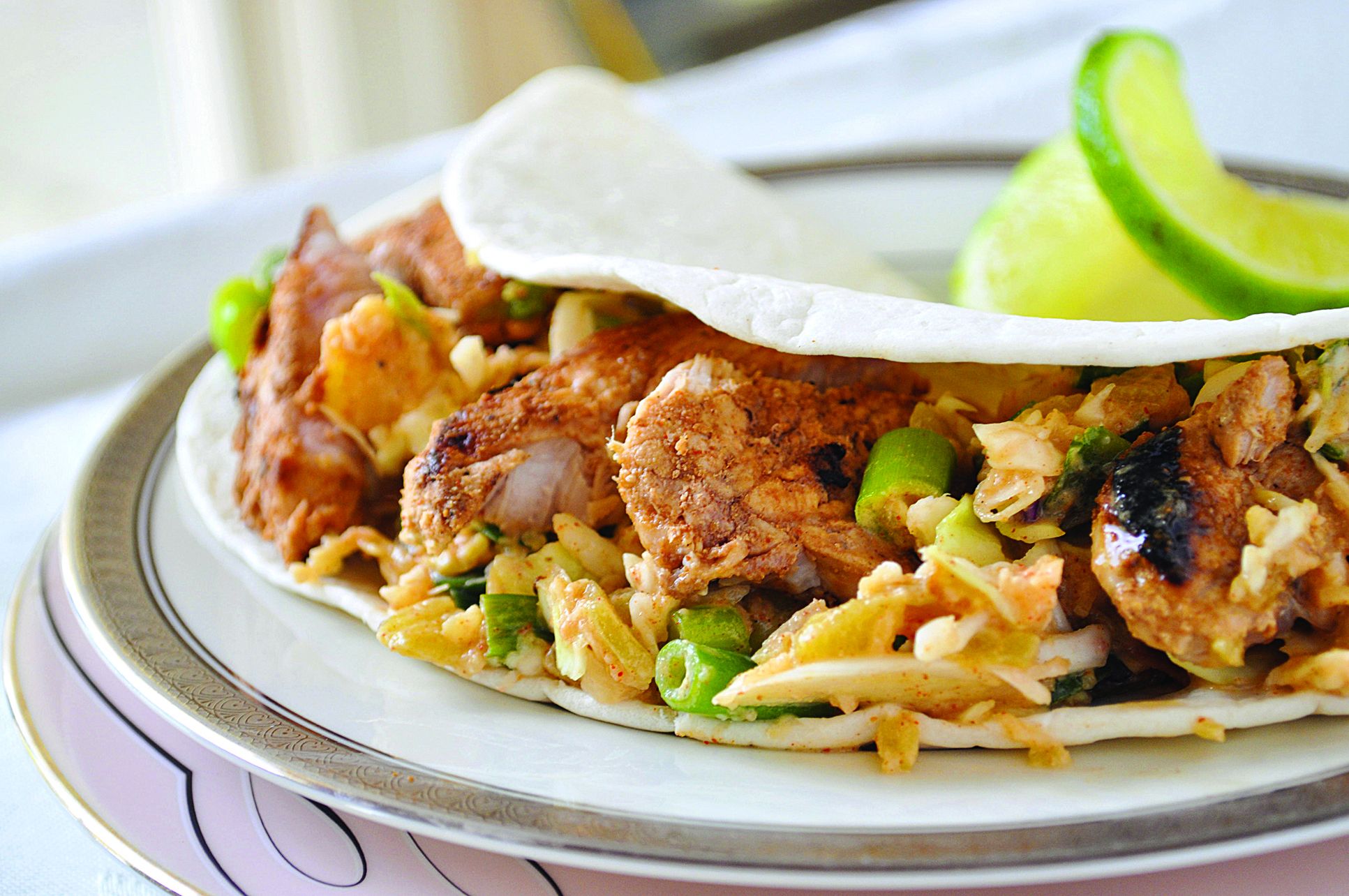 Holly's scoop: Meal planning made easy
Do you find yourself often wondering what's for dinner? It's no wonder—dinnertime is dwindling. With carpool, ball practice and dance classes, not to mention homework, honey-do lists and laundry, dinner is often viewed as simply another chore that gets put off until later … or never cooked at all! I want to make meal planning a little easier for you with a few menu ideas, shopping lists and quick meal prep. Trust me, it really can be easy to feed your family a healthy homemade meal.
The biggest rule: Don't overthink it. Many people quit before they even start, thinking cooking has to be complicated. With this weekly menu, save time and money. The key is being sure to make enough to turn into leftovers. My Glazed Pork Tenderloin can be transformed into Pork Tacos with Pineapple Slaw the next day, or get creative and whip up your own pork quesadillas. The combination of sweet figs, fiery chili powder, soy sauce and tart vinegar makes an intoxicating marinade. For a fresh new meal the next day, chop the extra pork, whip up pineapple slaw, and serve the leftovers on tortillas. A terrific tip to heat tortillas in the microwave is to cover them with a damp paper towel for 30 seconds or until heated.
Oven-baked Risotto is a delicious side dish or vegetarian main meal that is hard to beat, especially when it's my extra-easy version. For a heartier meal, I like to add rotisserie chicken, one of my favorite save-a-step ingredients. Fresh mozzarella, tomatoes, fresh basil and even leftover pork tenderloin are excellent risotto additions to build on the basic recipe.
Not only are these dishes great additions to your weekly meal rotation, but they are also diabetic friendly. There are no excuses now that I have made this meal plan just for you, so take this convenient shopping list to your grocery store, then start cooking!

Holly Clegg has sold over 1 million cookbooks in her trim&TERRIFIC and Eating Well series. Sign up for her Monthly Menu newsletter at hollyclegg.com, check out her blog at thehealthycookingblog.com, or watch Holly on YouTube at youtube.com/user/hollycleggonline. 
---
Holly's shopping list:
2 (1-lb.) pork tenderloins
2 lbs. pork chops (optional)
Rotisserie chicken
Chili powder
Ground cumin
Fig preserves
Seasoned rice vinegar
Low-sodium soy sauce
1 (8-oz.) can crushed pineapple
1 (4-oz.) can chopped green chilies
2 1/2 cups fat-free chicken broth
Arborio rice
Flour tortillas
Lime juice
Minced garlic
Nonfat Greek plain yogurt
Butter
4 cups bagged coleslaw mix
(shredded cabbage)
1 bunch green onion
1 onion
---
Glazed Pork Tenderloin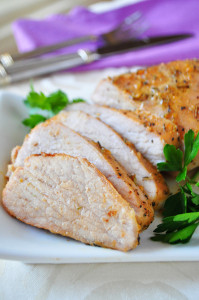 1⁄3 cup fig preserves
1 Tbsp. chili powder
1 tsp. minced garlic
2 Tbsp. seasoned rice vinegar
1 Tbsp. low-sodium soy sauce
2 (1-lb.) pork tenderloins, trimmed
Salt and pepper to taste
In a plastic resealable bag, combine fig preserves, chili powder, garlic, vinegar and soy sauce. Season tenderloins to taste and place in bag. Refrigerate for 1 hour or longer, time permitting. Preheat oven to 350 degrees. Place tenderloins on baking sheet covered with foil. Cover tenderloins with some of the marinade, and toss out remaining marinade. Cook tenderloins, basting after 20 minutes with marinade in pan, and continue cooking for another 20 minutes or until thickest part of tenderloin registers 160 degrees. Makes 6 (4-ounce) servings.
Nutritional info per serving:
Calories 241 | Calories from fat 27% | Fat 7g  Saturated fat 2g  | Cholesterol 100mg | Sodium 143mg | Carbohydrates 10g | Dietary fiber 1g Sugars 7g | Protein 33g | Dietary exchanges: 1⁄2 other carbohydrate, 4 lean meat
---
Pork Tacos with Pineapple Slaw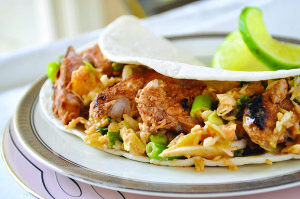 1 (8-ounce) can crushed pineapple, drained, saving juice
1⁄2  cup nonfat Greek plain yogurt
2 tsp. chili powder
1 tsp. cumin
2 Tbsp. lime juice
Salt and pepper to taste
Leftover pork tenderloin from Glazed Pork Tenderloin (or use 2 lbs. pork chops)
4 cups coleslaw mix
1 bunch green onions, chopped
1 (4-oz.) can chopped green chilies, drained
10 flour tortillas, warmed
In a small bowl, combine pineapple juice (set crushed pineapple aside), yogurt, chili powder, cumin and lime juice. Season with salt and pepper to taste. If using fresh pork chops, remove 2⁄3 cup yogurt mixture and place in a plastic bag or dish to marinate pork chops. Refrigerate for 10 to 30 minutes. In a large nonstick skillet coated with nonstick cooking spray, cook pork chops (discard marinade) over medium-high heat, browning on each side or until done. Slice into strips. (If using leftover pork tenderloin, reheat tenderloin, then chop and set aside.) Combine reserved crushed pineapple, coleslaw mix, green onions, chilies and reserved yogurt mixture. Fill tortillas with pork and top with slaw. Makes 10 (1-taco) servings.
Nutritional info per serving:
Calories 243 | Calories from fat 28% | Fat 7g | Saturated fat 2g | Cholesterol 53mg | Sodium 385mg | Carbohydrates 22g | Dietary fiber 3g | Sugars 5g  Protein 21g | Dietary exchanges: 1 starch, 1⁄2 fruit, 2 1⁄2 lean meat
---
Oven-baked Risotto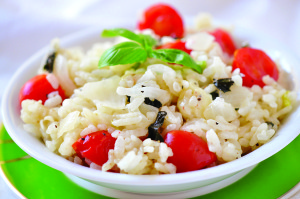 2 Tbsp. butter, melted
2 1⁄2  cups fat-free chicken broth
1 cup Arborio rice
1 cup chopped onion
Salt and pepper to taste
Preheat oven to 400 degrees. In a 9 x 13-inch baking dish, mix together butter, broth, Arborio rice and onion. Season with salt and pepper to taste. Bake, covered, for 35 minutes. Remove from oven and fluff rice with fork. Makes 5 (1-cup) entrée servings or 10
(1⁄2-cup) side servings.
Nutritional info per serving:
As entrée serving: Calories 186 Calories from fat 24% | Fat 5g Saturated fat 3g | Cholesterol 12mg | Sodium 506mg | Carbohydrates 32g | Dietary fiber 1g | Sugars 2g | Protein 3g
Dietary exchanges: 2 starch, 1⁄2 fat
As side serving: Calories 93 Calories from fat 24% | Fat 2g Saturated fat 1g | Cholesterol 6mg Sodium 253mg | Carbohydrates 16g | Dietary fiber 1g | Sugars 1g Protein 2g | Dietary exchanges:
1 starch