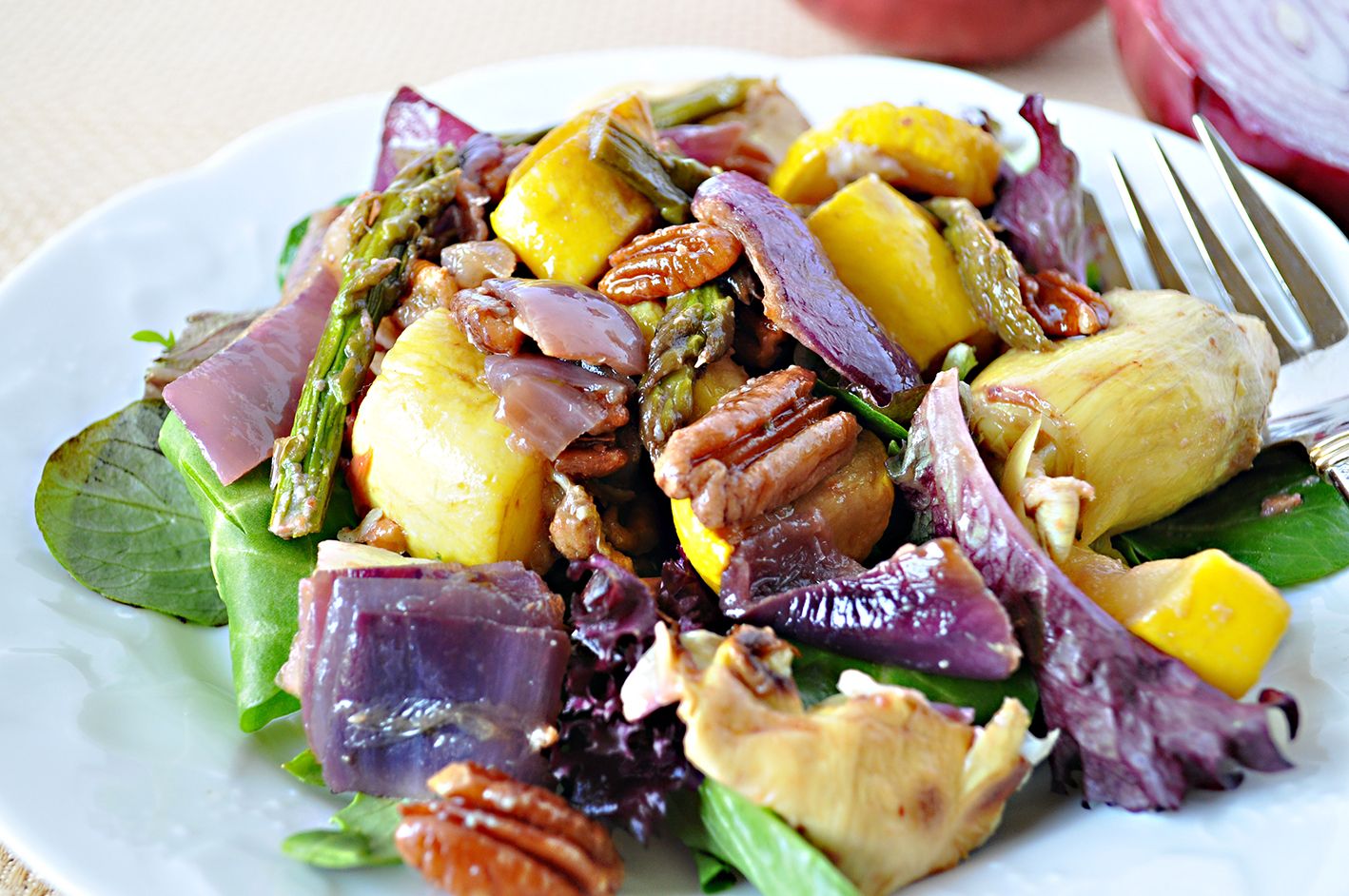 Holly's Scoop: A last-minute menu to love
Holiday dinner may be one of the most anticipated meals of the year, but if it's your turn to host or to bring a dish, it can also be very overwhelming. There is no bigger stress than needing a winning dish at the last minute, but there's no need to worry with my quick and easy recipes.
My Beefy Crescents appetizer is just the ticket for a quick pick-up. This recipe calls for only four ingredients, making it super easy to whip up when time is short, but the savory taste won't give away your secret.
Have a few sweet potatoes, red onions, squash or other favorite veggies lying around? Roasted Vegetables with Pecans make for a simple side; the cooking process brings out their healthy flavors, while balsamic vinegar and Parmesan cheese give this dish a gourmet kick. And it's very versatile—either serve it as a salad, over pasta, or as a side for your holiday meal.
For a comfort food classic that is loved by all ages, Corn Pudding will get requested year after year, and I promise I won't tell it was a last-minute decision! You probably have most of these refrigerator staples and pantry ingredients already to make this classic side dish. You can use canned corn instead of frozen if you like, but I prefer keeping frozen on hand for its taste and texture.
Although the day can be busy, with lots of dishes to prepare, don't let the festivities leave you anxious. With my easy recipes in mind, you will simplify your meal, keeping the holidays healthy and stress free.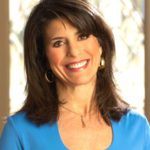 Holly Clegg has sold over 1 million cookbooks in her trim&TERRIFIC and Eating Well series. Sign up for her Monthly Menu newsletter at hollyclegg.com, check out her blog at thehealthycookingblog.com, or watch Holly on YouTube at youtube.com/user/hollycleggonline.
---
Roasted Vegetables with Pecans over Mixed Greens
Roasting brings out the natural sweetness of this assortment of veggies.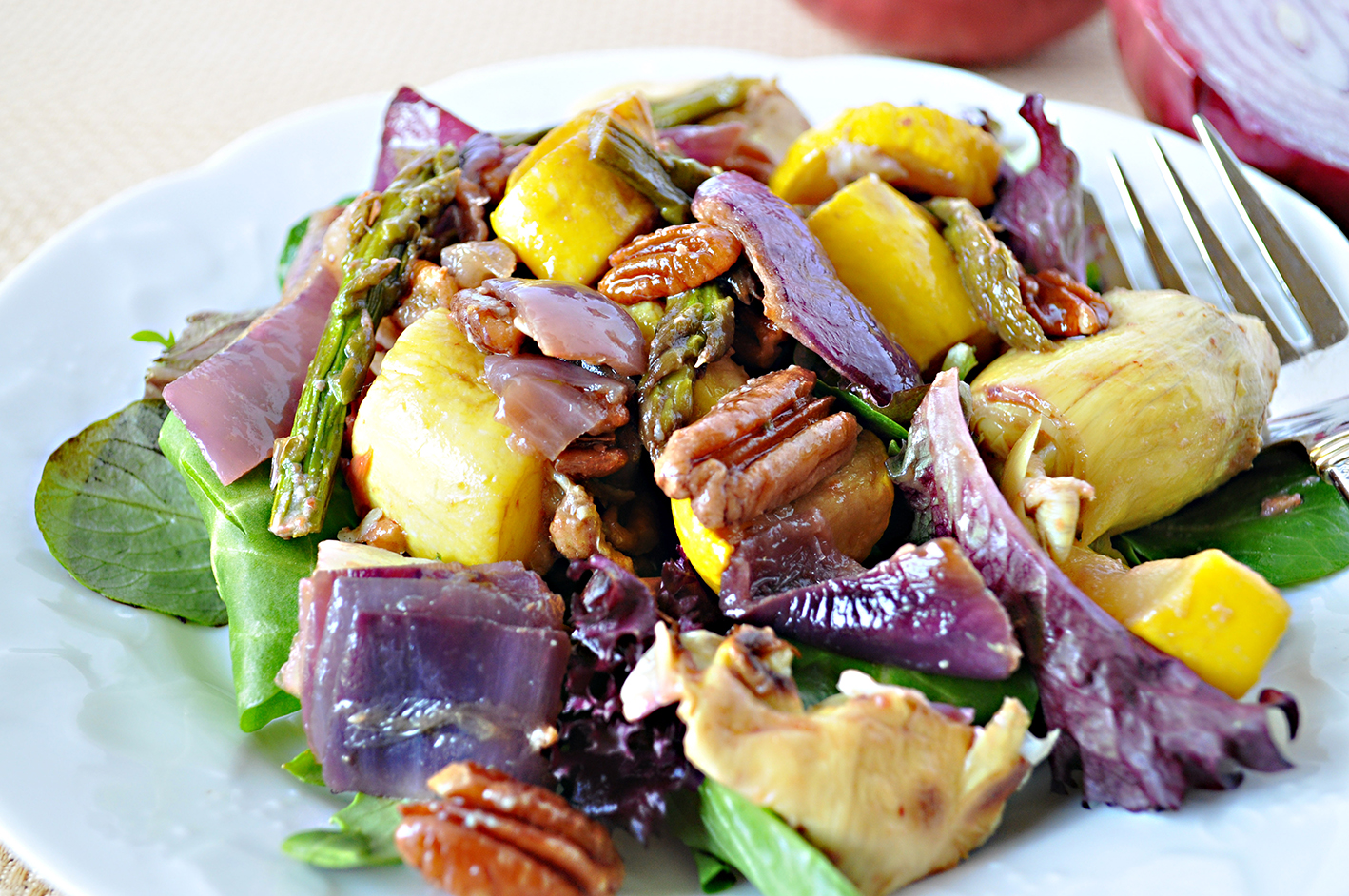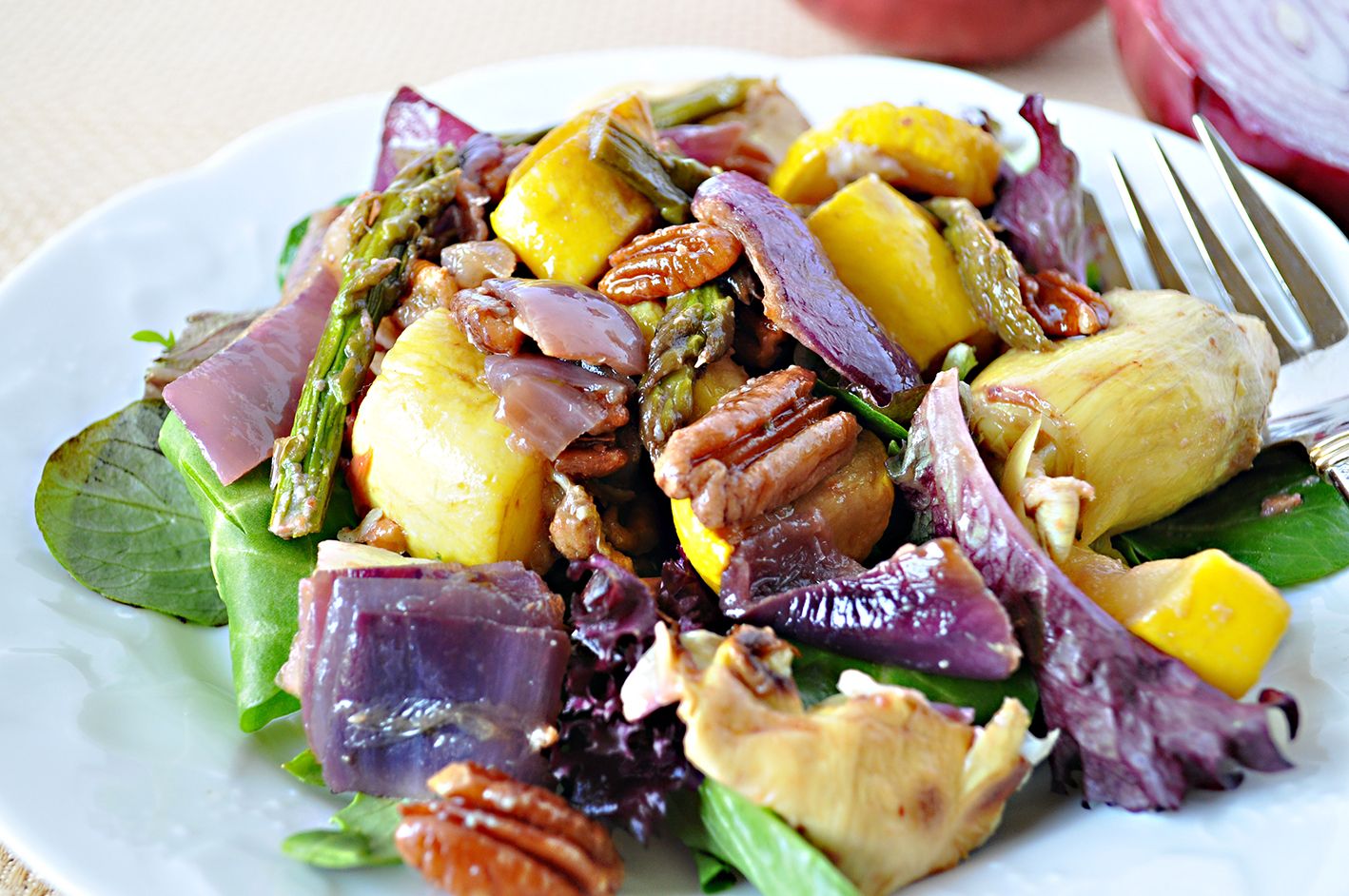 2
1

⁄2 cups yellow squash (about 2 medium), cut into 1 

1

⁄2-inch-thick chunks
1 red onion, cut into chunks
2 cups (about 1 pound) asparagus, cut into 1-inch pieces
1 (14-oz.) can artichoke hearts, drained and quartered


1

⁄3 cup coarsely chopped pecans
2 Tbsp. olive oil
Salt to taste
2 to 3 tsp. balsamic vinegar
4 cups mixed salad greens
Grated Parmesan cheese (optional)
Preheat oven to 450 degrees. Coat baking sheet with foil. Toss squash, onion, asparagus, artichokes and pecans in olive oil, and salt to taste. Spread mixture in single layer on prepared pan. Roast for 15 minutes, stir, and continue roasting for another 15 minutes or until lightly golden and browned. Drizzle with balsamic vinegar, stirring gently. Serve vegetables over mixed greens. Sprinkle with Parmesan cheese, if desired. Makes 6 (3⁄4-cup) veggie servings over mixed greens.
Nutritional information per serving:
Calories 129 | Calories from fat 59% | Fat 9g | Saturated fat 1g | Cholesterol 0mg | Sodium 130mg | Carbohydrates 11g | Dietary fiber 4g | Sugars 5g | Protein 4g | Dietary exchanges: 2 vegetable, 2 fat
---
Beefy Crescents
Nothing beats roast beef, horseradish and cheese in this pastry pick-up.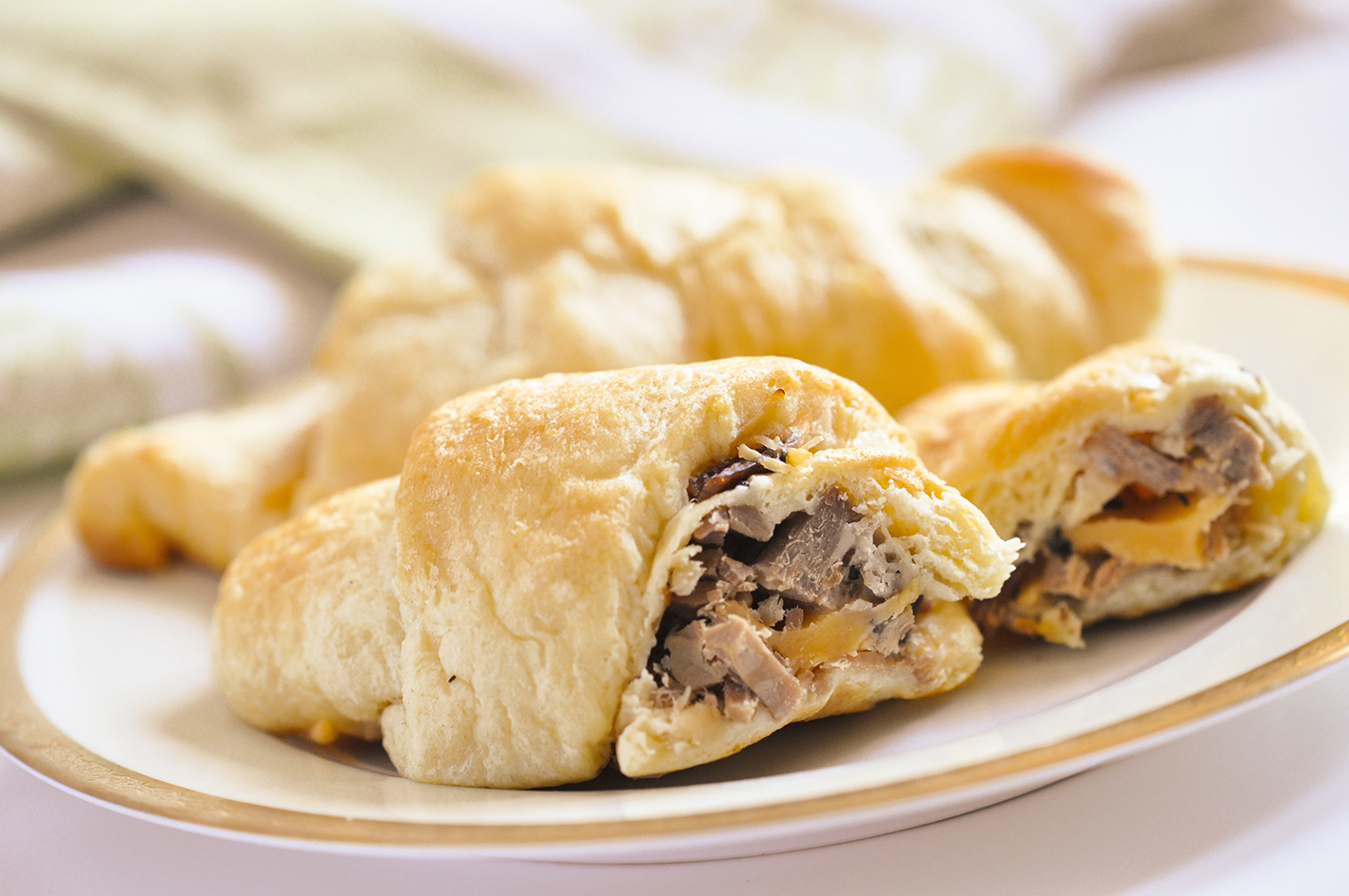 1 (8-oz.) pkg. reduced-fat crescent rolls
4 tsp. horseradish sauce (found in jar) or prepared horseradish
1 cup roast beef or
1

⁄2 lb. thinly sliced deli roast beef
2 oz. shredded or sliced Jarlsberg (light Swiss) cheese
Preheat oven to 375 degrees. Unroll crescents onto large baking pan. Spread about 1⁄2 tsp. horseradish on each crescent, and top with roast beef and cheese. Roll crescents starting from wide end to narrow end. Bake for 11 to 13 minutes or until crescents are golden. Makes 8 crescents.
Nutritional information per serving:
Calories 147 | Calories from fat 41% | Fat 7g
 

Saturated fat 3g | Cholesterol 19mg | Sodium 273mg | Carbohydrates 13g | Dietary fiber 0g | Sugars 3g | Protein 10g | Dietary exchanges: 1 starch, 1 lean meat,

1

⁄2 fat
---
Corn Pudding
A quick and tasty comforting combination that will add to any meal.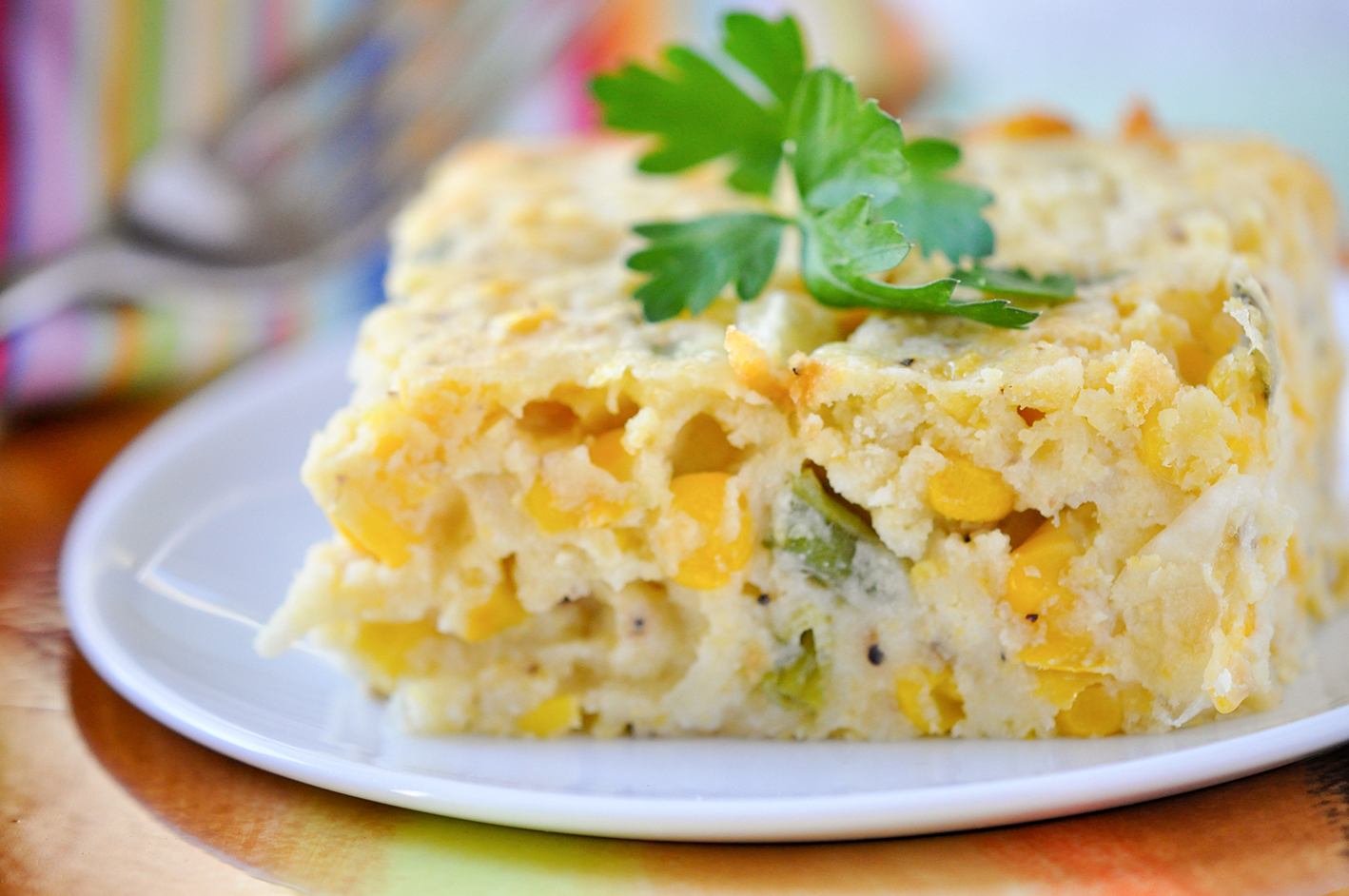 2 Tbsp. canola oil
1 egg

1

⁄2 cup skim milk


1

⁄2 cup chopped onions


1

⁄2 cup chopped green onions
1 

1

⁄2 cups frozen corn, thawed
1 (15-oz.) can cream-style corn
1 (8

1

⁄2-oz.) box corn muffin mix
Preheat oven to 350 degrees. Coat a 9-inch-square baking dish with nonstick cooking spray. In large bowl, mix together oil, egg and milk until blended. Stir in remaining ingredients. Transfer to prepared pan. Bake for 45 to 55 minutes or until mixture is set and golden brown on top. Makes 8 servings.
Nutritional info per serving:
Calories 233 | Calories from fat 26% | Fat 7g Saturated fat 1g | Cholesterol 24mg
  | 

Sodium 446mg | Carbohydrates 40g | Dietary fiber 3g | Sugars 10g | Protein 5g | Dietary exchanges: 2 

1

⁄2 starch, 1 fat