Holly's Scoop: Have a healthy holiday season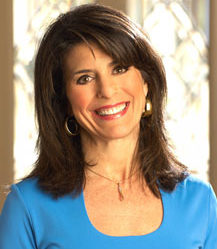 The Holiday season is gearing up. Our schedules are soon to be full of festivities, football playoffs and many reasons for friends and family to gather around food. For many of us, but especially for people with diabetes, it can be challenging to stick to your healthy meal goals during this season. However, you shouldn't have to choose between good food and your health. That's why my passion has always been to create healthy recipes that never sacrifice flavor.
November is National Diabetes Month, and I want to prove that recipes—especially festive holiday recipes—can still be deliciously diabetic-friendly. Portion control, moderate sugar and low fat are not just guidelines for diabetics, but for everyone. It really is the healthiest way to eat. There's no need to completely change your meals, just how you prepare them. I wanted to share a few seasonal dishes that will take you from the family holiday table to a party-ready appetizer and a dessert friends will rave about.
Make Baked Italian Oysters your choice if you are looking for that dish to dress your holiday meal with a little extra flair. This dish features all the savory flavors of a classic New Orleans favorite in one easy recipe. For a delectable, hard-to-believe-it's-diabetic appetizer, my Olive Parmesan Cheese Bites are almost too good to be true. Only three ingredients combine to create a melt-in-your-mouth pick-up food. Be ready because your guests will want you to share the recipe.
Everyone loves a good cookie swap, and the delicious desserts this time of year can be a quick pitfall for someone trying to keep their blood sugar in check. But there is no need for someone with diabetes to stay away, as so many of my trim and terrific desserts are diabetic friendly. These Chocolate Chip Oatmeal Peanut Butter Cookies are made up of all my favorite ingredients; they might just be my favorite cookies! With a few simple adjustments, anyone—even those with diabetes—can enjoy yummy food anytime. Shhhhhh! Fool your friends and family, and I promise your secret is safe with me.
---
Baked Italian Oysters (photo above)
Reminiscent of a dish from a great New Orleans restaurant, oysters baked in an Italian breadcrumb mixture offer a rich and distinctive taste.
2 pints oysters, drained

1

⁄3 cup olive oil
1 tsp. minced garlic


1

⁄3 cup chopped parsley
1 bunch pre-chopped green onions
2 cups Italian breadcrumbs


1

⁄3 cup grated Parmesan cheese


1

⁄4 cup lemon juice
Preheat oven to 400 degrees. Place drained oysters in a shallow oblong 2-quart baking dish coated with nonstick cooking spray. In a bowl, combine remaining ingredients, then spread evenly over oysters. Bake for 25 to 30 minutes or until oysters are done and topping is browned. Makes 10-12 servings.
Nutritional information per serving:
Calories 209 | Calories from fat 40% | Fat 9g | Saturated fat 2g | Cholesterol 52mg | Sodium 524mg | Carbohydrates 20g | Dietary fiber 2g | Sugars 1g | Protein 10g | Dietary exchanges: 1
1

⁄2 starch, 1 lean meat, 1 fat
---
Olive Parmesan Cheese Bites
Grab a can of pizza dough and spread with pre-made olive mixture and parmesan cheese for an instant incredible pick-up. Refrigerate leftovers and reheat in oven.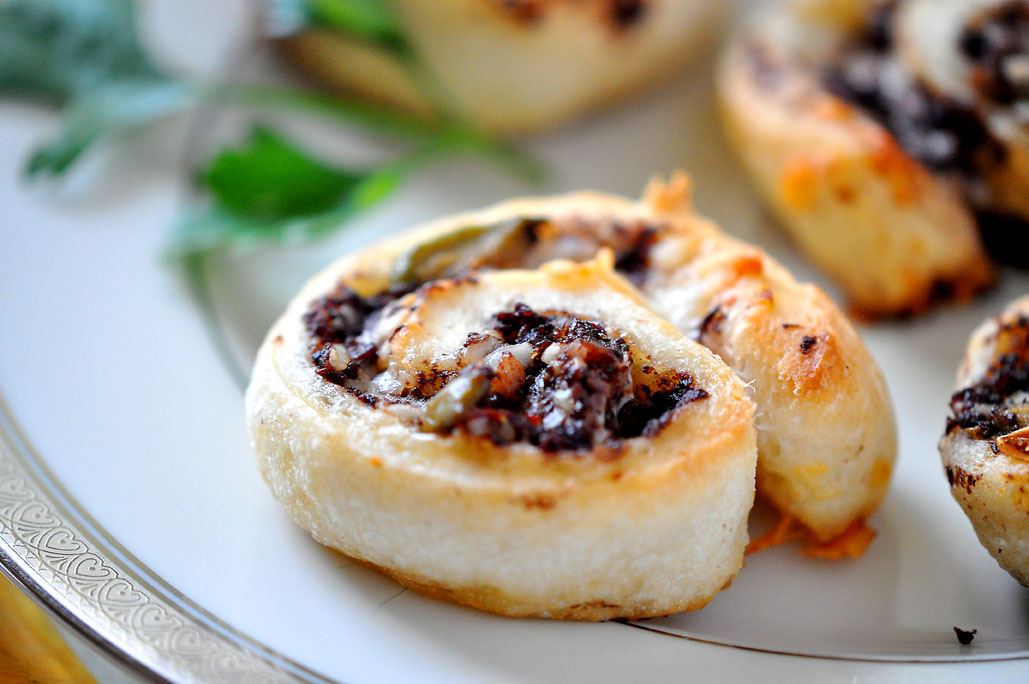 1 (10- to 13.8-oz.) can refrigerated pizza crust dough

1

⁄2 cup olive tapenade


2

⁄3 cup grated Parmesan cheese
Preheat oven to 450 degrees. Coat a baking pan with nonstick cooking spray. Unroll pizza crust dough and spread olive tapenade over dough, leaving 1⁄4-inch border. Sprinkle with cheese. Cut dough across in middle to make two rectangles. Carefully roll up each rectangular piece of dough, starting at long side. Cut into 1-inch slices. Place slices in prepared pan. Coat top with nonstick cooking spray. Bake for 10 to 12 minutes or until golden. Remove from pan and serve immediately. Makes 28 bites.
Nutritional info per serving:
Calories 56 | Calories from fat 34% | Fat 2g | Saturated fat 0g | Cholesterol 2mg | Sodium 189mg | Carbohydrates 7g
  | 

Dietary fiber 0g | Sugars 1g | Protein 2g | Dietary exchanges:

1

⁄2 starch,

1

⁄2 fat
---
Chocolate Chip Oatmeal Peanut Butter Cookies
All my favorite ingredients wrapped up in one outrageous cookie.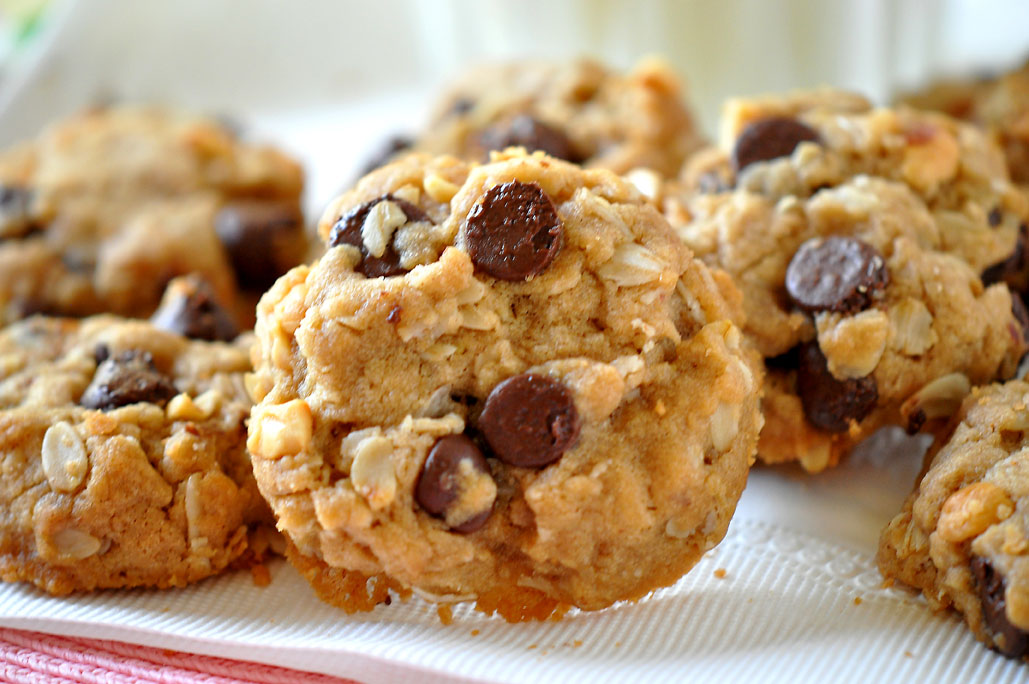 2 tablespoons butter

1

⁄4 cup canola oil


2

⁄3 cup light brown sugar


1

⁄2 cup peanut butter (creamy or crunchy)
1 tsp. vanilla extract
1 egg
1 cup all-purpose flour
1 tsp. baking soda
1 cup old-fashioned oatmeal


1

⁄2 cup semisweet or dark chocolate chips
Preheat oven to 350 degrees. Coat a baking sheet with nonstick cooking spray. In a mixing bowl, mix together butter, oil and brown sugar until blended. Add peanut butter, vanilla and egg, mixing well. In another bowl, combine flour and baking soda. Gradually add flour mixture to peanut butter mixture, mixing only until combined. Stir in oatmeal and chocolate chips. Drop dough by spoonfuls onto baking sheets. Bake for 10 minutes or until cookie edges begin to brown. Makes 3 dozen cookies.
Nutritional information per serving:
Calories 95 | Calories from fat 47% | Fat 5g | Saturated fat 1g | Cholesterol 7mg | Sodium 60mg | Carbohydrates 11g | Dietary fiber 1g | Sugars 6g | Protein 2g | Dietary exchanges:
1

⁄2 other carbohydrate, 1 fat
---
Holly Clegg has sold over 1 million cookbooks in her trim&TERRIFIC and Eating Well series. Sign up for her Monthly Menu newsletter at hollyclegg.com, check out her blog at thehealthycookingblog.com, or watch Holly on YouTube at youtube.com/user/hollycleggonline.