The holidays have snuck up on me, and the season typically means food and family galore! If it's your turn to prepare the dinner, perhaps you have concerns about what to cook and—sometimes more worrisome—how you will fit it all in the oven. Not to fear! I have the answer, and there's no double oven needed.
Stovetop cooking, along with recipes that require no cooking at all, provides an easy solution when your oven is already overloaded. I prefer to spend my time preparing sensational sides and desserts that sometimes steal the show. These delicious dishes can easily be whipped up ahead of time or on the stove to save room for a turkey or ham that requires warming in the oven.
Italian Layered Spread is as scrumptious as it is beautiful. Using mostly red and green jarred veggies, this appetizer adds a festive touch to your table, and the ingredients can be kept on hand in your pantry for a quick, impressive dish when guests drop in. I love when a recipe can be made ahead of time, and this one is simple to put together and refrigerate, cutting down on last-minute party stress. A great tip to remember is to line the pan with plastic wrap so that when you invert the spread, it comes out perfect every time. And if you can't find olive salad, raid an olive bar at the grocery, finely chop your pickings, and make your own.
Don't underestimate the delicious lemon-buttery flavor of my Lemon Garlic Brussels Sprouts. With fewer than five ingredients and a prep time under 10 minutes, it doesn't get much easier or faster than this dish. Although they look like baby cabbages, Brussels sprouts are a different cruciferous vegetable but in the same family. And your mom was right, they are very nutritious: low in fat, calories and cholesterol; free of saturated fat; very low in sodium; and a good source of dietary fiber, vitamin C and folate. Be sure to give Brussels sprouts a try, as they make a perfect side to just about any meal.
Have a chocolate and peanut butter craving? You won't believe how easy and how good Chocolicious Peanut Butter Dessert is. The name says it all—this is sure to satisfy your craving and feed a crowd! You can make this treat ahead of time, too, and pull it out when you're ready to serve. The recipe calls for creamy peanut butter, but use whatever you have in your pantry; crunchy or smooth would be delicious. Feel free to top with crushed peanut butter cups for an extra special touch.
With this selection of trim&TERRIFIC recipes that keep the oven free for other dishes, there is zero stress involved … and the only thing stuffed at your home will be the turkey.
---
[caption id="attachment_9814" align="aligncenter" width="500"]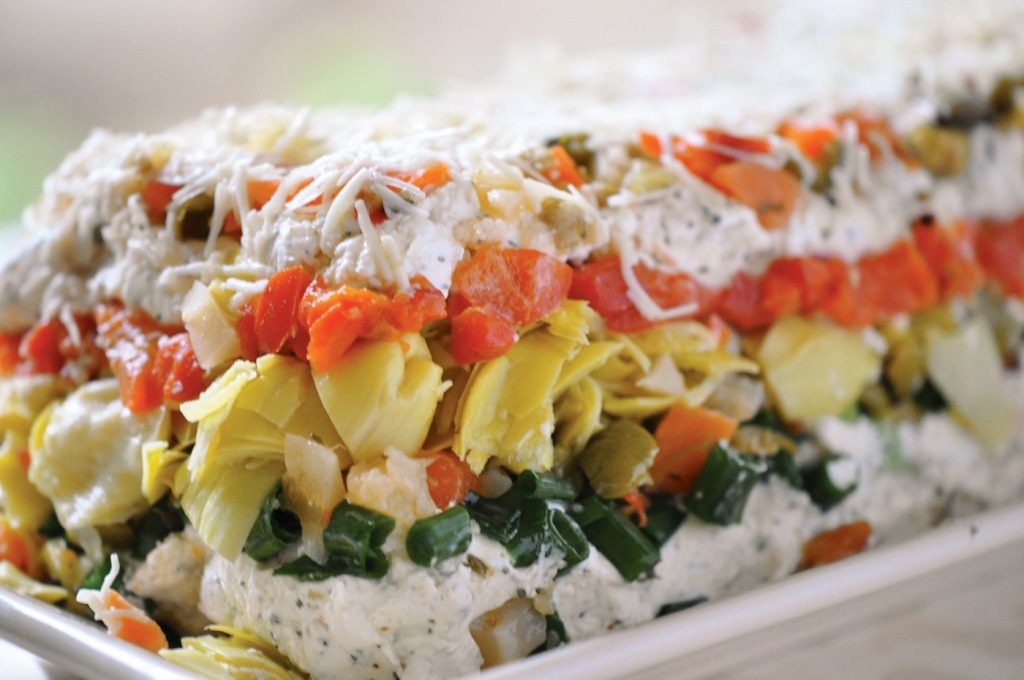 Italian Layered Spread[/caption]
Italian Layered Spread
2 (8-oz.) packages reduced-fat cream cheese
1/3 cup crumbled reduced-fat feta cheese
1 Tbsp. dried Italian seasoning
1/4 cup shredded Parmesan cheese
1 cup olive salad mix, well-drained, divided
1/2 cup roasted red peppers, well-drained and chopped
1 (6-oz.) jar marinated artichokes, well-drained and chopped
1/4 cup chopped green onions
In bowl, mix together cream cheese, feta and Italian seasoning until smooth. Line an 8 x 5 x 2-inch loaf pan with enough plastic wrap to go over sides and to fold over finished recipe. Layer ingredients in pan, beginning with all of the Parmesan cheese, 1/2 cup olive salad mix, 1 cup cream cheese mixture, all of the roasted red peppers, all of the artichokes, remaining 1/2 cup olive salad mix, all of the green onions, and remaining 1/2 cup cream cheese mixture. Fold plastic wrap over top and compress gently. Refrigerate at least several hours before serving. To serve, pull plastic wrap from top, invert on serving plate, and easily remove plastic wrap. Makes 16-20 servings.
Nutritional information per serving:
Calories 103 | Calories from fat 77% | Fat 9g | Saturated fat 3g | Cholesterol 19mg | Sodium 344mg | Carbohydrates 3g | Dietary fiber 0g | Total sugars 1g | Protein 3g | Dietary exchanges: 2 fat
---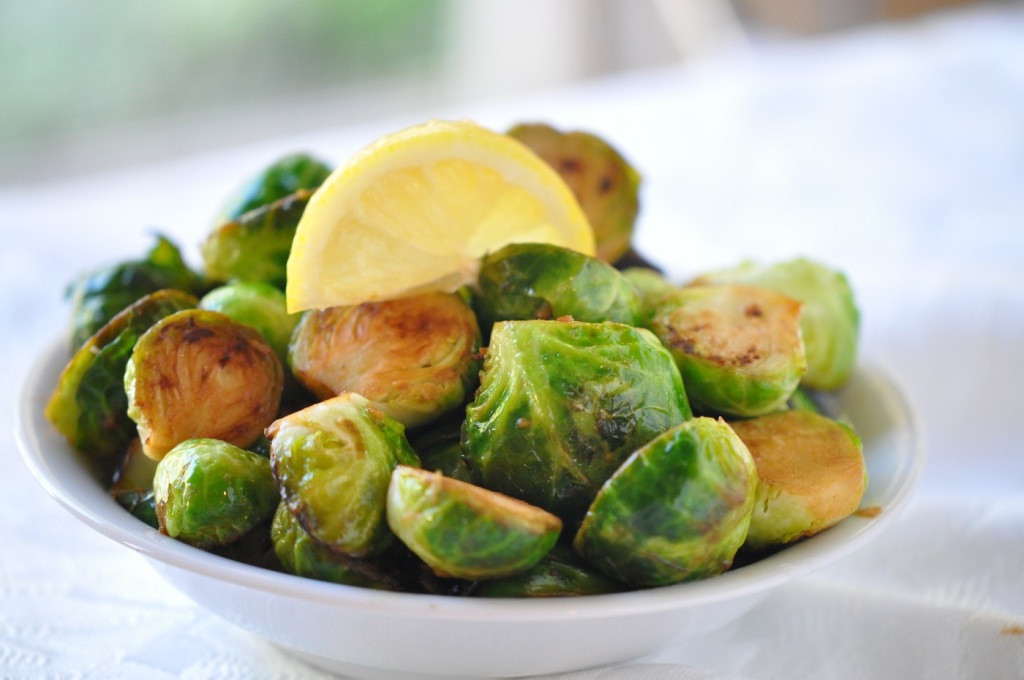 Lemon Garlic Brussels Sprouts
Fresh, unassuming Brussels sprouts pop with flavor. Get reacquainted!
1 lb. Brussels sprouts
2 Tbsp. olive oil
1 tsp. minced garlic
3 tsp. lemon juice
Salt and pepper to taste
Cut ends off Brussels sprouts and slice in half. In medium nonstick skillet, heat olive oil and when hot, add halved Brussels sprouts, stirring for 6-8 minutes or until caramelized brown and tender. Add garlic when almost done. When done, reduce heat, add lemon juice and season to taste. Makes 4 servings.
Nutritional information per serving:
Calories 112 | Calories from fat 52% | Fat 7g | Saturated fat 1g | Cholesterol 0mg | Sodium 29mg | Carbohydrates 11g | Dietary fiber 4g | Total sugars 3g | Protein 4g | Dietary exchanges: 2 vegetable, 1 1/2 fat
---
Chocolicious Peanut Butter Dessert
A worth-fighting-for treat with magical layers.
1 1/4 cups chocolate sandwich cookie crumbs (about 24 cookies)
3 Tbsp. butter, melted
1 (8-oz.) package reduced-fat cream cheese
1/3 cup creamy peanut butter
2/3 cup confectioners' sugar
1 (8-oz.) container frozen nonfat whipped topping, thawed, divided
1 cup skim milk
1 (4-serving) box instant chocolate fudge pudding and pie filling mix
Crushed chocolate sandwich cookies (optional)
In small bowl, mix together cookie crumbs and butter. Press into 13 x 9 x 2-inch dish; set aside. In mixing bowl, beat cream cheese, peanut butter and confectioners' sugar until smooth. Fold in 3/4 cup whipped topping. Carefully spread over crust. In another large bowl, whisk together milk and pudding mix until creamy. Let stand for 2 minutes until thickened. Fold in 3/4 cup whipped topping into pudding. Carefully spread pudding mixture over peanut butter layer. Top with remaining whipped topping in a thin layer. Sprinkle with crushed cookies, if desired. Cover and chill for at least 3 hours. Makes 20 servings.
Nutritional information per serving:
Calories 192 | Calories from fat 43% | Fat 9g | Saturated fat 4g | Cholesterol 13mg | Sodium 244mg | Carbohydrates 24g | Dietary fiber 1g | Total sugars 15g | Protein 3g | Dietary exchanges: 1 1/2 other carbohydrate, 2 fat